The History Behind the F310
Walking the tightrope of quality and affordability can be a tough balance to achieve, and one probably best left to the experts. Yamaha have performed this balancing act for decades, earning the trust of musicians across the globe, and with good reason.
In 2018, they produced the UK's best-selling budget acoustic guitar of the year with the Yamaha F310 – and to understand why, we'll have to delve into a little history.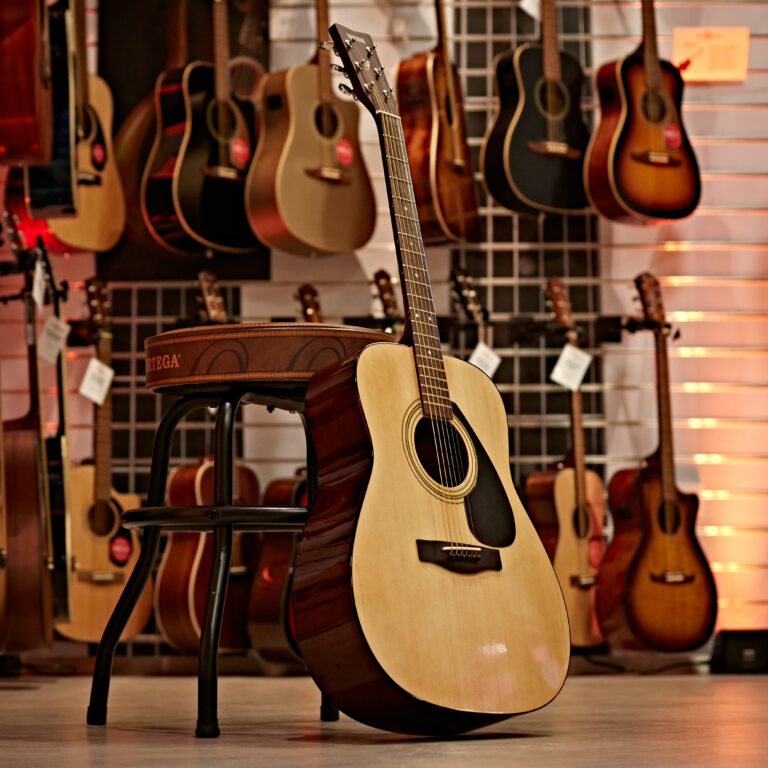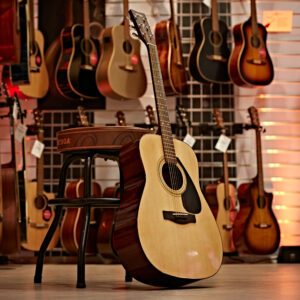 Indulge me, if you will, as we look back to the 1960s. Guitar culture had burst into life, and the demand for acoustic guitars in the United States and other foreign markets was the perfect opportunity for Yamaha to cement themselves in the mainstream.
Yamaha's acoustic guitar offerings had bounced around the Japanese market for most of the 1950s, but this decade changed their acoustic history for the better and for always. Demand for their instruments soared and by 1966 they had expanded into both the European and American markets with great success.
But why the increase in demand? Well, it would be hard to discuss music in the '60s at all without mentioning The Beatles, and surprise surprise… they were also said to be involved with Yamaha's success. John Lennon ordered a customised guitar from Yamaha – opening the brand up to an enormous audience full to the brim with avid Beatles fans and elevating the brand even further.
Aside from all of this, Yamaha's engineering ability to produce high-quality guitars at reasonable prices is second to none, and the Yamaha F310 draws on the winning formula that has defined their acoustic guitars for generations.
---
What are the features?
You'll always know where you stand when it comes to Yamaha. They have existed at the cutting edge of engineering technology in multiple industries for years – and it shows.
The Yamaha F310 is an extremely playable guitar, and an instrument perhaps best described as the ultimate all-rounder. The body is made from a combination of tonewoods that are both economical and provide industry-standard quality.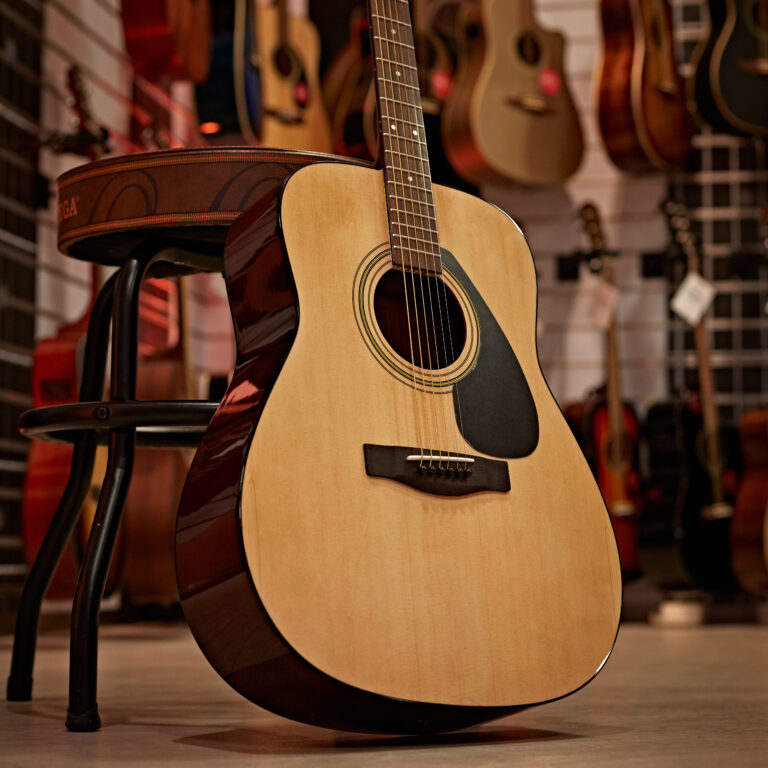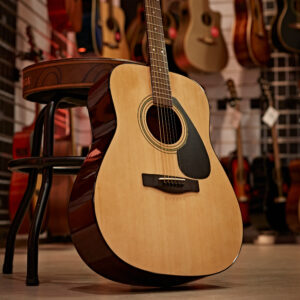 The F310 features a spruce top, commonly selected by a variety of guitar makers for its rich tonal properties, ability to produce natural resonance, and its rigidity, which gives a more reliable and long-lasting performance.
Much like the body, the neck is manufactured using locally produced tonewoods, a rosewood fretboard, and designed with a slightly shorter length of 634mm. This small reduction in length combines with a slim neck profile, providing easier playability for both beginners and established musicians.
A huge selling point of the Yamaha F310, though, is the price. Highly affordable, the F310 is geared toward musicians on a budget.
One drawback of this guitar, however, is the restriction created by the large dreadnought-shaped body. Although it does allow for more resonance and a full-bodied tone – because, well, it's a full-body – it is more restrictive to the higher reaches of the fretboard than the cutaway alternative.
For the beginner, this isn't an issue. As you're likely to be more focused on chords, be it open or barred, instead of frantically manoeuvering from one end of the fretboard to the other. This indicates again that the F310 may be geared towards a learning audience – functionally and financially.
By the way, if you end up on the Yamaha website – be it to gander at guitars, fantasize about a biker lifestyle, or to fact check my history lesson – it's worth having a look at their sustainability section.
Yamaha have multiple initiatives within the local areas from which they source their timber. These environmental considerations aim at working toward facilitating sustainable forests, conserving protected tree species, the reduction of waste, and the preservation of water resources. Pretty great stuff if you ask us!
---
What about sound?
The Yamaha F310 is, really, a guitar that punches above its weight. It boasts a sound as good as acoustics that cost three times as much, and you would struggle to criticise it from a manufacturer's perspective.
Tonally rich and complex – the F310 creates a classic acoustic vibe. It's powerful too, and a positive of the large, rounded dreadnought body shape is that you'll get plenty of resonance out of it.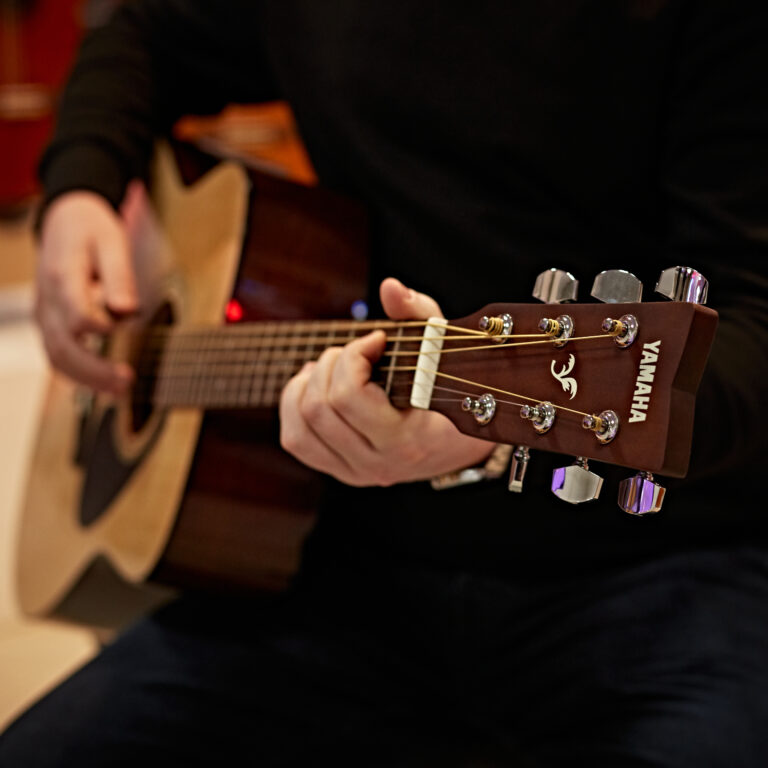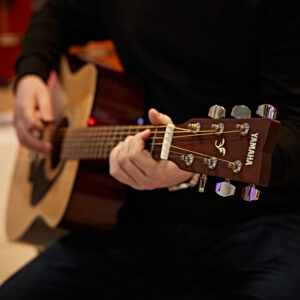 Constructed from spruce and meranti, you'll find a familiar tonal warmth that is clear, well-rounded and defined. These are things that you won't always find from a budget acoustic.
The F310 is also finished with ultra-thin lacquer, which brings a delightful shine to the finish of the guitar.
When investing in a guitar, quality materials, a pleasurable sound and a comfortable playing feel are usually the three essential boxes you'll want to tick. Many guitars, at a range of different prices, don't offer this. The Yamaha F310 does pretty well in all areas.
The neck has a matt finish which will help make manoeuvering between chords smooth, and the shorter scale length will help you nail those chords every time, no matter how challenging they may be.
The low action will assist those still learning to play and develop their wrist strength, as well as feeling great for more experienced players and helping to reduce any annoying fret buzz.
---
The verdict?
An offering from the engineering specialists that provides functionality, tonality and aesthetics simultaneously – the Yamaha F310 is definitely a solid all-rounder of an acoustic guitar. Designed in a way that ensures whoever picks it up feels comfortable, it can tackle a wide range of styles and genres thanks to its tonal diversity.
The price of this guitar is so good that it wouldn't be a stretch to imagine some people dismissing it, simply based on the assumption that it couldn't deliver the desired quality. The truth is, it may not be the pinnacle of guitar construction… but it offers enough of all the things you need from an acoustic.
These things take time, knowledge, and attention-to-detail to manufacture. And when you play a guitar that has been built with passion, you can tell. The Yamaha F310 is good value for money, absolutely.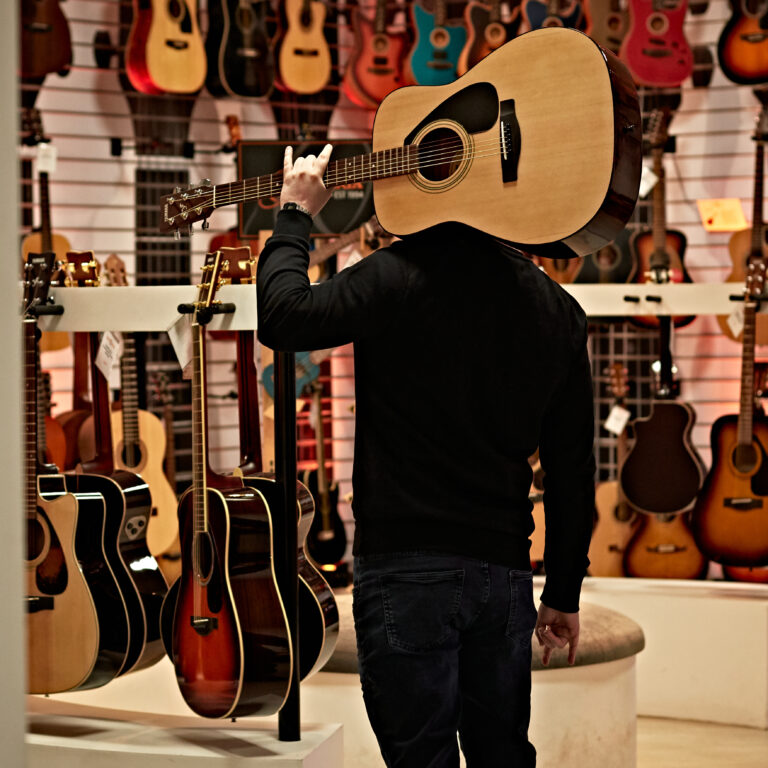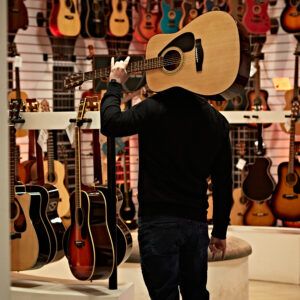 This guitar could truly be the best choice for learning musicians. Not necessarily because of how easy it is to play, or because it sounds better than every other guitar. But because of the number of boxes it ticks – it's easy to see why it has won awards in its time.
Shop Now | Yamaha F310 
Shop Now | Yamaha F310 w/ Accessory Pack 
Shop Now | Yamaha F310 Guitar Pack