Korg digital pianos are staples amongst music professionals. Durable, reliable, and made in Japan, their home pianos deliver the same fine craftsmanship as you would expect on a state-of-the-art stage instrument.
In fact, Korg have been perfecting their technology since 1963, so it's safe to say they know a thing or two.
The B2, C1, and G1 pianos cover low to high budgets respectively, guaranteeing premium quality sound for both novice and professional players. Try not to be intimidated by Korg's stellar status in the industry – the B2's friendlier price-point and easy-to-use effects will make any beginner feel at home, whilst the G1's extensive sound collection is a match for any pro.
---
The B2 Digital Piano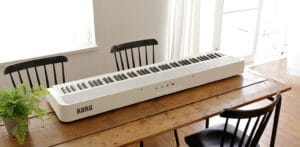 Start your venture to becoming a musical genius the right way. The B2 Digital Piano is a marvel that has Korg written all over it, and it allows budding musicians to learn and practise techniques with complete ease.
It's an ingenious piano without mind-boggling controls or an eye-watering price point – what more could you ask for?
Within the piano are twelve high quality sounds, five of which are a mixture of German and Italian acoustic pianos.
You'll have a German concert for rich, expressive power as well as a German classic piano for all those delicate and detailed sonic nuances that make for a magical performance.
Its Italian counterparts then include concert, jazz, and ballad pianos, giving you the chance to really find what works best for you.
It's not just excellent acoustic sounds that are installed in the B2, but also electric piano, strings, harpsichord, and classical and electronic organs – perfect for aspiring composers and arrangers who want a full breadth of timbres.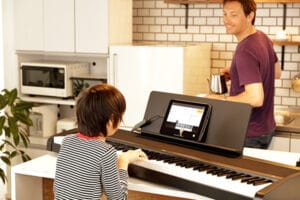 You don't have to be a musician to know that the feel of an instrument can make all the difference, especially when it comes to beginners.
Smooth playability will ensure that your newfound techniques become everything you dreamed they'd be – effortless and beautiful. It's the kind of playability that's typically found on acoustic pianos, replicated accurately for an experience that's strikingly realistic.
The B2's scaled keyboard with natural weighted hammer action plays in a similar way to an acoustic, feeling heavier in the bass and lighter in the treble. Plus, the keys are exceptionally dynamic and responsive to pretty much any genre or technique.
To help you master your skill, the B2 comes equipped with a very handy software bundle, including a three-month trial for Skook, a well-known platform for beginners. This learners' software provides lessons to match your skill level, moving with you as you progress through its impressive 300-song library.
You'll then have Korg Module Le – an iOS app with pro-quality sounds for both performance and music production – and Korg Gadget 2 Le. The latter is an app that grants you everything you need for basic music production – small synthesisers, drum machines ("gadgets"), and an intuitive interface.
The B2 also includes a dampener pedal for those quieter practise sessions. Day or night, you won't disturb the neighbours. Plus, the piano's portable design means you can place it pretty much anywhere and start playing, aided by the sturdy music rest.
Shop now | Korg B2 Digital Piano
---
The C1 Air Digital Piano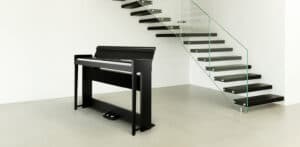 A high-quality piano with a midrange price point, the Korg C1 is ideal for more advanced players.
Within its magical realm of sound lies 30 different voices, including the rich bass and bright highs of a German grand and the versatility and depth of a Japanese piano. Two of the finest instruments in one elegant, expertly crafted package.
You'll also have electric piano, organ, clavinet, vibraphone, acoustic guitar, and strings.
As you press down on the keys, the C1 cleverly analyses performance dynamics and reacts by selecting the correct sample to sound. And it does this in completely fluid fashion, giving the mirage of real acoustic sound.
What's more, there are two 25W speakers for superb projection and 1/8″ headphone jacks for silent practise.
Thanks to fully weighted, real hammer action (RH3), the keyboard feels unbelievably authentic, just like an acoustic piano. Its precise responsiveness answers to quick and complex passages, even lightning-fast repetitions, so you can achieve clarity with every note.
As you would expect, the keys are scaled too, further contributing to a natural playing experience. Such meticulous eye for detail lets you practise those high note trills with weightlessness under your fingers whilst having resonance and oomph in the low end.
The C1 comes equipped with both Bluetooth connectivity and MIDI ports – the kind of compatibility that will take your music one step further, enabling you to connect to your smartphone or tablet, play along to your favourite songs, and nail those techniques. Plus, the slim, stylish build of the instrument is only 26cm deep, meaning it will suit practically any room.
Its soft closing lid then adds the finishing touch to such a magnificently made, sophisticated work of art. A lesson in Korg craftsmanship.
Shop now | Korg C1 Air Digital Piano
---
G1 Air Digital Piano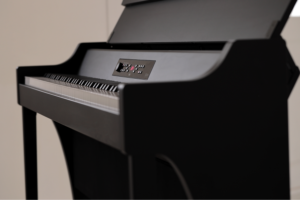 The final and most premium entry on our list is Korg's G1, a piano for serious, seasoned musicians.
Going beyond the capabilities of the previous two instruments, the G1 boasts 32 voices. Three of these are piano sounds from around the world – because when it comes to pianos, it isn't a 'one size fits all' kind of situation. So, you'll have the chance to work out what's best for you and your playing style.
The German piano delivers supreme expressive power with intense dynamics, letting those brilliant highs and strong lows resonate beautifully.
You'll then have the Japanese piano, an instrument that lends itself to the technique of the modern pianist, offering sublime dynamics and versatility.
If classical is more your style, the Austrian piano is there ready and waiting, granting you warm, colourful sound that will turn your living room into a divine concert hall.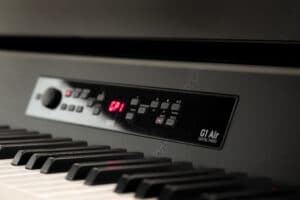 Like the C1, this top-tier digital piano uses careful analysis of performance dynamics to inform which sound sample to use, and it seamlessly switches between them.
From pianissimo to fortissimo, you'll have expertly sampled sound ringing through the four 20W speakers. In fact, the speaker system – located both below and above the keyboard – is custom designed for fantastic projection that is as realistic as it is immersive.
Also similar to the C1 is the scaled, real weighted hammer action keyboard. As explained earlier, this particular keyboard gives you that all-important expressive and natural feel as you glide across the keys, so much so that you won't be able to feel the difference between this digital masterpiece and an acoustic. And thanks to Bluetooth connectivity, you'll have total tonal control via your smartphone or tablet.
What sets this digital piano apart from others out there isn't just its range of exceptional piano sounds, but also its sleek, contemporary design.
Narrow in depth (29cm) and supported by sturdy, softly curved legs, the G1 makes for a stylish addition to any room. But that doesn't mean it should be treated as just a piece of furniture! It begs the advanced skill of any passionate pianist.
Shop now | Korg G1 Air Digital Piano
---
Which is right for you?
Korg have come a long way since making waves with Japan's first synthesiser all those years ago, and their broad range of synths, production gear, and keyboards are seen on stages and in studios everywhere. But you don't have to step beyond your front door to write, perform, or produce your next track. Korg's impressive pianos bring everything you need to the comfort of your home.
Professional players will already know the quality a Korg possesses, and beginners will certainly benefit from such expert craftsmanship. Whatever your budget, the Korg B2, C1, and G1 deliver authentic tones and silky-smooth, natural-feeling playability.
Finding the right piece of Korg gear all depends on your ability level and budget. If you're an experienced pro, it's a no-brainer that the G1 is for you. Its collection of the finest piano sounds will bring your awe-inspiring skills to life.
On the other hand, if you love playing for just the sheer enjoyment of it and you want something a little less pricey, the C1 is designed with you in mind.
And finally, the B2. It's a beginner's instrument with the quality of something higher end. Listen as your technique becomes more refined and give yourself the best start to your musical journey.
Shop now | Korg Digital Pianos