Old meets new; the most advanced digital pianos currently available.
The ultimate aim of any digital piano is for it to sound and feel as similar to an acoustic instrument as possible. Hybrid pianos are the most authentic instruments on the market at the moment – but what is it that they're doing differently?
---
What is a Hybrid Piano?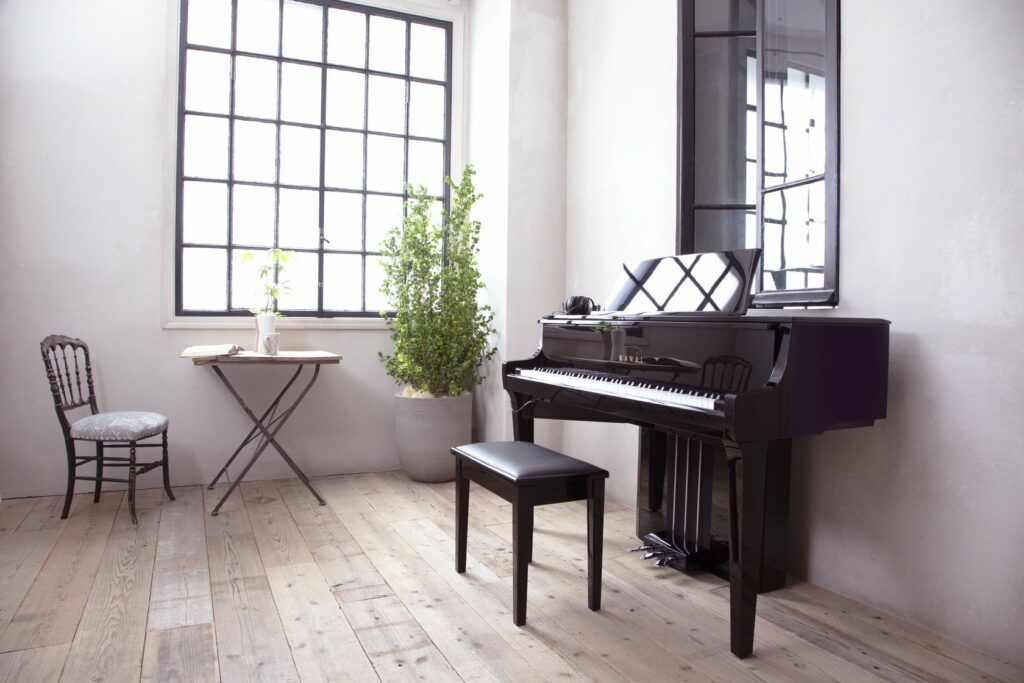 A hybrid piano is a digital instrument that has incorporated the mechanism of an acoustic piano. A sophisticated hammer-system is housed in the cabinet of the instrument, granting it an incredibly realistic response and feel.
In an acoustic piano, pressing each key causes a corresponding hammer to strike the tuned strings. In a hybrid, the hammers are usually designed to hit sensors, triggering samples.
How is this different to a hammer-action keyboard?
Hammer-action digital pianos often use miniaturised hammer systems, which physically simulate the feel of an acoustic instrument. These mechanisms can be shrunk down to incredibly compact designs, offering realistic performance at a fraction of the weight and size of a real piano.
An extreme example is Casio's PX S1100, a stage piano with a depth of only 232mm. This extra portable instrument features a hammer-action system that has been highly condensed.
Hybrid pianos have an uncompromising approach to key action, using the full action of an acoustic instrument. The major players in the hybrid piano world also have experience in constructing acoustic pianos, allowing them to fully supplant the mechanisms of their real pianos into digital instruments.
---
What are the benefits?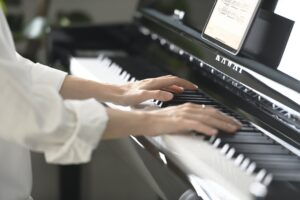 The mechanism of a grand piano is what gives it its touch and response. If you can put that mechanism inside a digital piano, then the digital piano will feel exactly like a grand piano.
Modern hammer-action keyboards are very good at imitating the real deal, but if you're making compromises on the design of the action for any reason – to reduce the size, the weight, or to keep the cost down – then that will have a knock-on effect on the overall performance of the instrument.
One of the main ways hammer-action keyboard mechanisms save space is by reducing the length of the keys. Real piano keys extend far beyond the visible section which you play (a grand piano's keys are about 50cm long!). Shortening them, adjusting the weighting, and moving the fulcrum allows manufacturers to create an authentic mechanism in much less physical space.
However, playing on full-length keys allows you to play at the front or back of the visible part of the key with ease, as the pivot point is much further back in the instrument. It's the difference between realistic, and real.
With a hybrid, you have a completely authentic touch response with all of the benefits of playing a digital piano – and a very good one at that. Hybrids are top-of-the-line instruments, meaning their samples and speakers have as much quality as their key-action.
---
Why not buy an acoustic?
The price-tag attached to a hybrid is substantial, so if you're considering buying one then it's likely you can afford a very good acoustic instrument. And if it's nearly an acoustic piano, why not just have an acoustic piano instead?
Well, in many ways a hybrid is more than a real piano. They come full to the brim with functions and features only possible with digital technology – such as headphone connectivity, multiple sound-sets, effects processing, and much more.
They also weigh less (so are easier to move), never go out of tune, and take up a lot less space than a concert grand. Besides, a brand-new concert grand – which is what a hybrid piano sounds and feels like – will cost more than £100,000. Compared to that, a hybrid is positively cheap!
---
What hybrid pianos are on the market?
Hybrid pianos are a relatively new and specialised product – and there aren't very many manufacturers with the know-how to make them. Only companies with an extreme pedigree in piano and digital instrument design are currently building hybrids.
---
Yamaha AvantGrand
Torakusu Yamaha – founder of Yamaha Corporation – built the first-ever Japanese piano in 1900. Two years later, his factory produced their first grand piano. For the ensuing 120 years, Yamaha have been producing pianos of the utmost quality, with their most recent concert models receiving widespread acclaim.
Yamaha are also widely known for their digital pianos, and in 2009, they combined the two disciplines to create the first-ever hybrid pianos – the AvantGrand series.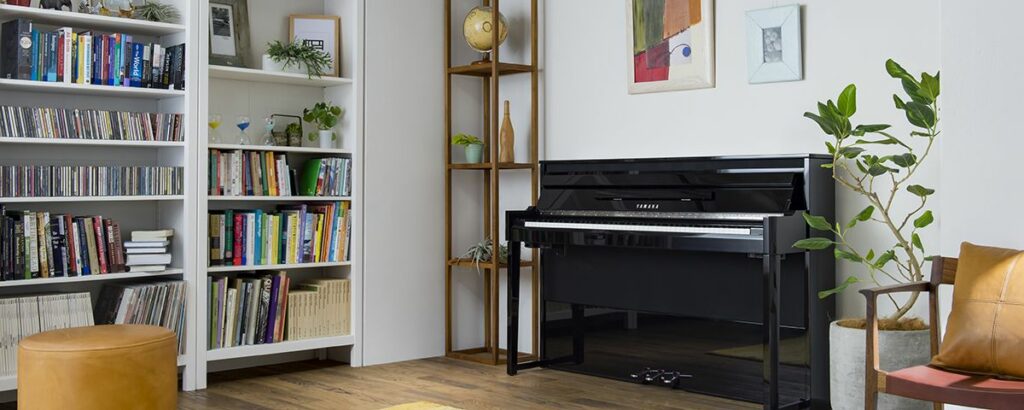 The original Yamaha AvantGrand has now been updated and is available as the Yamaha N1X. It has a full Yamaha grand piano action within, for perfect touch and response. An optical sensor below each key and under each hammer measures the speed, depth, and strength of every key press, and translates it into note output.
Yamaha sampled two world-class grand pianos in painstaking detail for the N1X. Their own Yamaha CFX Concert Grand, as well as a Bösendorfer Imperial, provide a rich and varied tonal palette. A four-channel speaker system – arranged in the same orientation as the mics that recorded the samples – then plays these recordings back.
A standout feature for the Yamaha hybrid range is Binaural sampling, specifically for headphone use. Additional samples were recorded from the position of the player's head, so that playing with headphones on doesn't leave you with the overwhelming feeling that you've stuck your head inside a concert grand's cabinet.
Also available from Yamaha is the NU1X, their upright hybrid variant. This features the action of an upright Yamaha piano, as well as most of the features of the N1X.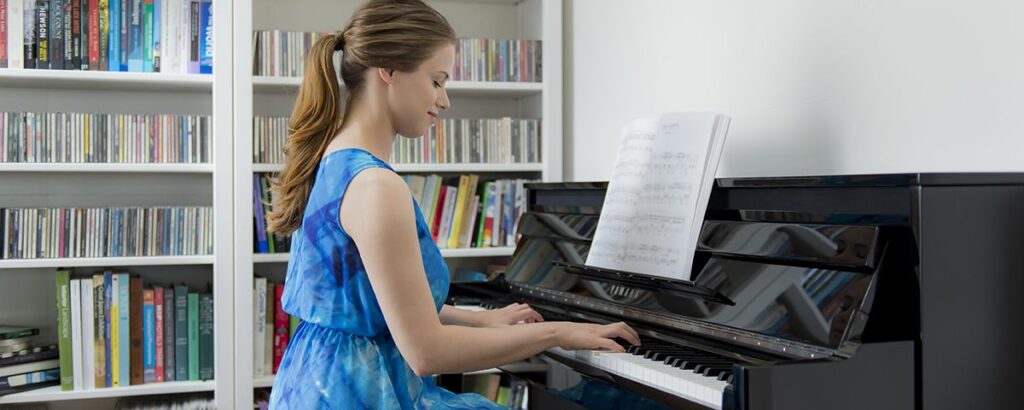 Both pianos include excellent Virtual Resonance Modelling – which simulates the sympathetic vibrations of all 88 strings in the pianos – and highly authentic pedals, which allow advanced half-pedal techniques.
They also offer a full suite of digital connections (including MIDI and USB), and let you connect to your smart device for use with Yamaha's Smart Pianist app.
Shop Now | Yamaha Hybrid Pianos
---
Casio Grand Hybrids
Casio are a bit of an outlier in this field as they don't have a history of building acoustic pianos. Instead, they teamed up with C. Bechstein, esteemed German piano-makers who have been creating top-quality instruments since 1853.
The Casio Grand Hybrids also differ from the other pianos in this list, as their key-action mechanisms aren't lifted from existing models of acoustic pianos. Instead, Bechstein created a bespoke moving-hammer mechanism specifically for Casio to use in their instruments.
The mechanism is made from resin and synthetic materials as opposed to being a full wooden construction. The keys, however, are made from the same aged, organic Austrian spruce that Bechstein use for their concert grand pianos – and are full length.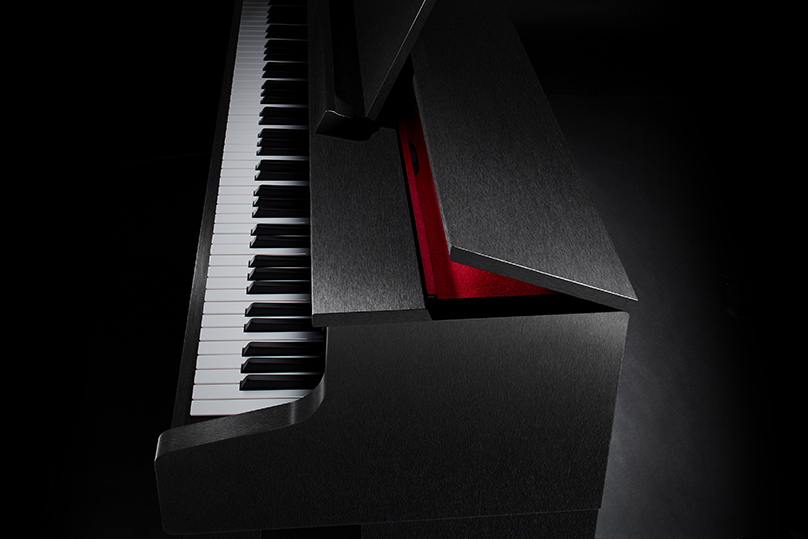 The Casio GP310 occupies the bottom end of the price-range for hybrid pianos. Substantially less expensive than its peers, it still delivers an incredible playing experience with a six-speaker array and meticulously sampled sound-sets. Lifting the lid opens up the sound of the instrument and lets you see the hammers moving as you press the keys.
The slightly more expensive Casio GP510 has additional instrument sounds and improved resonance simulation for added tonal authenticity.
Both pianos also feature realistic pedals and reverb simulations, as well as headphone, USB, MIDI IN/OUT, and LINE IN/OUT connections – for all of your silent practice and recording needs.
Shop Now | Casio Hybrid Pianos
---
Kawai Novus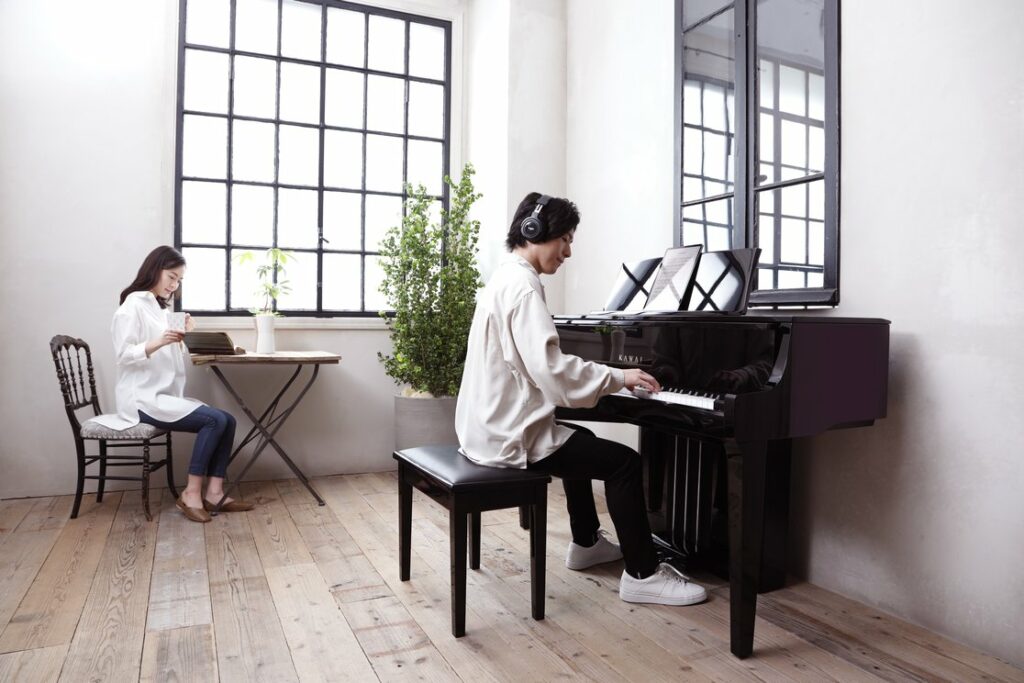 Kawai produced their first grand piano in 1928. Their hybrid instruments come in at the top of the price range – but for good reason.
Inside the NV5S Upright and the NV10S Grand, you'll find Kawai's Millennium III action. This is the same piano action as is found in the Kawai GX series of acoustic pianos, and it utilises ABS-Carbon as well as wooden parts, for added lightness and strength.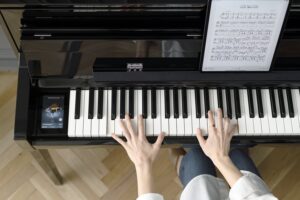 Kawai have added a real damper mechanism, with graded weights attached to each damper lever to simulate the feel of traditional pedalling, both on the feet and hands of the player.
These hybrid pianos sample the Shigeru Kawai SK-EX, a critically acclaimed concert piano with a truly beautiful tone. The NV10S plays these samples back through a powerful 7-speaker system, carefully designed to replicate the three-dimensional aural experience of an acoustic grand. The NV5S utilises a TwinDrive soundboard – speakers housed behind a real wooden soundboard which resonates just like an upright piano.
Both of Kawai's hybrid offerings come with a full selection of input and output connections, as well as Bluetooth MIDI and audio functionality – for effortless device connection.
Shop Now | Kawai Hybrid Pianos
---
Which is the best for me?
All of the hybrid pianos we've talked about would doubtless make any pianist very happy. But how do you go about choosing one?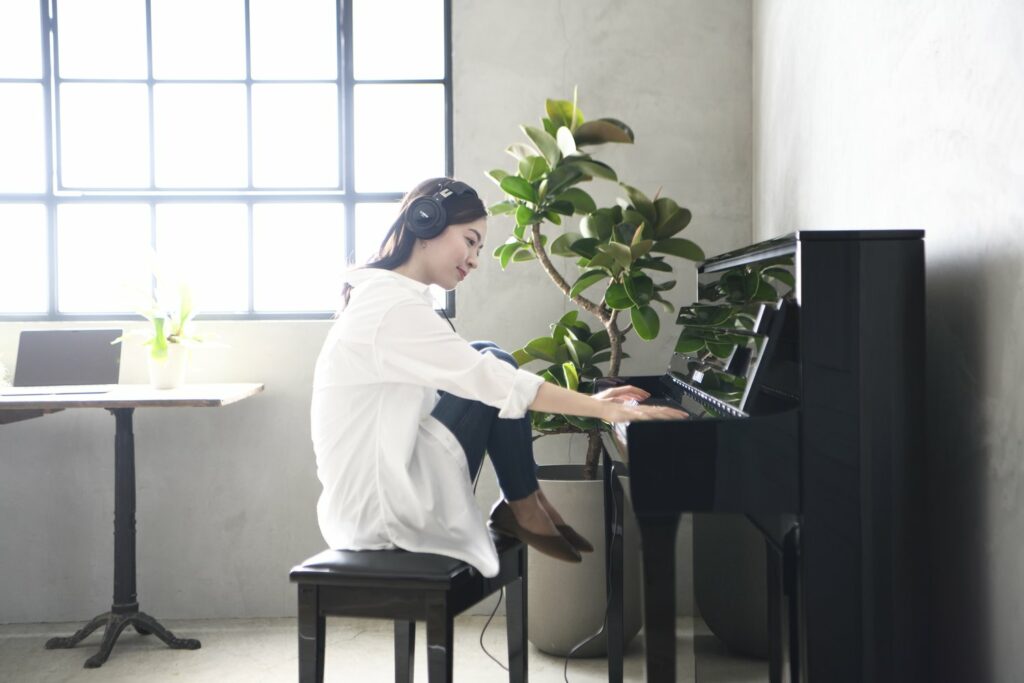 If you're expecting to spend a lot of time practising with headphones on, then our recommendation would probably be one of the Yamaha models. Their Binaural Sampling feature really does make a tremendous difference, especially during longer sessions. The high quality you would expect from Yamaha is present throughout, making these hybrids really solid instruments.
If budget is a consideration, then the Casio hybrids deliver an astonishingly realistic piano experience for a lower price than their competitors. They feature all of the digital bells and whistles you'd want from a hybrid, and their resin-based hammer mechanism is designed to last an age and require barely any maintenance.
If budget isn't a consideration, then the Kawai instruments really are the best of the best in hybrid technology at the moment. Combining beautiful design with cutting edge technology, these are pianos with the looks, sound, and feel of premium acoustic instruments – but with a price tag to match.
Interested in going hybrid? Or just want to find out more? Feel free to explore our range of hybrid pianos below.
Shop Now | Hybrid Pianos
Shop Now | Digital Pianos