The search for inspiration. It's perhaps one of the most difficult aspects of music-making and performing. The spark of creativity can be elusive and ephemeral, so when you find the flair that ignites your next song, it can feel like everything is falling into place. Introducing the Hartwood Sonata FX range, a selection of stylish instruments that hold an ingenious secret up their sleeve…
That secret is none other than a series of fully on-board, no-amp-required effects. These include chorus, delay, and reverb. That's right, you can enhance your acoustic sound with a combination of effects to add a totally new dimension to your playing – no pedals or amps required. Add that to a striking set of visuals and an excellent playing action, and you've found your new tool of tone.
All you have to do is pick it up, switch on the preamp, and get to exploring vibrant new soundscapes that will fuel your imagination.
Spice up your acoustic sound
So, how does that work? Well, there's a small speaker that's mounted in the body cavity that enhances your natural tone with the applied effects. Whenever the preamp is switched on, you'll get a natural imbued effect sound that lifts your acoustic tone to new dimensions.
This is a game-changer. Performing at open mic nights and busking on the streets just got much more interesting with this added flexibility. But it's not just for the big stage – even casual players will love the extended sonic possibilities. If you keep a guitar by the sofa for the occasional songwriting noodle, the Sonata FX will give you so much more depth to explore.
Say goodbye to lugging around effects pedals or amps, as these built-in effects can give your performance the flair it needs to stand out without any added extras.
The good news is that every model of the Sonata FX range comes equipped with the same suite of effects. So, no matter which style you prefer, you'll enjoy the same delicious array of spiced-up sonics. Those include reverb, delay, and chorus. Reverb can be used simultaneously with delay or chorus, so you can really delve into a new palette of tones without ever having to plug in.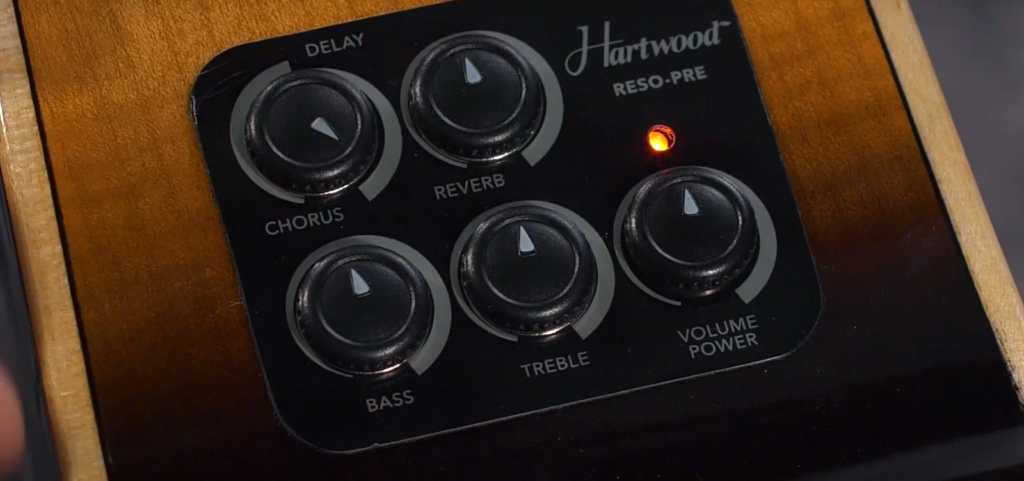 But what about plugged in?
That's where it gets even better. Not only can you enjoy the natural, dry acoustic tone and effects without any additional equipment, but you can also utilise these effects when connected to an amplifier. Additionally, the bass and treble EQ controls become active, so you can shape your sound to your taste.
This is just performing bliss for both experienced guitarists and those just starting out. Veteran players will appreciate not having to lug pedals and other gear with them to gigs, and beginners will love the expanded possibilities the FX offers, without having to purchase extra gear.
Sonata Lineup
We've mentioned that the Sonata FX comes as a series of guitars, so what are they? In short, there are three models to choose from: Thinline, Concert, and Jumbo. Going from left to right, that's thinnest, medium, and thickest, for anyone not used to acoustic terminology.
Here we'll give a short overview of each model and who they might suit. To make things simple, it's really only the thickness that varies.
Thinline
As the name suggests, the Thinline is the thinnest model in the series. It's also perhaps the most visually striking, as the usual sound hole has been shifted to the upper bout for a truly unique appearance.
Electric guitar players and people who find larger bodies unwieldy will love this slimmed-down size.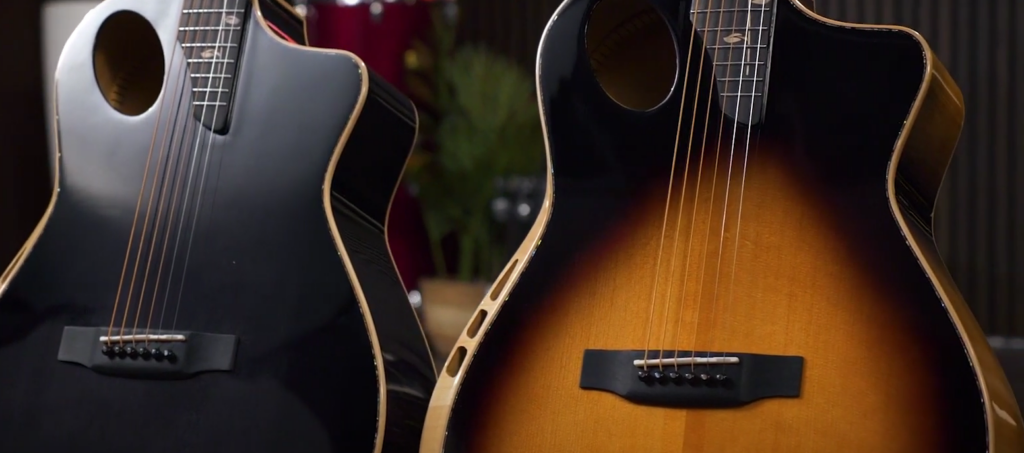 Concert
Perhaps the most popular acoustic size out there, the Concert Sonata FX is a comfortable, all-rounder shape. It offers the balanced and versatile tonal range that a larger acoustic body affords you, while not being too large. People searching for the classic steel-string acoustic shape will enjoy the Concert.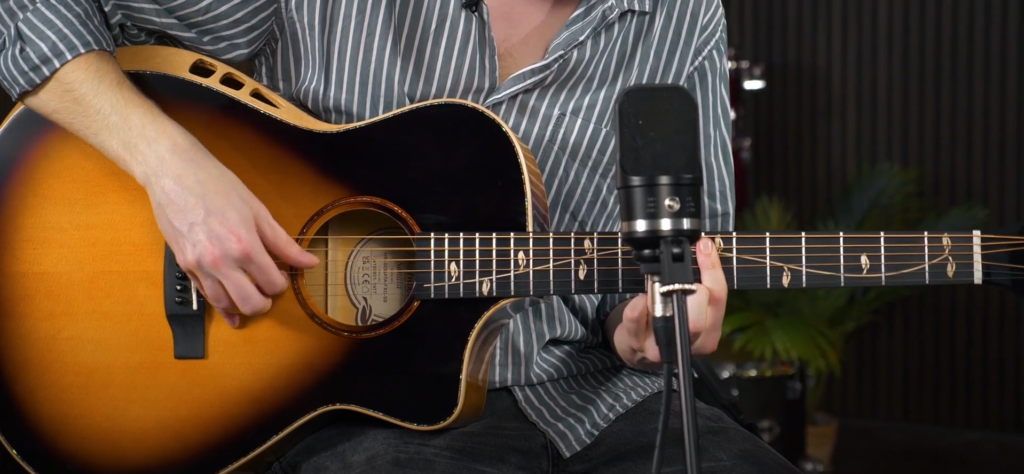 Jumbo
As you might expect, this mighty Jumbo model is the thickest in the range. This larger cavity gives a pleasant boost to the bass response, lending chords and notes extra presence and depth.
Not only that, but you'll also get enhanced volume and projection because of the extra reverberation space, so truly acoustic performers will appreciate the enhanced voice of the Jumbo.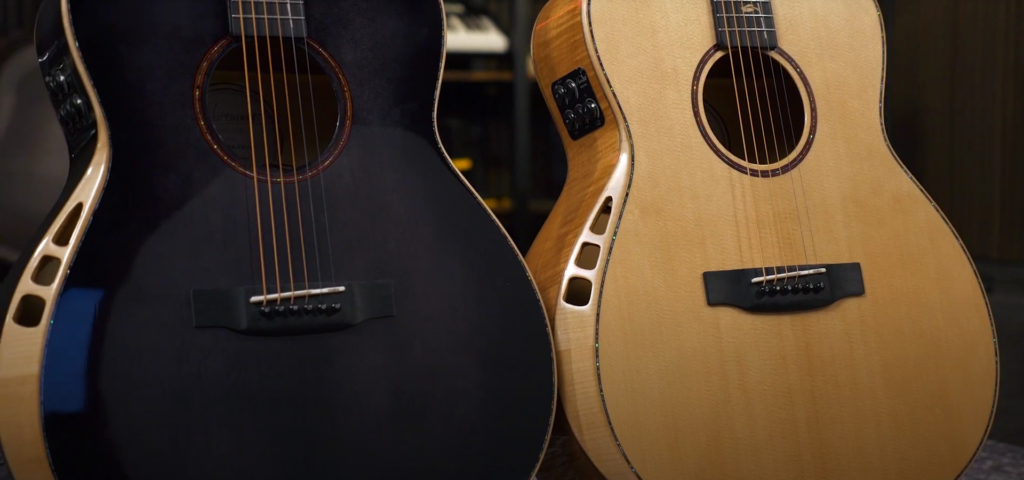 An individual style
It's one thing to have an array of onboard, exciting effects, but the Hartwood Sonata FX takes it a step further with a captivating aesthetic. A gorgeous leaf inlay pattern runs the length of the fingerboard, supplemented by flamed back and sides for an instrument that's a feast for the eyes.
And it isn't all just about form, as the striking body contour with integrated sound holes serves an extra purpose. The upwards angle allows you to keep a close ear on the sound you're outputting. This is invaluable for performing, as you can perfectly dial in your effects, or check that your sound is in tune. It's the acoustic equivalent of in-ear monitors!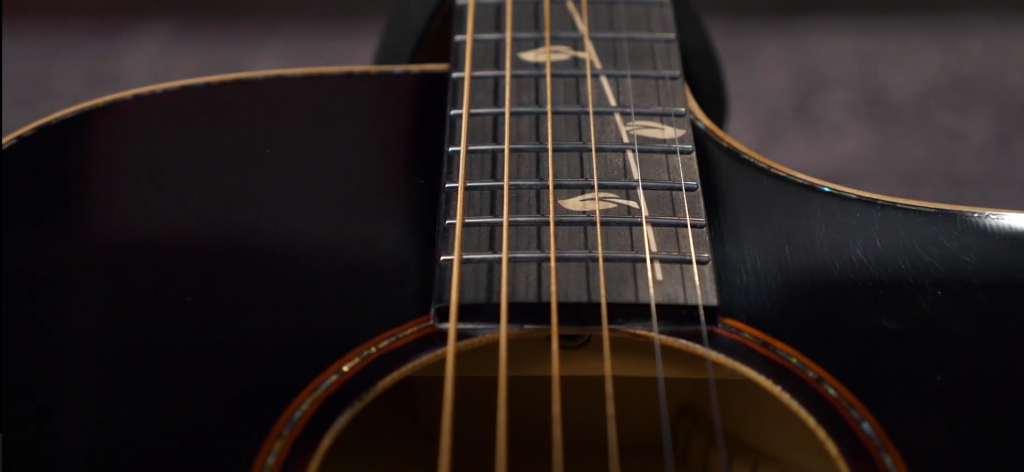 What about the acoustic sound by itself?
A fair question. We've bigged up the onboard preamp so far, but what kind of dry sound can you expect out of these? A pretty rich and detailed one! With each model boasting maple back and sides that are matched with solid Sitka spruce tops, there's a full range of frequencies on offer.
That solid spruce top is particularly notable for delivering a sparkling high-end and responsive playing experience. It voices your notes with clarity and articulation thanks to its naturally stiff characteristics, and due to its solid construction, it will only get better with age. Teamed with an X-shape bracing, each model possesses a resounding and balanced projection.
Meanwhile, the maple back and sides contribute to a broad dynamic range, with plenty of mid presence and definition. On the larger Concert and Jumbo sizes, you can expect a fuller low-end for a more impactful unplugged performance.
How does it play?
Effortlessly. With three different profiles to choose from (Thinline, Concert, Jumbo) you can get the ideal playing stance to suit your needs. Common to all three models is the comfortable "thin C" shaped neck that lets you play for hours without fatigue. Combine that with its manageable string spacing, and it makes for easy chording, putting little strain on your fingers.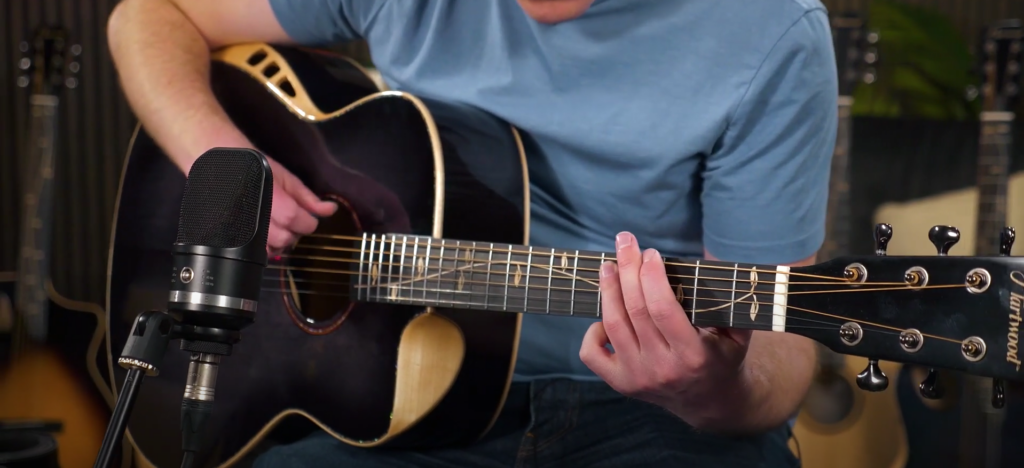 You've got the capacity to switch between several different styles, as the spacing is wider than electric guitars but not quite as large as a thick-necked steel string. Both fingerpicking and strumming techniques have plenty of room to blossom on the Hartwood Sonata FX, and its sleek neck even allows for more adventurous electric-style riffing.
This flexibility helps bring out the best of the built-in electronics as you're not restricted to any genre.
Find out more
Hopefully you've got a good sense of what this unique set of guitars offers you. It's certainly unique in style and sound, and sits at an exceptional and accessible price point.
If you'd like to see more about this exciting range, check out the full series below. Or, for a taste of the sound, check out our video above!