When you think "digital pianos", the first brand you're likely to think of is
Yamaha
. And there's a reason for this. Since 1887, the experts of this renowned brand have been raising the bar of instrument quality to exceptional heights.
Their Clavinova range is no exception.
---
Clavinova history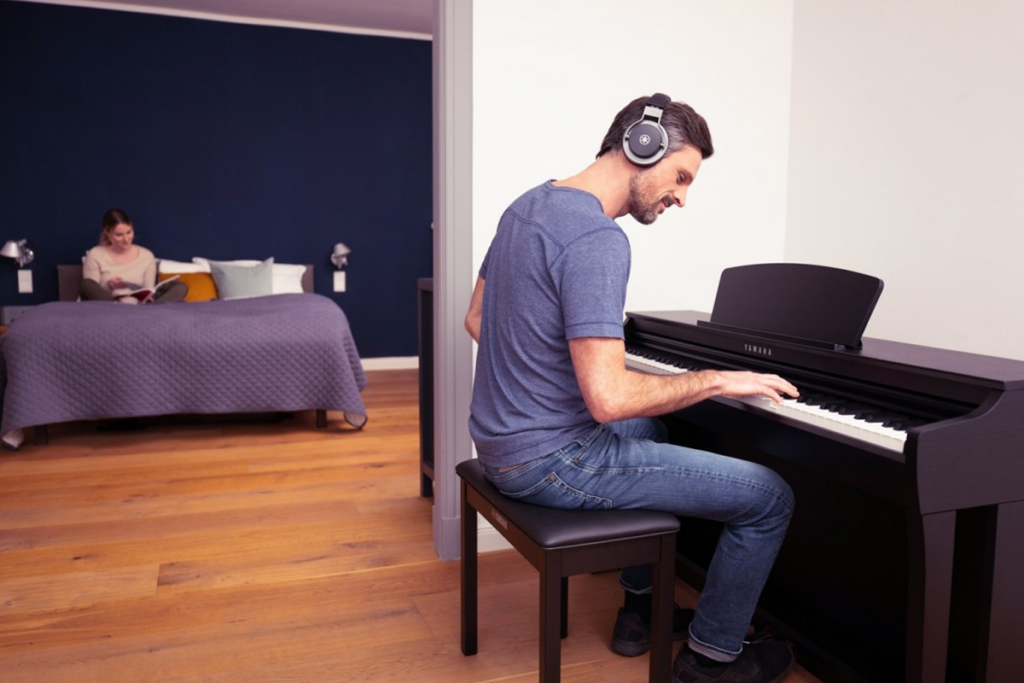 With years of experience and unparalleled knowledge going into every key, Yamaha's Clavinova range is the product of constant innovation. Debuted in 1983, it redefined digital pianos, and Yamaha has been perfecting them ever since.
Take the Graded Hammer keyboard, for example. It was introduced in 1996 to provide pianists with a natural, authentic-feeling experience.
Players no longer had to sacrifice the smooth, intuitive response of an acoustic keyboard – they could have great digital perks and strikingly realistic playability at the same time. And the sound samples were improving, too.
In 2008, the digital piano was filled with soul and tone courtesy of the CFIIIS full concert grand. Meticulously obtained samples meant that players could enjoy the scale of a grand piano's sound, but with a much more compact and affordable physical form. The best of both worlds.
However, the CFIIIS wasn't enough. Two iconic pianos had to be installed in the Clavinova pianos for players to relish exceptional versatility and room-filling sound.
As we all know, when it comes to pianos, it isn't a 'one-size-fits-all' kind of situation. You would choose an acoustic piano based on its tone, as that is unchangeable, but with a digital piano, you have the benefit of sculpting, shaping, and defining your sound.
Therefore, six years later, Yamaha captured the voicings of the CFX Concert Grand and the Bösendorfer Imperial concert grand for the CLP series. They gave players the chance to decide which piano tone is best for them.
Today? Expressive sound and authentic feel are two key features of Clavinova. From natural, counterweighted keys to exquisitely recorded dynamics – both the structure and sound quality have been considered in great detail. Plus, intuitive apps such as Smart Pianist and flowkey can be easily connected, helping you hone your skills.
---
Why is the Clavinova so popular?
Every current model of the Clavinova range is built to offer great playing experiences to budding pianists and professionals alike. They're loved by musicians around the world.
If you want a digital piano to aid you in developing, practising, and mastering your skill – innovative technology is key. With Yamaha, this comes in the form of Grand Expression Modelling, which enables each piano key to react to your touch in an exceptionally detailed and expressive way.
Its response is just like that of an acoustic piano – a dream come true for beginners who want to practise proper technique that feels the same during an exam or recital.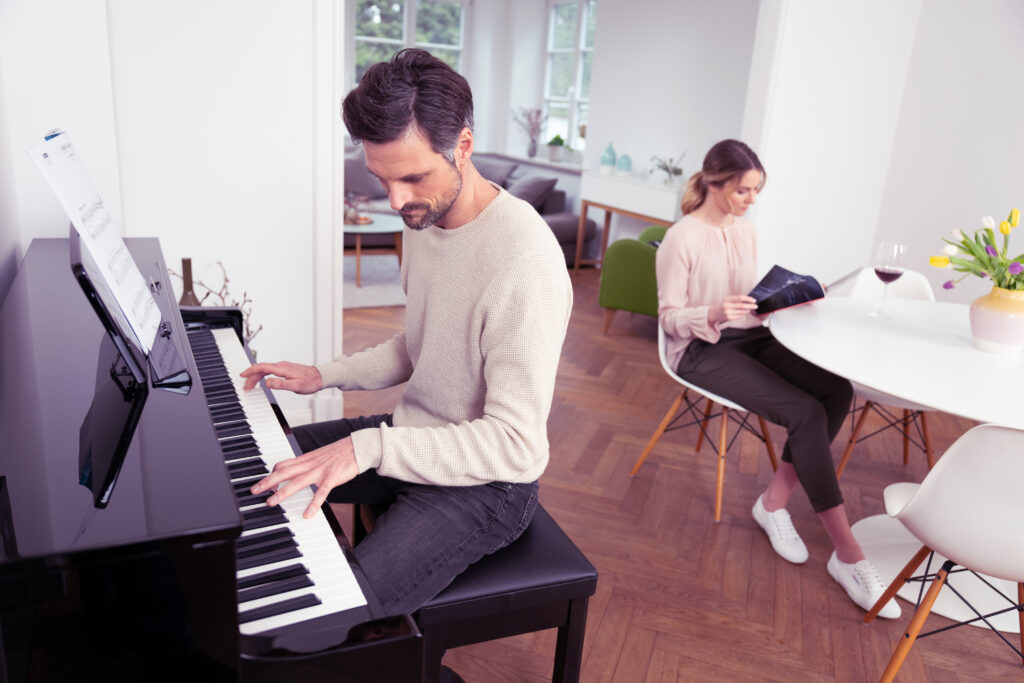 The Clavinova's carefully recorded sound is also a huge hit with pianists. Only the best of the best has been used, bringing concert hall-worthy sound to your home.
The CFX grand was played by the 2010 International Chopin Competition winner, demonstrating its prestige and grandeur, whilst the Bösendorfer Imperial produces the famed "Viennese Sound" and is deemed to be the only piano capable of withstanding the energetic playing of Franz Liszt.
It's having these hugely respected and admired piano sounds – and all their nuances – installed within a digital model that makes the Clavinova range the first port of call for many seasoned players.
Virtual Resonance Modelling (VRM) then enhances this sound even further, causing notes to blend in and out of each other in the same way they would on an acoustic piano. This alleviates any unnatural breaks in sound, and further improves the recreation of acoustic piano resonance.
---
Meet the models
So, now you know the history and why they're adored by pianists, how does each model differ?
---
Yamaha CLP 725 Digital Piano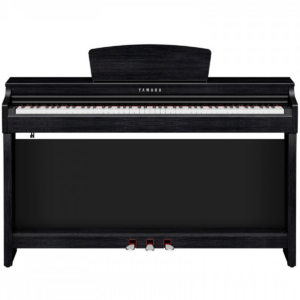 The most affordable model of the Clavinova range, the CLP 725 is an exceptional choice for beginners and advanced players looking for something to showcase their ever-developing technique.
It features a GrandTouch-S keyboard – a staple of all the CLP pianos, which replicates the response of hammers hitting the strings. Grand Expression Modelling then further imitates an acoustic piano's playability and the way hammers, dampers, and strings interact with each other.
All this careful craftsmanship and attention-to-detail results in a keyboard that responds to the intensity, depth, and speed of your playing.
There are four levels of keyboard touch sensitivity: hard, medium, soft, and fixed – granting just the right response to whatever you play.
Binaural sampling (used for the CFX Grand) and Yamaha's Stereophonic Optimiser allow for an expansive sound that doesn't change with headphones. How might that be, you ask? Well, the beauty of the Stereophonic Optimiser is that it promises silent practice that's not quite so….  silent. To you, that is.
When you pop the headphones on, you'll be in your own world of whirling, immersive sound that feels as though it's coming directly from the piano. It's unlike any other silent practice experience, and it's this kind of attention to space and natural sound that makes Yamaha so sought-after.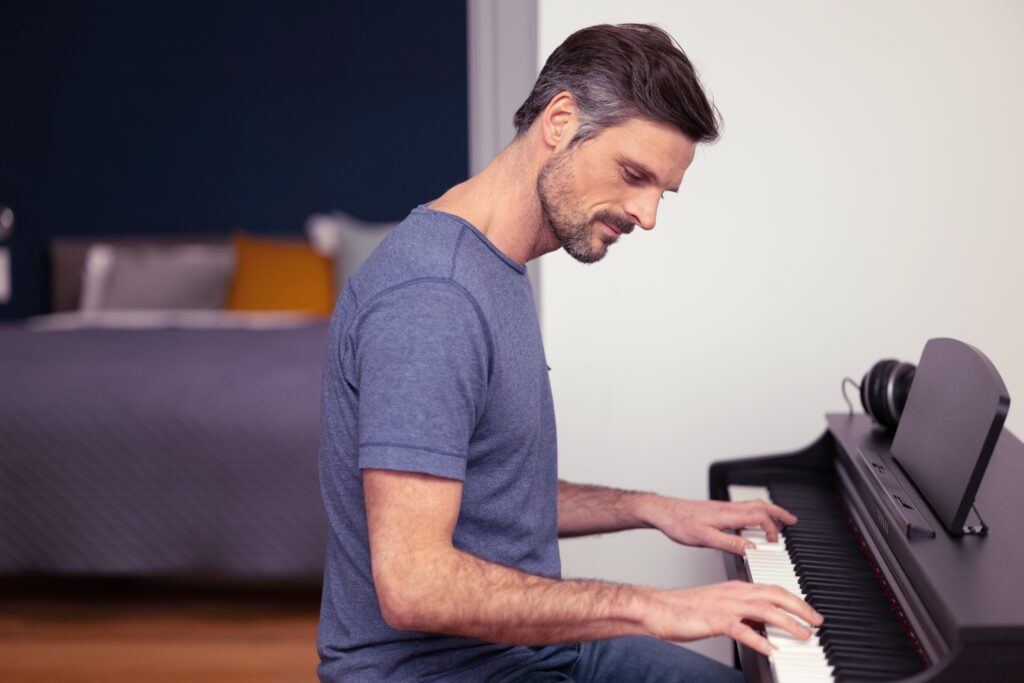 As mentioned earlier, samples from the CFX and Bösendorfer Imperial have been masterly installed in the CLP models. With the 725, two 20W speakers then provide enough amplification to fill the room with their magical tones.
That's not all, there's actually an array of 10 voices to choose from, with a maximum 256-note polyphony for full, rich sound. And when you want to layer these voices, you can via – you guessed it – Layer mode. Duo mode is also there to help beginners progress, allowing both student and teacher to play at the same time.
Versatile connectivity is a must-have for many pianists. Not only can the CLP 725 be connected to headphones, but it can also be linked to external devices.
The Smart Pianist app allows you to adjust settings and select instrument voices remotely, whilst also enabling you to play along to your favourite songs. And three months of flowkey premium is included with the piano, an app that's regarded as one of the best piano learning apps out there.
Shop now | Yamaha CLP 725 Digital Piano
Shop now | Yamaha CLP 725 Digital Piano Package
---
Yamaha CLP 735 Digital Piano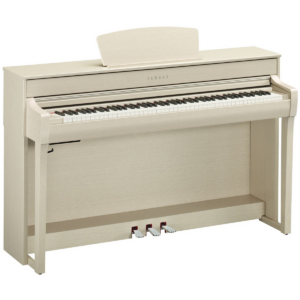 Next up, we have the CLP 735, a piano that's similar to the 725 but with a little extra oomph in sound projection and a wider range of functions.
Firstly, you'll have the GrandTouch-S keyboard with synthetic ebony and ivory keytops. It boasts Yamaha's "Escapement" technology, which allows you to experience those nuanced responses that you would expect in a grand piano. Even with the slightest of touches, the key will react accordingly.
In fact, there are six levels of keyboard sensitivity: hard 1, hard 2, medium, soft 1, soft 2, and fixed. Having extra sensitivity levels at your fingertips opens the door to a much more detailed response, so a broader variety of playing techniques can reach their full potential.
As ever, sounds of the Yamaha CFX and Bösendorfer Imperial have been loaded, powered this time by two 30W speakers. You can then choose from 6 reverb effects and 3 chorus effects, all of which allow you to sculpt the kind of sound projection you're after.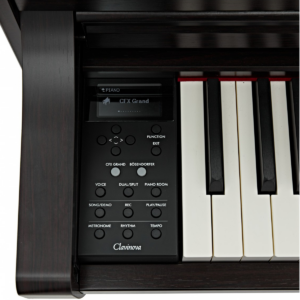 A huge leap from the 725, this Yamaha creation holds a total of 38 voices, including period-correct fortepianos used by the likes of Mozart, Beethoven, and Chopin.
Much simpler than modern-day pianos, the sound of the fortepiano decays quickly. With the 735, you have a unique opportunity to play and hear the pieces of these renowned composers exactly how they envisioned them. History at your fingertips.
As well as Layer and Duo functions, the 735 also boasts a Split function. This is particularly useful for composers and arrangers who want to see how various instruments sound with each other. Set one voicing to the bass half of the piano and another to the treble, and you'll have full, clear timbres to explore.
Binaural sampling has been used for both the CFX Grand and Bösendorfer, and thanks to the Stereophonic Optimiser, you won't feel like you're wearing headphones during those silent practice sessions.
The 735 comes with external device connectivity, meaning you can connect the Smart Pianist app and enjoy three months of flowkey premium.
Shop now | Yamaha CLP 735 Digital Piano
Shop now | Yamaha CLP 735 Digital Piano Package
---
Yamaha CLP 745 Digital Piano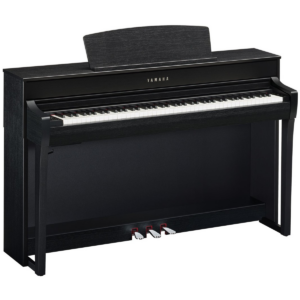 The CLP 745 takes things up a notch with a GrandTouch-S keyboard that is enhanced with wooden white keys. This might seem like a small aspect of the piano's design, but it's this kind of scrupulous attention to the finer details that has earned Yamaha its prestigious reputation.
Not only are the wooden white keys a dream to play, but they also perfectly replicate the feel of a grand piano. Plus, they look much better than laminate keys and they're resistant to warping.
The 745 features 38 voices, two of which are fortepianos, just like the CLP 735. And it has a gloriously powerful set of speakers courtesy of two 50W amplifiers. Such a grand sound system is perfect for pianists who want to send the sparkling tones of the CFX and Bösendorfer out into a room of any size.
The main difference between the CLP 745 and the aforementioned models is Bluetooth MIDI and audio technology. This is the first model in the 700 series to feature such useful connectivity, and you're sure to notice its convenience straight away.
Connect to a smartphone or tablet without any cables getting in the way, explore the breadth of learning tools that the Smart Pianist app has to offer, and relish your limited-time subscription to flowkey premium.
Shop now | Yamaha CLP 745 Digital Piano
Shop now | Yamaha CLP 745 Digital Piano Package
---
Yamaha CLP 775 Digital Piano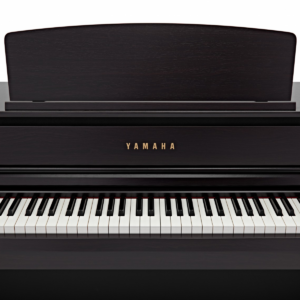 Just when you thought things couldn't get any better, the CLP 775 comes along.
It features a GrandTouch keyboard for sublime, authentic-feeling playability that is distinctive to each key.
With three sensors and wooden white keys, the responsiveness of this intricately designed technology promises a mammoth range of playing dynamics. And this not only enhances the piano's sound, but also adds to the enjoyment of performance.
Each and every key of the 775 has been individually weighted for a precise, intricate emulation of acoustic piano playability.
Such painstaking detail makes this digital beauty the high-end piano that it is, perfect for professional players who want the sleek feel of an acoustic combined with the added benefits of digital design.
And what are these digital benefits? Well, they come in the form of various functions, effects, and voices. As well as Dual, Split, and Duo functions, there are 6 types of reverbs and 3 types of chorus effects, whilst Bluetooth connectivity enables you to wirelessly connect to the Smart Pianist and flowkey apps.
The 775 also boasts some seriously magnificent sound projection. Not only do you have 38 voices and two legendary pianos (you guessed it – the CFX and Bösendorfer), but you also have the kind of far-reaching amplification you would expect in a concert hall. It's all courtesy of two 50W speakers.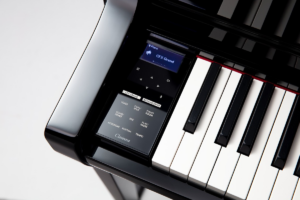 Also included with the piano – and what makes it really stand out – is a Grand Piano Response pedal, an innovative upgrade on standard damper pedals commonly found with digital pianos.
This piece of Yamaha craftsmanship promises a smoother, more detailed performance in which the depth of your sound can be controlled with incredible precision.
Rather than just switching on/off, by depressing the pedal you activate a gradual change in sound – the pedal even becomes heavier the further it's pressed, just like that of a grand piano.
Shop now | Yamaha CLP 775 Digital Piano
Shop now | Yamaha CLP 775 Digital Piano Package
---
Yamaha CLP 765 Digital Grand Piano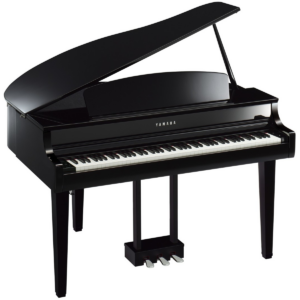 The final – and most aesthetically magnificent – model of our list is the CLP 765. It's a Clavinova piano for serious pros, housing features of the 735 in a grand-style cabinet. Wherever it stands, it brings sheer elegance and splendour.
Undoubtedly, the first thing you'll notice is that it's a grand piano. You can really feel the full scale of the sound you're emitting, allowing the CFX and Bösendorfer samples to ring through the 50W and 42W amplifiers.
Binaural sampling, Virtual Resonance Modelling, and Stereophonic Optimiser have all been employed for a truly authentic recreation of these iconic piano sounds, the same way they have been employed for the other CLP models.
The difference here is that the scale of this grand piano and its speakers really brings the samples to life.
Two of the 38 voices are historically accurate fortepiano samples, granting you the tonal experience that Beethoven and Mozart had, but with the brilliant modern-day innovation that only Yamaha can bring.
You can never stop improving on skill, which is why, even though this piano might seem like it's for pianists at the top of their game, it comes with a three-month subscription to flowkey premium.
Such an extensive range of courses and songs allows you to adapt the app and its resources to your own ability level. There's even instant feedback to ensure your skill is perfected and sounding its absolute best.
Shop now | Yamaha CLP 765 Digital Grand Piano
Shop now | Yamaha CLP 765 Digital Grand Piano Package
---
Which is best for me?
It probably comes as no surprise that the deeper you dive into the Clavinova range, the more advanced the pianos become. You wouldn't be wrong to think that the more expensive models are for more seasoned players, but that's not a hard and fast rule.
If you're a beginner, you might head straight for the CLP 725. This is a great place to start, as it boasts all the Yamaha quality and innovation you would expect, whilst also delivering basic sound-sculpting functions and ample speaker power. Advanced players are also sure to love its smooth playability and expertly recorded sound samples.
In fact, whichever model you choose, you'll have recordings of two legendary pianos, taken with meticulous attention to detail and dynamics.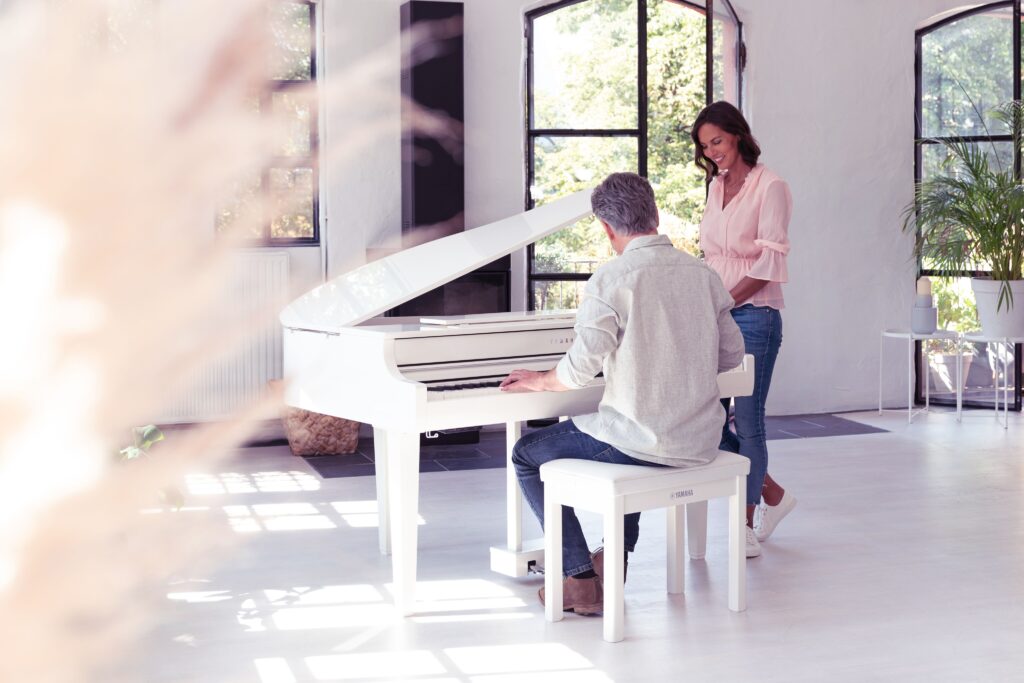 It all depends on the kind of functions, number of voices, and amplifier power you're after. Someone with a higher ability level might be looking to branch out into other instrument voices, especially if composition and arranging is their style. This is where the 735 thrives.
It's not until we reach the CLP 745 that Bluetooth is introduced, perfect for pianists who want full freedom to connect to external devices.
If you're an advanced player or professional looking for the finer, detailed features that will enhance your playing even further, the 775 might be the one for you. With its Grand Piano Response pedal, you're granted excellent control over your sound.
And, of course, if you have the space and budget, the CLP 765 Digital Grand will make for a magnificent addition to your home.
---
Find out more
Every piano in the Clavinova range has been exquisitely designed and crafted to offer the best playing experience possible.
But it's not just Clavinova pianos that Yamaha have to offer. Why not take a look at their vast collection of digital pianos? You're sure to find something that works for you.
Shop now | Yamaha Clavinova
Shop now | Yamaha Pianos