It's possibly one of the most memorable and eccentric guitars of all time, an instrument that has George Harrison's eclectic musical personality stamped all over it. The multicoloured, world-conquering "Rocky" Stratocaster became one of George's signature guitars and has been a source of inspiration to many players in the decades since.
But how did it acquire its decorative paint job, and why was George so fond of it? If you want to see the fascinating journey of a Strat that went from the shelves of a humble music store to the mainstay of an all-time legend, then read on.  And naturally, if learning about such a unique and characterful guitar has you wanting your very own copy, you're in luck!
Fender have risen to the challenge and released an affordable replica that we'll tell you all about.
In the beginning…
It all starts with the early days of the Beatles. In those times, Fender Stratocasters were few and far between in Britain… and their rarity made them even more desirable.
Like many of his contemporaries, George was desperate to have one.
Eventually, he discovered a Stratocaster for sale. Naturally, he was unimaginably excited at the opportunity to get such a prestigious guitar. And so, he arranged to get up early the next morning and head to the seller straight away. George was ready to lay hands on his very own Strat.
But unfortunately for him, he wasn't early enough! To his dismay, he arrived at an empty shelf – another guitarist had pipped him to the post. And coincidentally, it turned out to be the guitarist of Ringo Starr's then-band "Rory Storm and the Hurricanes". Poor George was utterly distraught, in the words of the man himself:
"I was so disappointed, it scarred me for the rest of my life!"
This left him frustrated, as his current setup just wasn't producing the sounds he wanted. He'd have to make do without one, though, because it would take some time for him to finally acquire his first Strat…
Getting the Stratocaster
A few years went by, and George is mostly over his missed opportunity. Time heals all wounds, or so they say. And even if it didn't, then becoming an internationally famous pop star would certainly help distract oneself.
Thanks to this rise to stardom, George found himself constantly working on new records for The Beatles. During one of these intense sessions, he remembered his desire for a new, dynamic sound, so both George and John Lennon requested their very own Fender Stratocaster guitars.
"Even in the mid '60s, people thought that the electric guitar craze was finished."
Fast forward to 1965, and The Beatles are about to record the album "Rubber Soul". Band manager Brian Epstein heard the duo's request for a new set of Fenders and offered to pay for them. This seemingly generous offer came with a massive caveat: he'd pay if, and only if, they could find a pair of guitars that were the exact same model and colour.
Perhaps it was for band uniformity reasons, or perhaps Epstein was hoping to avoid shelling out his money, either way, Beatles roadie Mal Evans had a huge task set out for him.
Still, after some searching, Mal eventually found two Sonic Blue 1961 Stratocasters at a shop called "Grimwoods". Striking guitar gold, Mal snapped them up. And although the shop has long since been lost to time, its name lives on through these guitars thanks to the large "Grimwoods" decal on the back of the headstocks.
Epstein fulfilled his end of the bargain and paid for the two guitars. George put his Sonic Blue machine to work straight away, with it appearing on "Ticket to Ride". It would later be used for most of the tracks on Rubber Soul. Notably, the song "Nowhere Man" and a standout solo segment on "Run for your life" show Rocky in its formative years.
Transformation to Rocky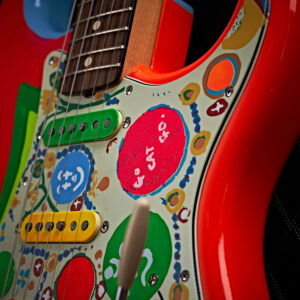 By this point, George's affinity for the Stratocaster had been well and truly established. It was love at first sight, and he couldn't be happier with the American six-string. So happy, in fact, that Harrison remarked he wished he could have learned to play on a Strat!
For the next few years, he continued to use it in recording sessions for successive Beatles albums. Such was his affection for the guitar that he rarely, if ever, used it on stage during this time. Instead, it was reserved for the safety of the studio, where it still appeared on every major album after he acquired it.
But to truly make the guitar his own, George needed to put his personal mark on it.
"During '67, everybody was painting everything. And I decided to paint it… and I got some dayglo paint, which was quite a new invention in them days! And I just sat up late one night and did it."
And so Rocky was born. Dressed in its new psychedelic paint job, it displayed the vibrant personality and musical taste of Mr Harrison. But more than that, it encapsulated the hippy attitudes and free love of the '60s.
Little additions
While the initial paint job was radiant, George didn't complete the job in one night. Things like the "Be-bop-a-lula" reference and a few embellishments were added later.
The text was a homage to a George Vincent song that the Beatles often covered in their early days, and other things like the Hindu "om" symbol (think of meditation) reflected George's interest in spirituality.
Although the body of the guitar catches the eye with its glowing brightness, the headstock is just as noteworthy thanks to an interesting figure inscribed upon it.
Harrison painted this sparkly image using his then-wife's nail varnish, and the result is a trippy visage of a man. That man is supposed to be none other than Eric Clapton! Of course, art is subjective, but this Eric looks like he's been summoned from an alternate, multicoloured demon dimension. It certainly stands out, though.
Why Eric Clapton? The two musicians were great, enduring friends. As well as collaborating on numerous occasions (including the iconic song "While My Guitar Gently Weeps"), they were close right up until Harrison's passing, adding an extra touch of sentimentality to the hallowed guitar.
Keeping up appearances
Rocky first appeared in all its colourful glory on one of the world's first satellite broadcasts in 1967. On a groundbreaking program called Our World, The Beatles performed "All You Need Is Love" and Rocky shined brightly.
In the remaining Beatles years, Rocky was mainly reserved for studio and recording use, featuring on more iconic tracks like "Strawberry Fields Forever" and "Hey Jude". However, post-Beatles Harrison made much more use of it on stage.
It was in those last few Beatles years, around '69-'70 that George began playing slide styles on Rocky. In fact, he learned from accomplished guitarist Ry Cooder, who taught him to jack up the bridge of his guitar and use thicker gauge strings to draw out better sounds.
The guitar itself…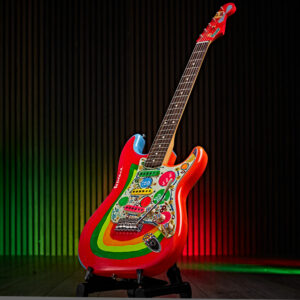 Now that we know the story of Rocky, it's time to examine that guitar itself. As a 1961 model Stratocaster, it has some characteristics that you wouldn't usually find on a modern version.
Equipped with the vintage-style tuning machines and a bridge (with cover!) that were typical of guitars of the era, it has that undeniable Fender class.
The sounds it generated were courtesy of a trio of single coils wound by Fender pickup master Abigail Ybarra.
These hand-wound and wired pickups created a bespoke tone that you just don't get out of machine-wound modern versions.
Yet another individual attribute of the Rocky is its asymmetrically shaped maple neck, again, something you wouldn't find on a modern Strat. Coupled with its unique blend of birds eye and flamed maple wood, it's a true relic of the period.
Where is it today?
After George passed, Rocky fell into the care of his estate. Harrison's son Dhani now looks after the veteran guitar, as well as the rest of his father's collection. As it happens, Dhani was gracious enough to lend out the original to Fender a few years ago.
At their renowned Custom Shop, Fender were able to examine every inch of the instrument, in order to replicate its style, spirit, and most importantly, sound.
The result was a line of around 100 stunning clones.
The Fender Custom Shop tribute…
It's hard to overstate the stunning job that Fender's Custom Shop did in making replica Rockys.
Every detail, scar, and chip of paint was accounted for. Even the worn Grimwoods decal was properly aged and perfectly mimicked on their tribute models. And to get it sounding just right, they even brought Abigail Ybarra out of retirement. She was able to custom wind all the pickups in the run to capture that authentic tone.
Of course, such craftsmanship, skill, and attention to detail took exhaustive hours of labour to achieve. And so the Custom Shop was priced accordingly… at an eye-wateringly expensive $25,000 when they were released. Unfortunately, this meant that the instrument was beyond the grasp of many players.
In addition to its limited release, with around 100 being built, it would have been very difficult to obtain one even if you were prepared to spend the money!
But – and yes, there's a but – for all the George Harrison, Beatles, and Rocky fans (as well as tasteful folks who want a multicoloured dayglo Strat) who still want their own version, Fender have listened, and Fender have delivered!
Introducing the new Rocky Stratocaster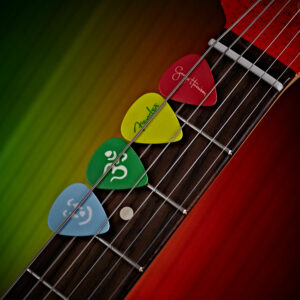 Inspired by the original and influenced by the Custom Shop, Fender now present an affordable and excellent tribute to the revered Rocky. Complete with all the visual bombast and psychedelic vibrancy that made the original so special, this new Strat places the soul and character of one of George's favourite guitars into your hands.
It also gives you that classic '60s Strat sound which made Rocky pop on all those Beatles songs. A trio of '60s voiced single coils puts the chime and cluck of the vintage guitars at your disposal, while the period-accurate hardware gives it a truly authentic feel.
And now that you know the story behind this grail of guitardom, it'll make getting your own even more special.
Complete the look
Once you've got the kaleidoscopic Rocky in your hands, you might want a set of suitably matching accessories to complete the ensemble. Fender have thought of it all, and have released a line of Rocky accessories – including a strap and cable – to truly amp up the polychromatic style.
Find out more
If you've enjoyed reading the story of George's Rocky, why not find out about John Lennon and his Epiphone Casino? Or take a look at our range of Artist Stratocasters for even more history to explore.