Looking to learn new riffs, expand your repertoire, and hone your abilities? The Gear4music Select range is for you. Elevating the original Select guitars with an abundance of fresh, premium features, the new series is geared toward those looking to take the next step in their musical journey.
Offering that recognisable playability at an affordable price, these guitars are built for more than just the beginner. The premium feel will also appeal to professionals on a tighter budget, or even those looking for a certain aesthetic – Select guitars can easily handle both.
---
What gives the Select series its edge?
The Select series takes a step beyond our baseline model, giving you that extra oomph and raising the bar for what you can expect from your Gear4music guitar. Even better, it achieves all this at an impressive, pocket-friendly price.
These guitars come with brand new styles, making you look sharp from every angle on stage. There are also new unique finishes, exclusive to the Select series, that really make these guitars stand out. Coming in multiple shapes and sizes, there will certainly be a model to your liking.
Some of the key upgrades you can expect include a roasted maple neck, higher quality hardware, set neck designs, ash bodies, relic finishes, alongside many more.
So, let's run through the impressive models we have available within the Select series.
---
LA Select Electric Guitar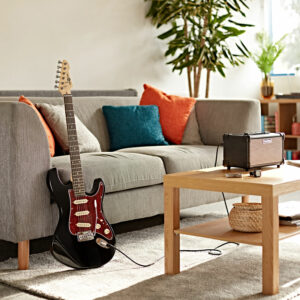 The LA Select series offers iconic style and superb playability, maximising all aspects of the guitar's design to ensure everything is optimised for your performance.
A wide array of tones are achievable thanks to two different pickup configurations: a triple single-coil and a duo-single coil and humbucker.
Of course, there are advantages to both configurations.
With the SSS you can achieve a lighter, springier sound, while the HSS configuration gives you more depth and warmth at the bridge. Both can be customised with an intuitive and straight-to-the-point switching system.
Possessing impeccable natural tone, the LA Select is constructed from ash, which provides a balanced response across all frequencies. Offering scintillating highs, a tight midrange, and a fantastic low-end, ash can handle everything you task it with, perfectly complementing the pickups along the way.
Brilliantly playable, LA Select guitars come with either a laurel or roasted maple fretboard, both of which guarantee an immaculate feel which has been tested by a multitude of manufacturers. The luxurious roasted maple ensures a premium aesthetic as well as the delightful feel.
All the guitars utilise maple for the neck, which makes every grasp extremely comfortable, prolonging your performance and actively reducing the strain of long practice sessions.
Shop now | LA Select Electric Guitars
---
New Jersey Select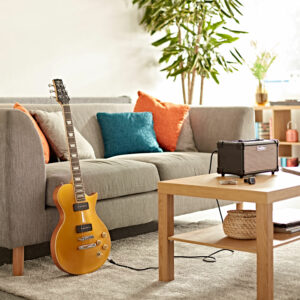 For the budding rockstar, we have the New Jersey Select. Delivering that instantly recognisable rock aesthetic, the heavier nature of this guitar is perfectly constructed for a fantastic playing experience.
With modern and retro stylings, there is a finish to suit your style, whether that's natural maple, beautiful black, glorious gold, or even a vintage-inspired, stunning silverburst.
Such versatility doesn't just apply to the aesthetic of the New Jersey Select, but to the tone, too. A variety of pickup configurations offer new opportunities to explore the tonal landscape of the instrument.
If you want a fierce and ferocious sound, the dual humbucker approach available on the silverburst or spalted maple finish is the one for you.
For a trendsetting tone that is simultaneously experimental and articulate, the P90 combination of the glorious gold may be the one to take your sound to the next level.
Finally, the three-humbucker setup of the beautiful black New Jersey captures every single frequency and tone emitted from the body of the instrument.
This pickup variety is rarely found at this price point, which makes these selections enticing for musicians of all levels, especially those searching for a specific sound.
All featuring a mahogany body with a maple top, as selected by our team of specialists, you can be assured that this guitar offers excellent resonance and a well-rounded tone. The deep, warm sound of the mahogany, with its rounded midrange and punctuated lows, is perfectly supported by the excellent highs of the maple top.
The hardware present on these models is also extremely impressive. A Tune-O-Matic bridge delivers excellent string tension and tuning stability, while also ensuring superb sustain throughout all your playing. This is further enhanced with a set of delightful and visually striking Vintage Tulip Shape die-cast machine heads which hold your tuning perfectly in place.
Brilliant, bold, and exuding tonal brilliance, the New Jersey is a terrific option for anyone looking to fully hone their skills.
Shop now | New Jersey Select Electric Guitars
---
Knoxville Select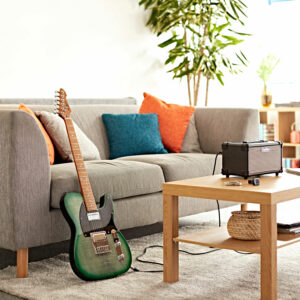 For those looking for a jangly, free sound, we have an abundance of options with our Knoxville models. Capturing the style and tone from the early days of the electric guitar, the Knoxville Select can handle anything you throw at it. From blues to pop, from rock to country, this masterful instrument delivers a plethora of tones.
Again, with this model, we see a variety of pickup configurations, all of which excel in producing different yet distinct tones.
If you're craving the authentic sound of the single-cutaway's early tone, the Knoxville has you covered. Two single-coil pickups are deployed at the neck and bridge for a glistening sound that glimmers with fluttering frequencies.
On the other end of the pickup spectrum, we offer a double humbucker approach that maximises the depth exuded from the pickups, fully punctuating every little nuance within every single frequency.
There's also room for manoeuvre thanks to models that have three single-coils and others that have both a single-coil and humbucker.
A wide range of aesthetics is readily available with the Knoxville, including ultra-modern finishes such as space burst and vintage-inspired models within the Select Legacy series. The Legacy models feature relic necks and bodies that look road-tested with artificial wear and tear across them.
With availability for both basswood and ash bodies, you also have a multitude of options when it comes to your tonal foundation. Both bodies offer a balanced and well-rounded tone, perfectly defining the low end while keeping highs glistening throughout your performance. This makes the Knoxville extremely versatile, suiting a wide range of genres and making it the perfect companion for a variety of musicians.
Shop now | Knoxville Select Electric Guitars
---
Seattle Select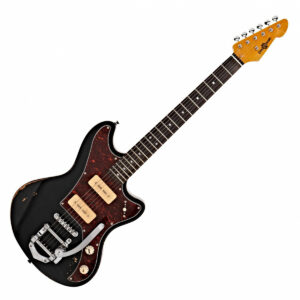 The Seattle Select brings you an offset guitar that's bursting with vintage inspiration. With classic finishes, retro hardware, and a tone that bursts with the influence of the '60s, the Seattle will take your musical journey to the next step.
Equipped with a pair of P90 pickups, the guitar is capable of a wide range of tones.
P90s have an extended frequency range, which gives you some extra definition courtesy of more highs and extended lows. Sitting blissfully between the bright, punchy tones of a single-coil and the warm, thick roar of a humbucker, you can easily achieve the best of both worlds. Their output is also higher than a single-coil, which gives your tone more grit, embellishing it with powerful capabilities.
The Seattle is aesthetically pleasing too, and it will fit seamlessly into any aficionado's collection. With aged stylings, everything has been made to look time-tested. The neck boasts a comfortable, worn-in feel, whilst an artificially chipped body gives the instrument that final relic-like style.
Equipped with a fantastic array of hardware, every aspect is optimised to make the experience of playing these instruments simple and straightforward. A Tune-O-Matic bridge paired with vintage-style tuners ensures the utmost tuning stability, freeing you to play without the worry of your tuning slipping.
Shop now | Seattle Select Electric Guitar
---
Brooklyn Select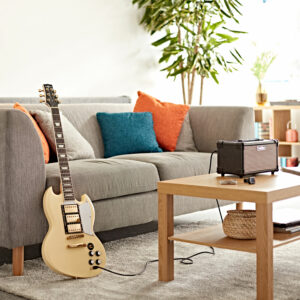 Ready to unleash your inner rocker? Then look no further, the Brooklyn Select is built for those about to rock. Stunning aesthetics with a vintage vibe, delightful humbucking pickups, and fantastic hardware… everything is optimised for tuning stability and a ferocious tone right at your fingertips.
One thing that truly stands out is the guitar's adoption of three chrome, closed, humbucking pickups, the use of which allows the model to hold a luscious and thick tonal texture.
It's a sound that can be finely tuned to do anything you require. This is thanks to the three-way pickup selector switch and three individual volume controls that let you select the exact amount of tone you want from each of the humbuckers.
The double-cutaway design simultaneously offers a sharp, eye-catching aesthetic and easy access to the upper frets of the thermally treated, oiled poplar laminate fretboard. This really sums up the experience with the Brooklyn – everything is focused on elevating your performance, from die-cast tuners that hold your strings perfectly to a sleek maple neck which lets your hand glide with impressive freedom.
Everything about this model screams 'vintage'. The red variant showcases stunning natural wood grain, and it's topped off with classic chrome hardware such as the bridge to tuners. The ivory variant displays a clean gloss finish, and instead of the chrome hardware, this model comes with a stunning gold hardware finish, something that'll help you glow on stage.
Shop now | Brooklyn Select Electric Guitars
---
An excellent option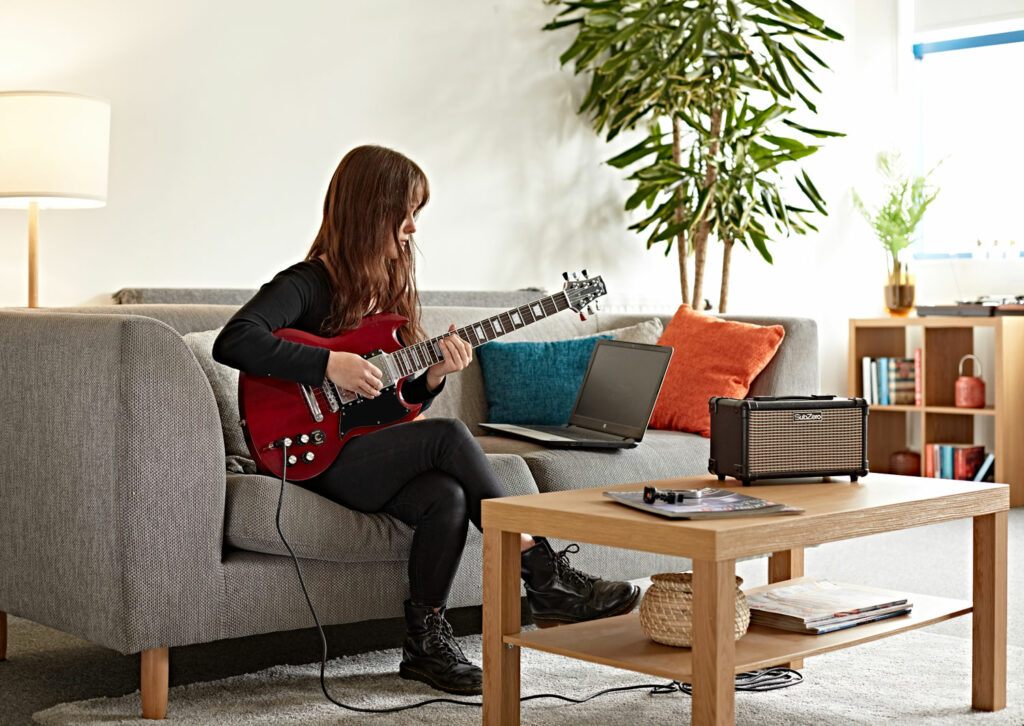 The versatility of the Select series is something that's unparalleled at this affordable price point, which makes the guitars an enticing prospect for a wide variety of musicians. It also makes them an excellent option for players looking to grow with their instruments too.
The array of guitars and sounds means there will always be one to suit your performance, also making them a fantastic choice for anyone looking to start gigging.
When taking to the stage, it's important to have the right equipment with you, and the Select series provides the perfect opportunity to do this with its multitude of improvements. Even professional players will be able to add another dimension to their performance.
The applications of these instruments are truly endless. From beginner to pro, there is an option for any player of any level.
---
Find out more
Now we've gone through the advantages of Select guitars, why not take a look at the full series?