Learning the violin is no easy task, and picking the right instrument to get started with can be just as difficult. Firstly, you have lots of shapes and sizes to choose from, then you have different brands and models, and this is before you even consider bows and accessories.
Don't worry, we have you covered. We'll walk you through the basics and talk about some violins, so you know exactly what to look for.
---
Which size of violin?
While violins do come in a variety of sizes, having a choice is usually only useful for younger virtuosos, as adults tend to go for the full-size option. The different sizes of instruments are all about comfort and playability; therefore, the size of the violin you decide upon should simply just be the size you find the easiest to play.
Holding the violin shouldn't be cumbersome – otherwise, you'll begin to feel discomfort when holding the instrument in its playing position. You should be able to grasp the top of the fingerboard with ease while keeping your arm bent. This, of course, depends on the size of your arms. For children, it's best to look at slightly smaller sizes, but for most adults and teenagers, a full-size violin is the way to go.
Violin sizes range from 1/32 all the way up until 4/4, with the most common sizes being 1/4, 1/2, 3/4, and 4/4.
---
Jargon buster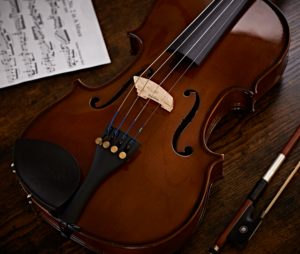 When it comes to buying a violin, some of the language used can be difficult to understand. For example, what are f-holes? What is a scroll? It's also good to note that a frog in this case isn't going to jump away from you.
We'll run through some essential terminology, so you'll know exactly what it is you're looking for.
---
Fingerboard
The fingerboard of a violin is a pivotal part as it's the main surface on which you'll perform.
With a need to withstand the most extravagant of playing styles, it must be flexible enough to be efficiently moulded into shape, but somewhat sturdy enough to remain in position. And, of course, it must hold exceptional acoustic properties.
This is why, nine times out of ten, ebony is utilised for the fingerboard. As far as wood goes, ebony can be easily moulded and shaped into the right measurements and curvature required for the violin. It's then glued to the neck for quick, stress-free assembly.
While the thickness of the fingerboard can change, this is rare. Rather, there is a conventional thickness that most violins stick to. The fingerboard is also typically angled backwards to make sure that every string has enough room to resonate with clarity. It's then curved to allow for easy and efficient bowing, lowering the outer strings to provide brilliant access to the central strings.
---
F-holes
The openings on either side of the strings are called f-holes, aptly named thanks to their resemblance to a lowercase "f". These gaps within the body serve a purpose – they allow for the vibrations of the inside of the body to resonate, projecting rich yet delicate sound.
F-holes were a creation by luthiers in the eighteenth century and are believed to have been designed by coincidence, with the master crafters marking the position of the bridge on the body of the instrument. Subsequently, it seemed as though this was the ideal shape to achieve the strongest sound.
---
Scroll
The scroll is the part at the top of the neck which is carved into the shape of a rolled-up spiral. While it serves no purpose other than decoration, on more expensive models you may see it modelled into other shapes such as animals or human heads.
---
Bow
This bow doesn't require any arrows. Instead, it's your performance companion. A violin bow works by creating friction between the string and the material that runs from the tip to the frog. This material is usually horsehair. The friction allows the string to resonate freely and, therefore, pass vibrations into the body of the instrument, vibrations that generate the iconic violin sound.
Built to be flexible, the arch of the bow should be gentle and allow for a certain amount of pressure. Bows also differ in size, just like the body of the violin, with the size of the bow matching the body. Therefore, the bows come either full size, 3/4, 1/2, or 1/4 – all of which make playing the corresponding instrument more comfortable.
---
Body woods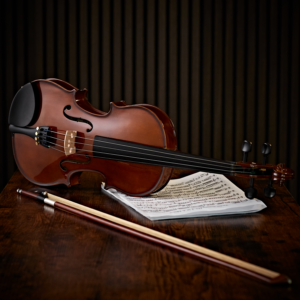 As with most instruments, the materials that make up a violin have a huge effect on the characteristics of the sound it generates. Constructed almost fully from wood, the materials must be lightweight, resonant, and, of course, strong and durable.
Thanks to centuries of construction, master craftsmen have discovered the perfect combination of tonewoods that truly make the perfect instrument.
This combination is usually a spruce top and maple back and sides. It's a pairing that offered superior sound and a stunning appearance, so there really was no need to mix it up.
Spruce is usually utilised as a top material thanks to its weightless feel and strong construction, while also remaining flexible enough to achieve the perfect curvature for sound projection. Spruce is also extremely resonant, allowing for a pitch-perfect tone in which your musical prowess shines through.
Maple tends to be used for the back and sides as it, again, boasts a weightless and flexible feel. It's also excellent at reflecting vibrations to the top wood, guaranteeing acoustic proficiency. Aesthetically stunning, maple can come with either a "flame" or curl aesthetic, which also makes the violin more appealing.
While these are the two primary kinds of wood used in the construction of the violin, you may occasionally see poplar used for the back, as it has a similar grain to maple but offers a slight difference to the overall natural sound of the instrument.
---
Product recommendations
Student Full-Size Violin by Gear4music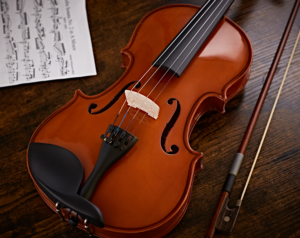 We offer a fantastic option for any entry-level violinist with the Student Full Size Violin. Constructed with a selection of high-quality tonewoods, it's durable, versatile, and perfectly reliable.
Coming in a variety of different finishes, you can capture your style with a stunning antique fade for a worn, time-tested aesthetic or even a bright blue if it takes your fancy.
At an affordable price, even if you aren't certain that you want to start learning violin, it's an excellent option to discover your inner Haydn. It's easily playable with a silky-smooth fingerboard, fine tuners at the bridge, and fantastic jujube tuning pegs.
As a full outfit, you'll also have everything you need to get started – including a bow and rosin – for efficient performance. You can be assured of the hardwood bow's durability as it has been created to withstand the strains of developing technique and bowing with resonance. Every note will ring with sonic richness.
It also comes with an accompanying hard case that provides excellent protection for travelling, and a bow. Brilliant for getting your violin to and from your lessons, the case's ergonomic carry handle and backpack straps mean you'll be carrying your violin in true comfort.
---
Primavera 100 Violin Outfit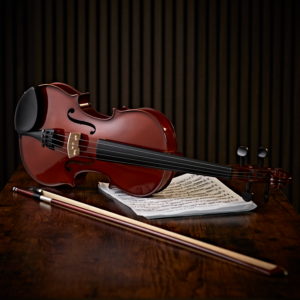 For those looking to spend a little more on their instrument, the Primavera 100 Violin Outfit is the perfect option.
Offering a hand-carved maple and spruce body, it's similar to more premium options in that the construction isn't laminated. This manufacturing method ensures a more focused sound, issuing the instrument with a higher level of tonal warmth which cannot be achieved by laminated alternatives.
The fingerboard is constructed from ebonised hardwood, which promises efficient playability and a stunning aesthetic. Ebonised hardwood is also extremely lightweight, ensuring the instrument is comfortable to hold.
A hardwood bow guarantees the peak of performance. Designed to be durable, it can handle the stresses placed upon it during the early stages of learning. Utilising natural horsehair and an ebony frog, the bow is incredibly lightweight, allowing you to play with speed and precision.
Like the Gear4music model, this comes as an outfit, providing you with everything you require to get started.
A lightweight case delivers strong protection and provides enough compartments for exceptional storage, with zipped pockets for efficient transportation of your fiddle and accessories. The robust handle of the case then makes transporting your instrument comfortable, and, if that doesn't suffice, a set of backstraps makes everything that little bit easier.
---
Stentor Student Standard Violin Outfit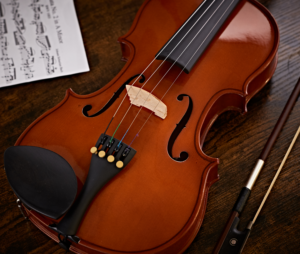 Our next recommendation is the Stentor Student Standard Violin. This violin is one of the most popular options amongst entry-level violinists.
Carved from solid tonewoods, and utilising inlaid purfling, you have an exceptional construction that provides a fantastic tonal foundation for your sound, offering impeccable coverage over the whole frequency range.
All components of the instrument are built to an incredibly high standard, from the hardwood tuning pegs all the way to the maple bridge. Tuning is exceptionally stable with an incredible set of adjusters, which bolsters the instrument's playability with tight tonality and impeccable accuracy.
The bow that this outfit comes with is constructed from wood and includes an ebony frog. This ensures the utmost balance for easy playability, freeing you to flash your arco sections with delicacy and definite direction.
Again, this outfit comes with an impressive lightweight case for easy transportation of your instrument. A sturdy and reliable carry handle means you can carry the instrument in comfort with the assurance that your Stentor violin is safe and secure. An additional shoulder strap gives you more support for those longer journeys.
---
Stagg S-Shaped Electric Violin Outfit, Metallic Black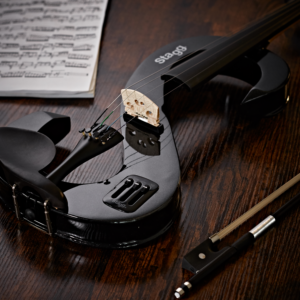 But what if you aren't looking for an acoustic violin to get you started? Don't worry, we have you covered. Stagg offer the perfect option for anyone looking to break traditions. The S-Shaped Electric Violin Outfit is an excellent choice for those looking to learn their craft, and it comes at an incredible entry-level price.
The benefit you have with learning on an electric violin is the versatility that the instrument provides, both in tone and in practice. It truly does give you full control over your outputted sound with intuitive two-band EQ controls, freeing you to draw out the exact frequencies you desire and mould your tone to the mix.
The electronics of this violin are designed to make practice simple and easy.
Coming with a 3.5mm headphone jack and a standard 6.3mm output jack, you can either practise in near silence if you don't want to wake the neighbours, or if they've left the TV on too loud, you can drown it out and crank the volume to 11 by plugging directly into an amplifier.
Still an outfit, you get the usual equipment, consisting of a hardwood bow and a hard carry case packed with Styrofoam for the utmost protection. This hardcase can, too, be transported using either a carry handle or backstraps. But, because this is an electric violin, the outfit includes other accessories essential for getting started.
This Stagg comes with a handy pair of earphones which are essential for those late-night practice sessions or when your parents have had enough music for the day. A 9v battery to power the instrument is also packed within the case, so you can start playing as soon as you get the instrument.
Of course, the instrument still works acoustically with a rich warm sound emitting from the S-shaped maple body, so while it's quieter, there will still be audible sound even with headphones on.  If you are looking for something unconventional, then this is certainly the option for you.
---
Stentor Student 2 Violin Outfit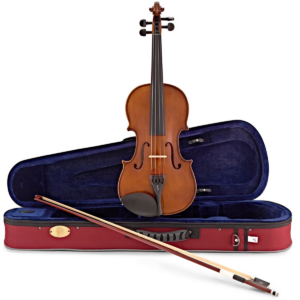 The Stentor Student 2 builds upon the foundations of the Standard but comes with more premium features and a higher professional feel, all with the aim of taking your playing to the next level.
Still very much an entry-level instrument, the Student 2 is aimed more at those looking at a slightly higher price point for their first violin.
Constructed with conventional tonewoods, this violin is built with a solid spruce top and maple back and sides, which embellish the violin with an element of warmth. Avoiding laminated alternatives like some similarly priced models, the tone you achieve is pure and true to the characteristics of the wood used.
One of the main differences between the Standard and the 2 is the use of a true ebony fretboard, which adds an element of authenticity to your performance, giving you that premium feel. This means that when you transition to an intermediate instrument you'll already know the feel of true ebony.
The violin also includes ebony hardware, such as ebony tuning pegs and top nut.
Again, as an outfit, you'll receive everything you require to get started from the offset. It comes with a handy carry case for excellent protection, a delightful hardwood bow for efficient performance, and rosin to keep it at peak condition. You don't have to assemble all the accessories – you can just start playing.
---
Hidersine Vivente Finetune Violin Outfit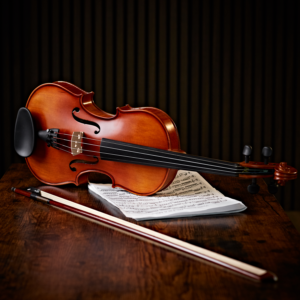 A violin of exceptional quality, the Hidersine Vivente Finetune Violin Outfit is perfect for anyone looking to get started. Constructed with a fantastic selection of woods, the solid spruce top and flamed maple body deliver not only an incredible, resonant tone, but also an astounding aesthetic.
Coming with Wittner Finetune tuning pegs, you can be assured of the tuning stability of this violin. This means you can spend more time perfecting your techniques and less time tuning. Even if you do need to tune, these pegs make the experience far easier, especially for beginners, as they remove the need to put pressure on the peg while adjusting the tuning.
Again, here we see the appearance of the premium ebony fingerboard, which offers a more comfortable performance than other competitors. Ebony is also utilised for the top nut and chin rest, creating the feel of an upmarket instrument while also making the instrument look the part.
All Hidersine violins are inspected before leaving their UK workshop, and this quality control ensures that every instrument is ready to play once it gets into your hands.
Coming with a half-mounted octagonal bulletwood bow, shaped for comfort; a hard case for easy transportation; and some Hidersine rosin, you can get straight to playing.
---
Weighing up the price
When it comes to learning a brand new instrument, one of the most important things to consider is your budget. You don't want to spend a lump sum on an instrument you may discover might just not be for you. That's why we have recommended violins that are both student and pocket-friendly.
But what if you're willing to part with more for your first violin? Is it better to jump directly to an intermediate – or even professional – model straight away?
Well, that is completely up to you! It's easy to fall into the trap of "the more you spend, the better the instrument", but this isn't always the case. One thing to remember about the violin is that it's an intricate instrument and even the slightest of differences can have a significant effect on the sound and playability. Though, of course, the rule of thumb is that better violins will cost more.
Like a first car, you don't jump into the deep end with a Ferrari, and, in the same way, your first violin isn't going to be a Stradivarius. It's better to test the water and see if picking up the violin is the right option for you before taking the dive into an expensive professional instrument.
This approach also gives you time to discover your preferences, search for your ideal tone, and become certain of the style you wish to follow. Then you can splash the cash on an instrument you are going to cherish, rather than using the money on one you ultimately may not enjoy. Playing your instrument should be a fun experience.
---
Find out more
So, now we have talked through some terminology and given you some ideas, we hope you feel more confident in your decisions. Why not check out our full range?
Shop now | Violins