Since the '80s, Casio instruments have been a go-to for beginners and professionals alike. Did you know they created the world's first electronic keyboard in 1980? And they're still pioneering, even now. Portable pianos are their forte, and their ambition to innovate and bring Casio gear to musicians around the world has remained constant.
And now, behold, the CDP and PX pianos, a milestone in Casio history. These super slim and portable instruments each have their own qualities, and to help you decide on the best fit for you, we thought a quick, easy-to-read guide would come in handy.
Let the battle of the stage pianos commence. . .
---
The CDP Series
Compact Digital Pianos. The clue's in the name. Whether you're a beginner or stage performer, the CDP Series is designed to accommodate, offering sleek, lightweight design and a gorgeously natural feel.
Despite their 88 hammer-action keys and powerful speakers, each piano is roughly half the weight of others on the market, making them superbly portable. So, if you're a gigging musician, the CPD series is for you.
---
The Casio CDP S110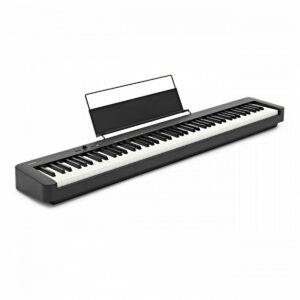 Authentic in feel and splendid in sound, the S110 is ideal for students. And it has the teacher's approval.
In a survey Casio conducted on over a hundred piano teachers, more than 80% said the most important aspect of a digital piano is its touch. The closer a digital piano is to an acoustic, the more likely you are to learn correct technique that will feel just the same on an acoustic piano.
Thankfully, the CPD S110 boasts Casio's new Scaled Hammer Action II mechanism with three sensitivity levels, granting each of the 88 keys the correct weighting for an authentic playing experience. It imitates the action of an acoustic piano by employing weighted hammers, which are pushed when the keys are pressed.
What's more, as well as boasting a fine-grained finish, the keyboard is graded, meaning the lower keys feel heavier and the top end feels lighter – the same as you would expect on an acoustic piano.
But how do Casio manage to squeeze this meticulously made hammer action system into such a compact instrument? It's not magic and it's not Mary Poppins' handbag, it's all down to Casio's high-density mounting technology. At just 232mm deep, the CDP S110 utilises miniature components and a unique space-saving internal structure to make it as portable as possible. And it runs on battery power too, making it perfect for playing pretty much anywhere.
The way a piano responds to your touch is hugely important, but so is its sound. That's why Casio have opted for a 64-note polyphony and 10 superb quality sound-sets, including grand pianos, electric pianos, and organs. Plus, with 4 types of reverb and chorus effects, as well as layering, the S110 offers just the right amount of musical opportunities.
Once you've got the hang of this digital piano, you might fancy exploring the other opportunities open to you via the USB-B connection. The S110 is MIDI enabled, allowing you to plug in and control instruments, scoring software, and various DAWs. In the blink of an eye, this instrument becomes more than just a piano; it turns into a wonderfully useful piece of recording and music production gear.
Alternatively, you can plug into a smartphone or tablet and control the S110 remotely with Casio's Chordana Play for Piano app. Touch response, tone, and metronome, among others, are all available for you to adjust, making it easy to achieve the exact sound you want.
The attractive price point of this digital piano is appealing to anyone, but particularly those who are just starting out. Beginners – rejoice! Not only can you stick to your budget, but you'll also have the unique features of Chordana Play assisting you as your skills advance. The app features a PDF score viewer, piano lessons, and games, making learning the piano fun and accessible to everyone.
The Casio CDP S360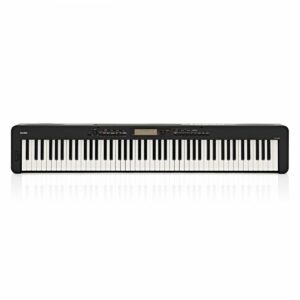 Similar to the S110 but with a few extra features for the more advanced player, the S360 is Casio's performer's instrument. It's perfect for travelling musicians.
One of the main differences is its 128-note polyphony limit and impressive array of 700 built-in tones which include harpsichord, wind instruments, and synthesisers, as well as those classic piano sounds. And yet, even though 700 tones might sound overbearing in theory, they're easy to use when you have a handy LCD screen and pitch bend wheel.
There's a whole ensemble waiting for you at your fingertips, moulded into the performance you're after with the help of ten reverb and four chorus effects.
The CDP S360 also boasts Casio's Scaled Hammer Action II, but this time with five levels of touch sensitivity, giving it smooth, natural playability that is just like an acoustic piano. To further enhance its realism, each key has a fine-grained finish, which ensures minimal slippage whilst still being silky to touch.
Thanks to the piano's 232mm depth – aided by Casio's high-density mounting technology – the S360's sleek build is supremely portable and will fit comfortably in any room.
Stuck in a rut? Perhaps you need more than a piano to spark your creativity. That's where MIDI and Bluetooth come in. Like the S110, this CDP digital piano can be connected to a computer and used as a MIDI controller.
Going one step further, the S360 is also compatible with the Casio Bluetooth Dongle (not included), meaning you can connect wirelessly to apps like Chordana Play or use your piano as a wireless speaker.
---
The PX Series
Part of Casio's Privia Series, the PX S1100 and PX S3100 are the world's slimmest digital pianos, designed to fit beautifully into any space.
Like the CDP pianos, they utilise Casio's high-density technology and space-saving structure to house its premium quality components. But where the PX models truly shine is in their magical sound system, meticulously designed to project true, unbelievably accurate grand piano tones.
---
The Casio PX S1100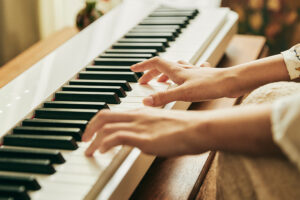 An instrument for both stage and home alike, the PX S1100 boasts 88 keys of pure Casio quality. Their hammer weighting mimics the exact specifications of a grand piano, allowing for a truly authentic feeling as you glide across the keys.
Plus, the keys are scrupulously scaled too, meaning each key's weighting is different, gradually getting lighter up the keyboard. Such detailed design allows you to carefully control each note, even as you repeat them, achieving the exact expression you're after.
With a maximum polyphony of 192 notes, the 18 tones installed on the piano are highly responsive to the keyboard's five levels of touch sensitivity.
Innovation is the key to the S1100's sparkling sound and authentic playing experience. And it comes in the form of Casio's Multi-Dimensional Morphing Acoustic and Intelligent Resonator (AiR) Sound Source.
It might sound complicated, but in layman's terms, this unique technology replicates the finest nuances of acoustic piano sound by modelling the sympathetic resonances of each individual string. Along with extended memory capacity, this ensures that every note is as natural as possible and responds with precision to the power of your touch. From the moment you press the key to the moment the sound tails off, the projection of tone is seamless.
The AiR Sound Source doesn't stop there. Among other features and benefits, it also uses Lossless Audio Compression technology to preserve the quality of playback, minimising any deterioration and, therefore, retaining a realistic playing experience.
Find out more about Casio's AiR Sound Source here.
Two powerful speakers ensure your sound travels with clarity and oomph, and they have been installed with Mica, a reinforcing material used in many premium audio products. Defined lows and rich highs are the result of such expertly designed speakers, and they're propelled forward by two 8W amplifiers for high-quality expression and dynamics.
The exceptional speaker system isn't just limited to the sounds of the S1100, but can also be extended to your phone, tablet, or any Bluetooth device. And it's all thanks to WU-BT10 wireless adaptor included with the piano. Once you're connected, you can enable the Surround feature and become completely immersed by your music, and you can even play along too.
Like Casio's CDP digital pianos, the S110 is compatible with the Chordana Play app, allowing you to adjust the piano's sound response with ease and advance your skills with the various piano lessons.
Now, whether you're a beginner or a professional, chances are you want a piano that suits a range of environments. Having one that solely works as a stage instrument is only ever useful in one place. . .  the stage. That's why Casio have designed the PX S110 to be as sleek and versatile as possible, meaning it acts beautifully as both a stage and home piano.
At just 232mm in depth and 11.2kg in weight, the S110 is fantastically compact and portable, making it an appropriate addition to any room. Plus, if you're performing somewhere that requires a couple of hours of battery life, don't fret, this piano has four. This gives you immense freedom to play whenever and wherever you like.
The Casio PX S3100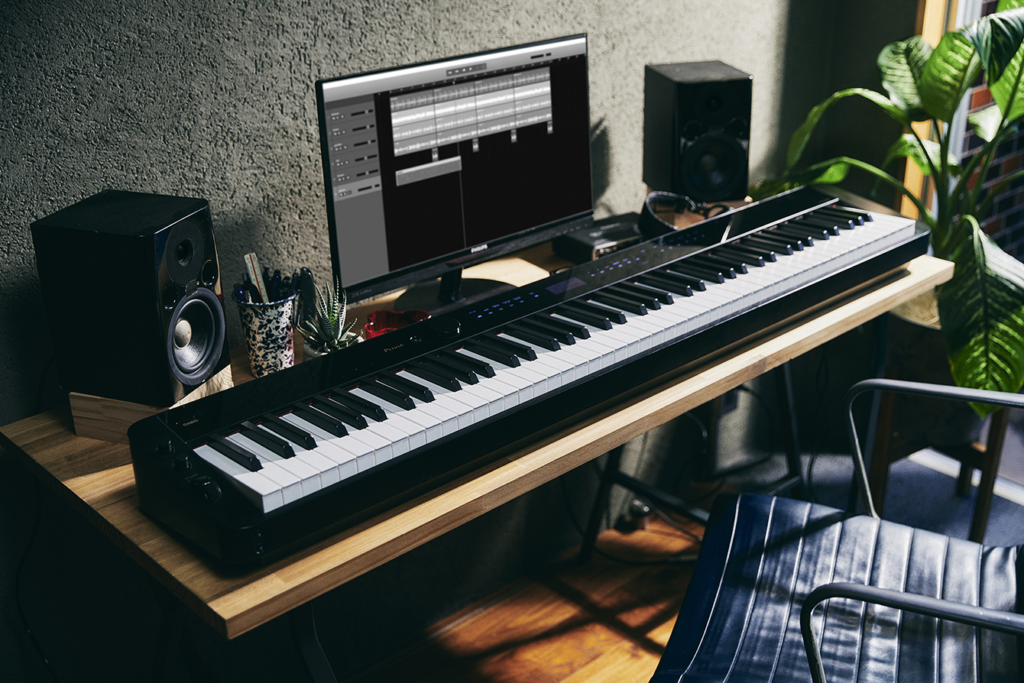 Built for pianists who want to further their skill and explore new ways of playing, the PX S3100 features 700 tones and 200 rhythms – an exceptional array that covers many different genres.
What's more, there's also an incredible collection of audio effects, including reverbs, choruses, and 100 arpeggiator settings.
Having such a sheer number of features at your fingertips might seem intimidating at first, but Casio have got you covered with the S3100's LCD screen and controller knobs. They make it easy to achieve your sound and discover possibilities you might not have even known were available to you.
If it's not broke, don't fix it. When it comes to sound quality, this PX model is installed with the same features as the S1100, because they're just too good to change.
The AiR Sound Source and Mica infused speakers ensure that every note rings out beautifully; you won't be able to tell the difference between the S3100 and an acoustic piano.
Casio's cutting-edge craftsmanship includes wireless connectivity, compatibility with Chordana Play, and surround sound. Everything you need is in one place with this instrument. It really does go beyond the capabilities of your average piano.
---
Which Casio Stage Piano is right for me?
The first things to acknowledge are your skillset and experience, as they will determine the types of features you need. If you're a beginner, you probably don't want to be inundated with countless sounds and effects, it's better to get to grips with the basics first. The CDP S110, therefore, is the ideal option for you, especially as its authentic feel will ease the transition from digital to acoustic.
If you're more into music production, but still want to have the option of traditional classical piano sounds, the CDP S360 will deliver.
On the other hand, if you want to bring the stage to your home, the slim build and exceptional speaker system of the PX models are your best bets. You'll know how far to go when it comes to features.
The PX S1100 is ideal for advanced players who want a rich, clean sound – courtesy of AiR Sound Source – and plenty of room for expression and creativity, whereas the PX S3100 offers a striking array of tones for players who want to go beyond standard piano sounds.
Each piano has its own unique qualities, but one thing's for certain – they have all been crafted with pure Casio quality for realistic sound, authentic feel, and flawless performances.
Shop now | Casio pianos