So you've decided to start a podcast! Hopefully, you've had a read through our "How to Start a podcast in 2022" guide and you have your whole podcast planned out ready to go. When you want top quality audio for your podcast you'll need to ditch your phone and grab one or more podcasting microphones. But which ones?
Let's explore the 7 Best Podcasting microphones out at the moment.
Microphones that are designed specifically for podcasting usually come with 2 types of connections – USB or XLR. Here's a quick recap on the difference between them:
USB vs. XLR Podcasting Mics
These microphones are usually much better for beginners, you can plug the microphone directly into the computer with the USB cable and its pretty much ready to record. Unfortunately, USB microphones sometimes lack the audio quality as XLR microphones. USB Microphones can come as either condenser or dynamic.
Use a USB mic when a quick set-up is important to you. These are ideal for people who need to record while out and about.
XLR microphones are the most common connection for a microphone, but do require an audio interface if you're using it for a podcast.
This is because XLR microphones have no way to get your audio into your computer unless you have an audio interface. It turns the signal coming from the podcast mic into a digital signal so that the computer can "read" it.
Recording your podcast this way gives you much more control over the sound for your podcast, though the set-up is a bit more involved.
Why not both?
You can have the best of both worlds with some of the more advanced podcast mics. These have both XLR and USB connections, as well as a headphone jack.
Dynamic or Condenser podcasting mic?
We have mentioned microphones also being either a "condenser" or a "dynamic" type of microphone. This basically means does the microphone need extra power to work?  
Not as sensitive as a condenser and is usually much better at blocking out any unwanted noise, they are usually cheaper and do not need "phantom" power to work.   
High sensitivity microphone that can capture higher detail, best used in treated spaces such as studios to ensure there is no unwanted background noise. It needs phantom power to work and is not as robust as a dynamic microphone.
Which is best?
For a podcast it's usually best to go for a dynamic microphone as it will block out any unwanted noise. When it comes to connection, it doesn't really matter which one you choose. USB mics will let you set up quickly and easily, whereas XLR microphones will give you more control over the sound and usually are of higher quality.
Now we know the basics of podcast microphones, let's get into our list of 7 Best Podcasting Microphones!
The best podcast microphones for 2022:
Shure SM7B

This is arguably the most iconic microphone for podcast and broadcasting.
The Shure SM7B has been used by countless podcasters, streamers, and musicians, its wide frequency response is perfect for recording voice and makes it so easy to get a high-quality premium sound for your podcast.
All Shure microphones go through rigorous testing to ensure they are built to last. This makes them incredibly durable and can withstand most knocks and bumps. The SM7B is the big brother of the Shure MV7 and just like the MV7 it can block out any unwanted sound, focusing directly on your voice.
If you are recording your podcast in a room that is "untreated" the SM7B is perfect for recording in imperfect rooms to give you near-perfect vocals.
It's all about the range
The reason this microphone is used on so many podcasts is due to its wide frequency range. Anyone's voice will sound natural, giving clear, smooth, and crisp audio for your podcast. The SM7B also has a windshield that will block out any plosives and breath noise. There are switches on the back so you can take more control of your sound. These switches allow you to cut the low frequencies out of the microphone and add presence by boosting the higher frequencies, this allows you to get the best sound for your podcast.
The Shure SM7B is the industry standard when it comes to podcasting. It's the perfect mic who anyone who wants that professional broadcast quality sound. You'll get perfect results straight away, with no need to edit after the recording.
Mic Features: 
XLR 

Dynamic 

Switches to cut and boost frequencies of the microphone.  

Removeable windscreen  

Full metal durable construction.  

Rejects unwanted noise 
Shure MV7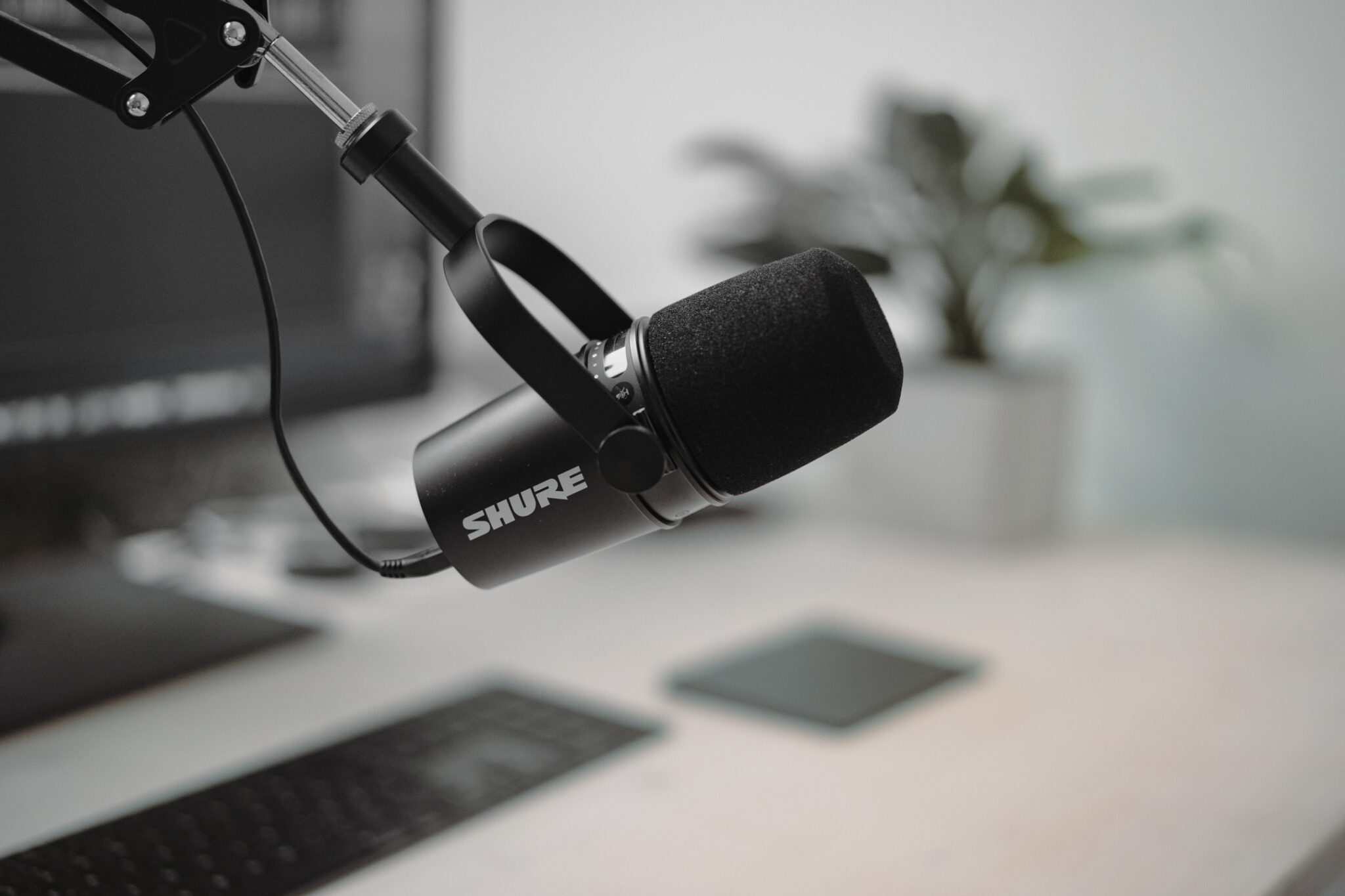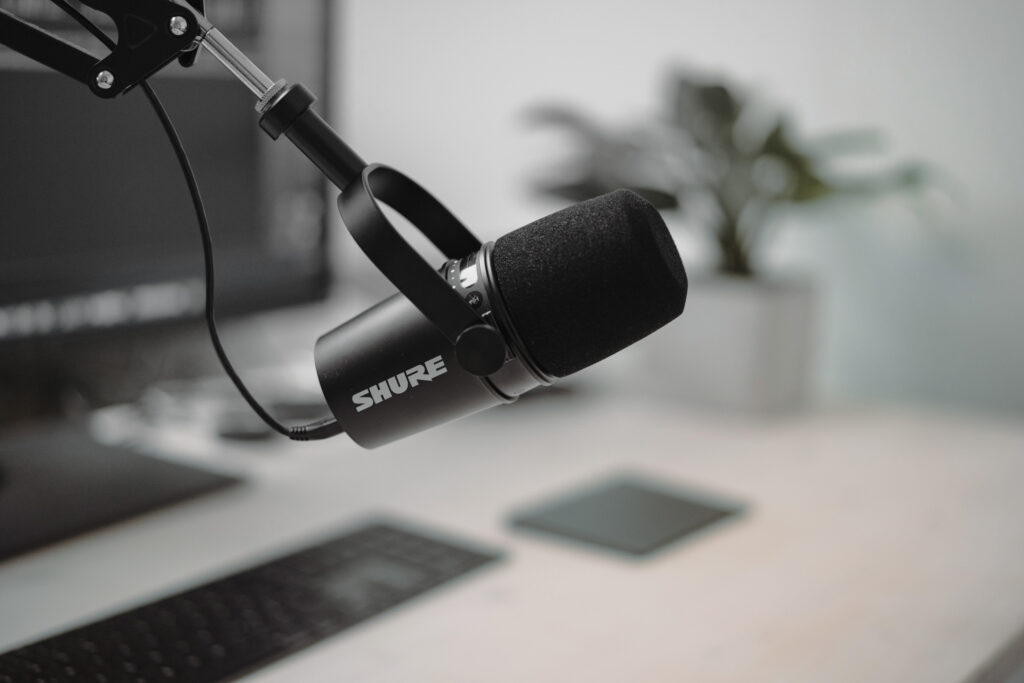 If you're looking for podcast microphones specifically, then these are the ones for you.
The Shure MV7 was built especially with podcasts in mind. It is designed to make your voice stand out and sound amazing.
Based on the iconic SM7B Microphone, it took inspiration from the SM7B by being a dynamic "broadcast" style microphone that is ideal for podcasts.
The MV7 also has a tonne of features including, USB connection, built-in DSP, headphone jack and XLR output all on one microphone.
The USB connection allows you to connect directly to a Phone, laptop, computer or tablet so you can record wherever you are. Control the mic via USB using the onboard touchbar to adjust microphone or headphone mix.
Getting more with a dedicated app
There is also a dedicated Motiv app that allows you add compression, EQ and limiters to the microphone. The Motive app has two modes, auto mode and manual Mode. When in auto mode the microphone will do the hard work for you by giving you a consistent basic sound that will sound great no matter what. With manual mode you have much more freedom to tweak whatever you want, mending EQ, adding compression. It's all up to you depending on the sound you want.
MV7s use something that Shure called "voice isolation technology". This means that no matter what room you are in, if someone is making noise next door or outside, the microphone will focus in on your voice and block out any unwanted noise.
Shure's MV7 is such a powerful microphone for podcasting and can be purchased at a very reasonable price that does not break the bank. If you are looking for a mic that is a perfect all-rounder the MV7 would be perfect for you.  
Mic features  
XLR

 

USB

 

Dynamic

 

Headphone port

 

Dedicated app that can be used with the microphone.

 

On board controls to adjust gain and headphone mix.
Shure MV7X

Almost identical to the MV7 the MV7X offers a more simplified approach for someone who might need more than 1 microphone for their podcast. The MV7X put simply is exactly the same as the MV7 but without the USB and headphone capabilities, this microphone is XLR only, but still holds the features of the MV7 like having near-perfect vocals in "imperfect" rooms and blocking out any unwanted noise from the surrounding area.  
If you're looking to start a podcast with friends and you need multiple microphones, the MV7X is a perfect choice as its an extremely high-quality microphone at a very reasonable cost. 
Mic Features  
XLR

 

Dynamic

 

Blocks out any unwanted noise.

 

High quality audio for a natural sounding voice.
Not sure on whether the MV7 or MV7X is right for you? Check out Shure's article comparing the two.
Rode podmic

The Rode Podmic is a microphone that is aimed at Podcasters. It is a dynamic microphone with an XLR output, it is incredibly well built with its full metal construction and will block out any unwanted background noise as a good podcast mic should. The Podmic works incredibly well on its own and can be plugged into any regular interface to give you smooth, crisp clear sounding vocals for your podcast. However, you can get even more out of the Podmic if you use it directly with the Rodecaster pro, which is a mixer/production console. This allows you to control the audio mix of your podcast if you have multiple microphones and even add sound effects and music in real-time. Within the Rodecaster Pro there are presets for the Podmic so that you can get your perfect sound quickly and easily.
The Podmic also has an internal popsheild to remove any plosives and wind noise from your podcasts. The Rode Podmic is perfect for anyone who needs multiple microphones for interview podcasts as this microphone is very reasonably priced and gives great results.  
Mic Features:  
XLR

 

Dynamic

 

Compatible with the Rodecaster Pro

 

Durable, full metal construction.

 

Internal pop filter to reduce plosives.

 
Audio Technica AT2020USB+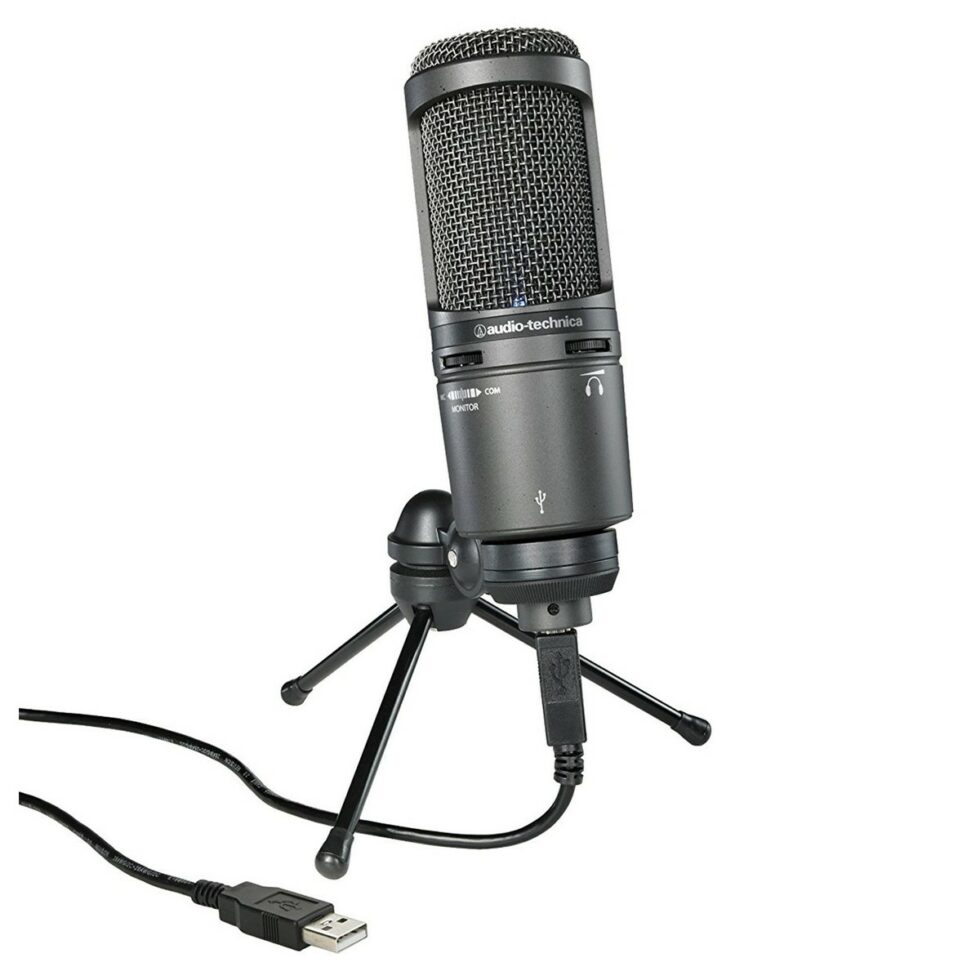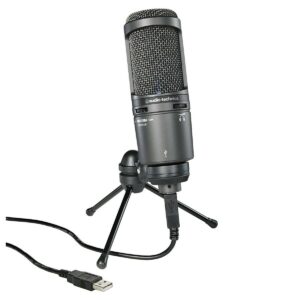 This is a staple microphone that is used a lot by musicians, streamers and podcasters. To make this microphone a little bit more appealing to streamers and podcasters, Audio Technica came out with a USB version of this microphone which is what we will be talking about here. The AT2020USB+ is almost identical to its XLR version but has some extra features that you would need when using a USB microphone. On the AT2020USB+ is a headphone input and  a blue light so you can see if the microphone is getting power. It also has headphone volume control and a mix control, which means you can adjust whether you hear more of the microphone sound or more of your computer sound. This is useful when playing music over your dialogue, or wanting to listen back to what you recorded.
Compared to the XLR version these microphones sound almost identical so you are not losing out on any clarity or frequencies by using the USB version. The microphone comes with a tabletop stand so you are ready to go as soon as you unbox the microphone. The AT2020USB+ is a Condenser microphone that can capture clear, smooth and high-detailed audio for your podcast.
Some USB microphones can lack in audio quality but with this microphone, but this one has a high-quality A/D converter with 16-bit, 44.1/48kHz sampling rate. It delivers phenomenal audio quality for a USB mic. Perfect for home studio use, podcasts that are being recorded in a room with some acoustic treatment.  
Mic Features: 
USB

 

Condenser

 

Includes tabletop stand

 

Onboard controls

 

Headphone input for monitoring.

 
Blue Yeti

When you think of USB microphones the Blue Yeti is likely to be the one you think of first. In recent years the Blue Yeti microphone has been popular with a lot of Youtubers, streamers and podcasters. It is a USB condenser microphone with a changeable polar pattern that is perfect for a wide range of applications. The microphone has a wide frequency response of 20Hz to 20kHz meaning no detail should be missed when recording with this microphone.
The Blue Yeti has a control on it for changing the microphone polar pattern, if you are unsure what a polar pattern is, make sure you check out our Polar pattern guide here. The polar patterns that the Blue yeti is capable of is:
Cardioid – perfect for recording a single sound source like 1 voice or an instrument.
Bi-Directional – perfect for interview podcasts, the microphone will pick up 2 voices.
Omnidirectional – perfect if there is a group of you, you can place the mic in the centre and it will capture sound all around.
Stereo – Great for someone who might record immersive podcasts or ASMR content, you can record your voice in a stereo space.
This is a great mic for some who might need to fine-tune their microphone for a range of different applications such as recording sung vocals, an interview with someone or recording an instrument. The Blue Yeti is a great all round microphone.  
Mic Features:  
USB

 

Changeable polar patterns

 

Onboard controls including a mute button

 

Compatible with Mac and PC

 

Condenser for high detail audio.
Electro-Voice RE20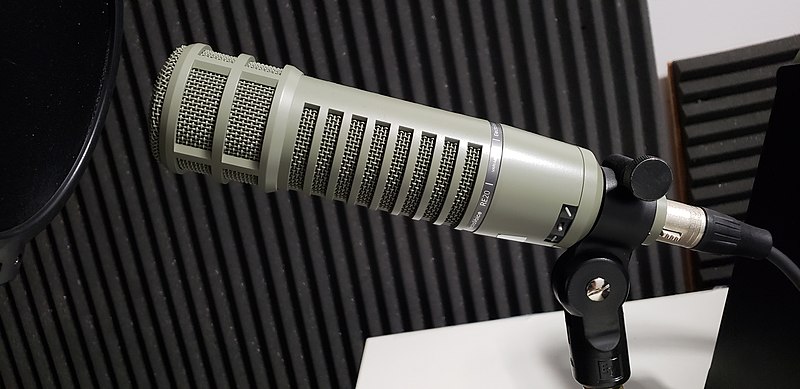 The RE20 is one of the most popular microphones when it comes to podcasting. It is a dynamic microphone with a cardioid polar pattern.
This microphone is more popular with professional-level podcasters, it is a premium quality product that gives you incredible results and smooth-sounding natural vocals. It has an excellent higher frequency response that adds a little bit of room to your recording, it gives the voice quite a crisp "airy" sound. Like most dynamic broadcast mics the RE20 has built-in windshield but also can reduce the proximity effect of your voice if you move too close or far away from the microphone,  your sound won't become thin or less prominent.
The RE20 is a microphone for someone who wants the best possible audio quality for their podcast. It is a workhorse that will deliver amazing results constantly. This microphone is directed at a more pro user but if you're just starting out and you want the best possible sound, then this microphone is going to do that for you straight away.  
Mic Features:  
XLR

 

Dynamic

 

Reduced proximity effect

 

Detailed high-frequency response for extra presence and crisp vocals.
So there you have our list of 7 best microphones for podcasting, hopefully this will help you decide on the microphone you are going to use for your podcast. Podcast audio quality is very important as it can immerse the listener into your podcast to keep them listening and coming back for more.