In-ear monitors are used by most professional drummers, from session drummers to recording artists.
They not only provide a clear sound for your playback but also minimise external noise, delivering a crystal-clear mix straight to your ears. This allows you to focus on providing the best quality playing and recordings, whilst hearing other instruments.
And that's not all. In-ear monitors also allow for individual mixing in live settings, so you can tailor your mix to the instruments you need to hear more. The control that in-ear monitors offer can be particularly useful for playing in different venue types, where the natural sound is affected.
So, whether you're using in-ears for general music playback or specialised in-ear click tracks, we're here to guide you through the best in-ear monitors for your playing.
Why are some more expensive than others?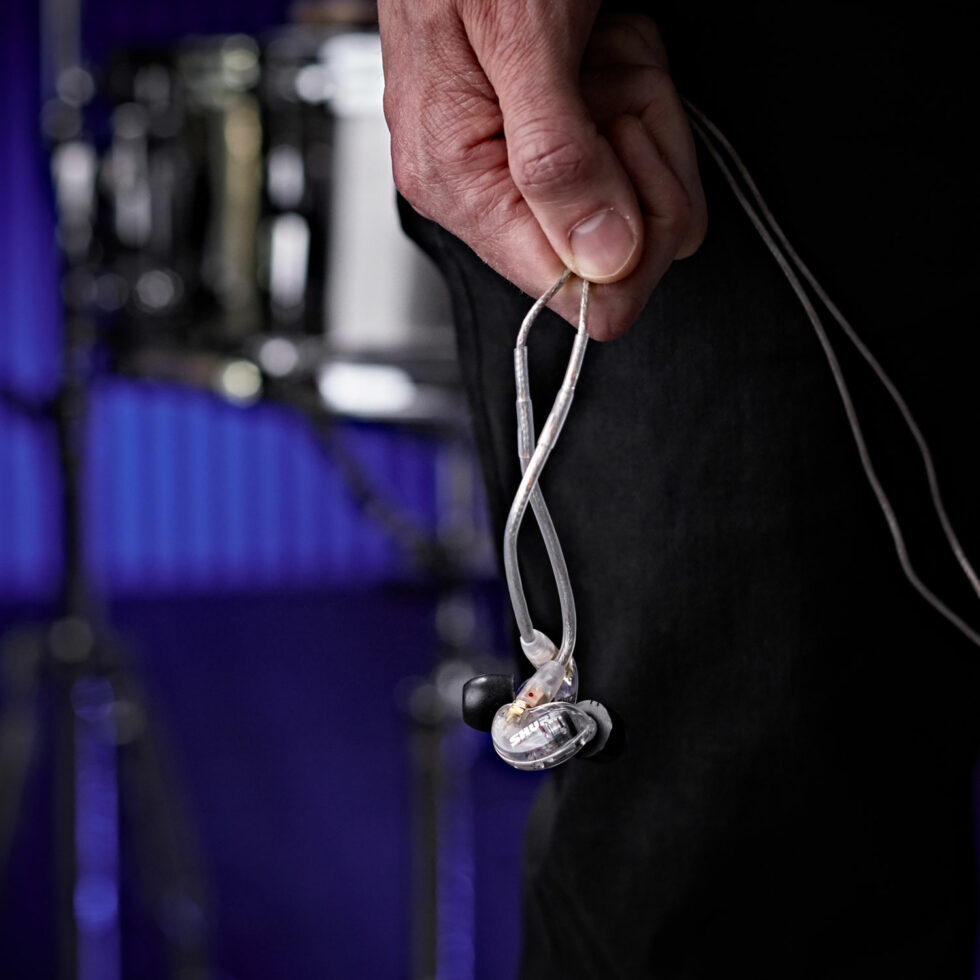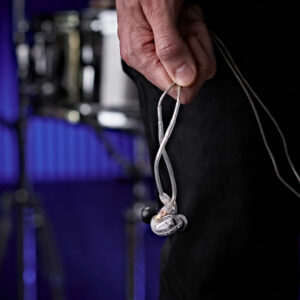 Overall, in-ear monitors do the same thing – they deliver sound directly to your ears. However, there are various factors that separate lower-priced in-ears and more expensive ones.
Some in-ear monitors are more expensive than others because they feature Kevlar-enforced wires.
Less expensive monitors tend to be made from standard cable which can withstand the demands of gigging and practice, whereas the Kevlar-enforced wires found on more premium in-ears can meet the demands of constant use at a professional gigging level.
Details in sound also vary between cheaper and higher price points, and they're determined by the number and quality of drivers.
Single drivers are typically found in lower-priced and mid-tier models. In contrast, multiple drivers can be found in higher-end in-ear monitors for high-definition sound. The more drivers there are, the better sound clarity you'll receive.
One of the most important differences, musically, between in-ear monitors is the level of hearing protection they each offer. More expensive in-ear monitors block out a higher percentage of decibels compared to their lower-priced counterparts.
If you're playing big gigs or creating professional recordings, it's worth investing in higher-quality in-ear monitors. These will deliver the quality and noise-level protection required for the high volumes of live venues.
On the other hand, if you're looking for a pair of in-ears to suit small gigs, such as functions, and practice sessions, low and mid-range in-ear monitors will serve well.
In-ears at lower price points
As well as being great for personal practice and gigging, lower-priced in-ear monitors are a good choice if you want to start using in-ears but not sure if they're right for you. Affordable models will give you the opportunity to get used to playing with monitors and explore how they work.
Even though they're at a lower price point, there are still plenty of decent in-ear monitors on the market, all providing a similar response and range of features as higher-priced monitors.
Here's a breakdown of our top picks for players looking for both quality and affordability.
---
SubZero SZ-IEM In-Ear Monitors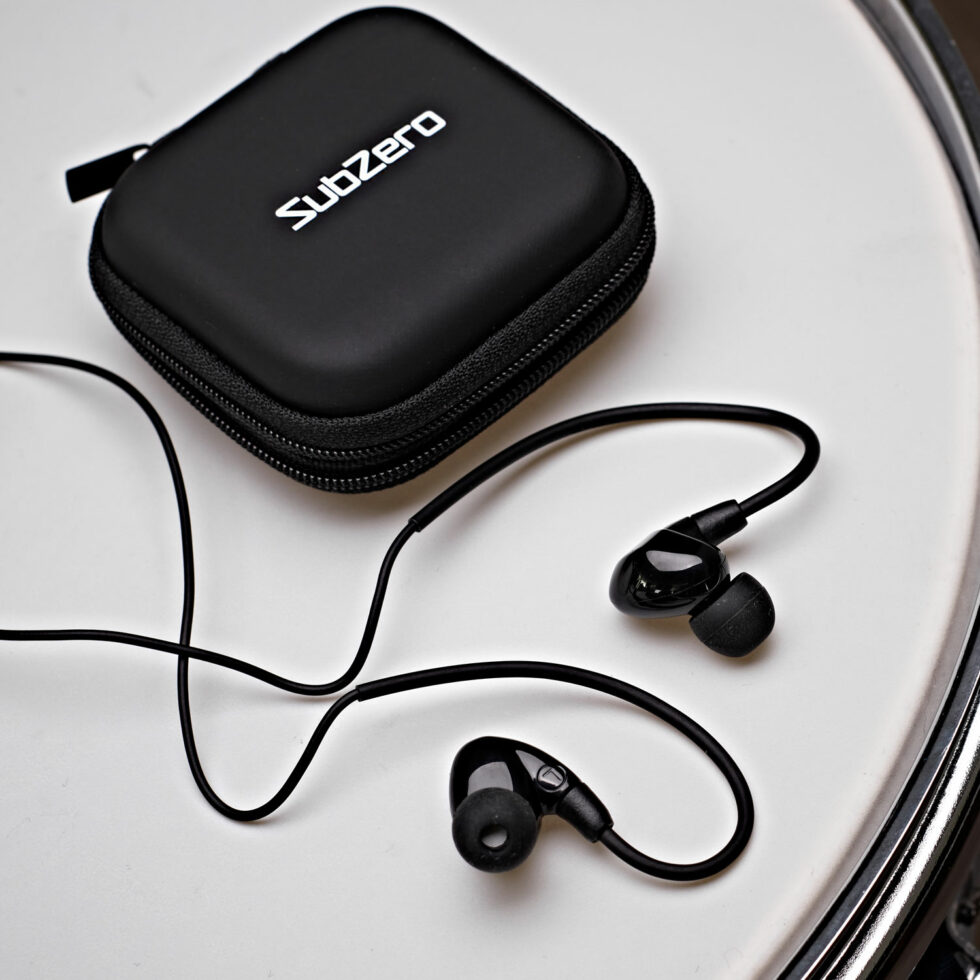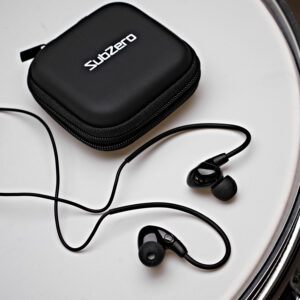 The SubZero SZ-IEM In-Ear Monitors are perfect for any drummer looking for a set of in-ears for on-stage monitoring and everyday listening.
These impressive ear monitors range between 20HZ and 20Khz. But their most noticeable feature is the over-the-ear design. This allows the cable to rest over the top of your ear, ensuring the wire is out of reach and, therefore, unlikely to get in the way.
Plus, the cable is detachable for easy use.
The SubZero SZ-IEM include silicon and memory foam ear tips, making them comfortable for both general listening and prolonged playing. These also block out any external loud noise that may interfere with your listening.
Featuring a single driver for quality sound, the SubZero SZ-IEM is an affordable choice for any drummer looking to hear more of their sound and jump into the world of In-ear monitors.
Shop now | Subzero SZ-IEM In-Ear Monitors
---
Behringer SD251-CK In-Ear Monitors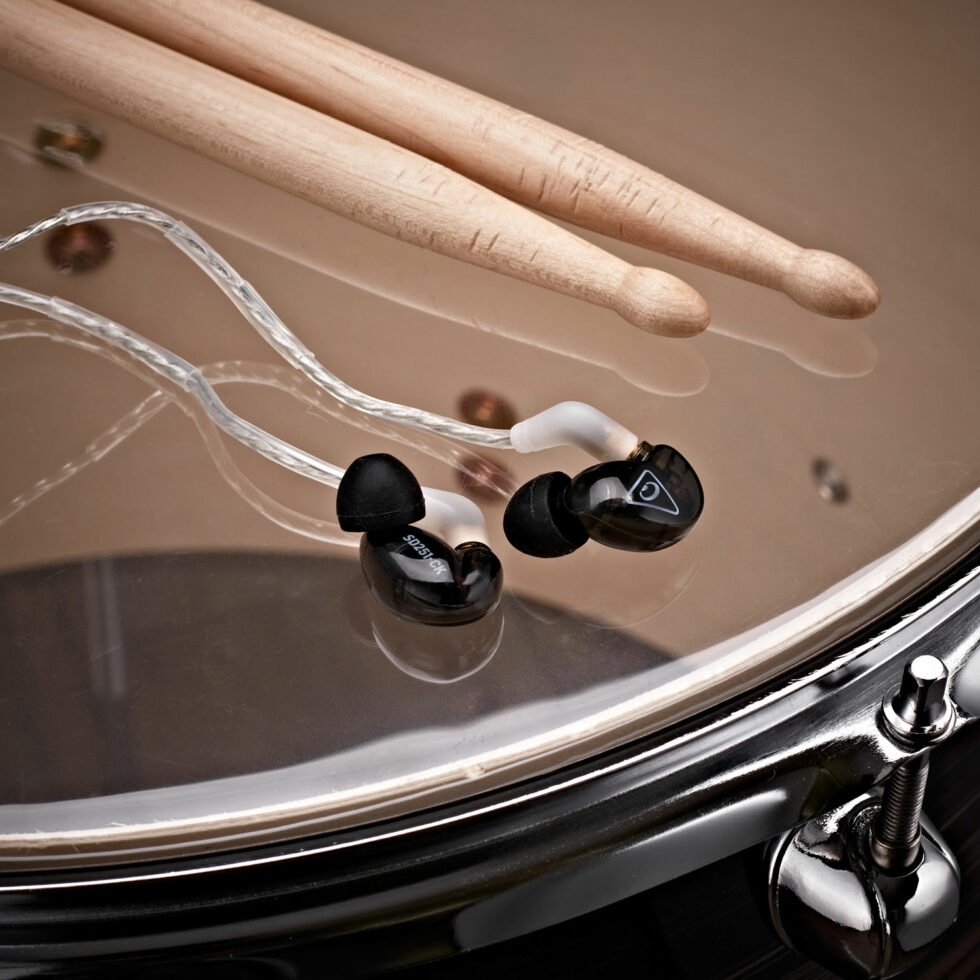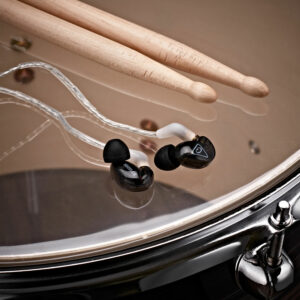 Behringer's SD251-CK In-Ear Monitors are a superb way to experience clear sound and mixes during live performances.
With quality and features similar to in-ears of a higher price point, the SD251-CK sound and look great.
The sonic clarity of these in-ear monitors is provided by two powerful micro drivers, giving you defined bass and transparent highs.
Designed to sit over the back of your ear, these monitors are extremely comfortable to wear during a studio recording or live performance, with the cable staying out of the way.
They also include a choice of silicone or foam earbuds, in three different sizes, allowing you to tailor your in-ears to suit you.
As with most in-ear monitors, these have a sound-isolating design which lets you focus on the click track or music playback.
The Behringer SD251-CK is perfect for any drummer looking for a quality set of in-ears with a dual driver.
Shop now | Behringer SD251-CK In-Ear Monitors
Alternatives to protect your hearing
Whilst more affordable in-ears have weaker hearing protection than higher-end models, taking care of your hearing is still a vital part of being a drummer.
One thing you can do to help this is place hearing protection over your monitors. This will shield your ears against external noise and deliver the same protection as models at higher price points.
---
SubZero Ear Defenders Hearing Protection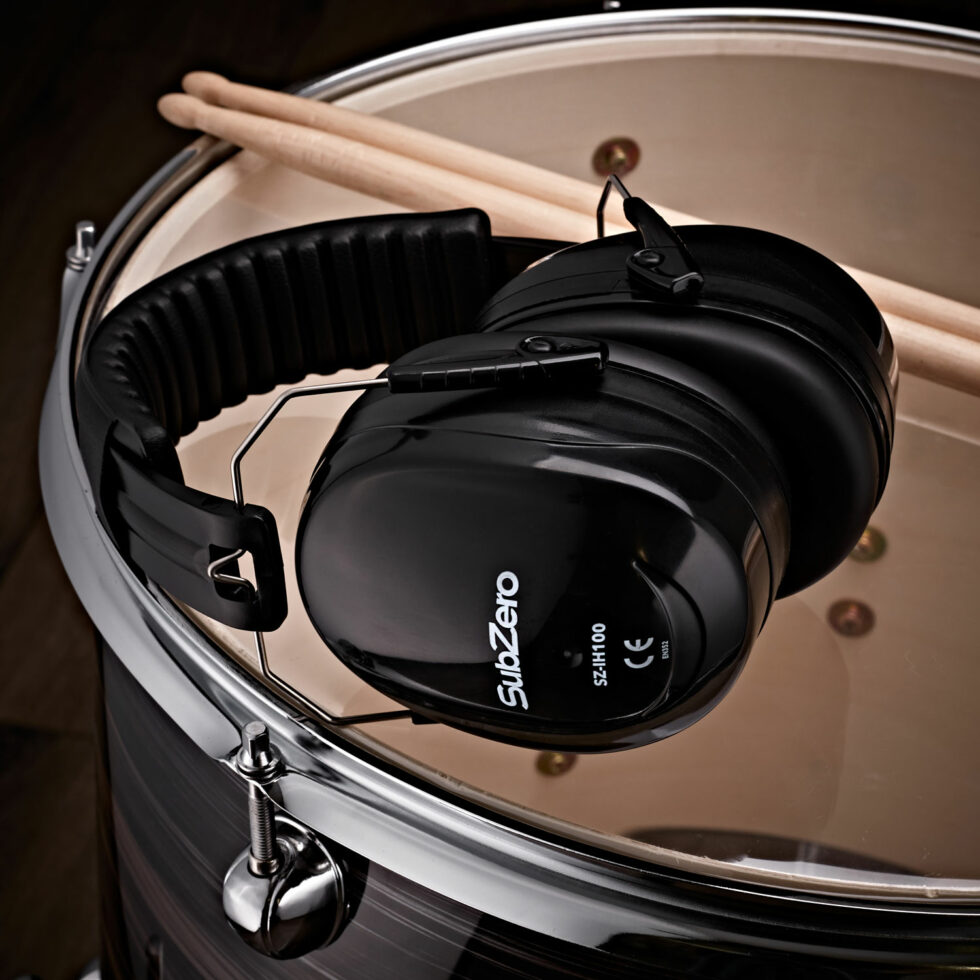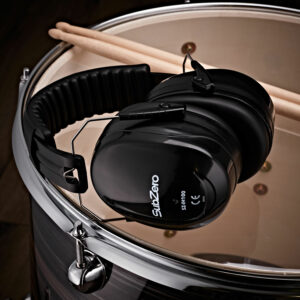 These overhead SubZero Ear Defenders are perfect for drummers who prefer headphones as opposed to earphones.
With comfortable padding around the band and ears of the headphones, the SubZero defenders remain enjoyable to wear during long playing durations.
The padded construction of these headphones blocks out any external noise to ensure you can focus on playback.
Specifically, they reduce sound up to 21dB.
Ideal for use with and without in-ears these Subzero Ear defenders will maintain quality protection with a comfortable feel.
Shop now | SubZero Ear Defenders Hearing Protection
Mid-range in-ear monitors
These are perfect if you're looking for a quality set of in-ears for regular gigging, whilst not wanting to break the bank.
Mid-range earphones, such as the Vic Firth SiH2 Stereo Isolation Headphones and the Sennheiser IE 100 Pro in-Ear Monitors, are a great choice and will do the job without fail. They're ideal for gigging in smaller venues or drummers looking to get into the habit of wearing in-ears.
Here are a few mid-priced in-ear monitors and what they can add to your playing.
---
Vic Firth SiH2 Stereo Isolation Headphones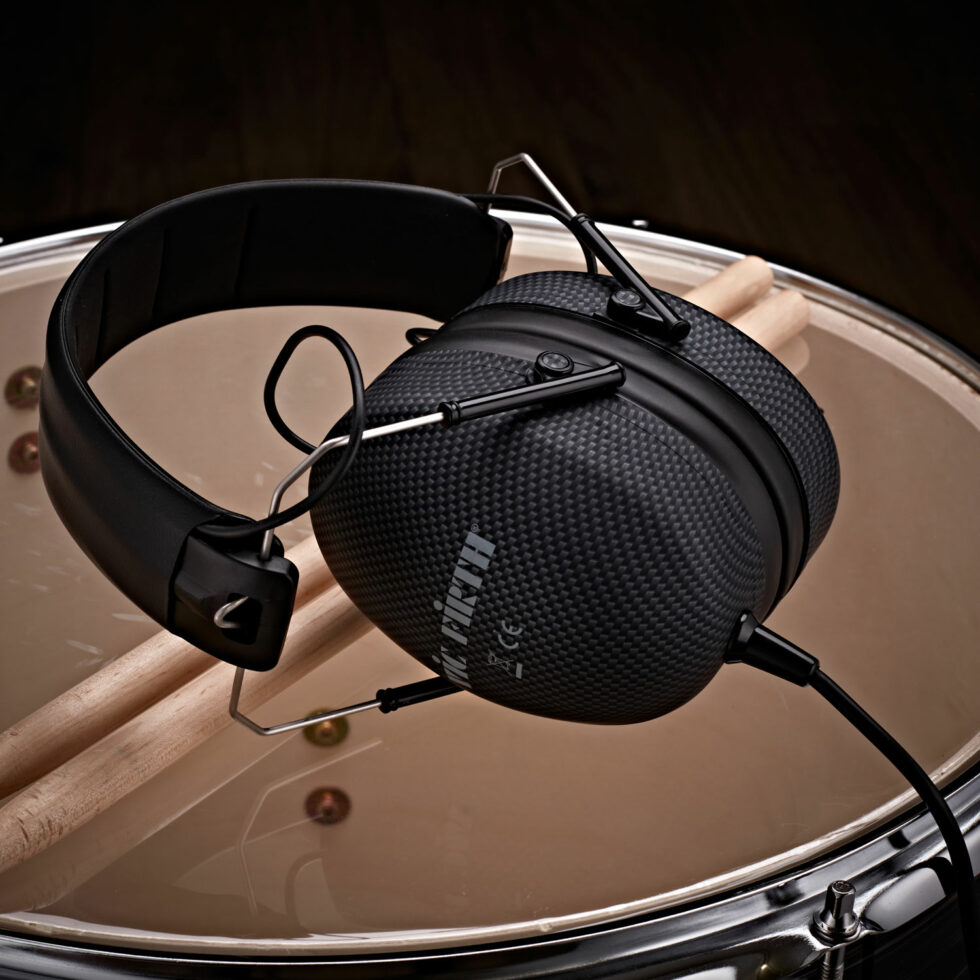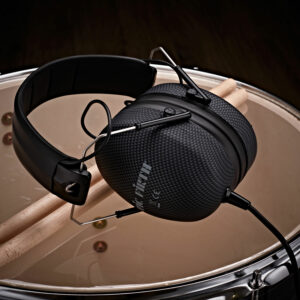 The Vic Firth SiH2 Stereo Isolation Headphones provide drummers with the optimal protection and features you'd expect from in-ear monitors.
Ideal for any drummer looking for overhead in-ears, the Vic Firth SiH2 deliver quality sound that's enhanced by the large driver.
And for some extra practicability headband padding is comfortable and stays in place for long periods of time.
But one of the main standout features of these isolation headphones is their noise protection.
They reduce noise by 25 decibels, which is perfect for loud environments, like live performances, where your hearing needs to be protected.
Plus, this kind of sound isolation allows you to hear the click and the rest of your bandmates.
Shop now | Vic Firth SiH2 Stereo Isolation Headphones
---
Sennheiser IE 100 Pro In-Ear Monitors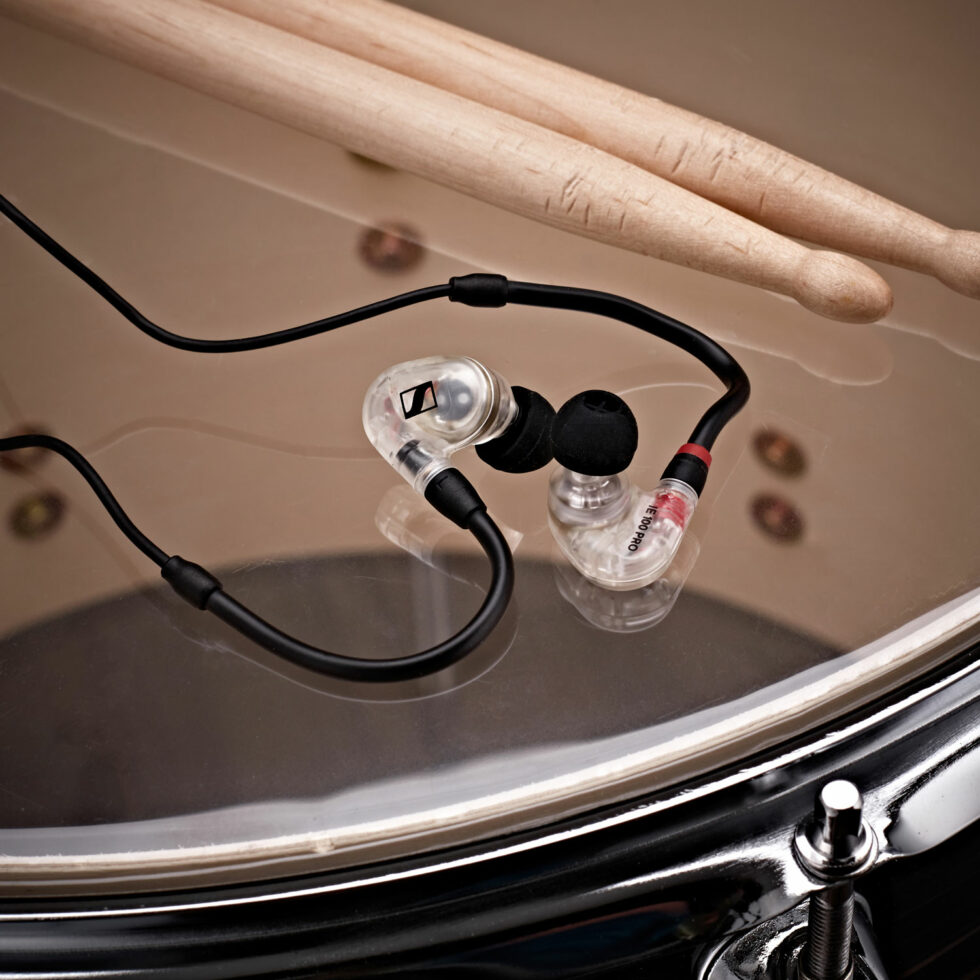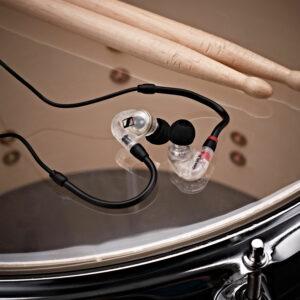 Looking for a good-quality pair of in-ear monitors to gig with? Consider the Sennheiser IE 100 Pro In-Ear Monitors.
With a slim design, each earpiece is individually wired and offers a professional look.
This range is designed for precision and sonic clarity, ensuring you can hear clear audio throughout your performance.
One of the best features of the Sennheiser 100 Pro is their ability to achieve high volumes without distortion.
This means they can be used on stage, whatever the volume, without the risk of audio clipping.
This resistance against distortion also means you're guaranteed to be able to hear your playback with exceptional clarity.
Shop now | Sennheiser IE 100 Pro In-Ear Monitor, Clear
---
Shure SE215 Isolating Earphones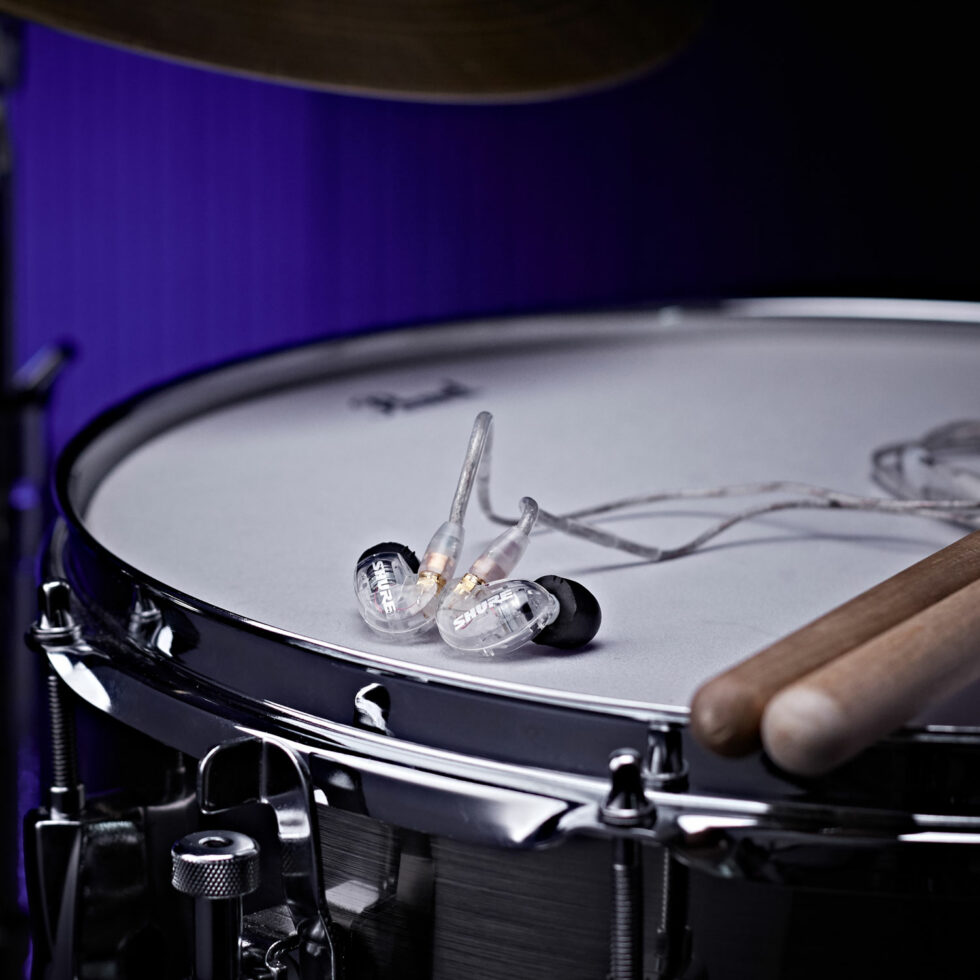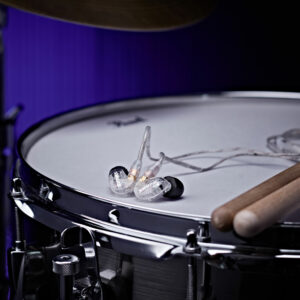 The Shure SE215 Isolating Earphones are great for any gigging or professional recording drummer.
With the SE215s, you're certain to achieve crystal-clear sound quality.
It's courtesy of the single micro driver featured on each side.
Specifically designed for in-ear monitoring, the Kevlar-reinforced wire is made to endure the general wear and tear of regular use.
And with a sound-isolating design, the earphones block up to 37dB of external noise.
These in-ears will protect your hearing during gigs or the high volumes you may experience in a recording studio.
Shop now | Shure SE215 Isolating Earphones
High-tier in-ear monitors
Professional drummers may want to spend a little bit more money to achieve audio of better quality.
Premium in-ear monitors deliver heightened hearing protection and sound to match. This enables you to easily lock onto the groove and music and achieve a seamless performance.
The in-ears we've chosen here are perfect for any drummer wanting a reliable set of in-ears for recording or gigging in large venues.
---
Sennheiser IE 400 Pro In-Ear Monitors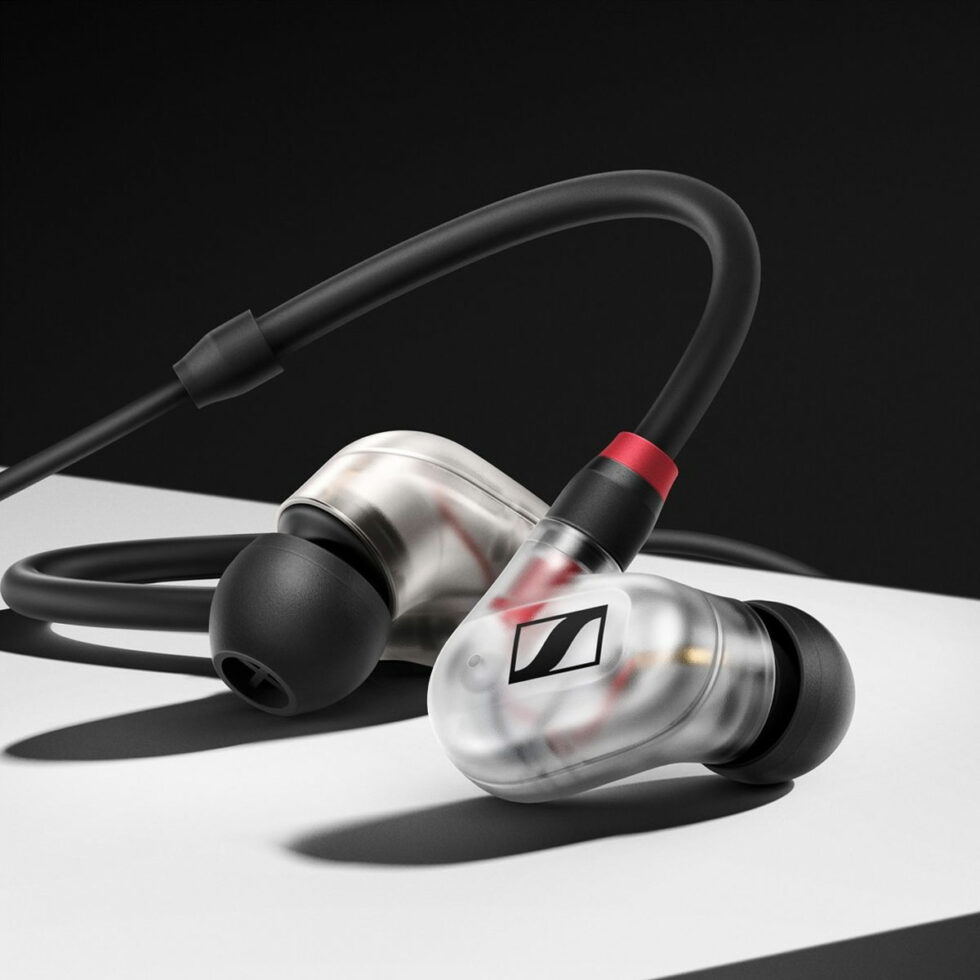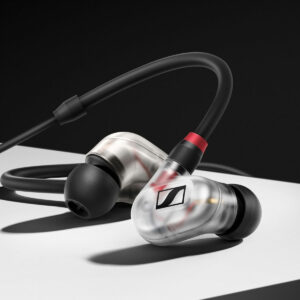 Great for drummers who need quality, the Sennheiser IE 400 Pro In-Ear Monitors deliver high-performing sound and features, all designed to provide a professional playing feel.
One of the standout features of this monitoring set is its ability to provide a punchy sound with definition and detail.
Comfort is super important, and it was a key consideration in the design and construction of these monitors.
With a close fit, you can play for long time periods of time without sacrificing any energy and movement.
As one of the higher-priced in-ear monitors on the market, these in-ears will suit professional recording or gigging drummers who want to hear a high-definition mix throughout their performances.
Shop now | Sennheiser IE 400 Pro In-Ear Monitors
---
Shure SE535 Sound Isolating Earphones
Shure's SE535 Sound Isolating Earphones are ideal for professional drummers looking to achieve the ultimate quality in sound and performance.
The overall look of these in-ears is very similar to the Shure SE215s. Their differences, however, lie within the high-definition sounds they produce, and it's evident through the triple high-definition drivers.
At a high price point, these earphones are aimed at industry professionals who work with click tracks, mixes, and playback in the finest of detail.
Sound isolation is a significant feature of these Shure in-ear monitors, reducing sound by 37dB to prevent hearing damage.
Great for live performances at bigger venues, the SE535s will easily withstand the demands of professional drumming.
Shop now | Shure SE535 Sound Isolating Earphones, Clear
What's the verdict?
Well, it depends on your ability and what you're looking for!
There are many different in-ear monitors available at all price points, and they differ in the number of drivers, the style of the in-ear itself, and the amount of hearing protection they offer.
Lower-priced in-ears are best suited to beginner and intermediate drummers who want a set of in-ears for practising with, listening to music, or getting used to playing with in-ear monitors.
Similarly, mid-tier models are ideal for professional drummers looking to spend minimal money but still have excellent quality.
And finally, higher-priced in-ear monitors accommodate professionals, such as large-venue gigging drummers or studio musicians, who need top-quality precision.