While there's rarely a bad time to learn a new instrument, the first few weeks back at school is a fantastic opportunity. It's a great chance for kids to boost their confidence, meet new people, and maybe form some long-lasting friendships in the process.
The pInstrument – available in trumpet and trombone forms – is a superb entry point. Durable, lightweight, and affordable, this range of plastic instruments caters to anyone, from complete beginners all the way to more advanced students and even professional players.
In this article, we'll discuss:
The benefits of a pInstrument
Various products in the range
The best option for your child
What are the benefits of learning a pInstrument?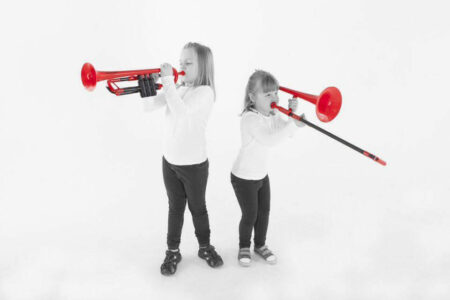 Simply picking up an instrument and joining a school band or ensemble can open so many doors!
Call us biased, but we'd argue music is better than algebra any day of the week. Take that, algebra. 
But where to start? Trumpet? Piano? Guitar? Recorder? Glockenspiel? Theremin?
Okay, it's not likely to be the last one, but assuming your child has their heart set on the wonderful world of brass (excellent choice), you may wish to consider a pInstrument as their entry point.
Many of the benefits of learning a pInstrument are exactly the same as any other instrument. These include, but are by no means limited to:
Stress relief

Creative outlet

Improved confidence

New friends

Learning to work as a team

A sense of achievement

Improved discipline, memory, and patience 

And so much more!
Not a bad set of bonuses to equip any child with, right?
What are pInstruments made of?
The range is entirely carbon neutral and made from fully recyclable ABS plastic – in case you were concerned about the impact a big old plastic trombone has on the environment. 
Each pInstrument is also affordable, lightweight, easy to hold, and specially designed to make the very first step on any child's musical journey as fun and hassle-free as possible. 
Who are they for?
While the pBuzz and pBugle are designed with younger children in mind (around four to seven years of age), there's a wider range – including the pBone and pTrumpet – which are just right for older kids.
The pInstrument range really represents two unique paths that can lead to mastery of one of two brilliant brass instruments: the trumpet or trombone. 
The trumpet
pBugle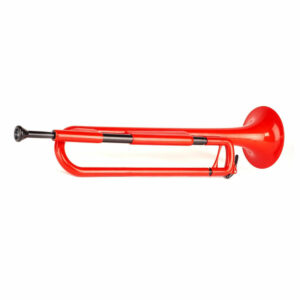 Looking to learn the trumpet? The pBugle is the perfect place to get started!
This is essentially a super affordable and fun first step for kids, and probably one of the easiest ways to kick off the trumpet journey. 
It's comfortable, easy to use, and designed to help build essential music skills that can be transferred to any number of other instruments, regardless of whether your child or student suddenly decides the trumpet isn't right for them. 
Shop now | pBugle
---
pCornet
Moving up a step, we have the really rather fetching pCornet.
It's a compact, lightweight, and easy-to-hold starter cornet that serves as a brilliant instrument for younger kids who see trumpet as their endgame. 
With a virtually indestructible ABS design, this is a hardy little piece of kit that even the clumsiest of kids will struggle to destroy.
It also comes with a convenient smart carry bag. 
Shop now | pCornet
---
pTrumpet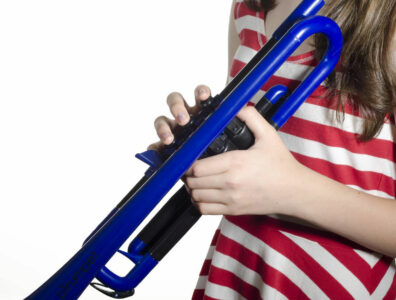 The pTrumpet is a firm favourite of teachers, students, and professional players across the globe, and it's not hard to see why!
This is a robust and hassle-free beginner trumpet that offers a fun and engaging experience for slightly older kids – although it's worth pointing out that this particular instrument can be used by musicians of all ages. 
It boasts a strong ABS plastic body, which means those inevitable knocks or bumps aren't something you have to worry about.
With a lightweight build, unrivalled sound quality, and reliable durability, the pTrumpet is the only trumpet to feature an entirely plastic valve system.
The pTrumpet includes two mouthpieces, but you can use any standard trumpet mouthpiece. Oh, and it comes with a smart carry bag and is available in a whole range of colours. Very nice. 
Shop now | pTrumpet
---
pTrumpet hyTech
The hyTech pTrumpet is a great choice for any players looking to step up and find the right intermediate-level instrument. In other words, it's the ultimate upgrade for anyone who started on the original pTrumpet. 
The hyTech's sleek design sets it apart, appealing to newcomers and existing players alike thanks to its durability and versatility.
While it's the most expensive of the trumpet options in the range, its high-quality materials make it ideal for advanced players who need a lightweight instrument that provides a professional sound.
Shop now | pTrumpet hyTech
The trombone
pBuzz
Ah, the pBuzz. Truly one of the greatest starting points for younger children looking to learn the basics of playing a brass instrument.
The pBuzz's simple design is specifically engineered to help kids get to grips with the essentials, helping them make their first sounds on a brass instrument – and have fun in the process. 
Easier to get to grips with than a recorder, much quicker to grasp than a keyboard, and much less hassle than a drum, the pBuzz is already the starter instrument of choice for parents and schools worldwide. 
Shop now | pBuzz
---
pBone Mini
Have you ever tried handing an actual trombone to a very small child? They're either going to fall over immediately or drop the thing because it's too heavy!
The pBone Mini has completely overhauled the trombone, making it infinitely more accessible to players of a young age. 
Like every instrument in the range, the pBone Mini's strong plastic body can handle plenty of punishment from younger players or the stresses of travel. And it's the perfect step up from the pBuzz. 
The pBone includes a mouthpiece and a smart carry bag, so you can get stuck in and start playing immediately. 
Shop now | pBone Mini
---
pBone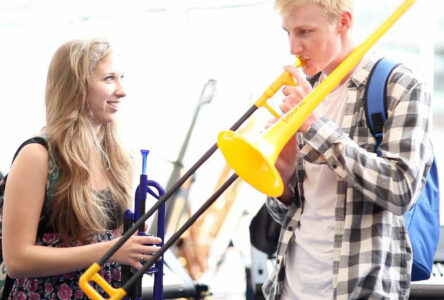 Ready to graduate from the pBone Mini?
The pBone is, as I'm sure you've guessed, larger than the Mini. But it's still a beautiful, light piece of kit that clocks in at around 4 kilos less than a regular trombone. 
The instrument's lightweight construction makes it much easier to hold.
This is crucial in helping children master good technique and posture.
The pBone is also fantastic value for money, costing around a quarter of the price of many beginner brass trombones.
It comes with a smart carry bag and plastic mouthpiece.
Shop now | pBone
Find out more
We've given you a quick run-down of pInstruments, and hopefully you have a much better idea of what you do – or don't – want. So, why not check out our full pInstrument range?