From complete novices to pro musicians, the Artiphon Orba reinvents the way we think about musical instruments. Learn more about this revolutionary device.
Looking for a new way to make music? The Artiphon Orba can be as easy or as complicated as you like – there's no right or wrong way to play it. With a super compact design plus built-in synth and speaker, you can make music anywhere.
---
Make music however you like
The Artiphon Orba is a handheld synthesizer, looper, and controller. And while that description is relatively straightforward, it does absolutely no justice to what the Orba can achieve.
In the words of Mike Butera (founder and CEO of Artiphon), the Orba is designed to "reinvent the way we think about musical instruments and who gets to play them."
With its array of buttons and gyroscopic sensors, you can tap, shake, tilt, glide, and even spin the Orba to make different sounds.
The Orba's super compact design, built-in sounds, and speaker makes it the ideal companion for travel or a handy tool for the studio.
---
Create, control
The Orba can be used standalone, or as a studio controller.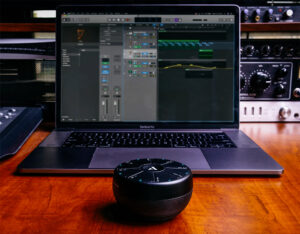 To make sounds on its own, the Orba has a built-in synth and looper. With Drum, Bass, Chord and Lead sounds, you can play individual instruments or build a complete arrangement on the go.
If you want to connect to external Apps, you can use the Orba as a MIDI controller via Bluetooth/USB MIDI. This gives you a huge range of controls to experiment with, from touch responsive buttons to controllers for shake, tilt, vibrato, move, slide, and even spin.
Orba is compatible with the free Orba companion app, Garageband, Logic Pro, Ableton Live, Steinberg Cubase, and many more of your favourite DAWs.
---
Demos
Words don't really do the Orba justice. Watch the following videos to get an idea of what it can achieve.
---
Introducing Orba – an overview
---
Using Orba's gestures, looper, synth, and MIDI controller functionality
---
Make a song in seconds with Orba
---
Incredible software instruments with Garageband iOS
---
Using Orba with Ableton Live 11
---
Control hardware synths with Orba
---
Orba's tilt gestures with synth
---
First impressions
Orba first impressions with Taetro
---
Orba first impressions with Miette Hope
---
Orba first impressions with The Phronetic
---
Orba Tutorials
Watch Artiphon's short Orba tutorials with this playlist. Learn how to use modes, gestures, and then build a song.
---
Find out more
Shop Now | Artiphon Orba at Gear4music
Discover more | Artiphon Orba plus cases, sleeves, and the Instrument 1