Alesis originally made their name creating studio rack gear at accessible prices, and keeping their prices low is a trend they've continued to this day. Over the years, they've developed and broadened their products. Currently, they sell digital drum kits, electric pianos, MIDI controllers, studio accessories, and live audio equipment. In this article, we'll be looking at the Alesis Concert Piano.
Alesis' range of keys predominantly includes stage pianos that are easily portable. What makes them great is that, despite their low prices, they don't compromise on quality. The Alesis Concert Piano is no exception; it's the best introduction to Alesis for new players.
The Alesis Concert Piano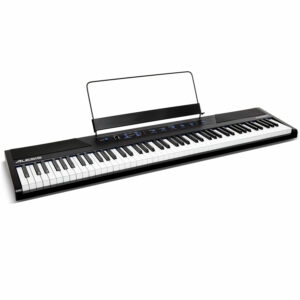 The Alesis Concert Piano has a keyboard with 88 keys, and at this price point, you'll be hard-pressed to find another 88-key piano. Its semi-weighted construction is often seen on lower-priced instruments as full hammer weighting can be very expensive. However, many players still enjoy the resistance and spring of semi-weighted keys.
If you're an organ player, you may also enjoy the feel of the keys as the Hammond organ has a similar key action. Full hammer-weighted keys can be very heavy, making transportation difficult and stressful. This highlights another advantage of the semi-weighted key action, you will find it far easier to travel around and move your Alesis Concert.
Of course, a major benefit of a digital piano is the opportunity to have many different sounds or instruments at your disposal. The Alesis Concert has ten built-in voices, including piano, harpsichord, church and electric organ, strings, and clavi.
Another feature is the option to layer or split sounds. With layering, you can stack up to two sounds to play simultaneously when you play a key.
The split function then allows you to choose separate voices to play in the lower half and upper half of the keyboard. For example, you could have piano in the left hand and strings in the right. It's a useful feature that is often forgotten by piano players.
Further expanding this piano's capabilities is lesson mode. This splits the piano in half like split mode but keeps the sound the same. The pitch is duplicated so both sides can play the same notes, making it a fantastic feature if you want to play alongside your teacher.
Connectivity is important with a modern piano. You want it to be versatile in how it links to other devices. Fortunately, the Alesis Concert has a respectable number of options. The stereo line out is great for connecting to amplifiers or PA systems, whilst the headphone jack is ideal for quiet practice. There's a jack for sustain pedals too, so you can add that extra layer of expression.
Potentially the most useful connection, especially for beginners, is the USB port. With this, you can connect your keyboard to your computer and use it for MIDI functionality. Playing software synths with the full range and semi-weighting of this piano will be game-changing for producers. MIDI can also be used to connect to various apps that help you learn to play piano.
Bundles with benefits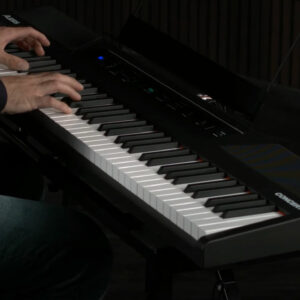 We have a great bundle for budding piano players. It includes the Alesis Concert Grand, an X-frame stand, piano stool, sustain pedal, and pair of stereo headphones – everything you need to start practising the piano.
The stand is sure to help you establish your space for practice. Plus, having the piano out, ready and waiting, will motivate you to play. This is great for learning as you can easily just spend five minutes or so throughout your day practising. And if you start playing gigs and concerts, you'll already have an easily transportable keyboard stand.
A stool is, of course, a necessity for comfortable performance. It may not seem like it, but playing the piano, or any instrument, can be quite a physically demanding task and you want to avoid any injuries that could restrict future playing! You'll also find that sitting properly at the piano will encourage a better playing technique. Luckily, our bundle comes with a piano stool for these very reasons.
The sustain pedal is a must-have for adding more expression to your playing. Practically all acoustic pianos have at least one pedal and it's usually a sustain. Many pieces will require the use of it, and more advanced pieces often have quite intricate pedalling.
Our HP-210 headphones finish off the bundle, providing you with the ability to practise silently – good for when you don't want to disturb others. Musicians often have to strike a balance between making noise and being respectful of their neighbours, and headphones are a great solution.
Skoove
The Alesis Concert includes a three-month trial to Skoove, an online learning app.
Skoove has videos that show you the correct hand positions on the keyboard and offers resources that help you learn music by ear. This can lead to all sorts of other musical skills, such as transcription.
Also offered is a moving score which shows you the notes as you play them – artificial intelligence is employed to listen to you and analyse your playing. This will vastly improve your sheet music reading skills and sight-reading.
And that's not all. Skoove provides the ability to play your favourite music alongside a recorded ensemble, developing your ensemble skills and teaching you how to match your playing to a band. This will be invaluable in the future when you might play in groups of other musicians.
Connecting your piano to Skoove couldn't be easier. The Alesis Concert has a USB port in the back that you can use to connect to your computer, MIDI then communicates the notes you're playing to Skoove for analysis.
Alternatively, the app works with Bluetooth. Failing both MIDI and Bluetooth, Skoove can detect your playing using your device's microphone. This is good if you own an acoustic piano.
TakeLessons | Live
Skoove isn't the only software that is bundled with the Alesis Concert Piano. TakeLessons | Live is also included. Many new players may struggle with a lack of feedback from a real person while they're learning. This is why having music lessons are often recommended. But they can be both difficult and expensive. This is where TakeLessons | Live comes in.
With this platform, you're able to partake in online classes with experts at the piano. These are group sessions in which you can participate as much as you like. You're able to get direct and live feedback from your teacher and improve your playing and technique much more quickly than you would by yourself.
You'll also be less likely to pick up any bad habits that could cause you issues later on in your playing career. Unlearning poor technique can be difficult and hinder your progress on certain pieces and, more importantly, a poor playing posture could cause serious physical issues.
If you have less free time, TakeLessons | Live can still work for you. Lessons are often recorded and can be watched on-demand at a time more suitable for you. This, combined with live lessons, provides you with a wealth of knowledge and resources for learning piano.
It isn't just piano though. Courses are available on other musical instruments and even skills like music theory or aural skills. There's also a wide variety of courses for other areas of study, such as maths, science, and English.
With the Alesis Concert Piano, there are two months of TakeLessons | Live included, giving you a great taster for this service.
Final thoughts

The Alesis represents an extremely affordable route to learning piano. Its full-sized keyboard is a great feature that is rare at lower prices. Semi-weighted keys help keep the piano affordable while also providing a touch that is like hammer-action pianos.
Skoove can help you learn in a fun and engaging way, making piano playing easy. If you want to really level up your playing, or you just prefer a human input, TakeLessons | Live is a great piece of software.
Our bundle will also further assist you in your efforts to learn as we offer everything you need to start playing. And it's at a price that's difficult to beat! With a stool, stand, headphones, and pedal, you'll be able to play exactly the way you want to, comfortably.