A leading brand in the headphone space, Sennheiser have been producing cans for decades. From high-end studio sets to affordable earbuds, they produce a vast range to suit a variety of needs.
With such a broad assortment and different styles available, it can be a little confusing to decide which pair would work best for you. So, to help you out, we'll go through the major differences between headphone styles in addition to an overview of some great Sennheiser models we offer.
---
In-Ear, On-Ear, or Over-Ear?
In-Ear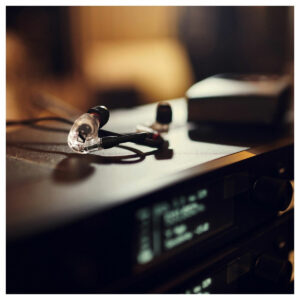 Like it sounds, these are a headphone design that fit straight into your ear. By far the lightest and most portable, these buds are often aimed at people on the move, whether that's performing live with in-ear monitors or working out with sweat-resistant headphones. Their light profile makes any audio-on-the-go task a breeze.
With their size comes a compromise; they aren't as capable of pushing as much air through as their on-ear and over-ear cousins. This means they lack the sonic detail that larger headphones provide, so if you're looking for a high-grade audiophile experience these aren't it. But it's a small price to pay for exceptionally portable design.
---
On-Ear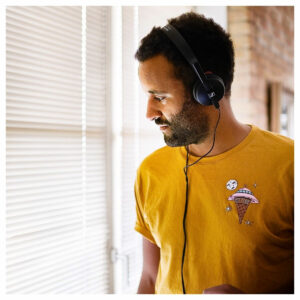 Another accurate name, on-ear headphones sit on top of your ear, rather than covering it all. This means they're lighter in weight, less bulky than over-ear designs, and deliver more punch and open sounds than in-ear buds.
Their skinnier profile makes for great travelling headphones or live performances where you don't want the isolation that over-ear designs can bring. As they don't cover the whole ear, they'll tend to let in more outside noise, letting you be more aware of your surroundings.
That said, there are models which are noise cancelling and isolating, but, usually, in order to achieve this, they have a tighter clamp to create a seal on your ears – potentially leading to some discomfort. In general, they're less desirable for noise cancellation purely because they don't block the whole ear or seal the ear canal.
---
Over-Ear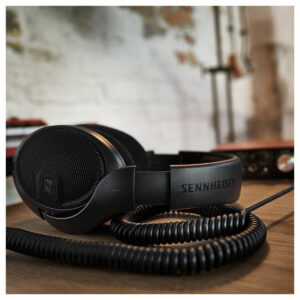 Small, bigger, biggest. Over-ear headphones are by far the biggest and most cumbersome of the cans, but they come with a larger feature set and extended performance capabilities. They're built to cover your whole ear, which naturally isolates your audio more, even without noise cancellation.
Generally, these are the headphones you'll get the best quality audio from thanks to the larger space that provides a more open sound and a more powerful array of drivers. These will gift a wider range of frequencies in combination with an extended sound stage, which is why in most professional settings, you'll see over-ear style headphones.
Comfort is always a matter of personal preference, but over-ear designs frequently have the most padding for a soft feel and less fatigue during prolonged use. However, they're more prone to feeling hot because of the reduced airflow around your ears.
Their size can make them ill-suited to any activity that requires movement, which is generally why they're associated with stationary studio uses or DJ sets.
---
Open back or closed back?
The style of headphone isn't the only thing to consider when making your purchase, it's also important to acknowledge what kind of back they've got. Fortunately, like in-ear, on-ear, or over-ear names, it's pretty easy to decipher what closed or open back might mean.
---
Open Back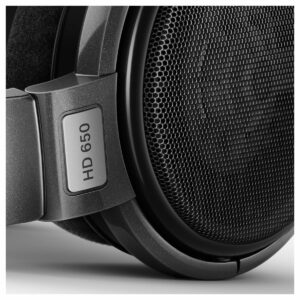 Whilst the name is self-explanatory, the way in which open back headphones affect sound is a little more complicated. Open back designs eschew a rear cover so that air can pass freely through the speaker driver, meaning there's no seal over your ears. Consequently, sound can escape and enter the headphones, which leads to a clearer performance, with greater dynamics thanks to the absence of pressure build-up in the cups.
The drawback is that they aren't great outside of quiet, controlled environments because outside noise will interfere with your sound – and people will be able to hear what you're listening to. This means they're ideal for studio settings where the low-noise background allows you to maximise their benefits to master your music.
---
Closed Back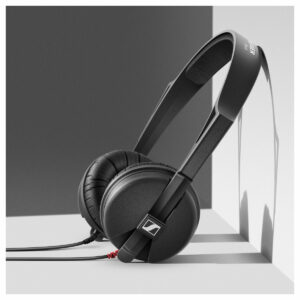 On the other hand, closed back headphones seal the cup and your ear. This is far more effective at noise isolation, allowing you to block out unwanted background noise.
The potential compromise is more pressure build-up and a less dynamic sound. That said, you'll be able to use them almost anywhere without interruption, particularly with sets that feature passive isolation.
---
Which one is right for you?
Now that we've got a basic grip of the different styles, we'll look at some of the Sennheiser sets we offer and what they bring to you, whether that's for casual listening or high-end production!
---
Sennheiser HD 200 PRO Closed Back Headphones
Over-Ear, Closed Back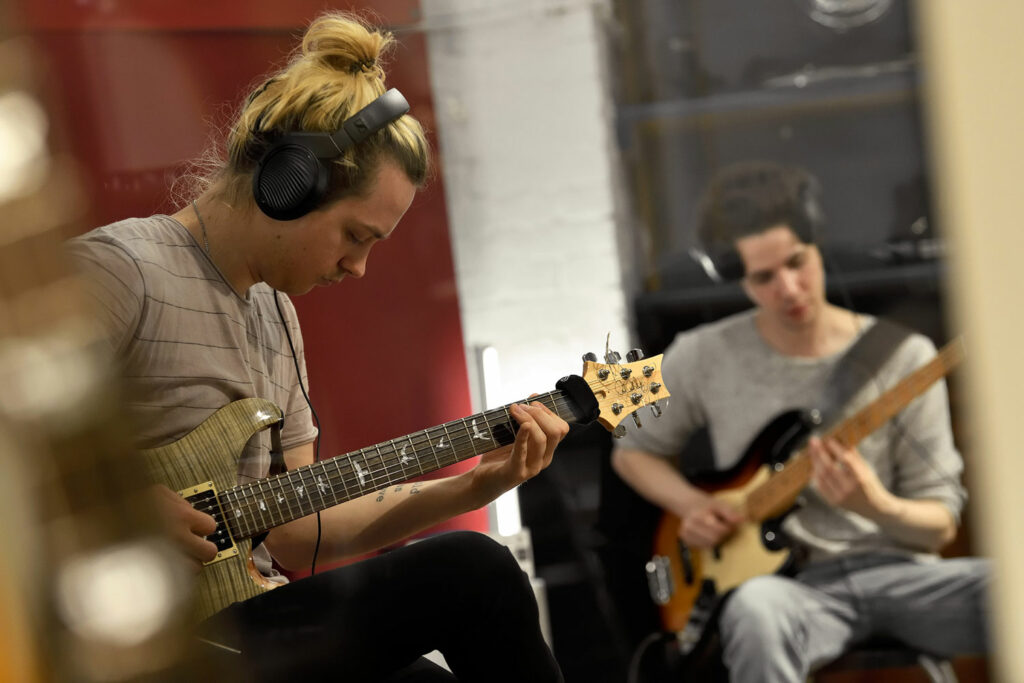 High performance at low cost. Enjoy a reduction in ambient noise with the HD 200 PROs thanks to their over-ear design and stellar performance with the use of Sennheiser's excellent drivers. Their proprietary transducers reveal a thick, solid bass and developed mid-range, while still clearly voicing the highs. It's a great set to immerse yourself in some music or for studio monitoring thanks to their high-resolution audio.
If you're looking to start recording, or just want a set that can deliver great performance at a lower cost, these are it.
Shop now | Sennheiser HD 200 PRO Closed Back Headphones
---
Sennheiser HD 25 Light Headphones
On-Ear – Closed Back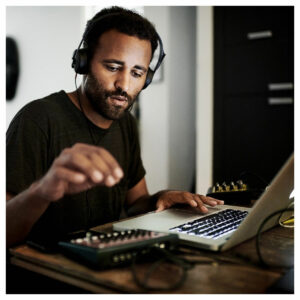 Like it says in the name, the HD 25 Lights are light. Thanks to their on-ear supra-aural design and unobtrusive headband, you'll have loads of manoeuvrability and plenty of airflow around your ears. Together with its high SPL handling and extended frequency response, the HD 25s are great for music on the move.
This crystal-clear performance stems from their precise reproduction, ranging from oozing basses at 16hz up to shimmering highs at 22khz.
With an included 1/4″ adaptor, you can get straight into audio interfaces for recording or monitoring. And if you just want them as a pair of day-to-day cans, their closed back will help block out the outside world, so you can lose yourself in the music.
Shop now | Sennheiser HD 25 Light Headphones
---
Sennheiser HD 280 PRO II Closed Back Headphones
Over-Ear – Closed Back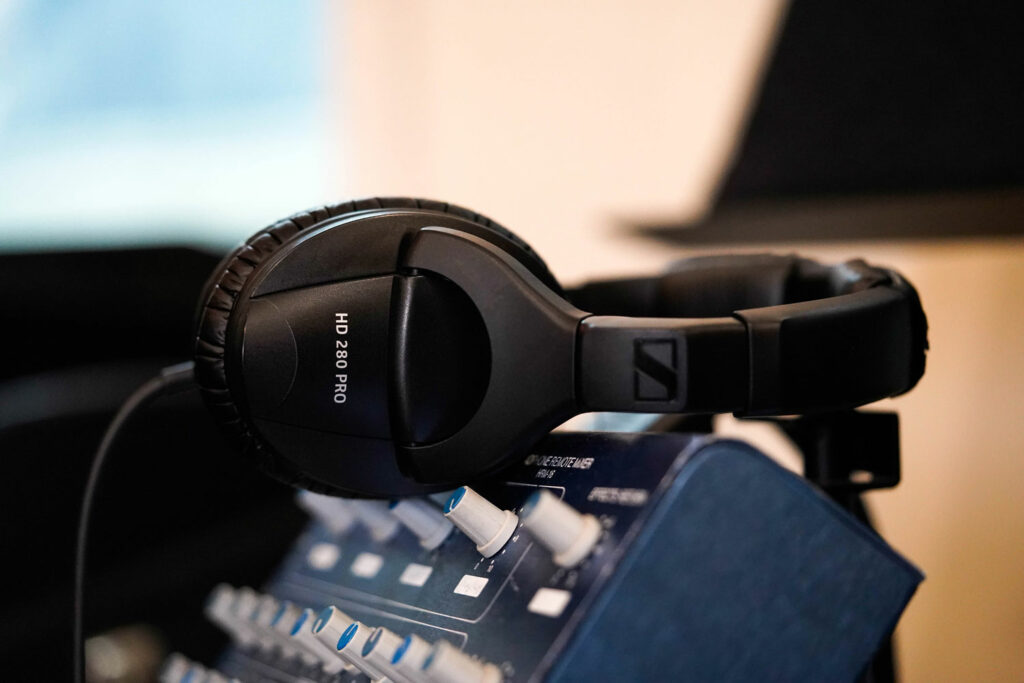 Performing live or in the studio? The 280 PRO IIs are perfect when you've got a job to do. With a comfortable, noise isolating over-ear design and padded headband, you'll be able to work for hours without fatigue. And whatever audio task you set out to do, it'll be made much easier by the excellent frequency range provided by Sennheiser's speaker muscle.
Covering 8hz to 25khz you'll have all the detail necessary to produce precise audio. This flat frequency response is ideal for any professional application thanks to the uncoloured sound. Complete with a collapsible design and outside noise attenuation, the HD 280 PRO IIs present exceptional value for their performance.
Shop now | Sennheiser HD 280 PRO II Closed Back Headphones
---
Sennheiser HD 25 Headphones
On-Ear – Closed Back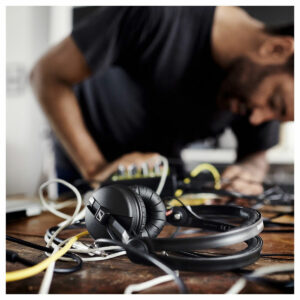 The bigger brother of the HD 25 Light mentioned earlier, the HD 25 is some of the most recognisable DJ headphone sets in the world. It's only bigger in the sense of price and features, otherwise, they're similarly nimble and work great for live performances.
Their iconic split headband makes enduring long sets a breeze, and a flip-away cup allows for single-sided listening. And with a single-sided cable, there's less to get in the way!
They'll handle loud environments with ease through their maximum SPL of 120db and excellent background noise attenuation, while their extended frequency response and lightweight aluminium voice coils ensure crystal clear performance. These are a fantastic choice for live or energetic settings, letting you work with flexibility.
Shop now | Sennheiser HD 25 Headphones
---
Sennheiser HD 300 PRO Professional Monitoring Headphones
Over-Ear – Closed Back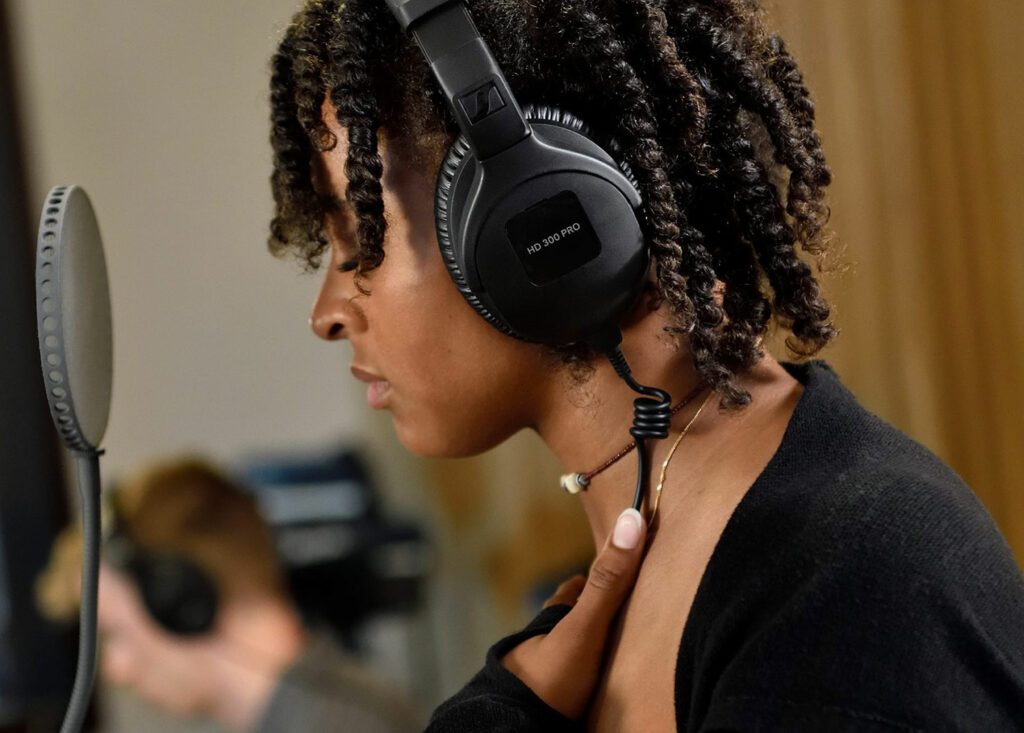 Can you guess what these are for? Yup, the HD 300 PROs are excellent studio monitoring cans. That's because of their extremely comfortable, noise isolating design and linear frequency response.
Not only will you be unhindered by ear fatigue, but you'll also enjoy total accuracy in your sound. That's provided by their high resolution and distortion-free drivers, delivering the crisp tones you need to monitor and mix with precision.
Their noise isolation is impressive. By eliminating an estimated 32db of background noise, these headphones let you focus entirely on the audio no matter your environment. Combined with their carefully designed padding to minimise strain on contact points, you'll be able to wear them for hours without hassle.
Shop now | Sennheiser HD 300 PRO Professional Monitoring Headphones
---
Sennheiser HD 300 PROtect Professional Monitoring Headphones
Over-Ear – Closed Back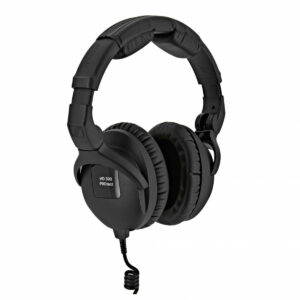 How could the HD 300 get better? Well, the HD 300 PROtect will show you.
As the name implies, the PROtect set features some amazing "Active Gard" technology that provides smart protection for your ears. It actively reduces signals that are too loud down to a safe level – so previously harmful or distorted audio becomes clear and manageable.
These headphones are excellent if you deal with audio that frequently has sharp peaks. Their cutting-edge tech will help smooth out the rough parts for a far more enjoyable experience.
Shop now | Sennheiser HD 300 PROtect Professional Monitoring Headphones
---
Sennheiser HD 400 PRO Studio Reference Headphones
Over-Ear – Open Back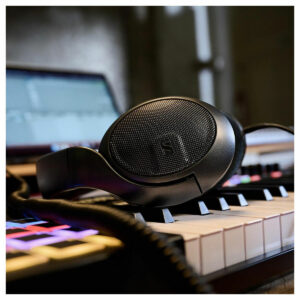 Taking a step up, the HD 400 PRO Studio Reference headphones raise the bar with their open back design and stunning stereo imaging.
They're ideal for mixing music thanks to their clean, distortion-free sound. And that's at any volume! It's all enabled by their custom-designed 120 angled transducers.
That's not to mention their accurate, neutral output and excellent reproduction at any frequency range, which make them a joy to work with. It's mastering made easy. The open back design further enhances the acoustic dynamics, leading to a stellar studio experience.
And that experience is going to be comfortable because velour ear cups are a lavish luxury for the sides of your head. This cosy fit will have you wearing them for hours with no discomfort, perfect for those never-ending recording sessions.
Shop now | Sennheiser HD 400 PRO Studio Reference Headphones
---
Sennheiser HD 26 PRO Broadcasting Headphones with ActiveGard
On-Ear – Closed Back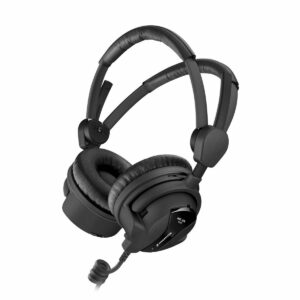 Rule the airwaves. The HD 26 PROs are built with the broadcaster in mind, and to that end, they've got superb passive noise attenuation, accurate sound reproduction, and Sennheiser's brilliant ActiveGard technology.
Designed for comfort with a split headband and nimble on-ear profile, they're comfortable for long casting sessions.
Crucially, broadcasters need to listen as well as monitor, and the high passive noise attenuation will block out unwanted background interference, while the swivelling ear cup will let in the outside sound when you need it. And of course, ActiveGard makes sure that your audio is consistently smooth, with no sharp, ear-splitting surprises.
Shop now | Sennheiser HD 26 PRO Broadcasting Headphones with ActiveGard
---
Sennheiser HD 600 Avantgarde Headphones
Over-Ear – Open Back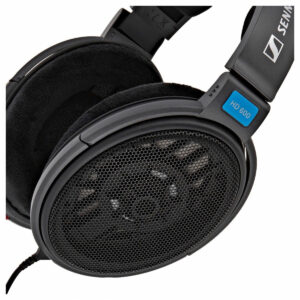 Straying into the realms of the audiophile. For when you want all the sound, Sennheiser's HD 600 Avantgarde headphones deliver impeccable build quality and top-notch audio action.
Featuring state-of-the-art components, this is the pair you look for when you need the ultimate in transparency – whether that's engineering, recording, or just sitting on your sofa and listening. You'll have a transcendent experience with these.
Possessing a legendary dynamic range and exceptional sensitivity, you're going to pick up every single detail. Even better, it will be free from standing waves in the diaphragm material thanks to its advanced design.
Computer-optimised magnet systems minimise any potential harmonic and intermodulation distortion, revealing a crystal-clear output.
There's no compromise in these cans, velour cups and an ergonomically designed headband provide a soft embrace for your head – it'll feel like you're barely wearing any headphone! And finally, that open back design allows for a greater sense of balance. But Sennheiser take things a step further by covering it in a fine metal mesh, creating a fantastic soundstage.
Like all other open back headphones, these are best suited to quiet environments. So, if that's where you need your audio, it doesn't get much better than the HD 600…
Shop now | Sennheiser HD 600 Avantgarde Headphones
---
Sennheiser HD 650 Audiophile Open Dynamic Headphones
Over-Ear – Open Back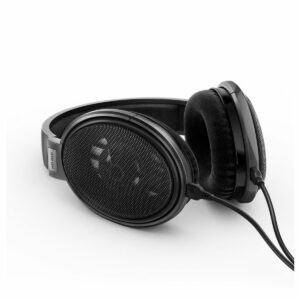 …except it does get better! And that's where the HD 650 Audiophile Open Dynamic headphones enter the frame. With Audiophile in their name, you know these are aimed at high performance and demanding users. And boy, does it have the components to match that task.
The drivers on both sides are hand-selected on ultra-narrow decibel tolerances for audio equilibrium.
In addition, they boast highly optimised magnets that minimise harmonic distortion, letting you hear every morsel of sound as it was intended. And that's before we mention the outstanding frequency performance, with a resounding bass thump, detailed mid-range and crisp, articulate highs.
All this is achieved through high-performance dynamic transducers that are coupled with the meticulously designed acoustic mesh that creates the ultimate soundstage.
That's a lot of jargon packed into one place, and we're not finished yet. Because to provide the pinnacle in headphone experiences, the HD 650s need to be comfortable. Fortunately, they are a divine fit. Meticulously designed to gently sit around head without applying much pressure, they'll stay firmly in position. And velour ear cups fashioned in an elliptical shape will let you dive into the music without ever having to fiddle with their positioning.
All in all, this is the premier set for indulging in music. If you've got a keen ear and are sick of sub-standard audio, the HD 650s will serve you up an exquisite sonic feast.
Shop now | Sennheiser HD 650 Audiophile Open Dynamic Headphones
---
So, which is for you?
If you're after a pair of headphones for the home or out and about, or if you're beginning to mix/master music, the HD 200 PRO and HD 25 Light are a great place to start.
Getting into live performances? Consider the HD 25s for their light feel and one-sided audio. The HD 300s kick things up a gear for quality in terms of studio reference sets, whilst the HD 300 PROtect's extra audio smoothness reduce any unpleasant distortion.
If you want better performance for a studio setting, the HD 400's open back offers an enhanced soundstage and is still much cheaper than the other open backed sets on our list.
For broadcasting or podcasting, the HD 26 PRO broadcasters are the obvious choice. Light enough to let you focus on presenting, yet exceptionally agile so you can engage with people around you.
Striving for studio excellence? Then look towards the HD 600 Avantgarde. Made for quiet, audio-focused environments, their peak comfort and precise construction will let you pick out the details and monitor or mix to perfection.
And for the ultimate in audiophile-grade gear, the HD 650s provide a blissful listening experience that's designed to eke out every sonic element. Designed to provide pristine audio and meticulous balance in music, if you have highly attuned ears, these will provide the sounds you desire.
---
Find out more