From sounds and connectivity options to accessories and educational tools, there are lots of factors to consider when choosing your first keyboard.
In this article, we'll explore the main things to look out for, whilst discussing Gear4music's beginner-friendly range of keyboards that are suitable for adults and children alike.
What are the benefits of a Gear4music keyboard over a piano?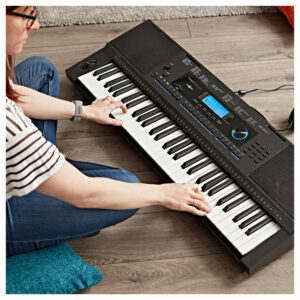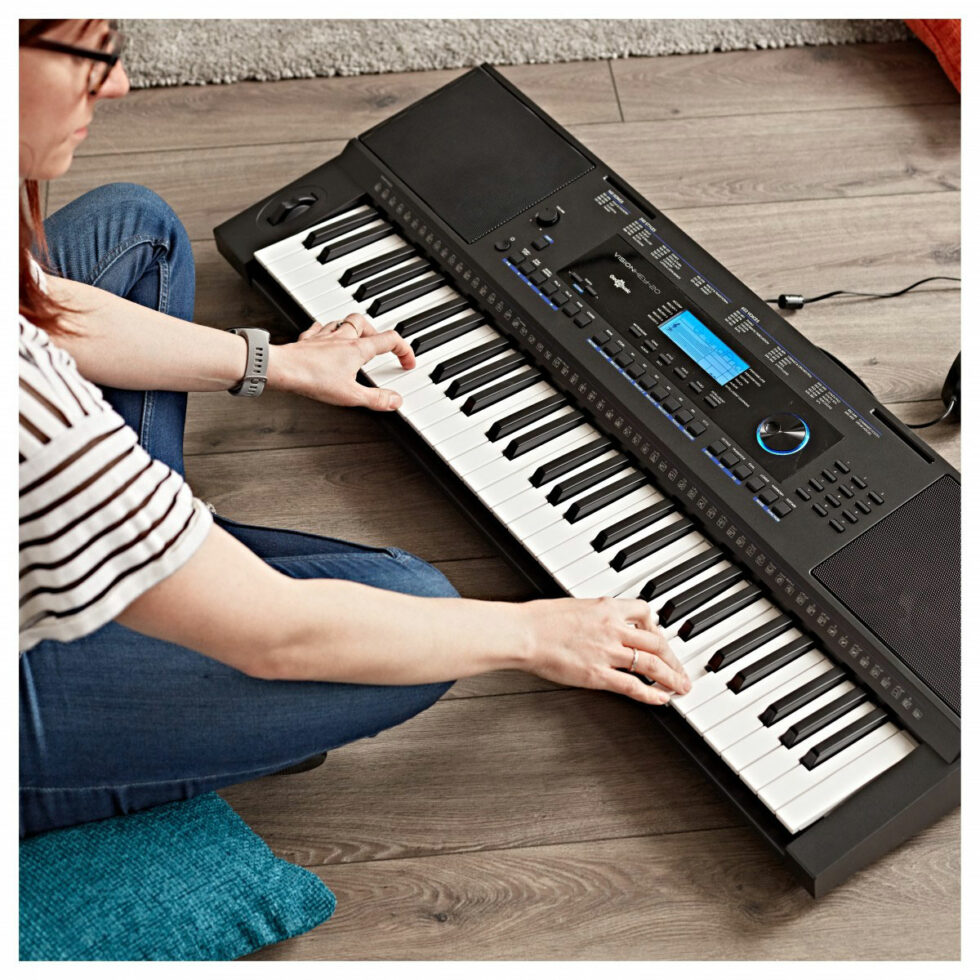 For starters, a keyboard is far more compact than a piano! Not only is this ideal if space is limited, but it also means it's lighter, making it easier to transport from room to room or to and from lessons.
The second benefit of a keyboard is the number of sounds available to you. With an acoustic piano you only get one, with a keyboard you're exposed to a world of seemingly infinite tonal possibilities, including acoustic and electric guitars, organs, choirs, drums, brass, woodwind, and even FX.
Keyboards like the VISIONKEY-20 boast 653 sounds and 240 rhythms that cover every musical possibility you could imagine. When paired with onboard DSP processing (which includes ten styles of reverb and eight of chorus), this allows you to take your sound to concert halls, churches, and more – all from the comfort of your front room.
However, if you're someone who prefers simplicity, the MK-4000 is a good option, offering a streamlined 100 sounds and rhythms.
Are Gear4music keyboards good for beginners?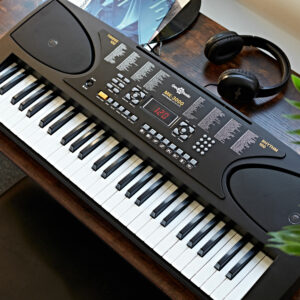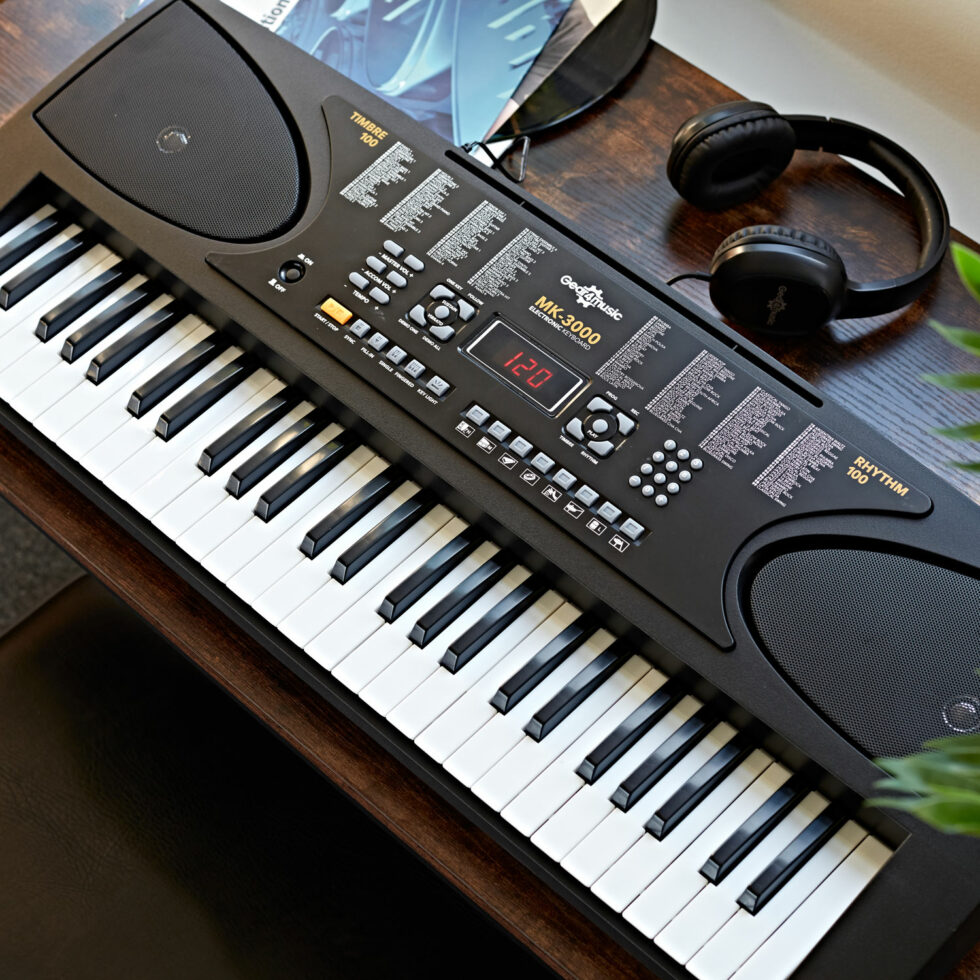 Another major advantage of Gear4music keyboards is the variety of educational tools included.
Each keyboard includes record and playback functionality, allowing you to faithfully capture any melodies you make or chord progressions you discover so you can monitor progress.
The metronome is also useful for improving accuracy of timing, whilst giving you a clear sense of development when practising. Using a metronome when you're just starting out can prove beneficial in the future, especially if you're recording in the studio and need to play along to a click track.
Models such as the MK-3000 include light up keys that follow in-built songs, guiding you towards the correct finger positioning for both chords and melodies.
The ability to do this in your own time, at a pace that's comfortable, can help improve your confidence, ensuring you progress faster when it comes to in-person lessons.
What are the best keys for a keyboard?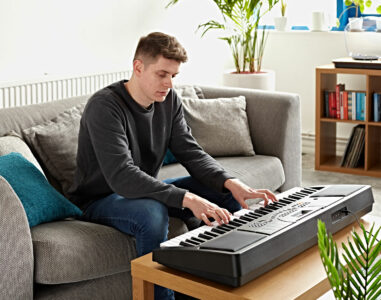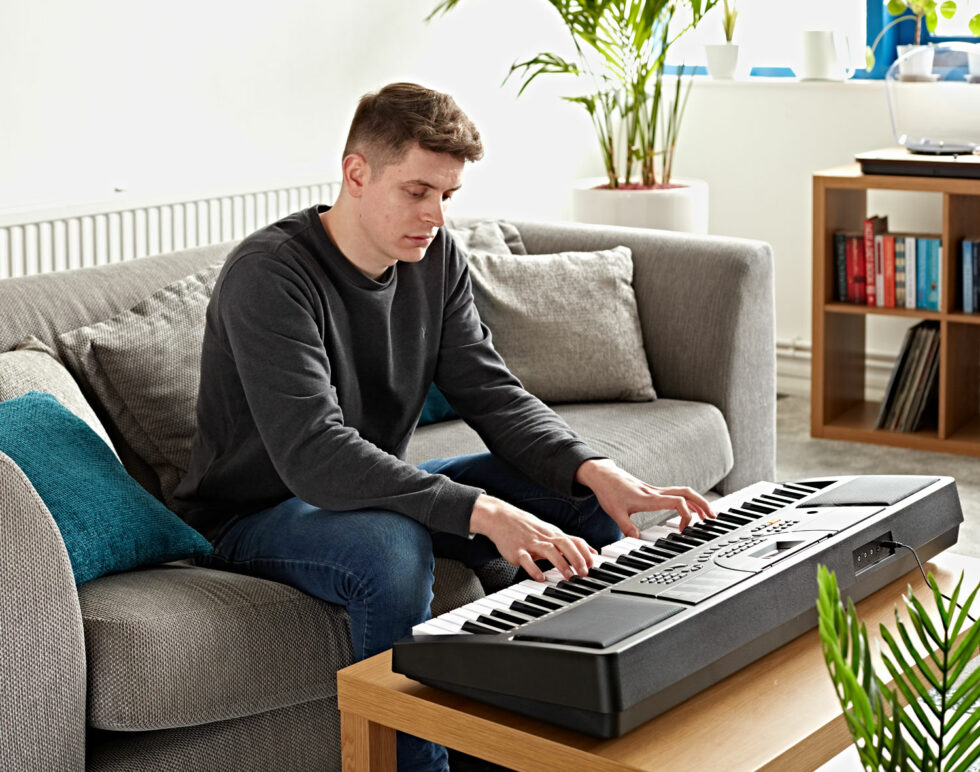 It all comes down to personal preference.
If you're a beginner, weighted keys (keys that mimic the action and response of an acoustic piano) may be no real concern as you'll be focused on practising your timing and co-ordination.
Whilst some people find weighted keys ideal as they allow you to build up finger strength, non-weighted keys have an enormous number of benefits for beginners.
Digital keyboards such as the MK-4000 and VISIONKEY-10 that feature non-weighted keys encourage a precise way of playing.
This kind of accuracy is useful for rhythmic and contemporary musical styles.
How many keys do I need?
The higher the number of keys, the greater the octave range. Boasting either a 54-key (covering 4.5 octaves) or 61-key (five octaves) configuration, Gear4music's digital keyboards are ideal for players interested in pursuing contemporary musical styles, including rock, pop, and folk, that tend not to stray over five octaves.
What does "velocity sensitivity" mean?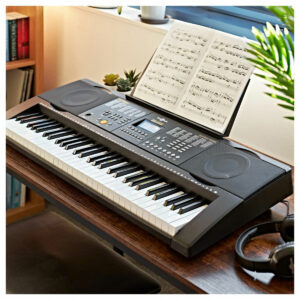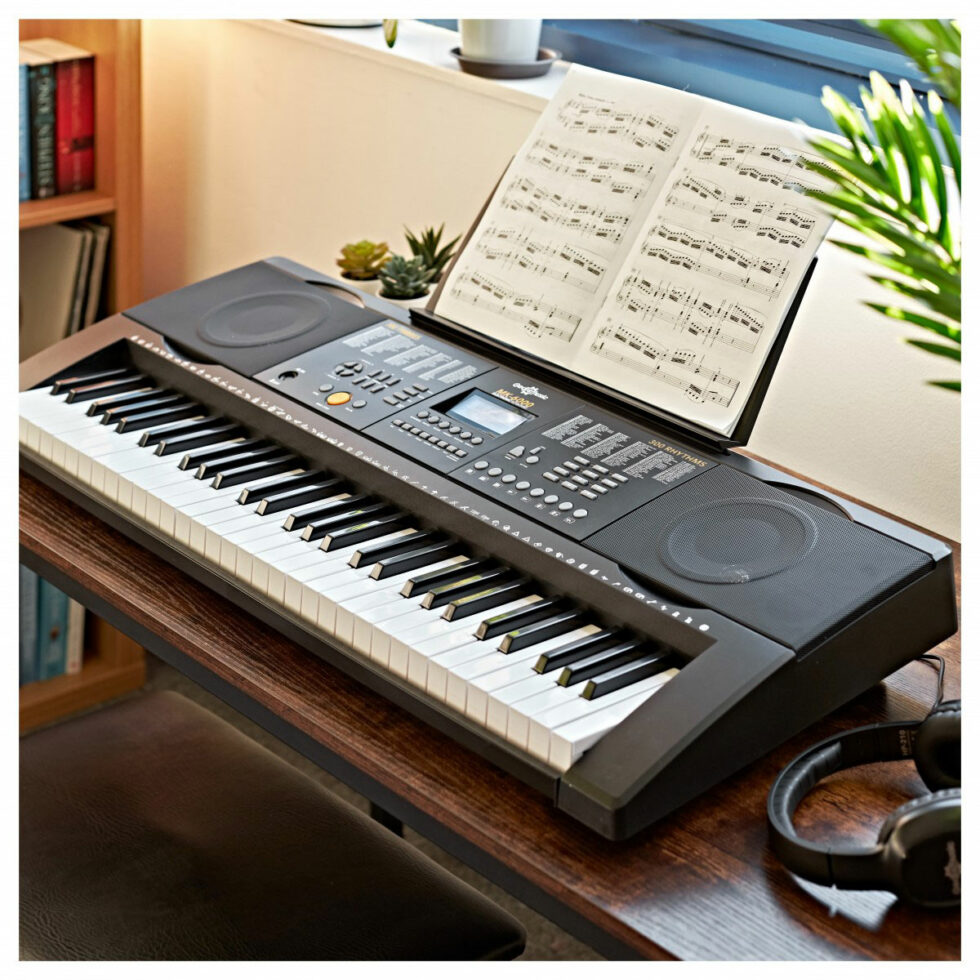 In the world of digital pianos, keyboards, and synths, the term "velocity sensitivity" is one that frequently comes up.
Although to newcomers the phrase may sound daunting, it's actually quite easy to understand.
In its simplest terms, it refers to the mechanism that allows the keys to react to the force and speed in which they're pressed.
When playing a velocity-sensitive keyboard like the MK-6000, MK-7000, or any of the VISIONKEY range, the first thing you'll notice is the range of different sounds that can be produced depending on how hard you press the keys.
Gentle touches will result in quieter, softer sounds, whilst harder touches offer a stronger tone with greater volume. This adds realism to your performance by mimicking the response of an acoustic piano.
What do the connection points on a keyboard actually do?
Headphones
When you're first learning the digital keyboard, a headphone output can be a blessing. It allows you to connect a pair of headphones to the keyboard, bypassing the speakers, so you can practise and perform in silence without disturbing those around you.
Available on: Every current Gear4music Digital Keyboard
USB/MIDI
Once connected to a computer or tablet, a USB to host connection increases the versatility of your keyboard, transforming it into a powerful MIDI controller. This allows you to record your compositions directly into your computer using a Digital Audio Workstation (also know as a "DAW") without the need for an interface.
You can also extend the number of sounds on offer by using highly realistic third-party pianos, soft synths, orchestras, and much more.
Available on: MK-6000 MK-7000 and VISIONKEY-10/-20/-30
Mic input
If you're a singer who wishes to learn the keyboard to accompany their vocals,  the handy microphone input at the rear of the keyboard is perfect. It transforms the instrument into a lightweight, ultra-compact "PA System".
By connecting either the supplied microphone (MK-1000/-2000/-3000 models only) or your preferred dynamic, you'll be able to project through the internal speakers, making it suitable for home use and intimate performances.
Available on: Every current Gear4music Digital Keyboard
Sustain
Available separately, a sustain pedal allows you to prolong a chord or note when moving your hands into a new position on the keyboard.
We recommend: Universal Piano Sustain Pedal and Non-latching Universal Footswitch
What else do I need to learn the keyboard?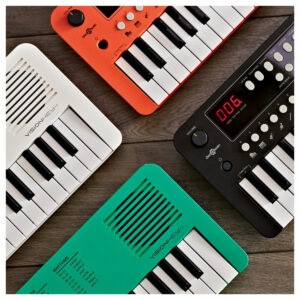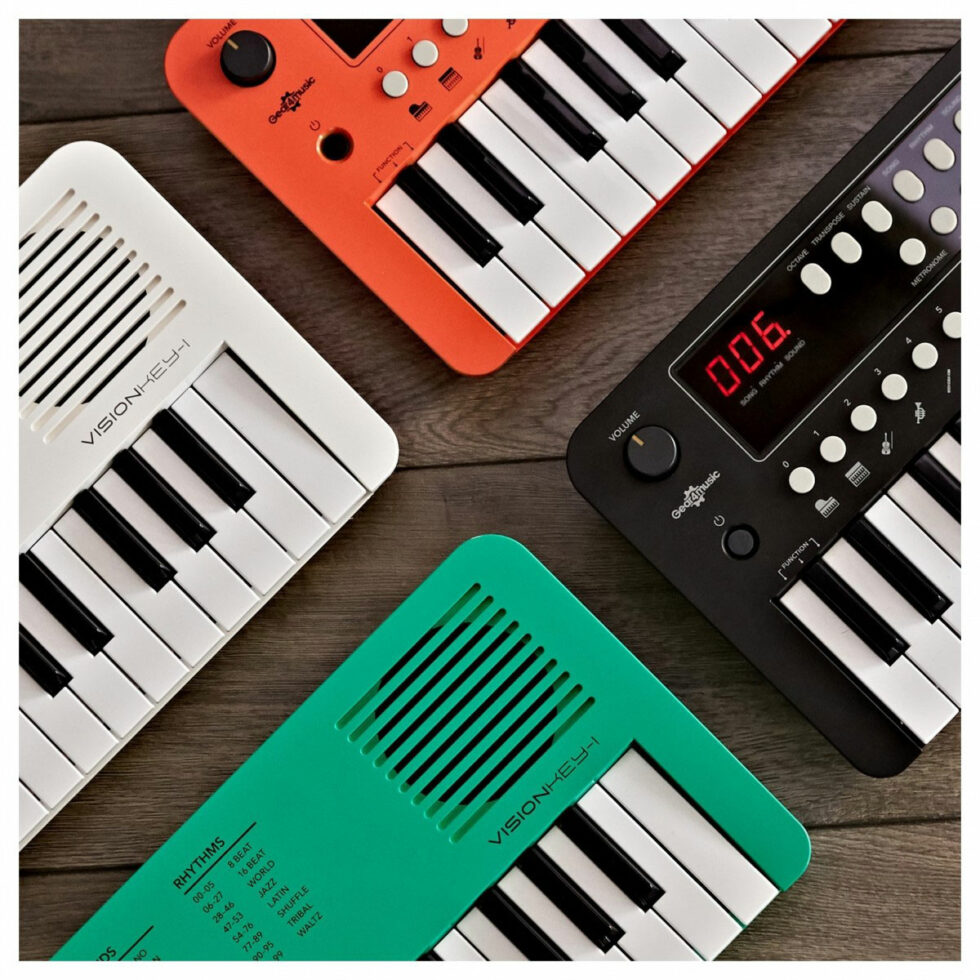 When you first start learning the keyboard, figuring out all the accessories you need can feel overwhelming.
That's why Gear4music offer an extensive range of bundles for most of our keyboards.
Our bundles range from basic starter packs to comprehensive bundles that include headphones, stools, and stands.
Better still, the solid set of tools provided in each will give any player the best start possible.
Taking all the stress out of your first purchase, these bundles are ideal for beginners.
Find out more
If you have any further questions about Gear4music's keyboards, comment below!