Travel guitars are built for convenience. With shorter scale lengths, smaller bodies, and impressive acoustics, they're a versatile addition to any guitarist's collection.
Conservative in size, each travel guitar is built to be both comfortable and portable. And their tonewoods are carefully picked to offer the perfect sound, whilst the electronics – if there are any – are designed to take up as little space as possible. Every design is an impressive feat of musical engineering.
What are travel guitars?
Travel guitars are portable instruments that optimise a small build, utilising every inch of space to create the perfect instrument. They provide a brilliant option for musicians who are constantly on the go, perfectly fitting into luggage holds and, sometimes, compact enough to be a carry-on.
The advantage of these guitars is that you can use them just about anywhere. On the streets busking, around a campfire, or even in the park amongst friends… these instruments will handle the task at hand.
Electronics then add versatility, letting you connect to PA systems and amplifiers. This makes them the perfect gigging companion.
So, let's look through some options and see which ones suit your needs.
Taylor BTe Baby Taylor Electro Acoustic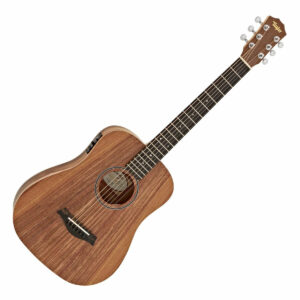 The Taylor BTe Baby Taylor Electro-Acoustic delivers an astounding tone, perfect for creating a big impact. And, of course, it achieves this despite possessing small real estate in your setup. At a 3/4 size, it offers the perfect balance between convenience and dynamic sound, making it an excellent choice for many musicians.
Constructed with a layered koa body, the guitar has a heightened level of projection. Its tone is rich and distinct, blissfully emitting every frequency with precision. The guitar's tone is enhanced by a solid koa top, which just embellishes that tone further, reinforcing every single sonic nuance.
The layered koa also ensures the instrument is durable and resilient, perfect for the hardships of life on the road.
The smaller, compact feel of this guitar makes performing a lot more comfortable. Everything is easily within reach, giving you easy access to both extremes of the instrument's range. Its lightweight construction then allows you to carry the instrument with incredible ease. When it comes to portability, the Baby Taylor is almost unrivaled.
Shop now | Taylor BTe Baby Taylor Electro Acoustic 
3/4 Single Cutaway Acoustic Travel Guitar by Gear4music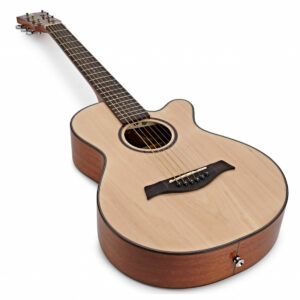 A quarter smaller than other guitars, our 3/4 Single Cutaway is an excellent option for musicians looking for a convenient instrument to take on the road and smaller musicians looking for a comfortably compact guitar. It's also suited to beginners wanting to get started with their tuition.
This acoustic is constructed entirely from sustainable tonewoods, with sapele back and sides and a linden top. This combination ensures a delightful tone without the huge environmental impact, so it's a win-win. Linden and sapele are also relatively lightweight woods, which, of course, is essential to the travel guitar.
The natural tone emitted from the body packs a bright punch, whilst guaranteeing impeccable projection and depth. This is elevated further by the poplar laminate fretboard and nato neck – both of which allow you to play at speed and with precision.
The whole playing experience is neatly tied up with a maple bridge, promising perfect intonation and precise accuracy.
Shop now | 3/4 Single Cutaway Acoustic Travel Guitar by Gear4music
Luna Safari Bamboo Travel Acoustic, Satin Natural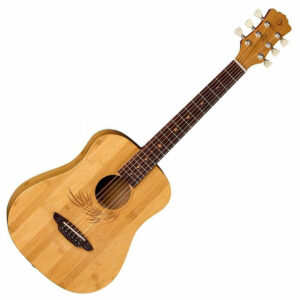 Offering a dreadnaught body at 3/4 the size of a full acoustic, the Luna Safari Bamboo exhibits beauty and a pleasant tone, perfect for musicians of all calibres.
The exotic and unconventional construction of bamboo gives the guitar a sweet, well-balanced tone. Rich, full-bodied, and outright beautiful coverage of all frequencies ensures every chord rings out with clarity. This delightful tone lends itself excellently to every genre you challenge the guitar with.
Playability is also a key aspect of this travel acoustic. The marvellous mahogany neck has been moulded for comfort, freeing your hand to move with ease and precision. This is fronted with a wonderful walnut fretboard, which, thanks to its smooth surface, allows you to position your chords easily.
Additionally, the neck is set, which increases the guitar's durability and infuses more sustain and resonance into the mix.
The dreadnought construction is nothing to scoff at either. This shape is brilliant in terms of projection, broadcasting every note with full definition at a loud enough volume for everyone to hear, whether that be at a campfire or a late-night jam at the beach.
Shop now | Luna Safari Bamboo Travel Acoustic
Dean Flight Series Travel Acoustic, Black Satin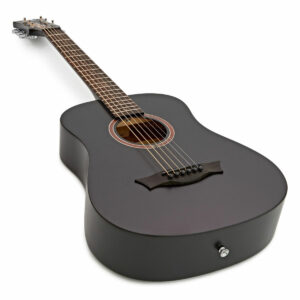 Big size, bold design, and astonishing sound, the Dean Flight Series Travel Acoustic is an excellent solution for any musician looking to purchase a transportable guitar. A combination of delightful tonewoods makes this model sought-after – it ensures every chord rings with rich resonance and scintillating frequencies.
The smaller size of the guitar means it's the perfect option for younger musicians or those starting out, as each note is easily accessible. It's comfortable too with a "C" shaped mahogany neck that fits into your hand like a glove. This playability ensures that every riff, scale, and arpeggio is as easy to play as the last, giving your hand unlimited freedom to traverse the walnut fretboard at will.
An all-mahogany construction injects warmth into the natural sound of the instrument, with the low end frequencies ringing with density and filling out the tone of your guitar. The walnut fretboard works wonders too, adding full coverage of the high end, allowing each note to sound with gorgeous brightness.
Shop now | Dean Flight Series Travel Acoustic
Yamaha APXT2 3/4 Electro Acoustic, Dark Red Burst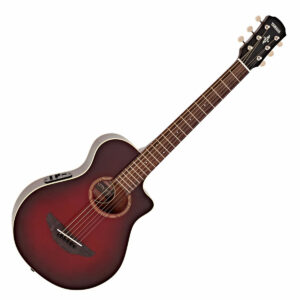 Combining a slim APX body with impressive built-in electronics, the APXT2 is an easily transportable guitar that shines with versatility. Road and stage-ready, this guitar can be taken from gig to open mic with no hassle, working with all PA systems and amplifiers. It's an extremely handy companion.
For a slimline build, this guitar doesn't half possess a powerful projection, making it the perfect option to take to the park or the beach on a hot summer's day. Dynamic in every meaning of the word, the natural volume teamed with some amplification makes the guitar even more impressive. The Yamaha preamp gives you control over the volume and tone, which adds lots more options for every amplified situation.
Playability is also at the forefront of this 3/4 construction. As with the others, the total real estate this guitar takes up is minimal, which, of course, lends itself brilliantly to easy travel. Built from meranti and spruce woods, the natural tone possesses delightful lows, a tight midrange, and highs that sing with melodic sweetness.
Shop now | Yamaha APXT2 3/4 Electro Acoustic
Get travelling!
Travel guitars serve a multitude of purposes and can be an asset in a wide variety of musicians' collections. Their portability and versatility are things that many musicians look for, especially ones that travel a lot or just want the freedom to perform in the wild under a starlit sky.
They don't compromise on any front either, remaining as authentic to the sound of a full-sized acoustic guitar as possible. I mean, they are smaller and lighter, but you're still getting the true full-size experience.