The archetype of rock 'n' roll. A form so familiar, it's etched into the minds of every guitarist out there.
Sporting twin humbuckers, a single-cutaway body, and a slinky neck and headstock – the Les Paul has thrilled generations of musicians. It's popular for its forceful, punchy sonics and eminent playability that's made it a first-choice for countless six-string heroes.
Capturing hearts and ears since 1952, this legendary instrument has been through decades of revisions and iterations. Seventy years on, Gibson now produce a vast range of Les Pauls to suit the needs of many different players – and it can be a little intimidating, even for seasoned enthusiasts.
So, if you're looking to acquire a new Les Paul and don't know where to start, we've narrowed it down to three of the best Gibson offerings for 2022. We've picked a model each from Tribute, Classic and Standard ranges to provide a healthy spectrum of what's available.
---
Tribute, Classic or Standard?
Whatever happened to it just being a 'Les Paul'? The peril of being popular is that you've got a much wider audience to please! And Gibson have done just that, by introducing a cadre of LP variants that suit a full range of guitarists. We're looking specifically at the Tribute, Classic and Standard ranges to compare what each offers you.
---
Gibson Les Paul Tribute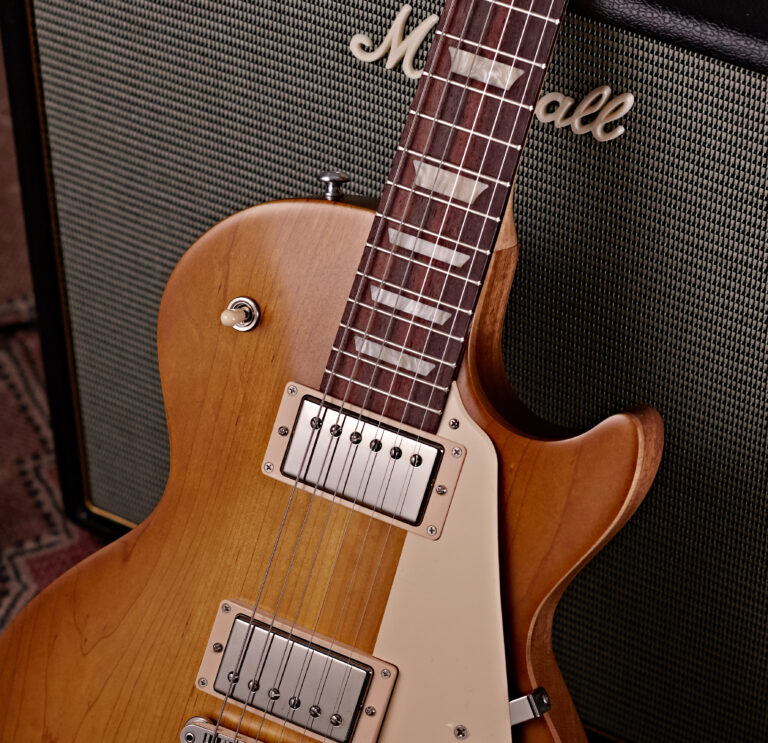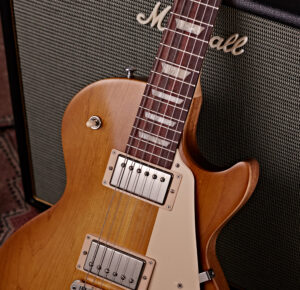 The first in our line-up is the Satin Cherry Sunburst Tribute. A modern take on the vaunted classic, the Tribute delivers authentic tones and aesthetics but at a much more affordable price point. Made in the USA and displaying all the same quality craftsmanship as its brethren, the Tribute offers the essence of a traditional Les Paul without breaking the bank.
It's an ideal introduction to a genuine Gibson, and suits players who are searching for that hallowed LP tone and peerless style. To keep costs down, it does away with some of the trimmings found in the Classic and Standard models – but that's not necessarily a disadvantage.
For example, the body isn't solid mahogany as it's chambered for weight relief, resulting in a much more agile feel. This is certainly preferable for performers wanting to give their backs a break!
Equipped with a pair of 490 R & T humbuckers, there's plenty of raw tonal generation available in the Tribute. You still get the classic '57 inspired textures, but with a bit more mid-range and snap. They're powerful enough to blast out the most demanding distortion, and yet retain articulation for smooth cleans thanks to the Alnico II magnets.
Paired with a beautiful rosewood fretboard, you've got the two main ingredients that matter for Gibson grandiosity. Crafted by the USA experts, the Tribute boasts a playing surface just as responsive and rich as its pricier compatriots
The Tribute represents the best method to seize true Les Paul sonics without any superfluous bells and whistles, ready to deliver hallmark quality at a more palatable price.
Shop now | Gibson Les Paul Tribute, Satin Cherry Sunburst
Shop now | Gibson Les Paul Tribute
---
Les Paul Classic
What would you get if somebody took a Les Paul back in the '60s and hot-rodded it full of custom mods? You'd get something like the Les Paul Classic.
Second in our pick, the Classic offers the modern player access to vintage voicings that are augmented by several unique additions. These make it versatile, incredibly fun, and ready to shock the stage with a genre of your choosing.
The Classic series aims to give you many of the appointments found in the Standard models, and is certainly quite a step up from the Tribute in pricing and features. It still contains the nine-point weight relief like the Tribute, which appeals more to players looking for that authentic feel with modern playability. But what separates the Classic (and Standard by extension) are those finessed touches which go into producing such high-quality instruments.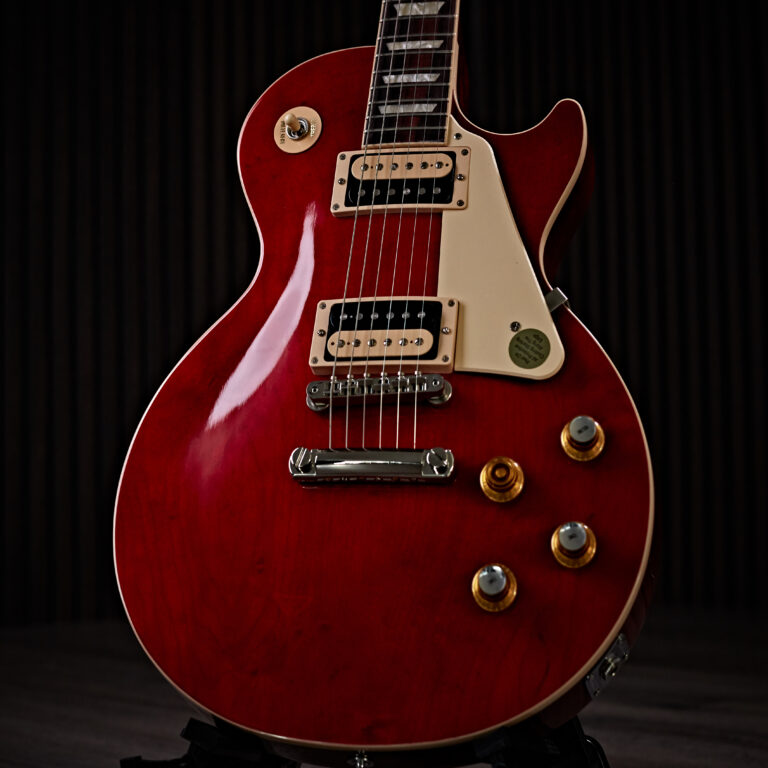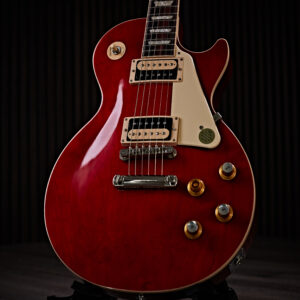 Aesthetically, we start to see a gloss nitrocellulose finish and a thicker maple top used on the mahogany body. There's also the contrasting binding, that wraps around the body and fretboard, along with the mother-of-pearl inlaid logo to elevate it to the iconic design we're accustomed to. Finally, the neck is full mahogany rather than maple, imbuing the rich, dark character of the wood into your notes.
Speaking of the neck, the Classic series uses the slim-taper shape found in the Standard '60s and onwards, which encourages easy riffing and just feels natural to hold. It's Classic in name, but don't be fooled into thinking it's an exact replication of the past. Gibson have managed to spring that melodious, lightning-in-bottle tone and fire it through a guitar that's far more usable by modern standards.
So how does it sound? That's the Classics secret weapon. Loaded with two 61 R & T Zebra uncovered humbuckers, there's a ferocity to its voicing that really shines when run on a high-gain channel. Every bit as deadly as some hot wound ceramic-magnet pups, the Zebras are high output, warm and assertive.
Where the Classic comes into its own is coil-split, bypass and phasing push/pull switches that are wired to the control knobs. With a simple push, you can launch your sound into new dynamics. Coil-splitting the pickups evokes a P90-esque bite, delving into the elastic twang of single-coils.
Pure Bypass acts as if your tone and volume knobs weren't there, and simply pushes everything to the max. While Phase Switching reverses the signal in the pickups for some dynamic, shifting sounds.
In summary for the Classic, you have full-blooded Gibson quality with all the trimmings one might expect on a Les Paul, but with a more modern approach to playing. It's a significant increase from the Tribute, and with a hotter, more flexible sound.
Shop now | Gibson Les Paul Classic, Translucent Cherry 
Shop now | Gibson Les Paul Classic 
---
Les Paul Standard '50s
Arriving at our final selection we have the Standard '50s. The gold standard of Gibson (that's a pun for any gold-top lovers out there), it represents the pinnacle of Les Paul models. As the name suggests, everything about this guitar seeks to recreate the voicings and styles of its '50s forebears and the designs which founded its reputation.
This is the top-of-the-line for Les Pauls, short of Custom models, so it's expected that it would sit in the premium price category.
Showcasing Gibson's excellent attention-to-detail and peerless construction, the Standard '50s contains enough authentic hardware to satisfy the most ardent tone purist. The body is now solid mahogany in order to fully utilise its tonal characteristics and bring back that beloved, substantial feel.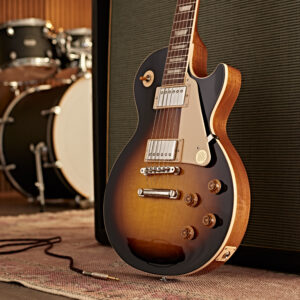 The neck is shaped in a rounded '50s profile, accurate to guitars of the period. Vintage deluxe tuning machines adorn the headstock, and the volume and tone controls are hand-wired with orange drop capacitors for precision adjustment.
The crowning element of the Standard '50s is its Burstbucker 1 and 2 pickups that are rife with sweet vintage sonics. They're finely calibrated and utilise alnico II magnets to evoke the original '57 PAF (patent-applied-for) tones.
To recapture the magic of the PAF, Gibson used unmatched bobbin windings that mimic the imprecise machinery of the time. The result is an airy, crystal-clear tone that doesn't lose detail even when pushed through a high-gain pedal or amp. They provide a sound that's full of force and sparkling clarity, and truly does justice to those groundbreaking pickups.
Hand-soldered audio taper potentiometers combine with the pickups to offer a stunning array of tones. They allow for precision adjustment of your sound as there's a noticeable difference between each setting of the knobs, opening a new palette of dynamics for you to blend on the fly.
It ditches the more recent designs that used a printed circuit board, for a more intimate, personal tone. There's no push/pull or split-coil options on the Standards, just pure, unadulterated Les Paul audio.
It's these extra touches that separate the Standard from the crowd and represent Gibson's new approach to their flagship. Gone are the PCBs, automatic tuners, coil-splitting and tone adjusting features. It's turned back to its roots, namely outstanding performance delivered by a time-honoured design.
Shop now | Gibson Les Paul Standard 50s, Tobacco Burst
Shop now | Gibson Les Paul Standard
---
Which one is right for you?
There you have it, three superb Les Pauls that all bring their own flavour of tonality.
The Tribute stands out for its superb bang-for-buck style, providing a stripped-down LP that has all the attitude and craftsmanship found higher up in the range.
If true Les Paul tone just isn't enough, the versatile Classic can shape it as you play thanks to its modern wiring. Like the Tribute, its reduced weight awards a light and nimble feel compared to the solid body Standards.
It also features more of the quality appointments you would expect from a Les Paul, such as body and fretboard binding, ABR-1 Tune-O-Matic bridges, a thicker maple top, and a gloss lacquer finish. The Classic is perfectly suited for those looking Les Paul tone but with extra dynamics to explore.
And lastly, the Standard '50s. It's the real deal, focusing on what made the original Les Pauls so special. Exuding impeccable build quality together with expertly refined components, the Standard is the experience we associate with this famed instrument.
Consequently, it's the most expensive by a wide margin, however, if unfiltered sonics and authentic aesthetics are what you desire, the Standard can be the only choice. So, if you're looking for the inimitable voice of a Les Paul in 2022, these three options have you covered.
---
Find out more
If this taste of the excellent Les Paul series has left you hungry for more, then check our full range below…
Discover the whole range | Gibson Les Paul
Interested in another Gibson? | Gibson Electric Guitars