The Telecaster
The Telecaster has solidified its place in the history of music, going from strength to strength. And, along its way, enticing numerous musicians to become avid fans of its style and sound. While nothing was necessarily flashy about the Telecaster when its design was conceived, Fender knew they had a revolutionary instrument on their hands.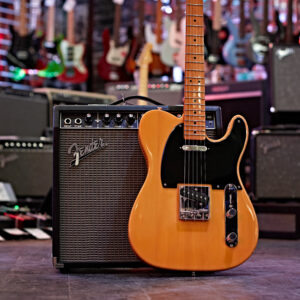 One thing that allowed the Telecaster to rise to prominence was the simplicity of the instrument and how easy it was to manage.
If the neck broke, you just attached a new one, if the pickguard was worn, you just turned five screws and you had a new one. The strings of the guitar, too, were easier to attach, travelling directly over the nut and attaching directly to the headstock. All these innovations we now take for granted furthered the intrigue in the Telecaster model.
Simplistic electronics were also a ground-breaking inclusion on the guitar. Offering just a volume and tone dial, alongside a three-position switch, controlling the sound of the guitar was intuitive and required minimal effort.
Bright and joyous in nature, the sound was also unique and extremely attractive thanks to its sharp highs, full midrange, and chunky bass; it provided the perfect tonal foundations to build upon.
This impeccable level of reliability and tonal versatility has meant that the Telecaster has seen very little change over the past decades. Despite this, there have been a few variations on the classic formula over time, and we are going to guide you through the best available in 2022. . .
---
Fender Player Telecaster
The Fender Player Series marries modern playability and classic sound, resulting in a guitar that is familiar to the experienced Telecaster player, while also still being suited to the needs of the modern musician. The Player Series is an accumulation of Fender's developments, offering a playing experience that has been sculpted over decades to suit the needs of all guitarists.
Designed for both the intermediate guitarist and the professional, the Player Telecaster offers premium playability and delightful sound – all at a pocket-friendly price. One thing that reinforces this combination is the Player Series pickups.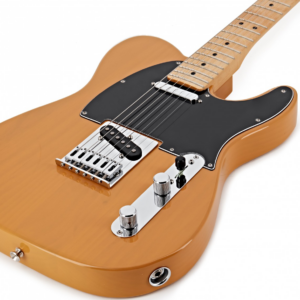 Both pickups have been specially designed to accurately capture every essence of your sound, and emit your performance with bold modern tones that have been infused with that familiar vintage Fender twang.
The natural sound that resonates from the fantastic alder body is perfectly well-rounded, with blissful highs, rounded mids, and defined lows. Staying true to the original specifications, the alder is moulded to the traditional body radius providing the lightweight playability and sturdy feel that Fender players are accustomed to.
The excellent experience of the Player Series Telecaster doesn't stop there. The guitar also features a sleek "Modern C" maple neck, ensuring a comfortable grasp while providing the freedom to luxuriously launch your hand to and from the extremes of the fretboard.
Crafted for the performer, the Player Series is truly exceptional, suiting the needs and wants of all modern guitarists while keeping the traditionalist happy in the meantime.
---
Fender Vintera 50s Telecaster
Want to relive the golden days? Well, good news – Fender has you covered. Reviving the '50s, the vintage feel of the Vintera Telecaster brings the heyday of rock and roll back to life.
True to era, care has gone into creating an accurate, authentic experience. This attention-to-detail includes everything from the neck profile all the way to the pickups. Every aspect has been scrutinised to deliver that classic touch.
One pivotal aspect when designing this vintage guitar was capturing that iconic Telecaster sound. Fender hasn't failed here. Two Revoiced 50s Telecaster pickups are built to recreate everything down to the finest of details. Ensuring the utmost dynamic sensitivity, these pickups are built with the infusion of that recognisable twang for the perfect Fender sound.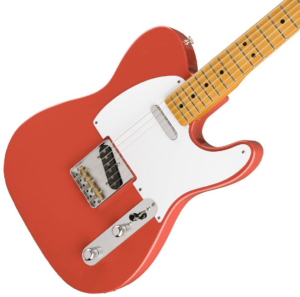 They're excellent at capturing every nuance in your performance and, thanks to their superb tonal clarity at every frequency band, you can be assured that every slight tonal variation is captured.
Another aspect that delivers this classic sound is the alder body. Reinforcing the pickups, the natural sound that resonates from it is blissfully balanced. The result is a full-bodied sound that accentuates itself with brilliant sustain, ensuring that all your notes ring with dominance and easily cut through the mix.
So, we know that the vintage sound has been captured, but what about that classic feel? Don't worry, that has been covered as well. Designed with an Early '50s "U" neck profile, the thick and chunky feel offers authenticity in abundance, and it still subtly enforces that iconic sound.
This is fronted with a period-accurate fingerboard, which perfectly lays out 21 vintage-style frets with a 7.25" radius, so you can be assured of the utmost comfort in your playing.
Stability is key. The Vintera model comes with a vintage string setup to ensure peak tonal accuracy. A classic three-saddle bridge incorporates style while ensuring string through body stability, which, when combined with the Vintage-Style Tuning machines, permits the accuracy to allow the strings to ring at their intended pitch.
---
Fender American Ultra Telecaster
The American Ultra Telecaster is the epitome of what it means to be a Telecaster. Sturdy, reliable and offering the utmost precision, this Ultra model has been shaped at every opportunity to provide the perfect playing experience.

The Ultra Telecaster plays like a dream. A 10"-14" compound-radius rosewood, or maple, fretboard permits easy chordal positioning. Thanks to its curved nature, you will naturally notice your solos increase in speed, allowing you to flurry with precision.
This playability is further strengthened using a Modern "D" maple neck, which allows you to excel with a sculpted and comfortable grasp that is perfect no matter what style of music you task it with. An ultra-smooth satin finish makes every movement effortless, ensuring you are always performing completely unhindered.
The body of this stunning instrument is also finely sculpted to elevate tonality and fluidity. Enhanced body contours provide easy access to the upper registers, making stringing a selection of high register notes together a thing of ease.
With either ash or alder variants, as mentioned, you can expect absolute coverage over every frequency, with both tonewoods offering tight lows, a together mid-range, and soaring highs.
This search for perfection doesn't stop at the playability; the tone has been meticulously designed to offer a premium sound. The star of this show? A pair of single-coil Ultra Noiseless Vintage pickups, which delivers an authentic Fender sound whilst eliminating any tone-destroying hum.
The advanced electronics allow for true sonic versatility while remaining traditional in their construction. The S-1 switch changes between series or parallel wiring, allowing for complete differences in tonal range. This is partnered with an integrated treble bleed circuit that preserves your highs at any volume.
A premium style, everything down to the hardware enforces the professional nature of the guitar. Full chrome hardware and a selection of fantastic finishes appeal to professionals and guitar aficionados alike. So if you wish to be the star of the stage, then look no further: the American Ultra Telecaster is the option for you.
---
Terrific Telecaster
As you can see, even in the year 2022, the Telecaster is still going strong. And they're still just as reliable and as tonally superb as they have ever been.
The thing with a Tele is – you know exactly what you are getting. A no-nonsense instrument, ready for any challenge you hurl its way. Of course, there are subtle differences between each model, and your choice depends upon what you want to achieve with the instrument. So, if this has piqued your interest, check out our full range of Telecasters below!
Shop Now | Fender Player Telecasters
Shop Now | Fender Vintera Telecasters
Shop Now | Fender American Ultra Telecasters
See More | Fender Telecasters