It's twangy, it's exciting, and it's one of the most recognisable shapes in the guitar world.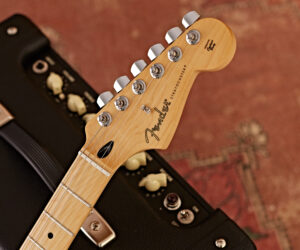 The Stratocaster has dominated the airwaves for almost seventy years, and in that time it's sampled nearly every genre under the sun. From '50s surfer rock at its birth, to current progressive indie – its renowned playability and versatile tones have delighted musicians throughout the ages.
Boasting huge popularity and hundreds of editions and variations, there's a colossal library of Stratocasters out there – but to make things simple for you, we've narrowed it down to three of the best Strats you can find in 2022…
---
Vintera '50s Stratocaster
So, we've talked about how historic the Stratocaster design is, and that its length of service has brought many changes and updates throughout the years. Consequently, the tone and playing qualities have developed with each new version.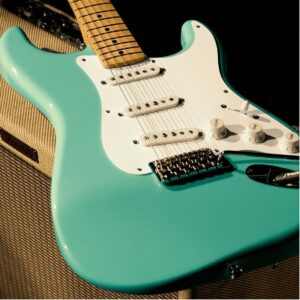 The Vintera '50s model seeks to return to the Stratocaster's roots and give you the indelible thrill of its original voicing. One of the Vintera's biggest features is its accessibility, coming in at quite an affordable price point. Often, reissues or accurate recreations of vintage instruments are reserved for high spec (and price) custom models or limited edition runs, but the Vintera places the '50s feel in your hands at a fraction of the cost.
It's ideal for guitarists who prefer the bright, melodious tones of '50s and '60s rock – and those who might be looking to try their first true Fender Stratocaster. The Vintera '50s achieves this timeless tone through its superbly voiced '50s style pickups. They exude a bell-like chime with an incredibly tight response, perfectly capturing that classic character.
While they're tuned to a thinner, more vintage vibe, they're still plenty capable of keeping up with modern genres. Dial-up the tone and gain to kick out growling distortion for those sizzling leads, or just run clean channels and put a vintage spin on some of your favourite pop songs. Fender have done the hard work of engineering the antique audio, so you can simply plug in and enjoy.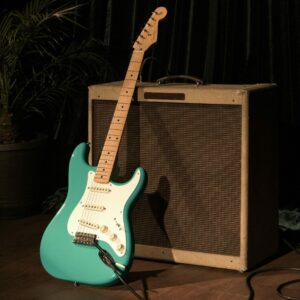 That classic feel is further reinforced by the soft "V" shaped neck and fretboard. It offers a comfortable, authentic grip, matching some of the very first Strats produced. And the board sports vintage fret wires and a 7.25″ radius, imparting a more curved surface in contrast to flatter modern ones.
You'll have an easy time sliding up and down the registers thanks to a gloss urethane finish, so get creative and use every fret available! And to complete its heritage aspect, the Vintera is loaded with a classic synchronized six-point tremolo system and vintage-style tuners. Add that ethereal shimmer to your songs with the tremolo and enjoy excellent tuning stability from the iconic Fender machine heads.
It should be noted that they aren't locking tuners, but they do award you with excellent style. For a return to Fender's golden age and an accessible, genuine Stratocaster – the Vintera is a perfect choice.
Shop Now | Vintera '50s Stratocaster MN
See More | Vintera Stratocasters
---
Player Plus Stratocaster
From old to new, the Player Plus sits as one of the fresher takes on the Stratocaster from Fender. In comparison to the Vintera, the Player Plus has a much more modern attitude, and is one of the most advanced entry-level (for genuine Fender) Stratocasters that has ever been produced.
Displaying Fender's peerless craftsmanship and attention to detail, it's got a few twists that will delight both newbies and veterans. First off, it's equipped with a trio of noiseless single-coil pickups. Free of the infamous hum that older single coils produced, every note you play will be clear and defined.
Thanks to modern wiring, these are going to be hotter and more aggressive than the Vintera's vintage-voiced coils, allowing you to delve into more gritty textures. If you want even more power at your disposal, the Player Plus is also available with a humbucker at the bridge, loading even more snarl into your sound.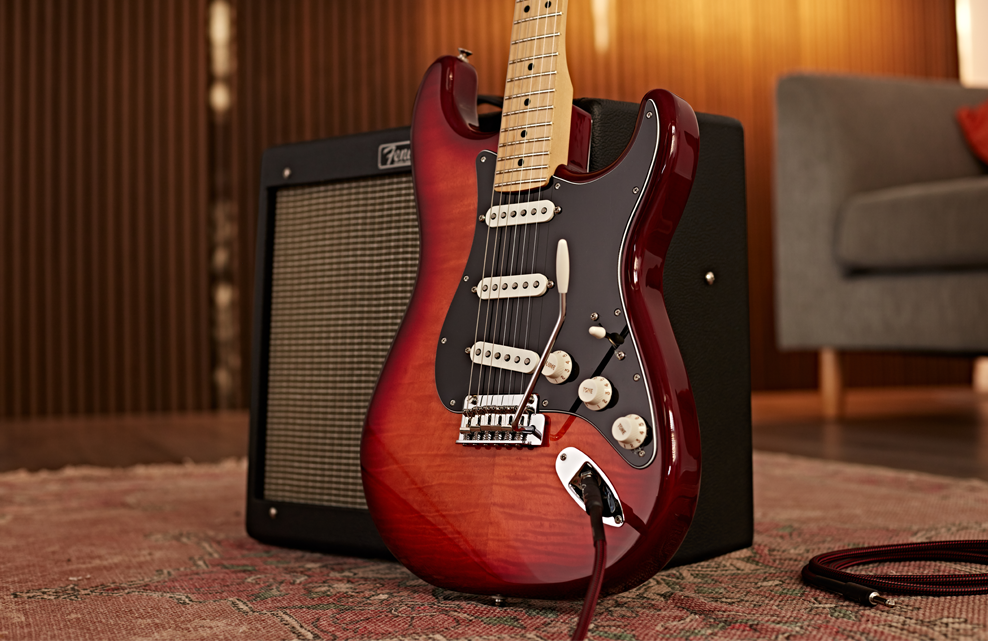 The Player Plus separates itself by offering new tonal dimensions for you to explore. It houses a new push/pull pot found on the tone control, which adds in the neck pickup to switch positions 1 and 2, imbuing a Telecaster-like tone not usually found on Strats. It's a great way to fatten up the bridge pickup if you need more presence on your lead playing
That's the updated sound, but what about its playability? Well, the modern, meticulously designed "C" shaped neck is seriously comfortable and benefits from Fender's decades of experience. Finished in satin urethane for an ultimate, frictionless feel, it's an effortless neck to navigate.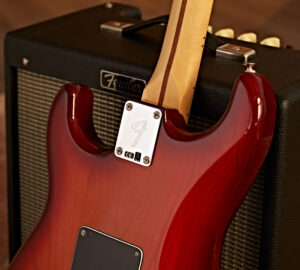 As for the fretboard, you can string bend and solo the scales to your heart's content. It's milled into a 12″ radius that makes for a flatter surface, allowing soaring pitch bends while avoiding fretting out. Combined with rolled edges, it's a treat for your fingers. Accommodating and encouraging, it's a board where you can express yourself.
Other performance-focused features are the excellent locking tuners that will prevent any slipping, and a two-point tremolo system with six steel block string saddles. This all results in superior intonation, steady tuning stability, and easy adjustment for tweaking your tone.
Altogether, the Player Plus is a fantastic gateway to fully-fledged Fender Stratocasters. It's got more modern sensibilities, tone-shaping through a push/pull pot, and supreme playability on its contemporary maple neck. If you want to push the boundaries while enjoying classic Strat twang, the Player Plus is calling.
Shop Now | Player Plus Statocaster MN
See More | Player Plus Stratocasters
---
American Pro II Stratocaster
The cream of the crop, and the ultimate in performance. The American Pro II series is for those who need to elevate their sound and demand rock-solid reliability from their instruments. It's the cutting edge of Stratocaster design, and showcases many features that suit it to contemporary styles.
Like our other Strat picks, the Pro II commands an impressive tonal range that lets it fit into many different genres. And it's the V-Mod II pickups that will make it perform every style with aplomb.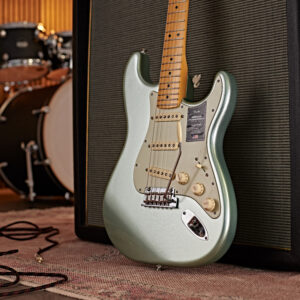 They've got all the same chime, clarity and sparkle that we've mentioned with the Player Plus and Vintera's pickups. But these V-Mod IIs have that extra engineering to capture each note with stunning definition.
They're built using a blend of different alnico magnets, specifically II, III and V. The result is a finely balanced sound, capable of dipping into any genre with success. The neck blends II and III magnets to evoke a subtle tone with pronounced mids and a vintage warmth. In the middle, it's a mix of II and V to get punchy force tempered by the II's smooth mids. And for the main event, the bridge hosts alnico V with no mix, for full output and searing tones.
As this is the professional model, they've paid extra attention to positions two and four (the in-between pickups). They're finely tuned to emphasise the delightful Strat quack you can get by pairing up the pickups.
Just like the Player Plus, there's a push/pull pot so you can add in the neck pickup to the bridge, and benefit from both finely tuned sets of coils at once. This is the epitome of Stratocaster tone and gives you the finesse to dial in the exact sound you're looking for.
The Pro II's improvements don't stop at its luscious pickups, it's got a finely sculpted deep "C" shaped neck, locking tuners, and a two-point tremolo with a cold-rolled steel block for amazing sustain. At the neck, Fender have striven for ultimate playability.
This deep "C" shape is unique as it isn't a uniform thickness along the whole length like most necks. Here, it's thinner at the nut for easy chording, and thicker at the higher frets so you've got a secure grip when launching screaming solos. And of course, it's got their "super-natural" satin urethane finish for that luxury tactile feel, and swift transitions. Soloing at the high end is effortless thanks to a sculpted neck heel and bevelled neck plate; you'll be able to reach every fret with ease.
What's more, the 9.5″ board radius and narrow-tall frets make pitch bending a cinch, inviting you to push the boundaries with some daring leads. It's capped off by a bone nut, allowing for high levels of vibrations transference from your strings. There's so much to talk about in the American Pro II series, as Fender have crammed it full of features to satisfy the most demanding artists out there… but we've almost finished!
Finally, there's the awesome two-point floating tremolo system. As we mentioned before, it's got a cold-rolled steel block underneath it. This premium design adds to the sustain of your vibratos, allowing you to infuse the wonderful shimmer to maximum effect. Just as the name suggests, it's professional quality from one of the most recognised guitar brands in history.
Shop Now | American Pro II Stratocaster MN
See More | American Pro II Stratocasters
---
Which is right for me?
Each of these Stratocasters packs a mighty tonal punch for you to enjoy, but – as we've seen – they differ quite significantly in the features they offer. So, here's a quick summary for who we think our choices will benefit the most.
The Vintera is a modern reincarnation of the original Stratocaster. It's voiced and styled after those early models. If you're inspired by the clipped and bright flow of Buddy Holly and other early legends, the Vintera puts that style, feel and sound in your hands. Fortunately, you also avoid the exorbitant cost of tracking down a genuine antique, or a precise Custom Shop recreation. It removes any barriers to grasping that sound and aesthetic.
Moving on to the Player Plus, it's pitched as the entry-level Fender Stratocaster. But that's no hindrance, as it packs more features than ever before. If you want that quintessential Strat tone and performance, look no further. It has a much more modern approach and attitude than the Vintera, making it ideal for those seeking a hotter sound, and a more up to date playability.
As for the American Pro II, it's by far the most feature-rich of the three we've discussed. It has eminent performance, with every component finely tweaked to give you the pinnacle of Strat sonics. Out of the three, it boasts the superior feature set. However, that doesn't necessarily make it the right choice for everyone. The Pro II is capable of sweet vintage voicings, but if you want the retro aesthetic and experience – the Vintera will offer more on that front.
Similarly, if you want a true modern Fender Strat without extra bells and whistles, the Player Plus delivers full glistening tones and excellent playability at a much cheaper cost. But if you're looking to truly excel on the road or recording studio, and need the best that Fender can offer – the American Pro II will be a trustworthy companion for decades to come.
---
Find out more
We've picked out three, but there are so many more Stratocasters out there. If this article has given you the taste for the twang, follow the links below to explore the full extent of Fender's repertoire.
Shop Now | Fender Stratocasters
See More | Fender Electric Guitars