Minster Upright Acoustic Piano, Gloss Black
Minster Upright Acoustic Piano, Gloss Black
Details
The Minster Upright piano features a beautiful tone and stunning looks that makes it suitable for home, rehearsal and concert spaces. The keybed and hammer action is balanced and accurate, which is suitable for the most advanced piano players. The high quality strings create a diverse tone that is warm and delicate, as well as broad and bold at louder dynamics. The elegant gloss black finish looks the part in any venue, from the home to the concert stage.
Product Ref: 71956
View Full Description
Full Description
View Full Description
Perfectly Balanced For Best Tonal Results
The Minster Upright Piano features an excellent weight, feel and sound that is suitable for home, school and concert use. The piano includes Japanese wool felt hammers that have a soft core wrapped around the main hammer. Combining this with German Roslau strings, the sound is pure and full of character. Great care has been taken in the selection of the German hornbeam tone woods, which make the resonant sound throughout the piano uniformed and focused. The 120cm high frame gives a bold and colourful tone to the music, as well as a fantastic projection, even when the top lid is closed.
Perfectly Weighted Key Bed
A fundamental part of piano manufacture is making sure that the key bed is perfectly balanced for the most diverse possible performance. The key bed on this piano is sublime, allowing sufficient weight to allow for great tone and precision at quiet volumes, and a light enough touch to give ultimate dexterity in complicated passages of music and trills. Expert technicians and painstaking design mean that the keys pivot at exactly the right point to counteract for the weight of the hammers, without allowing for any discrepancy in feel between black and white keys.
Elegant and Contemporary Body
The Minster Upright Piano has been tastefully designed with a contemporary twist on a classical design. A set of complex curved combined with sleek and straight edges makes this modern piano stand out. The piano has a number of easy methods to change timbre and projection, simply by adjusting the top lid height or by removing the front panel completely. The metal parts have been chromed to give a stunning modern look.
Features/Specifications
Keyboard: 88 keys - 7 1/4 octaves
Keyboard Type: Upgraded Hammer Action
Keyboard Material: German Hornbeam
Piano Lid: Yes
String: German, Roslau
Hammer: Japanese Wool Felt
Soundboard: Austrian Spruce
Plate: Japanese Moulded Iron
Dimensions: 1200 (H) x 600 (D) x 1450 (W) mm
Piano Tuning
All Pianos are delivered by Gear4music having been tuned and prepared before delivery. It is recommended that you have your new Piano tuned 4-6 weeks after delivery to its final location. A new piano requires tuning due to the changes in temperature and humidity of its environment which can cause expansion or contraction of the components and alter the tension of the strings.
Delivery and Installation
For this product, Gear4music offers a service that includes full ground floor delivery and installation. The installers will also take away the packaging for your convenience.
Upon ordering this instrument, you will be contacted to arrange a suitable time for delivery and detailed logistics. Please note that the lead time for delivery can take up to 15 working days based on location and availability. For further information, please email or call the Gear4music team.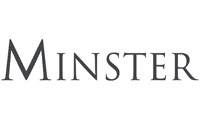 A Contemporary On Classic Design
Minster is a premium brand of Gear4music. Bringing together high quality components and cutting edge design, Minster acoustic pianos have been developed for the piano player looking to take their performance to the next level. The Minster range includes acoustic upright pianos, as well as full size grand pianos.
Each is constructed using only the finest materials, ranging from specially sourced German tonewoods to premium hammers and strings. With top quality design to provide the best tonal and acoustic properties, Minster pianos go far beyond what is expected from these instruments at this price point. Completed with a contemporary cabinet and a high quality finish, Minster acoustic pianos are set to establish themselves as the discerning pianist's choice, whatever style they play.