Music Gear News
Top Microphones for Recording Your Guitar Amp
Top Microphones for Recording Guitar Amps
Want to record massive guitars but don't know where to start? We've picked the top microphones that will help you get great results, no matter what your setup.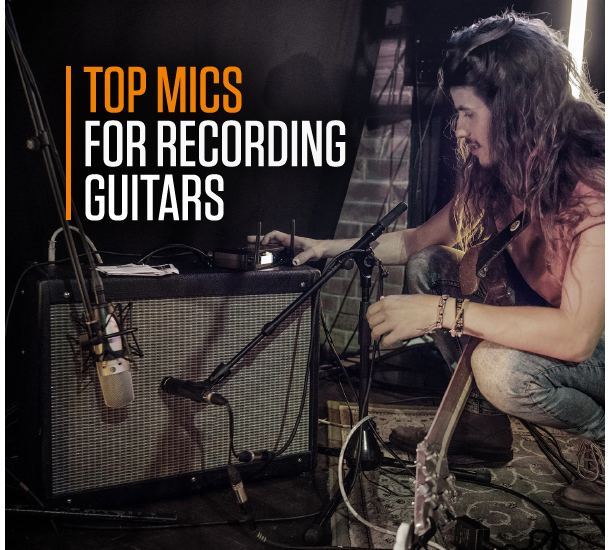 All our microphone picks are tried and tested by engineers all over the world. Some of them have even been used on your favourite albums. With our help, the guitar sound of your dreams is closer than you think…
What gear do I need to record my guitar amp?
Believe it or not, many of the guitar sounds you know and love were recorded with just one or two microphones.
As long as you also have an audio interface (so you can connect the mic to your computer) and some recording software, there's nothing stopping you from getting some seriously impressive guitar sounds at home.
You may think it's easier to just buy a modelling system or use a computer plugin. But with your own amp and minimal gear, you can get a great sound – plus the satisfaction that you created it!
How do I record my amp?
Making a great recording is all about three things – your tone, the microphone, and the placement.
Get these right and you'll pave for the way for creating an epic guitar sound. It's not about expensive gear or studio trickery either – just experiment!
1. Guitar tone
This is the big one. If you're happy with the sound coming out your amp then the rest is pretty straightforward.
The possibilities here are endless. The guitar, strings, pedals, and amp (not to mention the performance!) will all work together to create your sound. The quest for perfect tone is never truly over, so don't worry about getting this right straight away.
2. Mic choice
The microphone you choose plays an important role in shaping your recording. Each mic has its own character which will impart your guitar with a certain flavour. Some mics sound 'big' and 'open', while others are 'dark' and 'heavy'. A lot of it comes down to personal preference.
As you develop your recording skills you might even decide to add a second microphone to your setup. We generally recommend a dynamic mic for your first choice as it can handle loud volumes with ease. A condenser or ribbon mic is a great partner if you're looking for a second mic. More on that later.
3. Mic placement
The most popular way to record an amp is called the "close mic" technique, which simply involves placing the microphone directly in front of the amp's speaker (about a centimetre away).
From there you can discover all kinds of tones. Need more warmth? Simply nudge the mic towards the edge of the speaker cone or angle it so it's not dead straight-on. Need a bit more clarity? Try moving the mic towards the centre and pointing it directly at the cab. It's amazing the difference a small adjustment can make.
Once you've found the amp's 'sweet spot' you're ready to hit record!
Top Guitar Cabinet Mics
A mini microphone with a big sound. Beneath the AKG D40's grille is a unique dual-layered diaphragm. Capable of capturing the screech of any amp in incredible detail.
The D40 is remarkably tough too. Its rugged metal body can endure the most extreme wear and tear. It can even handle ultra-high sound pressure levels up to a staggering 156dB. You could happily record a jumbo jet if you wanted to! Not bad for a mic that fits in the palm of your hand.
Shop now | AKG D40 Dynamic Instrument Microphone
Arguably the most popular microphone in the world - the Shure SM57 is at the heart of countless classic guitar sounds. From AC/DC to Zeppelin - the list is pretty much endless!
But why is it so popular? To put it simply, the SM57 just works with electric guitars. The mic's gentle low frequency roll-off reduces the unpleasant 'rumble' from your amp, whilst a nifty mid-range dip clears out the 'muddiness'. Even better, a generous high-frequency boost adds a lovely bit of 'bite' to proceedings.
The SM57 makes dialling in great guitar tones easy. You don't have to waste time with EQ. Just point the mic and go!
Looking for something extra special? Check out the Shure Beta 57A - the big brother of the SM57. Boasting the same classic sound but with added top-end clarity and definition.
Shop now | Shure SM57 Dynamic Instrument Microphone
Shop now | Shure Beta 57A Dynamic Microphone
Born for amps. Everything about the Sennheiser e906 - from its versatile sound to the amp friendly shape - is designed to help you get great guitar sounds.
The e906 has a switchable filter that lets you tailor the mic to suit you. In 'neutral' mode it sounds wonderfully natural and clear. It doesn't colour your hard-earned tone, so all those hours spent amp tweaking weren't wasted. Or you can choose between 'bright' or 'dark' modes. It's all a matter of taste!
The mic's innovative flat shape allows you to drape it over your amp by the cable – no stand required! Not only is setup quick, but you'll save valuable space when recording at home.
Shop now | Sennheiser e906 Dynamic Instrument Microphone
A favourite amongst engineers. With its extra-large diaphragm and wider frequency response, the Sennheiser MD 421 delivers a bright, textured sound that preserves the details other mics can't.
When combined with the mid-range punch of the Shure SM57, the results are huge. This popular pairing is often used to create the 'out-of-this world' guitar sounds you hear on modern recordings. Give it a try and take your recordings up a level.
Shop now | Sennheiser MD 421 II Dynamic Instrument and Vocal Microphone
Add a second microphone to unlock a new world of possibilities…
If you're looking to create exciting new guitar sounds, try adding a second mic to your setup. By blending two different 'colours' together you can build larger-than-life tones that will radically transform your recordings.
Try a dynamic mic for the full body of your guitar sound. Then add a condenser or a ribbon mic for some added air. You could also try a second dynamic mic with a different tonal character.
The Shure SM57 has a wonderful bite and mid-range attack. Why not combine it with a condenser or ribbon microphone for more air (a very common studio pairing) or add a Shure SM7B for more warmth.
Get creative. You never know what you might discover…
If you're a fan of vintage guitar sounds, this might be for you.
Subzero's stylish R1 Ribbon Microphone is a love letter to the classic mics of the 1950s. It delivers a warm tone by smoothing out the higher frequencies, for that 'rounded' retro flavour. It also picks up sound from the front and back - capturing the direct sound from your amp whilst adding a pleasing splash of room ambience to your tracks.
Combined with its stylish shape and vibration-resistant cradle, the Subzero R1 is certainly a classier affair than your average amp mic. It's also the perfect secondary mic to complement the more direct sound of a dynamic microphone.
Shop now | SubZero R1 Ribbon Microphone
A multi-application, multi-pattern, and multi-talented microphone. This is the one mic for any job – and it does all of them extremely well.
British microphone manufacture Aston Microphones has created the Spirit to adapt to almost any instrument. With selectable pickup patterns and sound attenuation, this mic could be a positioned close to your amp for detail or become the perfect secondary partner to your main dynamic microphone choice.
Shop now | Aston Microphones Spirit Multi-Pattern Condenser Microphone
A gorgeous, lively sounding microphone that will bring a touch of sparkle to your recordings.
The Shure KSM32's ultra-thin diaphragm picks up your amp's tiny idiosyncrasies. Blend the KSM32 with your main microphone and hear the difference. More clarity. More sizzle. Whether you're after clean tones or ferocious fuzz, the KSM32 will bring out the best in your amplifier.
Shop now | Shure KSM32 Condenser Microphone
Yes – it's expensive. But the Royer-121 will be mentioned every time you talk about recording electric guitar.
This iconic ribbon mic delivers a stunningly accurate sound – usually the exact sound you'll be hearing in the room with your cab. Pair this mic with an SM57 or another dynamic mic and you can get the most dynamic and full-sounding guitar tone imaginable. This mic handles high SPLs with ease and is the go-to pro studio guitar microphone.
Shop now | Royer R-121 Studio Ribbon Microphone
Posted on 14 Jul 2020 18:05 to category : Instruments News