Music Gear News
Stunning Kawai CA98 / CA78 Digital Pianos in New Polished Ebony Finish
Stunning Kawai CA98 / CA78 Digital Pianos in New Polished Ebony Finish
Kawai has released a luxurious new finish for the premium Concert Artist digital pianos. The CA98 and CA78 are now available in polished ebony.
The Concert Artist series of digital pianos from Kawai is known for its world-class playing-feel and audio reproduction. The CA98 and CA78 models sit at the top of this range and provide incredible tone, response, and the latest in digital technology.
New for October 2018, Kawai has released a luxurious polished ebony finish for these flagship Concert Artist models. This mirror-like aesthetic is perfect for players who prefer the sophisticated look of a traditional grand piano cabinet. These new digital pianos provide the same authentic playing feel and incredible tones that we've come to expect from the Concert Artist family.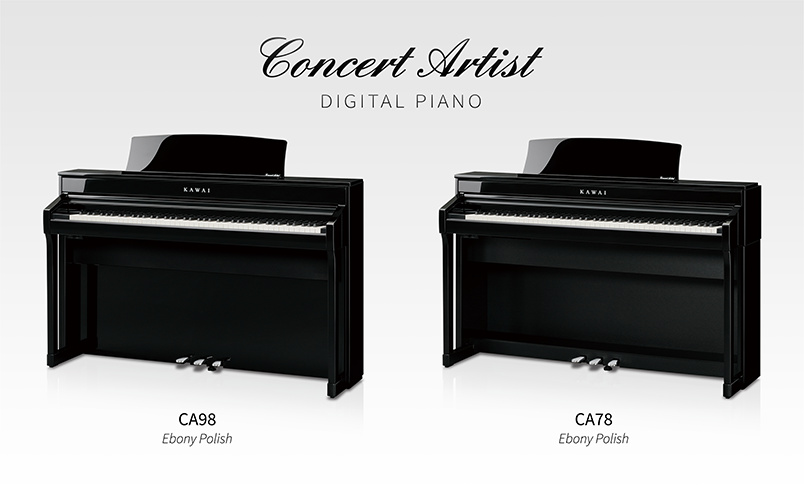 "The CA98 and CA78 ebony polish are far more than just handsome additions to one's living space, for inside their finely crafted, gleaming black cabinets lies Kawai's advanced digital piano keyboard action and sound technology, ensuring that these outstanding instruments play as beautifully as they look." - Kawai
Alan Palmer, Digital Piano Product Manager at Kawai America explained:
"We are excited to be introducing the ebony polish finish to the Concert Artist range. The quality of this finish is absolutely superb, and complements the premium specifications of the CA98 and CA78 beautifully."
Available to Order
The CA98 and CA78 ebony polish are scheduled for initial release in Europe from November, with other regions to follow shortly after. Both new models are available to order now at Gear4music.
Shop Now | Kawai CA98 Digital Piano, Polished Ebony
Shop Now | Kawai CA78 Digital Piano, Polished Ebony
Premium Technology
The CA98 and CA78 both feature Kawai's latest Grand Feel II keyboard action. The keys are an extended-length, all-wood design topped with Ivory & Ebony Touch surfaces. This gives you the tactile feel and expressive response of an acoustic piano to bring out all nuances of your playing.
The CA pianos utilise an SK-EX Rendering sound engine which blends multi-channel sampling and resonance modelling. This level of digital sampling detail recreates the premium sound of a flagship Shigeru Kawai SK-EX concert grand piano, ready to transform your playing with breath-taking levels of realism.
Both CA pianos feature the latest speaker technology to realise their intricate tones. A collaboration with Japanese audio specialists Onkyo has resulted in a powerful and accurate speaker system, with modern features such as Bluetooth and a large touchscreen display.
Find out more about the Kawai Concert Artist Digital Pianos
By Matt Wilkinson
Posted on 11 Oct 2018 11:47 to category : Instruments News