Music Gear News
Raise your speaker game with Yamaha
Raise your speaker game with Yamaha
As we approach a party-filled summer, make sure your events hit the right note with Yamaha's range of top-class PA speakers.
High-quality audio tends to separate the good gigs from the great. With Yamaha's superb variety of speakers, you're not just guaranteed elite sound quality, but also a host of intuitive features designed to make life (and live sound) easier.
DZR Series
The DZR series is Yamaha's flagship range of powered loudspeakers. Here you'll find Yamaha's onboard DSP with intelligent adaptive EQ, giving you pro audio that adapts to your sound.
Each speaker has an integrated Class-D amplifier for 2000W of clean, efficient power. With your choice of two-way or three-way cabinets, this range is ideal for almost any occassion.
Advanced FIR-X tuning ensures exceptional clarity and sound imaging. This is achieved with linear phase FIR (Finite Impulse Response) filters for the crossover network and correct EQ.
Easy adjustments - intelligent adaptations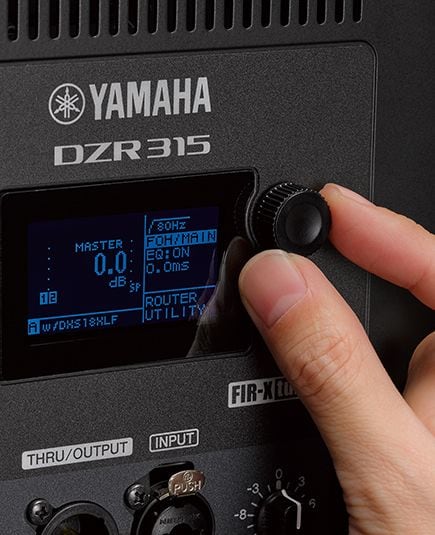 Intelligent automatic EQ adjustments are integrated across the entire DZR Series. 96kHz DSP processors produce consistent high-resolution sound and ultra low-latency performance.
Onboard LCD screens allow you to navigate through sound presets, PEQ adjustments, delay, and routing options.
For sound that adapts to you however, it's the D-CONTOUR Multi-Band Compressor that is the star of the show. This measures the output of each of your frequency bands, then automatically adjusts to the optimum EQ adjustment settings, ensuring pristinely clear, balanced audio at any volume. D-COUNTOUR can also help you if you're holding a garden party and want to reduce the mid-response or remove boominess to keep the neighbours happy.
D-CONTOUR also provides modes for FOH/MAIN or MONITOR, letting you adapt each speaker to any stage use you require.
Any occassion
Due to the high level of adaptability, the DZR series is perfect for a range of applications.
They are remarkably easy to install in a variety of locations thanks to the rotatable horn that allows for both vertical or horizontal mounting capabilities. This allows the speaker to instantly adapt to different venue settings and acoustic dimensions.
Plus, with the two FOH/MONITOR DSP modes, you can get the ideal bass response for whichever mounting you choose.
Choose between 2-way or 3-way setups, and get the perfect speaker for your needs. Look for the Dante variants giving smart integration with Yamaha consoles and other Dante devices.
Yamaha DZR10
The most compact speaker in the range. Versatile, adaptable, onboard DSP, and powerful with 2000W of Class-D amplification.
Two-way active loudspeaker with 10'' LF driver
137dB maximum SPL
44Hz - 20kHz
Shop now | Yamaha DZR10
Yamaha DZR12
The next step up. Enhance your bass with the larger 12'' LF driver.
Two-way active loudspeaker with 12'' LF driver
139dB maximum SPL
39hZ - 20kHz
Shop now | Yamaha DZR12
Yamaha DZR15
At 15", you get a superior frequency response from the Yamaha DZR15 with a range of 34Hz - 20kHz. This means you'll hear every nuance of the audio in precise detail.
Two-way active loudspeaker with 15'' LF driver
139dB maximum SPL
34Hz - 20 kHz
Shop now | Yamaha DZR15
Yamaha DZR315
For those who need a complete system in one. 3-way coverage for superior audio, with extended bass response to rival a subwoofer.
Three-way loudspeaker with 15'' LF driver
143dB maximum SPL
31Hz - 20kHz
Shop now | Yamaha DZR315
DXRmkII Series
DXR10mkII
The DXRmkII Series places the emphasis on clarity and control. The DXR10mkII sports an integrated 3-channel mixer allowing you to make accurate alterations on the fly, to optimise your sound for any situation.
Combine this with the FIR-X tuning which combats phase cancellation and ensures exceptionally smooth crossover, and you're guaranteed sublime audio while minimising time spent fiddling.
Shop now | DXR10mkII
DXR12mkII
Of course the DXR12mkII, as with every speaker in the D-Series, comes equipped with D-CONTOUR optimising your sound for you. This helps the 90° x V 60° constant directivity horn always deliver stunning sound for your audience.
This creates a focused dispersion where the power of your audio can be truly appreciated by everyone- especially useful outdoors where highly directional projection is essential.
Shop now | DXR12mkII
Yamaha DXR15mkII
The versatility of the DXR Series is noteworthy. Intelligently designed to suit a range of uses, the Yamaha DXR15mkII even doubles up as a floor monitor in a pinch.
A 50° angle is integrated into the exterior of the cabinet for easy placement. This enables superior audio within a wide range of live sound applications from the 15" speaker. Versatile and powerful.
Shop now | Yamaha DXR15mkII
DXS Subwoofers - expand your range
Adding subwoofers to your setup is an easy way of providing a huge lift to your sound.
Most full-range speakers simply cannot access the lowest bass frequencies that subwoofers can. It's the low range that adds resonant depth to your audio and bass you can feel.
Yamaha's subs were designed to optimise projection of these bass frequencies to always deliver outstanding low-end.
Integrating these subs into your setup couldn't be easier. Crossover switching allows you to match DXS subwoofers with any of Yamaha's full range powered speakers. Simply select the cutoff frequency that is best suited to the models.
Yamaha DXS15XLF
The DXS Series is a great choice for those that value powerful bass. Built-in D-XSUB processing allows the Yamaha DXS15XLF to extend the frequency response even lower to add even more thunderous bass all the way down to 40Hz.
Coupled with state-of-the-art DSP, this allows the sub to produce clear, powerful and distortion-free bass. The durable Polyurea exterior coating is extremely damage resistant, providing optimum protection to ensure durability- keeping your bass sounding fat for longer.
Shop now | Yamaha DXS15XLF
Yamaha DXS18XLF
Building on this performance with its slightly bigger speaker, the Yamaha DXS18XLF also features a cardioid mode which allows you to direct your low-end frequencies to your audience.
By decreasing stage-side sound pressure while increasing the bottom-end output directed forwards, this provides a cleaner stage monitoring environment whilst giving the audience that much needed bass experience. Perfect for the outdoors, this minimises sound lost so your audience can hear everything in detail.
Shop now | Yamaha DXS18XLF
Find out more
Ready to upgrade your speaker setup? Explore our full range of Yamaha PA speakers now!
Shop now | Yamaha Active Speakers
Shop now | Yamaha Subwoofers
See more | Yamaha Live Sound
Posted on 24 May 2021 13:12 to category : Instruments News