Music Gear News
Instruments for Kids
Instruments for Kids
Instruments for children are smaller sized, making them easier to play. Get the perfect introduction to music here.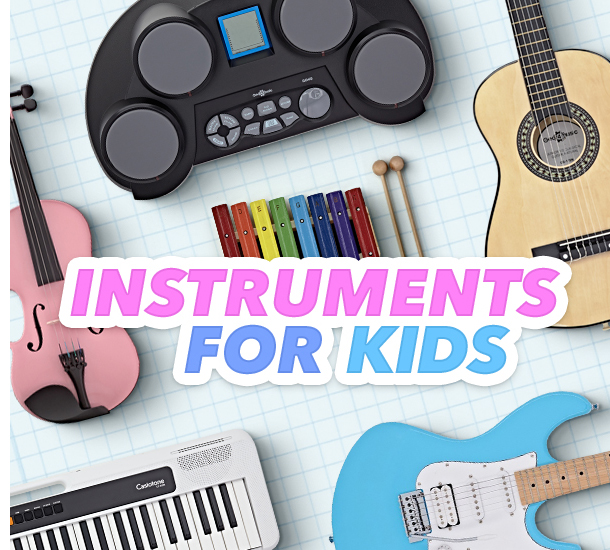 Music is a fantastic way for children to learn new skills, make friends, and be creative. If you're looking for an instrument for your child, you've come to the right place.
What makes a good instrument for a child?
Children's instruments often have exactly the same functionality as an adult's instrument. Often the only difference is in the size. With a smaller instrument, children will have a much more comfortable start, and smaller hands will have no problem developing the techniques required to play music.
Once your child outgrows their instrument, you can simply buy the next size up and continue to learn comfortably. Rest assured -just because a kid's instrument is smaller, it doesn't mean it skimps on features. The smaller size is often based on exactly the same design as the full-size equivalent!
Instruments for kids
Here you can find a complete range of smaller instruments for kids. If you're looking for an easy start, check out the complete packs which come with essential accessories to get your child playing.
Kids Electric Guitars
Kids electric guitars come in a range of sizes, meaning your child can get the best start possible. We also stock many bundles which come with an amplifier and essential accessories to get you started.
Shop now | Kids Electric Guitars
Kids Acoustic Guitars
smaller sized children's acoustic guitars make it easy to get started. Classical guitars have nylon strings and are easier for new players to get to grips with. Acoustic guitars have steel strings and are great for older children looking to play classic singer songwriter music, as well as folk, pop, and rock.
Shop now | Kids Acoustic Guitars
Kids Bass Guitars
Looking to become the core foundation of a band, and set the groove? The bass guitar is for you. Check out our bass guitar packs with an amp and essential accessories to get started.
Shop now | Kids Bass Guitars
Kids Drum Kits
Become a rhythm master with our junior drum kits. These packages allow children from the age of 4 to get to grips with a real drum kit! Each bundle includes everything you need to play.
Shop now | Junior Drum Kits
Kids Electronic Drum Kits
Does your child want to play drums, but you don't want the loud sound at home? An electronic drum kit is for you. Offering a real drum kit experience, you can put on headphones and play at any time of the day. Explore a wide range of drum sounds, and even fold them away when you've finished playing!
Shop now | Beginner Electronic Drum Kits
Kids Tabletop Drum Kits
Tabletop drum kits offer the same convenience of an electronic drum kit, but with an even smaller size! Sitting on top of your desk or table, you can practice when you want and simply tuck them away when you're done.
If you want a complete drum kit experience, make sure to find one with pedals.
Shop now | Tabletop Drum Kits
Kids Percussion Sets
Our percussion sets are the perfect way to get children exploring new sounds and noises. Whether you're in the classroom or at home, keep your little ones entertained here.
Shop now | Percussion Sets
Kids Keyboards
Children's keyboards come with everything you need to play the piano and make music. Explore new sounds, record songs, and much more. Many even have built-in learning functions to get your started.
Shop now | Kids Keyboards
Kids Pianos
If your child wants to learn the piano, these kids pianos are the perfect start. With realistic sounds and weighed keyboards, you can get a convenient start to this prolific instrument.
Shop now | Kids Pianos
Kids String Instruments
If your child wants to play the violin, cello, viola, or double bass, you can find the perfect range of instruments here. From 1/32 size to 1/16, 1/8, 1/4, and up to full size, you can get the ideal instrument - no matter what age or size you are.
Kids Violins
Find your perfect size violin here, whether you're just getting started, upgrading, or becoming an experienced player.
Shop now | Violins
Kids Cellos
The cello is a larger string instrument, but your child will have no problem getting started if you seek a smaller sized instrument.
Shop now | Cellos
Double Bass
As the largest string instrument, your child may struggle to get started with this instrument. For secondary school kids, the ¾ double bass is the perfect size to get going.
Shop now | Double Bass
Kids Brass Instruments
Looking for an affordable start to playing the trumpet, trombone, cornet, or other brass instrument?
Check out Gear4music Brass for a complete range of student instruments.
playLite instruments are also fantastic alternative – made from plastic, they play just like their brass counterparts. They are lightweight, durable, colourful, and fun!
Kids Woodwind Instruments
The woodwind family includes saxophones, clarinets, flutes, and more. While there aren't smaller instruments designed specifically for children, you can find a fantastic range of affordable student instruments.
Shop now | Woodwind Instruments
Recorders
One fantastic woodwind instrument for children is the recorder. Affordable, super easy to play, and lightweight; they are a great start to music!
Shop now | Recorders
Posted on 8 Sep 2020 16:19 to category : Instruments News