Music Gear News
Gig Ready - What you need to gig.
Gig Ready - What you need to gig.
You can create a great performance setup in your very own garden or outdoor space. Here you'll find the gear you need to get a great sound; plus, all the essential accessories you might have forgotten about...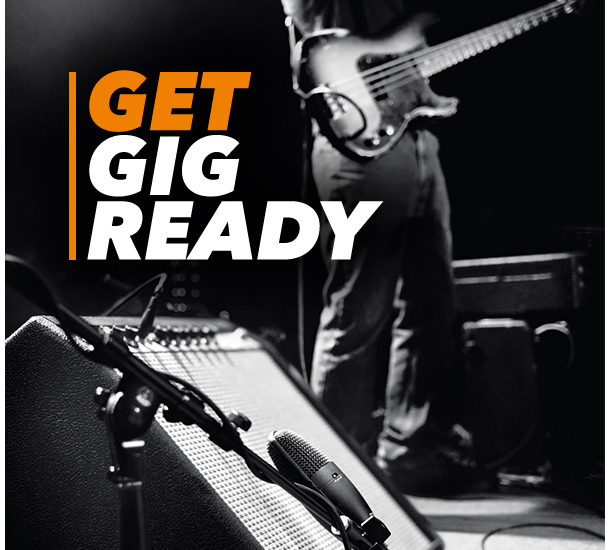 Here's the essential gigging gear for bands, musicians, DJ's, solo performers, and more. Whether you're performing in your garden or anywhere else outdoors, this is what you'll need.
Gigging means something different to every performer. A kit list for a sound engineer will be very different from a guitarist.
With this equipment, you can get a great sound at your garden party, outdoor gig,
PA Systems
A PA System is essentially a loudspeaker with inputs for mics and instruments.
If you get the right PA, you can plug in all your performers and blend the sound of each independently. You can also plug in an audio player and get great music for a party or outdoor event.
A PA System is a complete package with speakers and a way of mixing sounds together – that may be a simple set of inputs and controls, or a fully-fledged mixing desk.
Whether you're playing music, DJ'ing, entertaining with a microphone, or playing instruments - a PA system makes sure you can be heard clearly.
Top tip: if you're planning an outdoor performance, our battery-powered portable and column PA's are perfect! Loud sound, anywhere you go.
Portable PA
Portable PA systems are built to grab and go. Ranging from single-speaker units to dual-speaker systems, they are perfect for a quick setup. Many portable PA systems feature multiple instrument/microphone inputs for live performance, Bluetooth for music streaming from a phone, and a battery-powered design.
Some may even look like a traditional guitar amp, but they have a full-range sound for microphones and music.
For buskers and outdoor performers, you might like to choose a guitar amp with battery power and vocal input. These are ideal for making music on the go.
Read more | Guide to Busking – portable speakers for musicians on the go.
Shop now | Portable PA Systems
Column PA
Column PA Systems are super portable yet have incredible projection. You'll be amazed at how far their sound can project – despite not needing to be turned up as much as a traditional speaker.
By using a linear array (combining multiple compact speakers mounted at different angles inside a column), these PA Systems are renowned for their wide sound field and low drop-off in volume the further you move away from the speaker.
Many column speaker systems include built-in mixers for connecting microphones, instruments and even playing music via aux or Bluetooth. They are easy to set up with interconnecting parts and they are perfect for outdoor events when you need maximum clarity, even at large distances.
Shop now | Column PA Systems
Complete systems
Need even more volume? With our Complete PA Packages reaching over 1000 Watts in volume, these setups are perfect for outdoor festivals, larger spaces, and parties with a DJ. At this level, many systems feature individual components for even more capability. To get this much power, you'll need mains power or a generator for outdoor use.
Shop now | Complete PA Systems
PA Separates
If you want a customised solution, you can build your own setup with our Live Sound & Lighting Equipment. Maybe you need more mic inputs. Maybe you need a louder speaker system. Put together your own bespoke setup to match your exact requirements.
Speakers
Choose between active or passive speakers. Active speakers have a built-in amp, meaning you just need to plug in a mixing desk and you're good to go.
Active speakers are the most straightforward way of setting up a bespoke PA.
Passive speakers have no power, meaning you need a power amp to get them making sound.
If you want thumping bass, you can also add a subwoofer to each 'satellite' speaker. The satellite speaker on its own gives full-range sound, but a sub adds bass that you can feel.
Shop now | PA Speakers
Mixing desks
A mixing desk lets you blend different microphones and instruments together. Some have onboard effects, automation, and the ability to let you connect external gear such as media players. You can find the perfect desk depending on your needs, from compact single channels for a solo performer right up to huge desks for festivals.
An analogue desk is a great choice to get started. You'll find lots of inputs and built-in effects if you find the right desk.
A digital desk brings many more options for your live sound – you could automate different mixes for different songs, save presets for instruments, and even control the desk remotely from a tablet.
You can even buy a rack mixing desk with minimal onboard controls, designed to be run completely from a tablet or computer! These are perfect for bands with limited stage space, or limited space in the van.
Shop now | Mixers
PA Accessories
To get a great stage setup, you'll need these essential PA Accessories.
As well as the products below, you could consider stage boxes for organised cables on stage, as well as stands, cases, ear protection, or power distributors. You can find that all here - Live Sound Accessories.
Speaker stands
Get your speakers elevated to the perfect height for maximum projection on stage. If you've got heavy speakers, look out for height-adjustable stands with locking crank handles.
Shop now | Speaker stands
Cables
You'll need XLR cables for microphones, twist connector cables for speakers, and an array of jack-jack cables for your other musical equipment. It helps to have extras too for musicians on stage for when the worst happens.
Shop now | Cables
Staging
The best way to make your garden gig feel like an event is to add some portable staging. The convenient folding designs, our portable staging is easy to put up and much more affordable than you might think.
Shop now | Staging
Lighting
There's a world of options here – check out our lighting packages which give you everything you need to level up your performance and create a dancefloor with ease.
Shop now | Lighting packages
Shop now | Stage lighting
Microphones
To perform live you'll need a selection of microphones. Vocal mics are an obvious solution for vocalists, but you may wish to mic up your guitar amps, bass amps, drums, keyboard amps, saxophones, and other acoustic instruments.
You might also consider going wireless if you like more freedom on stage.
Vocal mics
The general go-to mic for vocal use on stage is a dynamic mic. It can cope with loud stage volume and is resistant to feedback.
If you'd like a more specialist solution, you can get more sensitive condenser stage mics that you might see on TV broadcasts, as well as wireless solutions – either handheld or headset mics.
Shop now | Vocal Microphones
Shop now | Wireless Microphones
Drum mics
If you're planning on a gig volume that is louder than an acoustic drum kit, you'll need to amplify certain parts of the drums.
A 2-mic solution is a great starting point, with a specialist kick drum mic and dynamic snare drum mic – letting your audience hear the 'punch' of your kit up close.
You can then buy specialist tom mics, as well as condenser mics for hi-hats and cymbals.
Looking for an all-in-one set? Drum mic packs offer everything you need including microphones and clips.
Shop now | Drum Microphones
Shop now | Drum Microphone Packs
Guitar mics
A guitar cab may need a microphone to make it heard above the sound of the vocals and drums. You can then turn your cab down on stage to use as a personal monitor and let the audience here your sound through the PA speakers.
Dynamic vocal mics like the Shure SM57 are perfect for guitar. You can also find specialist guitar mics with flat profiles which sit flush to the cab. If you're a bassist, you might like a specialist bass microphone.
Shop now | Guitar Cabinet Microphones
Instrument mics
Saxophones, violins, trumpets, harps… you name it, there's probably a specialist clip-on microphone with the perfect mount.
Shop now | Clip-On Instrument Microphones
For performers
The essential gigging gear for a vocalist will differ to a guitarist or drummer. Here's some more equipment you may want to consider.
Monitoring
Need to hear yourself clearly on stage? You'll need some monitoring.
Floor monitor speakers or 'wedges' sit on the stage and are angled back at the performers. The mixing desk will need to send a signal to these monitors – usually a separate mix to what the Front of House (FOH) hears in the audience.
The modern solution to monitoring is in-ear monitors. Worn like in-ear headphones, in-ear monitors block external sound while giving you a crystal-clear sound of the mix. They take some getting used to (you may feel isolated from the stage) but they are much easier to control on stage, giving you the exact sound that you want to hear.
If your whole group uses monitors, you might want a personal monitoring setup. These systems allow individual performers to control their own mix via a personal mixing desk.
Shop now | In-Ear Monitoring
Stand accessories
Drinks holder? Music stand adapter? Tray for accessories? Attach them all to a music stand with these super useful gigging accessories.
Shop now | Music Stand Accessories
Guitar and bass gigging equipment
We've already mentioned guitar mics for your cabinet, but what else does a guitarist need?
Amp with direct output
Choose a guitar amp with an emulated output, and you can do-away with the need for a microphone. Simply plug into the PA and you'll have a great direct sound.
If your amp doesn't have a direct output, you could grab a tool like the Universal Audio Ox or BOSS Waza Tube Amp Expander – these turn your amp into a direct-to-PA sound device.
Shop now | Guitar Amp Attenuators
Multi effects modelling unit
Want to play without an amp altogether? Grab yourself a modelling unit and it'll replicate everything from the amp sound to the cab, microphone, and effects – ready to plug straight into the PA.
This modern solution removes the worry of maintaining an amp and maintaining consistent sound at different venues. If you use in-ear monitoring, you'll get the same great sound at every venue.
The Line 6 Helix and BOSS GT 1000 are prime examples of professional modelling rigs.
You could also modify your pedalboard with an amp simulator pedal at the end of the chain – meaning your pedalboard will be a complete gigging setup.
Shop now | Multi Effects Pedals
Wireless
How great would it be not worrying about guitar cables? A wireless transmitter plugs straight into your guitar and the receiver can either be a pedal, rack unit, or another plug.
Shop now | Wireless Systems
Guitar essentials.
Don't forget these essential gigging tools for guitar:
Vocalist equipment
Once you've got your vocal microphone, stand, and monitoring sorted out, there's not much more a vocalist needs – lucky you!
Here's what we'd recommend for gigging vocalists:
Keyboard equipment
A keyboard player will generally plug directly into the PA for clear direct sound. However, if you're only doing a small performance you might like a separate keyboard amp to control your own sound.
We're assuming you know about packing a stool, keyboard case, and music stand with you, but here's some other essentials:
Drumming equipment
As a drummer, you'll know your instrument setup inside-out. Here's the extras you may not have considered for gigging:
What next?
Here's our top 10 gigging tips.
Check your gear. Make sure you've got all the gear you need personally, and you know how to use it.
Pack spares and tools. Things that can go wrong, do go wrong! Pack a torch, electrical tape, a pen/marker, spare strings, screwdriver, cables, electric extension cables, earplugs, kettle leads, and batteries. These are true essentials.
Arrive early. Be on time before your gig slot and set up quickly and professionally. Don't warmup for ages – get your sound setup quickly and be ready to play.
Make a set list. Don't make it up as you go along.
Know what you'll do in-between songs. Banter? Juggling? Decide before you play!
Think about the essentials – sound, lighting, stage. Does your venue need lighting to improve the atmosphere? Will a stage help you be seen? How loud will you need to be as a group or an individual? Do you need filler music in-between sets?
It may sound obvious, but you need to engage with your audience. Make eye contact. Be a presence on stage.
Tune in silence. No one want to hear you tune out loud. And also let your band mates tune!
Don't noodle before your set or in-between songs. Treat it like a show, not like a practice session.
Make friends with the venue staff, the engineer, the other bands, and the audience. Music is a small world and word spreads. If you're nice – people may not remember it. But if you're difficult to work with, people certainly will.
Posted on 10 Jul 2020 15:50 to category : Instruments News