Think Jimi Hendix, Steve Vai, Chrissie Hynde – what do they all have in common? They're all legendary guitar players who have shaped the industry as we know it. But everyone's got to start somewhere, and so to make the leap from acoustic, you need to consider why you want to go electric and what features to look out for.
Fret no more. We've put together a handy guide to answer all your questions, plus we've included our top picks of guitars that make the transition from acoustic to electric slightly less daunting.
---
Acoustic vs electric – is it easy to switch?
There's a reason why guitarists tend to learn on the acoustic first and then move to electric. But before you choose a fierce and wonderful beast laden with high output pickups and an array of complex controls, it's important to remember that diving in at the deep end might not be the best option.
It's better to sound good rather than attempt to conquer an obscenely complicated instrument just for the sake of its eye-catching, mind-blowing components.
The acoustic, of course, provides a much simpler playing experience. But the skill required is surprisingly different. Firstly, acoustics stay in tune for a lot longer and they boast higher action, meaning that when you take to the strings of an electric, you might find that you press too hard on the frets or squeeze too tight around the neck.
Despite this, try to keep your calluses from dwindling – they should be kept hard in order to retain the same amount of clarity and sustain you've been enjoying with your acoustic. Plus, tough fingertips really help with those techniques that sound insanely good when blasted on an electric.
From glorious pitch bends to fancy hammer-ons and pull-offs, you need the tips of your fingers to be strong and capable – practising regularly will ensure they are!
---
Why change now?
If you're reading this article, you're probably seriously considering the step to electric guitar. Perhaps you're wanting to sound like your favourite artist, maybe your acoustic just isn't giving your music the sheer power it needs, or maybe the endless possibilities of effect pedals and amps are calling out to you.
Whatever the reason, there's no doubting the immense energy and commanding stage presence that an electric can provide.
Take a look at our Steal the Sound Series for an idea of what some successful artists use. Depending on your budget, there is a range of affordable electric beauties out there that pack the same punch as their more expensive superiors.
The likes of Squier and Epiphone offer these cheaper alternatives without compromising on quality – the perk of this is that they're perfect for guitarists who are well-versed in the acoustic world but not necessarily the electric.
---
Features to look out for…
Before we dive(bomb) into the stars of the show when it comes to electric guitars for newbies, let's consider the main components that should be at the top of your list.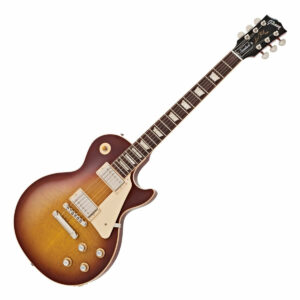 Depending on your style, the aesthetic, pickups, and bridge will differ from guitar to guitar. For example, a Les Paul offers that classic rock feel that has lasted decades, whereas the Ibanez RG Series provides the dramatic presence that appeals to metal players.
Looks are great, but the most important thing is sound – something that stems from the pickups. You might not know it, but you probably already have a preference for the kind of pickups you're after.
That's not to say though that you can't have both! The two most important terms you need to know are single-coil and humbucker – two pickups that make up the centre of the electric guitar universe.
A single-coil has, you guessed it, one coil wound around a metal pole piece, resulting in a brighter tone than a humbucker with noticeably more high-end chime and clarity. A greater treble response is to thank for its thinner, glassier voicings, but you might also find that along with these beautiful sonic qualities comes a layer of undesirable noise.
This is due to the sensitive magnetic coil that can pick up on external electromagnetic interference. However, there are specific noiseless pickups that eliminate this problem, or you could invest in noise suppressing/hum destroying pedals.
Humbuckers, on the other hand, produce a warmer, fuller sound with an extra splash of midrange emphasis. A huge benefit of the humbucker is its ability to combat any unwanted noise that might get in the way of your overall tone. The clue's in the name, and the proof's in the sound.
It's not just the type of pickup that has an impact on sound, but also where it is located on the guitar. The bridge position tends to sound brighter, whilst the neck is warmer in tone, and this is all due to differences in string vibrations. It seems obvious when you think about it; at the bridge, the strings have little slack whereas at the neck they can move freely.
Another thing to consider is the bridge, something that plays a role in both string changes and sound. As a guitarist who is just dipping their toes in the waters of electric guitars (sounds dangerous, I know), the two main bridges to look out for are fixed and tremolos.
Fixed bridges – let's say hardtail, Tune-o-matic, and wrap-around – are the most basic types of bridges out there, and they work brilliantly as pieces of hardware for both beginner and expert. String changes are easy with these bridges, plus they offer great intonation.
If you're wanting to inject an extra dimension into your sound, a tremolo system will most likely be calling out to you. Synchronised tremolos allow for those warbling vibrato effects without making things too complicated, whilst a locking tremolo system is designed to clamp the strings into place – a more complex setup that's best to avoid for electric guitar beginners (unless you're feeling brave and crave some super serious vibrato action).
---
Our top electric guitar picks…
The Fender Player Plus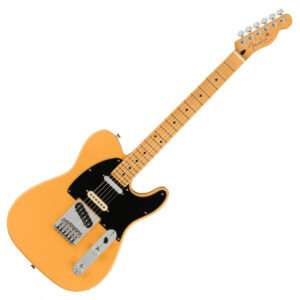 The Fender Player Plus Series is a good place to start for players who don't want to be burdened with the task of constant retuning. After all, who does? With a 6-saddle strings-through body bridge and locking tuners, the hardware of this guitar ensures the strings are granted reliable tuning stability, whilst also allowing for immaculate intonation and easy string changes. No fuss. No nonsense. Just simple Fender design.
Two Player Plus Noiseless pickups promise a clean, crystal-clear sound that is perfect for experimenting with. The hum eradicating design grants you all of those single-coil sonic qualities that we discussed earlier, untainted. That classic Fender twang with a touch of warmth and none of the dreaded hum – everything you could ever want in a beginner's electric.
But it's not just excellent sound you're after, is it? Of course, you'll want a comfortable playing experience too. Player Plus guitars boast a sleek, modern "C" shaped maple neck – a feature that has been optimised for silky-smooth playability.
It promises a secure grip whilst also letting you move easily and seamlessly across the frets. This is perfect for players who are transitioning from the typically wider acoustic neck to the fast-playing electric.
Shop now | Fender Player Plus
---
The Squier Affinity Series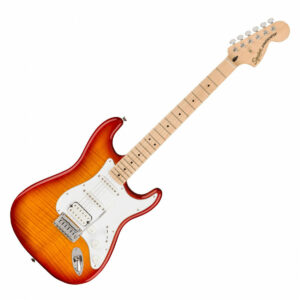 If you're after one of Fender's iconic axes, the Squier Affinity Series is a good place to start. It makes the legendary instruments of Fender extremely accessible and affordable, and so it would be a crime to not include it in the list.
With a comfortable C-shaped maple neck layered with a smooth maple fretboard, the Strat lends itself to easy, lengthy practice sessions that are absent of any strain.
You'll also have the articulate, bright tone of three single-coil pickups for voicings that are simple enough to be sculpted the way you want and powerful enough to give you the electric oomph you're craving.
Even better, a synchronised tremolo bridge provides the perfect foundation for your pitch-bending techniques to form and grow. Let loose on the whammy bar and give those solos another dimension that simply isn't achievable on the acoustic.
With a range of colours and packs to choose from, you're promised exquisite vintage style in a model that suits you best.
Plus, since these guitars are based on their renowned Fender originals that have stood the test of time, you know you'll have an instrument to see you through on your journey from novice to master. Not to mention, they're crafted by the experts themselves.
Shop now | Squier Affinity
---
The Epiphone ES-335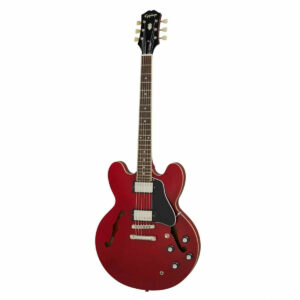 The Epiphone ES-335 is another dazzling choice that's inspired by an icon. Gibson's ES-335 set the bar high in 1958, and with this Epiphone version, you can experience that sweet semi-hollow sound without breaking the bank.
Its elegant, layered maple body is teamed with a rounded C-shaped mahogany neck and Indian laurel fretboard for a durable, silky-smooth build that lends itself to seamless playability. But its sound is a different story altogether…
You'll be able to experiment with superb, high-output Alnico Classic PRO humbuckers – they carry a sharp, powerful, supremely dynamic tone. The blend of '50s characteristics and modern definition makes the Epiphone ES-335 perfect for musicians like you: ambitious guitarists embarking on the path from acoustic to electric.
What's more, the Epiphone LockTone Tune-o-matic bridge and Grover Rotomatic tuners ensure the strings stay firmly locked in tune, giving you one less thing to worry about and one more thing to shout about.
It's the small details like this that prove that quality has been thoroughly embedded into the guitar, making it supremely good value for money and ideal for newcomers to the electric.
Shop now | Epiphone ES-335
---
The Ibanez RG Series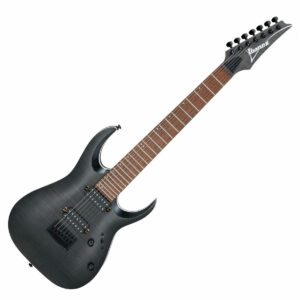 One for the gods and goddesses of metal. Because sometimes an acoustic just doesn't cut it. If you're craving that adrenaline-pumping performance, an Ibanez RG is the way to go. From headstock to bridge, everything about this Ibanez axe has been designed for a slick, crushing performance.
For example, you'll have a Wizard III neck lying on your palm (or a Wizard II-7 with the RGA742FM). Its thin, flat profile means your thumb can run straight up the neck, allowing your fingers to move at exceptional speed from fret to fret.
Those solos are sure to be as fierce and as fast as ever. Plus, the accelerated bass response of the Quantum humbuckers is amazing for riffing, and even with crunchy, decimating distortion, you're sure to have glistening articulation carrying every note.
Such brilliant articulation is perfect for beginners, as it means you can master your technique with precision. Put it this way – it's better to perfect those spellbinding solos first rather than blast them through the speakers with a shedload of gritty distortion masking any incorrections.
The models at the top end of the RG range (still with affordable pricing) feature DiMarzio Covered Fusion Edge humbuckers, powerhouses for beefy chords and piercing lead work. As expected with metal-driven pickups, their blazing, thunderous voicings thrive with the gain cranked up high.
It's a ferocious sound that feels as though it belongs to the experts, but even as a beginner, you'll be able to relish such premium quality tones at an accessible price point.
Shop now | Ibanez RG
---
The Yamaha Revstar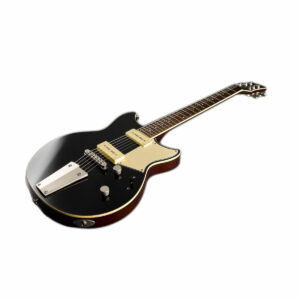 Rev up your musical engine with the Yamaha Revstar, the last entry on our list. With three striking finishes to choose from, this instrument weaves Yamaha's renowned, quality craftsmanship into a design that is relatively simplistic, making them ideal for newcomers to the electric.
The Revstar is inspired by Yamaha's Café Racer motorcycles of the '60s, and it really does capture the retro biker aesthetic.
To match its fierce and commanding looks, there is a slim nato neck – a design which ensures you have a comfortable playing experience as you glide from fret to fret. Its sleek construction is something that varies from the typical acoustic, and so might take a bit of getting used to.
Nevertheless, in the world of electric guitars, a comfortable, slim neck is something to look out for as it accommodates easy, fast, mesmerising playing. So, once you've got to grips with the slightly different profile, your riffs will be zooming off at full speed.
Like the motorbikes it's based on, the sound of the Revstar sure is hot. And it's all thanks to two HH3 humbuckers. These custom-wound ceramic pickups produce rich, clear tones with exceptional punch articulating every note.
The result of these harmonic qualities is a voice that is wonderfully versatile, allowing you to explore a range of techniques whilst always having a wall-shaking, floor-rumbling, rock-n-roll sound soaring through the speakers.
Shop now | Yamaha Revstar
---
Accessories to consider…
So, you're armed with your new electric axe. But there are a few extra bits you need. Amps, picks, and tuners guarantee a polished performance, so they're worth a look (especially an amp, because what's an electric guitar without one?).
---
Amplifiers
Let's start with the most obvious. Whether you're on the road, in the studio, or jamming at home – an amp is vital. There are a range of great beginner amps out there that are easy to use and yet still produce clear, powerful sound.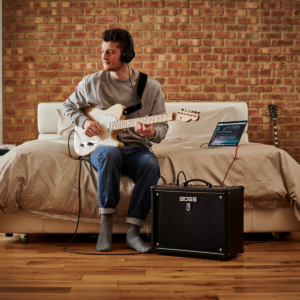 The Boss Katana 50 MKII 1×12 Combo utilises an innovative Tube Logic design for an authentic sound that can be sculpted just the way you like it. With five different amp characters and two variants for each of them, the Katana MKII boasts a whole lot of versatility that makes it thrilling to use, no matter the genre.
From crisp, natural cleans to crunchy, fiery metal, there's something for everyone, and thanks to four integrated memory slots, you'll be able to save your perfectly shaped tones.
Fully customisable effects put the potential of an entire pedalboard right inside your amp, so you'll have everything you need in one place. And it's all clearly laid out for quick, effortless, stress-free use.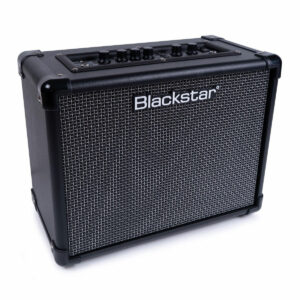 More versatile, reliable amplification comes in the form of the Blackstar ID:Core 20 V3 Stereo Digital Combo. Six built-in voices, gain and EQ dials, and a whole host of effects allow you to go from glistening, clean sounds to gritty distortion in completely seamless style.
But its forward-thinking design is really showcased in its full USB connectivity and PB1 power bank compatibility. Perfect for live streaming, playing along to your favourite tracks, and recording – this combo amp is built with the modern musician in mind.
Shop now | Guitar Amplifiers
---
Tuners & Accessories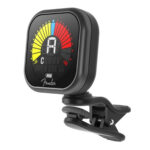 This isn't new territory for you. If you're experienced with the acoustic, then you know how to tune a guitar. But just for good measure, we've included tuners in this guide as they're essential to an immaculate performance.
A clip-on tuner, such as the BOSS TU-01 Chromatic Tuner and the Fender Flash Clip-On Rechargeable Guitar Tuner, provides a clear display that makes tuning each string an easy feat.
Shop now | Guitar Tuners
Picks, cases, and straps are also must-haves for any electric guitarist. Luckily, we've got an extensive collection of these essential accessories, promising a unique and comfortable performance every time you step on stage.
Shop now | Guitar Picks
Shop now | Bags & Cases
Shop now | Guitar Straps
---
Find out more
Of course, there are countless options to choose from for your first electric guitar. So why not check out our full range of electric guitars and accessories below?
Shop now | Electric Guitars
Shop now | Guitar Accessories