The RØDE NT1 has been much-loved by studios worldwide since the release of the 1st generation in 1991. And now with the release of the 5th generation, the NT1 is being taken to all new levels.
The NT1 5th gen maintains all the core features of the NT1 studio condenser mic, while added patented, cutting-edge features make it a cut above the rest.
You can get the NT1 5th Gen now from Gear4music in the following models:
But what are these next-gen features? And why should I care? Let's check it out!
A new generation of home recording
Like its predecessors, the NT1 5th gen provides studio-quality recording. This is ensured by the premium construction; large-diaphragm, gold-sputtered condenser capsule with a cardioid polar pattern; and an extended polar pattern.
As well as this, the NT1 5th gen brings lots more to the table. Some of its best new features are as follows:
A 32-bit float digital output that prevents peaking
Rode's new patented dual connect output, with both XLR and USB connectivity
On-board DSP for APHEX® audio processing – with a compressor, noise gate, and high-pass filter
An ultra-low-noise, high-gain Revolution Preamp™
Let's take a deep dive into some of these features.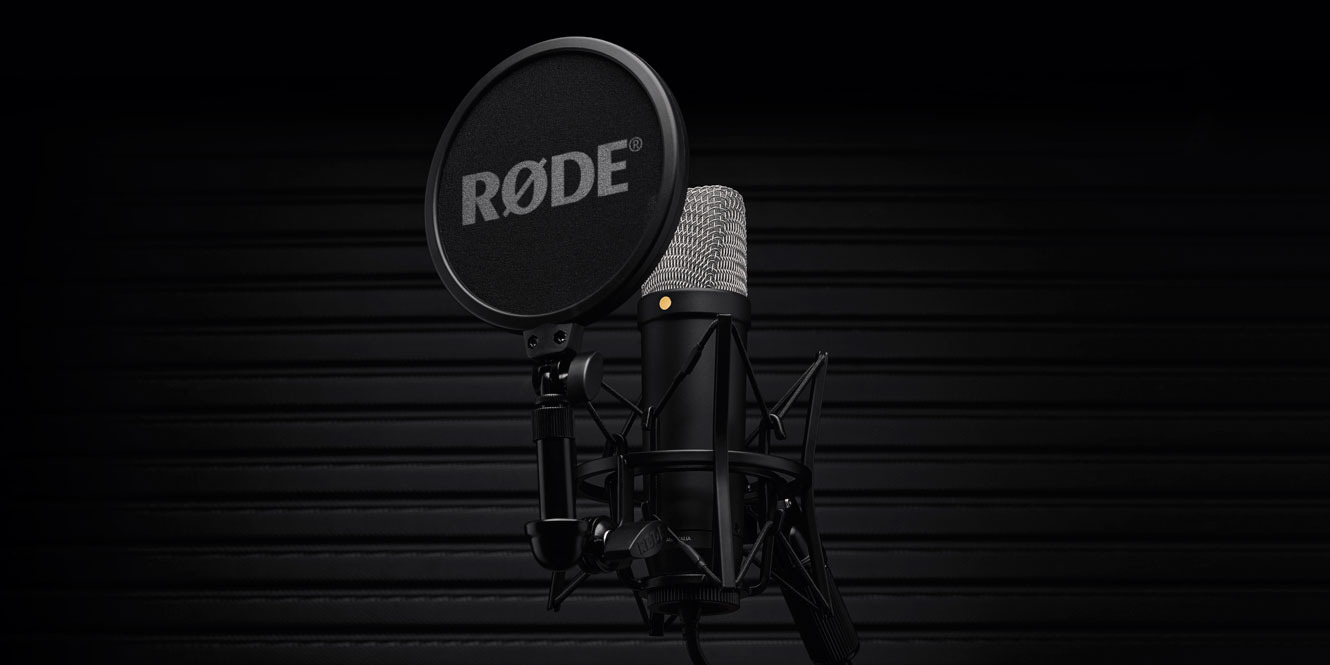 32-bit float digital output means no peaking
When you hear the words "32-bit float digital output", it might mean nothing to you. But – let me tell you – it's a real step up for home recordists everywhere.
Unlike 16-bit recording, 32-bit float digital is able to preserve the original recording you make in all its glory.
Often, you might not set the gain correctly on your microphone. You'll then record an amazing take, but find that it has lots of clipping when you listen back.
This feature makes that worry a thing of the past. If you find your recording was peaking when you listen back in your DAW, all you need to do is turn the track gain down, and the original recording integrity will be maintained.
This is possible because of the higher resolution. It's a game-changer for always capturing everything – even the takes that are set up incorrectly.
Dual connect output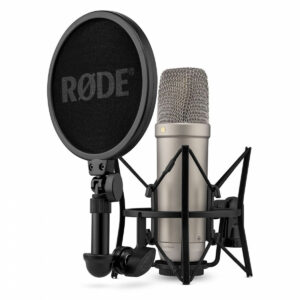 Often with home-recording microphones, you have to choose between a USB model for convenience or an XLR model for quality.
But why not have both? And what if the USB output was super high quality too?
The Rode patented dual-connect output packs an XLR output and a USB output into a single connection point on the bottom of the microphone.
So, you can connect via analogue XLR if you have recording interfaces already. Or – if you want to go straight to the computer – you can plug it in via USB.
The great thing about this is the NT1 Gen 5 is extremely flexible and suitable for all levels of recording.
You could pack it on its own when recording on the road.
And when you're at your home studio, you can plug it into your interface.
On-board DSP processing
Why wait until you're at your computer to process your audio? The MT1 Gen 5 has built-in DSP, allowing for next-level APHEX® audio processing.
This allows you to apply effects like compression, a noise gate, and a high-pass filter as well as Aural Exciter™ and Big Bottom™. This means you'll always have brilliant audio capture, straight from the microphone.
Why use this over any other microphone?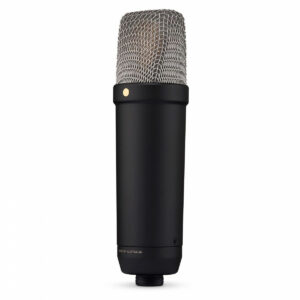 The Rode NT1 has a number of features that make it really stand out from other studio mics.
Because of the 32-bit float digital output, as mentioned, you can't peak the microphone when recording.
This is great for first-time recorders as you can worry less about setting the levels right and more about getting a great take – and with a great microphone at that!
Plus, you don't need to get an audio interface to use this microphone.
USB connectivity means you can plug it straight into your computer. And because of the dual connectivity, you can use it with an XLR output, too – unseen in other microphones.
So, while the price range may be higher, there is a good reason for this. It is a high-quality mic that's designed for all stages of your recording career.
More and more great features
As well as the new features, the NT1 Gen 5 has a whole range of classic features which will make your audio recordings all the better.
It has an extended frequency response with a gold-sputtered condenser capsule for capturing every last detail of whatever you're recording. And the cardioid polar pattern ensures a focused pickup.
You also get incredibly low self-noise, high sensitivity, an ultra-low noise and high-gain Revolution Preamp™, and super high 192kHz A/D conversion.
The Rode NT1 5th Gen has everything you need to make professional audio recordings at home or in the studio, so it's worth checking out!