Cordoba are renowned for their exceptionally fashioned, dreamy-to-play nylon string guitars. In fact, they're usually the first port of call for guitarists craving that sublime classical sound. So, it comes as no surprise that a new limited-edition gem has made its dazzling mark in their collection.
The Cordoba Mini KOA Limited Edition Acoustic takes exotic craftsmanship and crystal-clear tones to new heights, giving you a rare, natural beauty.
It showcases a compact travel shape that is perfect for taking on the road, an articulate, beautifully balanced koa build, and a comfortable, thin "U" neck shape. Each of these features demonstrates Cordoba's precise attention to detail, mixing traditional manufacturing techniques with modern innovation. But what makes this specific acoustic so special is its hybrid heritage, granting you an instrument of Spanish descent, crafted from a tonewood with Hawaiian roots.
---
Cordoba's background
Founded by Tim Miklaucic in 1997, Cordoba Guitars have always kept their most important value close to heart: to make affordable, excellent quality nylon string guitars accessible to everyone, beginners and professionals alike.
Their handmade instruments have gained a well-established reputation for being of premium nature in both looks and tone, and yet their affordability makes them a go-to for any nylon string enthusiast. With Cordoba guitars, you can expect immaculate attention to detail, from solid tops to carefully assembled layered constructions, from mother of pearl fretboard inlays to elegantly inlaid soundhole rosettes.
The experts at Cordoba don't limit themselves to purely traditional classical styles either. They offer a range of flamenco style guitars such as the Iberia F7, as well as thin body models like the Iberia C5-CET. This keeps in line with their mission of bringing the magic of nylon strings to a wide audience.
The Mini KOA Limited Edition Acoustic propels their pursuit further, allowing you to experience the beauty of classical guitar without being limited. You'll have the versatility of koa in your hands, lending itself to numerous styles and techniques.
---
Speaking of koa…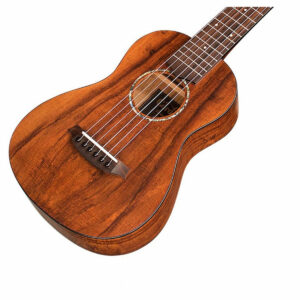 The beauty of this tonewood lies in its exotic sonic capabilities. Unlike Cordoba's other guitars, which usually showcase mahogany, spruce, or cedar constructions, the Mini KOA embraces the qualities we are likely to find in ukuleles and takes them to a whole new level.
Gigging musicians will relish its smooth, crystal-clear articulation that covers the whole frequency range, whilst fingerstyle players are sure to appreciate its sonic brightness and glassy, defined voice.
Plus, koa's tone promises ever-growing potential, meaning the more you play, the more your sound will open up. This is a highly desired ability that differs to many other tonewoods, and it means that you won't be limited to purely classical playing.
Adaptability is part of koa's nature – you'll have ample opportunity to explore new ways of playing, making the Mini KOA an ideal instrument for beginners and ambitious guitarists alike.
---
Lightweight and portable
If you're a gigging musician, you'll need no introduction to the convenience of a travel instrument. But for those of you that are in unfamiliar territory, the answer is simple: a good, portable guitar should be comfortable and compact and yet still produce a powerful sound that belies its size.
The Cordoba Mini KOA does this. Its small build makes it easy to take on the road and lets you wave goodbye to the days of lugging heavy instruments around. And like all of Cordoba's models, it's exceptionally lightweight, granting you even easier transportation and the feather-like feel of a nylon string guitar.
---
The playability of a full-sized guitar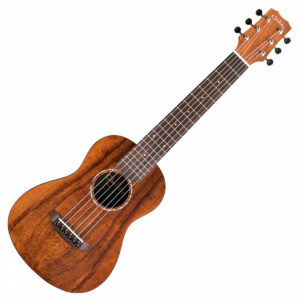 Cordoba really have pushed the boat out with this gem of an instrument. It might be small, but it holds a wealth of qualities that make for an exquisite playing experience.
From the thin "U" shaped neck to the nut width (48mm) and string spacing of a full-scale instrument, every aspect has been carefully designed to give you the space you need to fret freely on the rosewood fingerboard. Team this with the comfort and manoeuvrability of a travel-size body, and you have a wondrous hybrid.
Cordoba enthusiasts know and love the Iberia range and the vibrant Protégé series – they're both Cordoba's staples. But the Mini KOA Limited Edition Acoustic is in a realm of its own, presenting qualities that can be found in Cordoba's full-scale instruments and the uniqueness that comes with a tropical build.
---
Quality at an affordable price
Something that makes Cordoba so popular is their eye for detailed quality. Afterall, they are leaders in the nylon string world. Whatever your budget, you can be sure to find a sublime acoustic that combines the traditional craftsmanship of early luthiers with modern innovation. It's the perfect concoction of authenticity and contemporary design.
With the Mini KOA Limited Edition, you'll have all these premium features that have made Cordoba renowned since 1997 at an affordable price of £279. What's more, included in the price is a gig bag to ensure the guitar stays in perfect condition, especially as it's designed to be taken on the road. It's a heavenly arrival to Cordoba's classical guitars.
---
Find out more
Cordoba have something for every avid acoustic player, from ukuleles to flamenco style classical guitars. You'll be sure to find an instrument that suits you.
Shop now | Cordoba Mini KOA Limited Edition Acoustic
Shop now | Cordoba Guitars
Shop now | Cordoba Ukuleles