The new year has arrived, and, if you're on this page, you probably want to take your new year's resolution to the next level.
Getting to grips with a new instrument or music production can be a long and arduous task, so don't be disheartened if it doesn't click right away. The secret to inspiration is to keep at it, experiment, and find new ways of enjoying the music you make.
Along this journey, you'll want to capture your proudest achievements.
So here's a list of products that might help you do that.
SubZero VX01 Vocal Microphone with Accessory Pack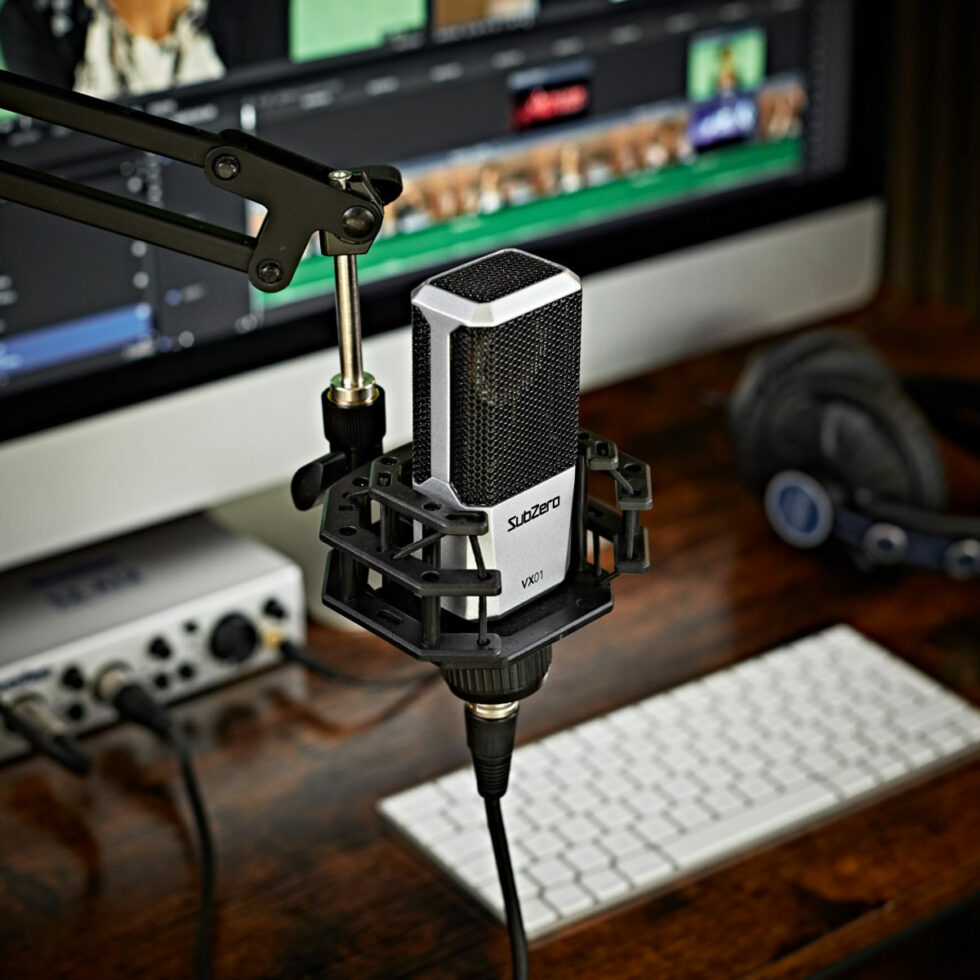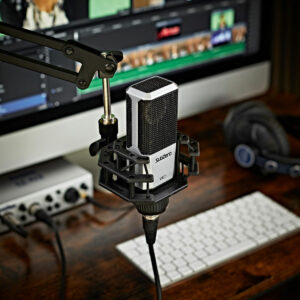 Take your new year's resolution to the next level with the SubZero VX01.
The perfect blend of style and sound, a 34mm large diaphragm excels on virtually any singer or instrument, whilst the SubZero FET condenser offers a focused midrange response with gentle highs and a warm, articulate bass response.
What's more, the comprehensive nature of the included accessory pack makes this microphone an extremely attractive option if you want the convenience of a complete bundle.
The pop shield minimises the risk of plosives compromising the quality of your recording, and the wind sock makes recording on location effortless.
Plus, the handy shock mount eliminates any vibrations picked up through a stand.
Finally, the VX01 comes with an XLR cable so you can plug straight into any interface or mixer with phantom power.
Shop now | SubZero VX01 Vocal Microphone with Accessory Pack
SubZero P10 Pro Condenser Microphone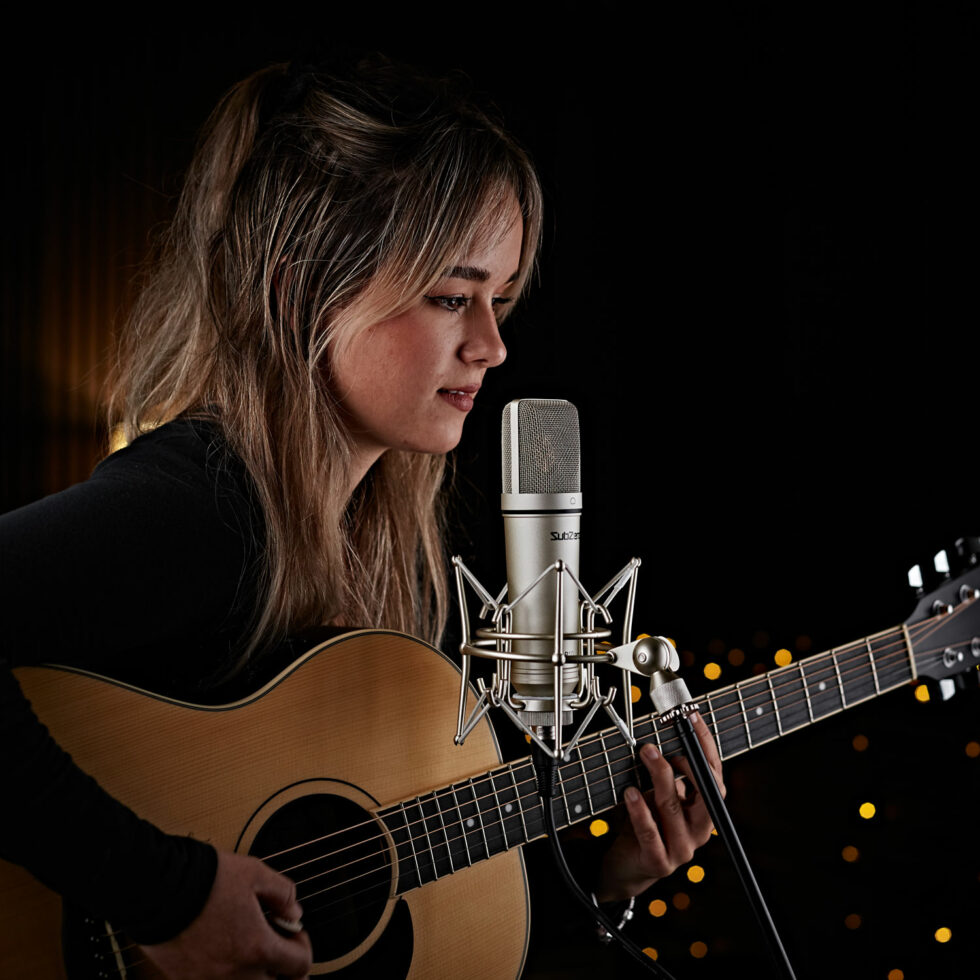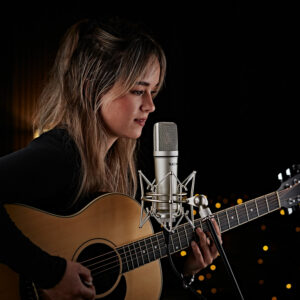 Looking for something that's a bit more 'vintage'?
The Subzero P10 Pro Condenser Microphone exudes both vintage style and tone.
It's loaded with classic circuitry that is highly capable of creating excellent recordings.
Featuring a field effect transistor and transformer-balanced design, this microphone excels on any voice or instrument with a low noise floor.
Thanks to a detailed 20hz – 20khz frequency response and exceptional transient reproduction, you can preserve every last nuance in your recording.
Again, the P10 comes with an extensive accessory pack consisting of a robust travel case, shock mount, XLR cable, and pop shield.
Get all the tools necessary to achieve professional-sounding results without having to compromise!
Shop now | SubZero P10 Pro Condenser Microphone
SubZero HFH100 High-Fidelity Headphones With Detachable Cable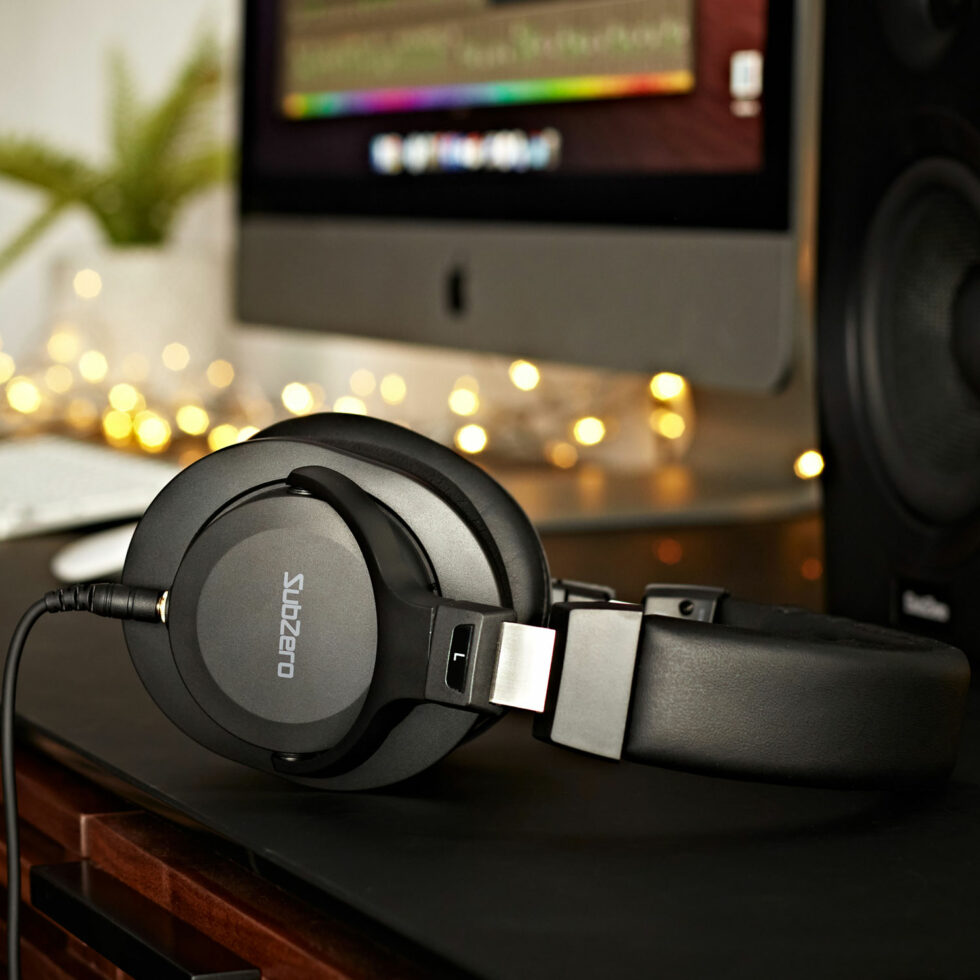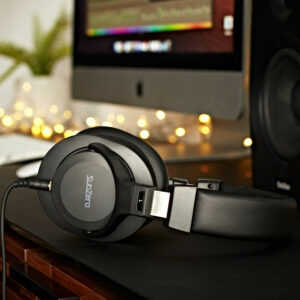 Inspiration is best found in the music you love.
Get the clearest audio to find what makes the tracks you love sparkle and bounce.
Then utilise that clarity to find those same qualities in your mix.
With a 10hz – 24khz frequency range, the SubZero HFH100s are perfect for casual and critical listening applications.
These headphones are built to last, with a durable plastic headband that can withstand consistent use.
On top of this, the soft padding on the headband and earbuds ensures maximum comfort for extended listening sessions.
Included with the headphones is a removable 3.5mm jack cable that gives you the flexibility to keep using your headphones with a readily available replacement cable.
Shop now | SubZero HFH100 Hi-Di Headphones with Detachable Cable
SubZero BASE-2 Vocalist Home Recording Bundle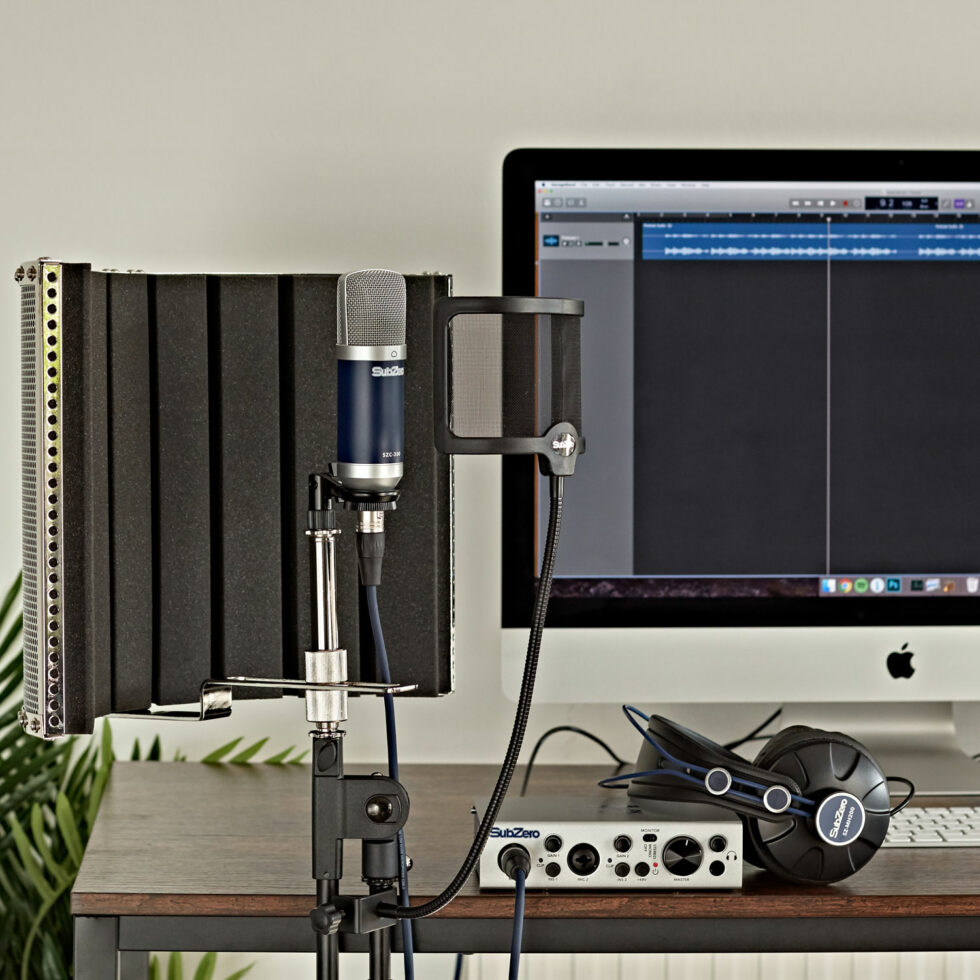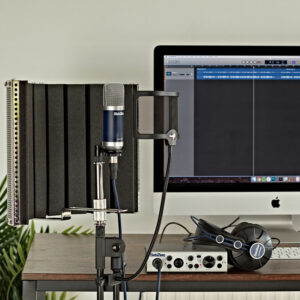 If you've been keeping your vocal cords warm since the new year, maybe it's time to get recording.
The SubZero Base-2 vocalist home recording bundle includes everything you need to take outstanding vocal recordings with crystal clear audio.
Specifically, the bundle includes an audio interface, headphones, a mic, a pop shield, a stand, cables, and an 8-track DAW.
Record high-resolution professional-grade audio with the bonus of zero-latency monitoring and high-quality preamps with 48v phantom power.
This home recording bundle is suitable for all kinds of recording projects, such as podcasts, singing, and even acoustic instruments.
So get your voice out there with the SubZero Base-2 bundle!
SubZero MINI Series 3 Piece MIDI Controller Set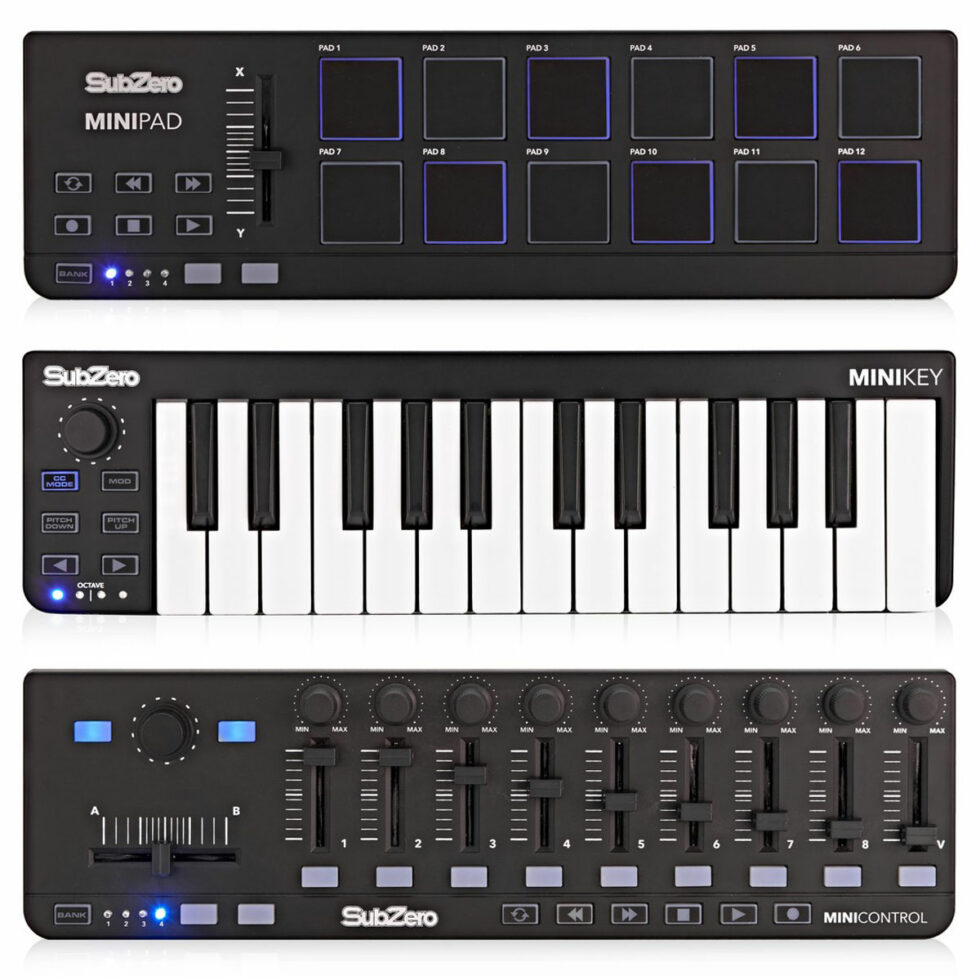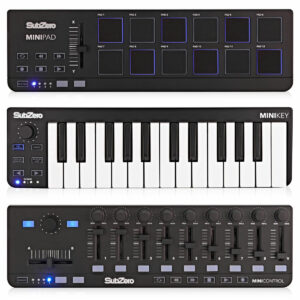 Are you feeling out of depth with your new DAW and desire a more hands-on approach when working in the box?
The SubZero MINI Series 3-Piece MIDI Controller Set gives you total control over your DAW of choice.
The package includes the SubZero MiniPad, MiniKey, and MINIControl – three compact and versatile controllers which offer plenty of customisation options.
Offering ultimate versatility, the keys, pads, knobs, buttons, and faders featured in this set are fully assignable, ensuring you can optimise your setup for any project.
With USB connectivity and compatibility with PC and Mac operating systems, this set of controllers is just the thing to stimulate your production.
Aston Element Microphone Bundle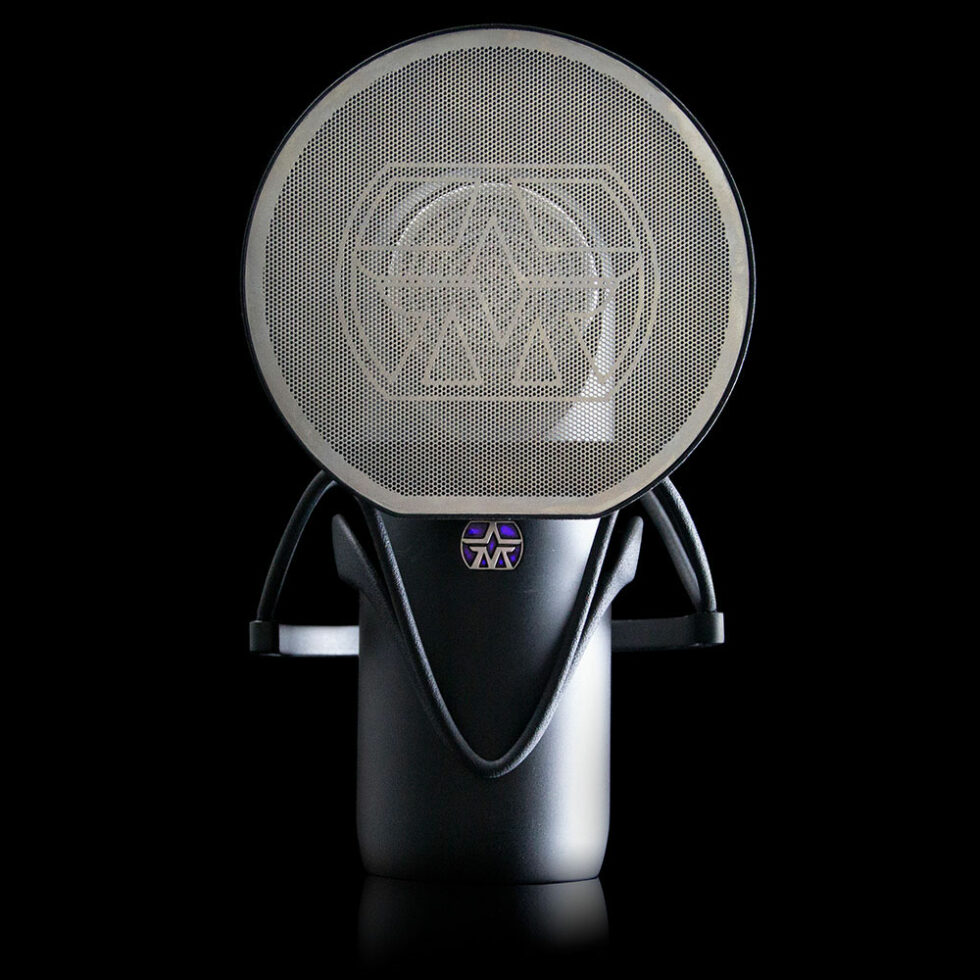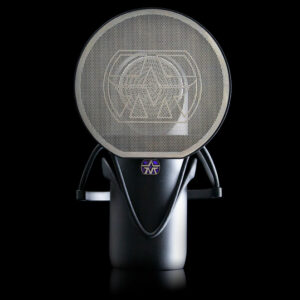 A premium-quality cardioid condenser microphone with a unique, sleek design.
The Aston Element is a hybrid microphone designed to give you the detailed capture of a condenser, the off-axis rejection of a dynamic, and excellent bass response.
Plus, it has the natural sound of a ribbon microphone.
The custom "active moving coil" technology provides an ultra-speedy transient response and an extended low-end response.
Enjoy a warm and detailed sound with immersive sound staging.
On top of this, the Element also boasts a magnetic pop shield for easy and clear vocal recordings.
Shop now | Aston Element Microphone Bundle
KRK ROKIT RP5 G4 Studio Monitors, Pair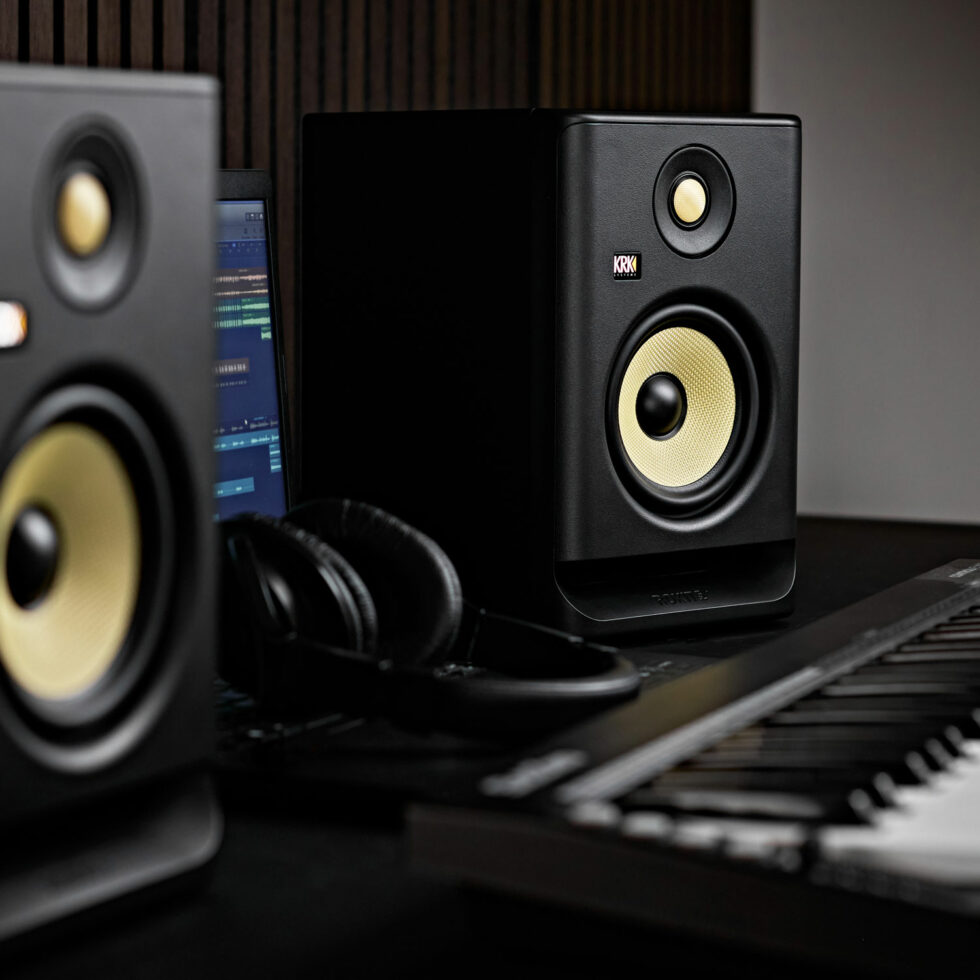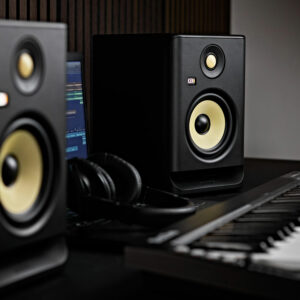 The KRK RP5 G4 Studio Monitors are engineered to deliver the best listening experience possible with a design that ensures perfectly balanced sound.
A robust speaker enclosure and front-firing port deliver an extended low-end as well as the possibility for varied room positioning.
The G4's speakers minimise vibration and improve clarity, and to maximise efficiency, they're separated from the casing surface by iso-foam pads.
A powerful D-class amplifier then drives the speakers evenly, delivering efficient performance far beyond its price.
Thanks to a custom Brickwall Limiter, you'll achieve wider dynamics that guarantee that your monitors are running to their full potential without ever overloading.
So, experience first-class imaging and a sonically rich acoustic sweet spot with the Rokit RP5 G4, and enjoy an optimal performance in all studio situations.
Shop now | KRK ROKIT RP5 G4 Studio Monitors, Pair
Focusrite Scarlett 2i2 Studio (3rd Gen)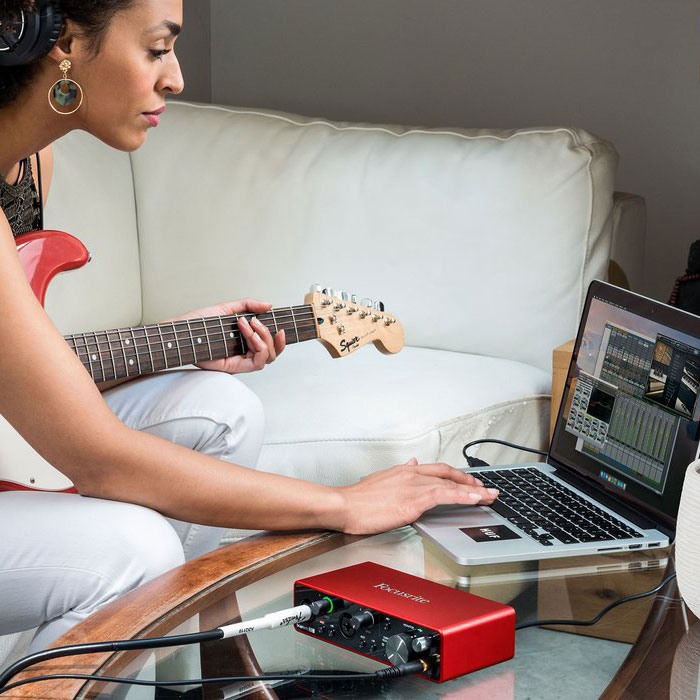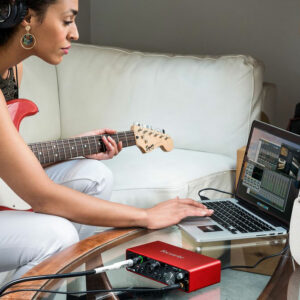 Compact, portable, studio-grade sound.
The Scarlett has long been one of the best-selling audio interfaces on the market.
In particular, the Focusrite Scarlett 2i2 (3rd Gen), a 2-in/2-out USB audio interface, features the best-sounding Scarlett preamp yet.
Perfect for singer-songwriters, the 2i2 provides you with two analogue inputs for recording microphones and instruments at the same time.
In the new and improved third-generation design, the 2i2 features revamped preamps, upgraded audio fidelity, new interactive onboarding, and a rock-solid, low-latency USB driver.
What's more, the interface comes complete with a comprehensive music software suite including Ableton Live Lite, Focusrite's Red Plug-In Suite, and three months of free access to Splice Sounds.
Shop now | Focusrite Scarlett 2i2 (3rd Gen)
M-Audio Oxygen Pro Mini MIDI Controller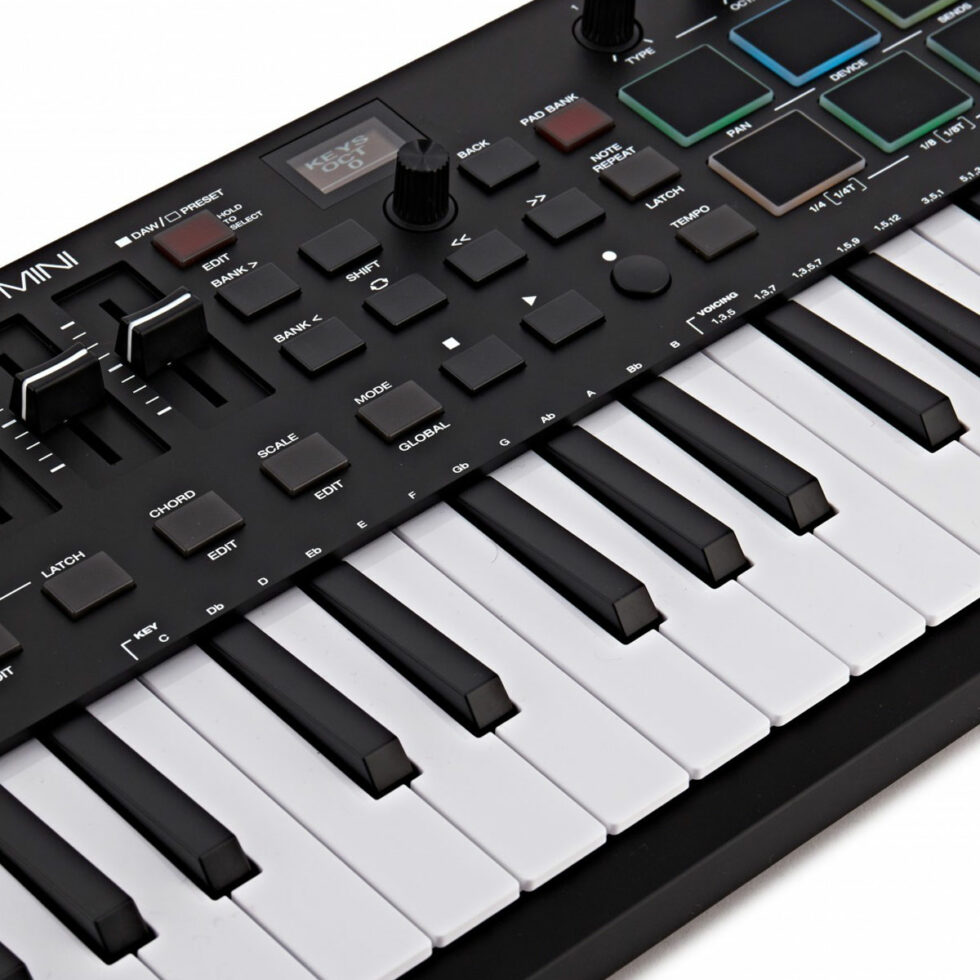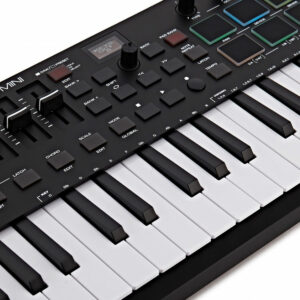 Capturing inspiration when it strikes is vital for musicians, and the Oxygen Pro gives you everything you need to achieve this.
An all-in-one MIDI controller featuring 16 RGB velocity-sensitive pads, the Oxygen Pro Mini offers a greater range of intuitive hardware control.
It also has a 32-note semi-weighted keybed and smart play technology.
Getting hands-on with a MIDI controller can make navigating and controlling your DAW more comfortable and fun. And with eight assignable controls for DAW and VST parameters, this M-Audio MIDI controller makes it easy to tweak sounds to your heart's content.
Smart Chord and Smart Scale technology offer effortless and exciting ways to discover new avenues of music creation, even for beginners!
Complete with a collection of powerful music software, from DAWs to VSTs and sample packs, the M-Audio Oxygen Pro Mini brings plenty of tools to inspire you.
Shop now | M-Audio Oxygen Pro Mini MIDI Controller
Shure MV7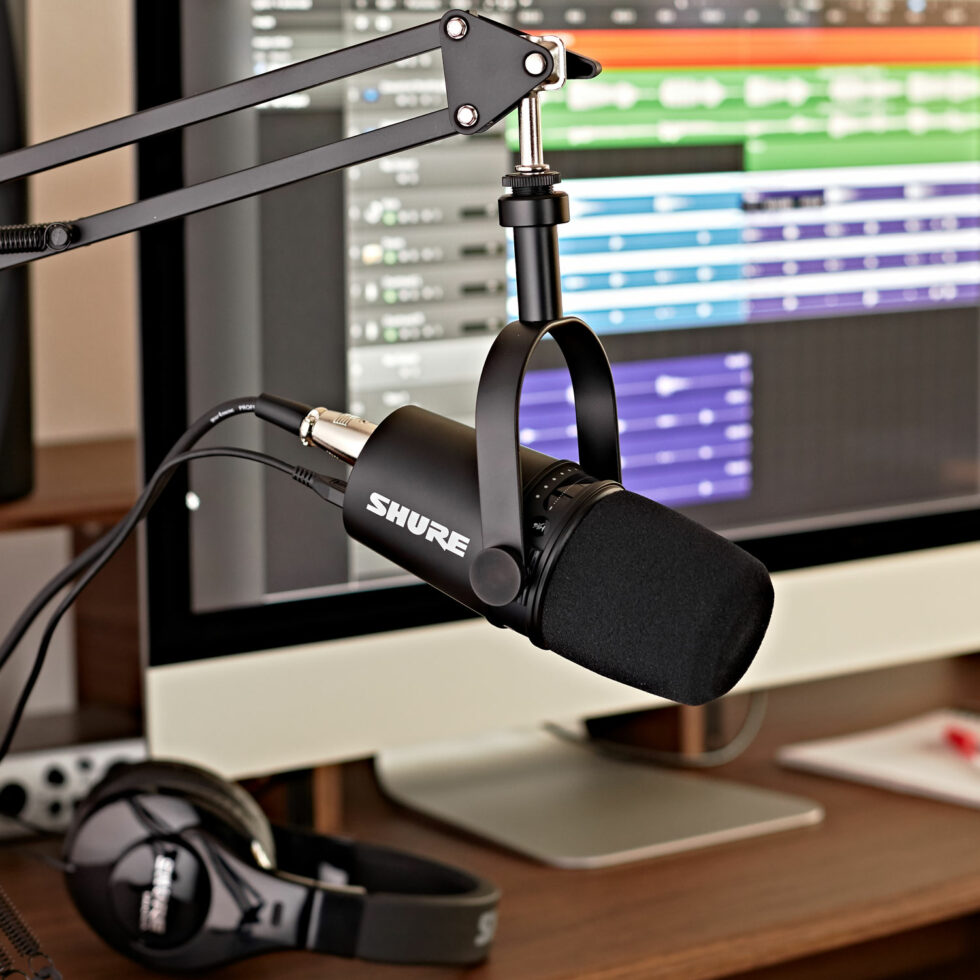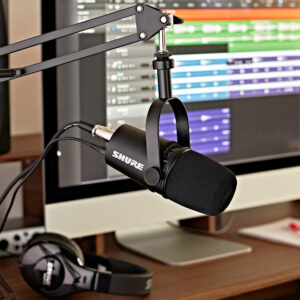 Designed to deliver perfect sound in imperfect rooms, the Shure MV7 is a studio-quality USB/XLR mic for podcasters.
Bringing big, bold, high-fidelity audio, you can quickly find that perfect sound.
Voice isolation technology brings you to the forefront, dramatically reducing background noise for the clearest audio possible.
Auto Level Mode will adjust the mic level for you in real-time.
It keeps your voice consistent, so you can focus on content, not your mic technique.
Thanks to the MV7, it's easier than ever to fast-track to finished content.
Shop now | Shure MV7 USB/XLR Podcast Microphone, Black
Shure SRH440A Professional Headphones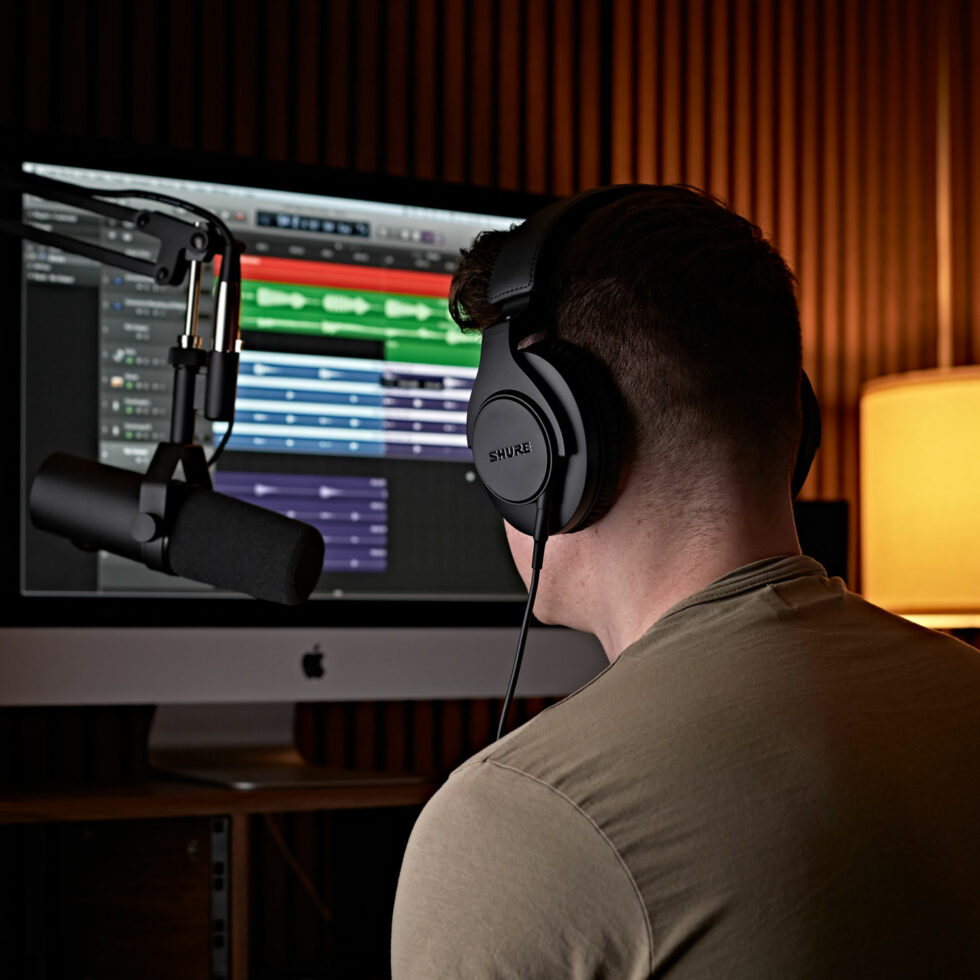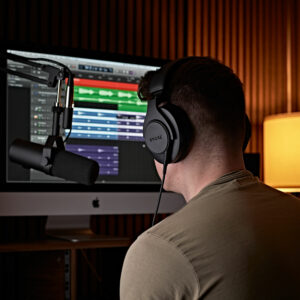 Stunning sound quality meets stylish design with the Shure SRH440A headphones.
Providing professional sound for musicians, producers, audio engineers, and casual listeners alike, the SRH440A is ideal for anyone and everyone.
Their 40mm dynamic neodymium drivers deliver a balanced frequency response for reference-grade sound quality.
Furthermore, the SRH440A's closed-back circumaural design provides the perfect balance between comfort and performance while minimising any background noise.
As a result, every detail is reproduced with maximum precision, perfect for in-depth mixing, monitoring, and mastering.
On top of all that, you can enjoy extended listening sessions without fatigue thanks to ultra-comfortable ear pads and a lightweight headband.
Shop now | Shure SRH440A Professional Headphones
Keep at it!
If you're losing your way on your new year's resolution, don't fret!
Be kind to yourself, take it easy, and find the patience to push through.
One day down the line you'll be thanking yourself for sticking with music production and experimenting with new ways of making music, and you'll be ready to step it up to the next level.
This list might inspire that next step, so when you're ready, keep these products in mind!