Nile Rodgers is nothing short of a legend of modern music. For almost fifty years, the iconic guitarist, composer, and record producer has been involved in creating some of the most iconic and instantly recognisable hits.
From his natural ability to produce beautiful, catchy hooks; jangly riffs; and, of course, his iconic "chucking" guitar style, Rodgers has had a huge influence on the landscape of modern music. From Chic's "Le Chic" to Daft Punk's "Get Lucky", Rodgers' influence traverses multiple genres and styles.
Almost guaranteeing that the music he works on becomes a hit, Rodgers boasts a formidable repertoire of artists that he has collaborated with. This includes the likes of Madonna, David Bowie, and Diana Ross.
The history of Nile Rodgers
In the early 1970s, the guitarist started as a touring musician for the Sesame Street stage show, where fate would unite him with bassist Bernard Edwards. They would go on to form the Big Apple Band and acted as backing musicians for the vocal group New York City. The success of New York City allowed them to tour extensively, and, eventually, this led Rodgers to support The Jackson 5.
Due to naming difficulties, in 1977 the Big Apple Band became known as Chic, which, of course, is a name all should recognise. Infusing jazz with funky rhythms and upbeat tones, the band started to produce their own music. They first released the song "Dance, Dance, Dance" which reached no.8 in the US charts, and a year later they rocketed to new heights with the track "Le Freak" which hit no.1.
After this, the band achieved a multitude of top 10s and were deemed an overall success. But as disco died, Chic's unique blend of music began to slow down, and Nile Rodgers had more free time to concentrate on other ventures. This allowed him to produce records in the 1980s with a multitude of gigantic musicians, enabling him to become the number one single producer by the end of 1985.
Since then, Nile Rodgers has been at the forefront of modern music, writing hit after hit, song after song; you will have heard his influence on the music you listen to.
His proficiency and success are why his signature Fender Stratocaster is called "The Hitmaker" – because Nile Rodgers has a flawless record when it comes to producing music.
An iconic guitar for a unique player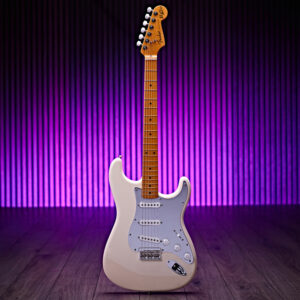 Nile Rodgers' way of performing is incredibly unique. Termed "chucking", Rodgers combines a unique blend of jazz and funk influences and teams it with a distinctive mix of string muting and palm muting, alongside a fluid and movement-based picking style.
His musical knowledge and proficiency on the instrument also extend this almost-virtuosic style to new levels.
An aficionado of the Fender Stratocaster, Rodgers originally opted for the classic model, painting it white to resemble one of his influences, Jimi Hendrix.
The Fender Stratocaster is a pivotal part of Rodgers' iconic style, as it naturally infuses every strum with a lighter and brighter twang, while still accentuating every note of his jazz-influenced extended chords. You won't hear any clearer 13th and 9th chords. The voicing of each strum is also hugely important to his disco style.
Appearing on a multitude of iconic tracks and albums, you're guaranteed to have heard the iconic chime of this guitar at some point in your life.
With a guitar so recognisable, it was no surprise that Fender constructed a similar model to give you this brilliant sound. Utilising a 1959 one-piece maple neck on a slimline alder body, the guitar has all the foundations for a unique tone.
Fender's expert engineering is demonstrated with a set of Nile Rodgers Hitmaker single-coil Strat pickups, all of which are voiced to replicate the sound of the original guitar. This allows every chord to chime with clarity, perfect for recreating that iconic tone and bringing it straight to your setup.
The stunning white finish remains, but unlike the original model, it isn't a relic finish, as, of course, the guitar hasn't gone through the stresses of life on the road yet. A unique chrome-plated pickguard then gives you the standout finishing touch that reflects light, like you're the star of the show.
Shop now | Fender Nile Rodgers Hitmaker Stratocaster, Olympic White
Well, what legendary tracks has Nile Rodgers produced? Let's have a look, shall we?
"Le Freak" by Chic (1978)
A song that defined a whole genre, there's nowhere better to start. "Le Freak" embodies everything that disco stood for, with funky basslines courtesy of Bernard Edwards, the upbeat and rhythmic guitar licks of Rodgers himself, and a catchy vocal hook which gets stuck in your head and you just can't shake.
The vocal hook was written as a comment on the long lines outside Studio 54, but due to some expletives in the original lyrics, it was altered to "freak out! Le freak, c'est chic" to ensure that the song could get radio play. Heading straight to no. 1 on the Billboard Hot 100, it quickly became one of the most played songs from this era of music.
Forever popular, "Le Freak" was the first track to reach the top of the Hot 100 on three separate occasions, selling a total of seven million copies, it's Atlantic Records' highest-selling song today. The first major success for Chic, this song marked the arrival of a new titan in the music scene.
"Good Times" by Chic (1979)
Another one of Chic's genre-defining tracks, "Good Times" was released almost one year after "Le Freak" and it, too, was a titan of disco.
It secured the second US Billboard Hot 100 no. 1 for the band.
Still featuring the classic "chucking" from Rodgers' Hitmaker, it marked another successful composition between Rodgers and Bernard Edwards, with the latter producing an iconic bassline which, even to this day, is sampled in a multitude of tracks.
The unforeseen thing about this track was that it wasn't just important to the genre of disco. In fact, it played a pivotal role in the popularisation of hip-hop. While in the heart of New York City, Rodgers went with Debbie Harry of Blondie to a "Hip-Hop". Rodgers heard the iconic bassline coming over the speakers and for four hours all the DJs there rapped over the breakdown of "Good Times".
This recognition in the clubs of New York led to the release of The Sugarhill Gang's "Rapper's Delight", a track that was pivotal in the popularisation of rap. Rodgers heard the track about four weeks after his trip with Debbie Harry. He immediately asked the DJ who was playing on the record as it drew heavily from "Good Times", taking the bassline and string parts, but it didn't credit either Rodgers or Edwards. After a settlement both were given credit, and, since then, the track has become one of his favourite records.
"Rapper's Delight" was one of the first recorded rap songs, and it was the first rap track to enter the Billboard Hot 100, making Rodgers' influence prevalent through two different styles and genres in a matter of months, a feat which is incredibly impressive. Without even intending to, "Good Times" played a part in birthing one of modern music's most popular genres.
"I'm Coming Out" by Diana Ross (1980)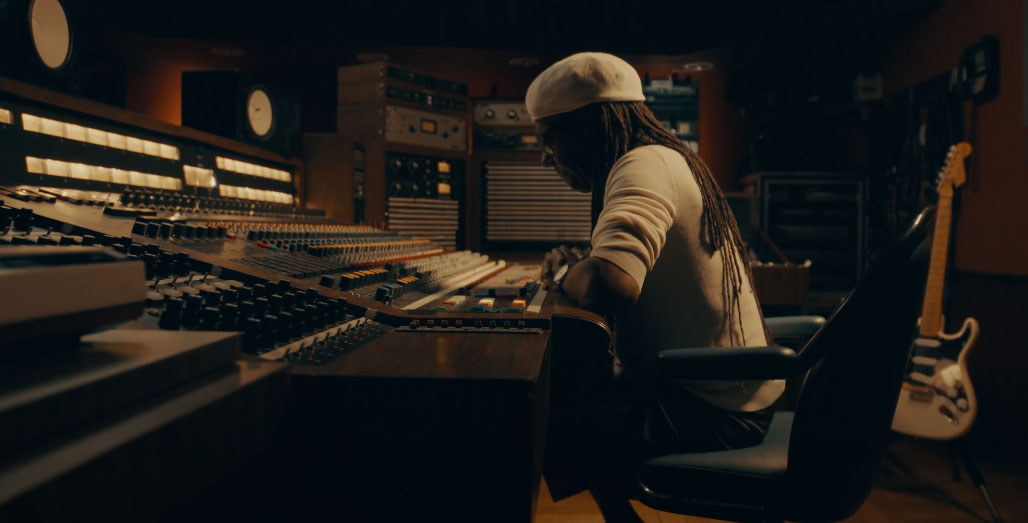 Diana Ross wanted her self-titled 1980 album to mark a new era within her career, and to do this she asked both Nile Rodgers and Bernard Edwards to produce the album. The difference here was that Rodgers had only worked with artists who were on the brink of success, and had never written a record for a superstar like Diana Ross.
This different challenge led Rodgers to do some research before embarking on the album, ensuring that it perfectly captured the essence of Ross' character and appealed to her audience.
When doing this research, Rodgers attended a club, The Gilded Grape, where he, by chance, noticed people dressed in the style of Diana Ross. With this, Rodgers understood that if they wrote a song which could proudly represent the LGBTQ+ community, it could be a monumental success for the singer-songwriter while giving others a voice.
Rodgers called Bernard, who was at home with his family, and told him his idea and insisted he wrote it down. This is where he came up with the title of the track, "I'm Coming Out". The very next day Rodgers and Bernard went to the studio and came up with the guitar track, vocal pattern, and bassline to the iconic anthem.
The track marked success for Rodgers as a producer, with it reaching no. 5 on the Hot 100 and no. 13 on the UK singles chart. Ross' self-titled album was also a massive success, with Rodgers and Edwards writing every song, all featuring those iconic "chucking" tones throughout, giving the album an anthem-like sound. To this day, the album remains Diana Ross' highest-selling album.
"Let's Dance" by David Bowie (1983)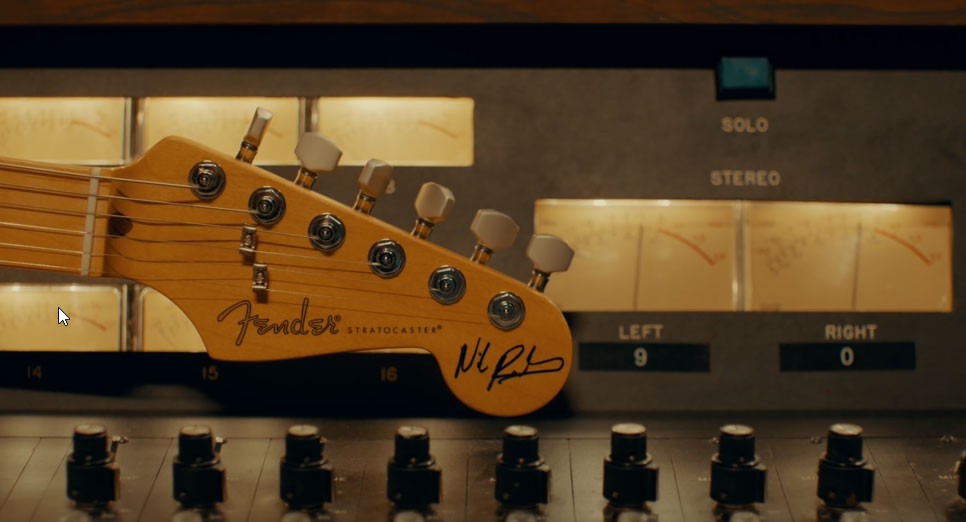 For David Bowie's fifteenth studio album, he wanted a fresh start with a brand-new producer, and he decided it would be Nile Rodgers, who was incredibly honoured to be given the opportunity.
Bowie had this approach for all musicians on the album, replacing each one with new musicians to prevent himself from predicting their movements. He wanted the unexpected results of others' music.
The song was first conceived when Bowie entered the room playing a two-chord pattern, which Rodgers described as a "dark sounding folk song". Rodgers asked if he could rearrange the music and see if he could revitalise the two chords, moving them into a brighter and lighter sounding key. Knowing that Bowie was a fan of jazz music, he altered the chord into a minor 13.
These two alterations, mixed with Rodgers' instinctive chucking style resulted in a pattern that was unique and intriguing. The crazy thing is, due to the way the famous Hitmaker was routed in the various delays, the difference in delay times essentially recreated Rodgers' strumming patterns without him having to actually play them. Instead, an upstroke chord passing through the sequence of delays did the trick.
It took Bowie a while to fit the lyrics he had created to the new rhythms that were present in the song, but once he had, both Rodgers and Bowie knew they were onto a hit track. This was pivotal as Bowie wanted to write an album of hits.
Of course, with the two legends' experience, the track was a worldwide success, reaching no. 1 in both the UK and US single charts and in most European countries. This was down to its easily accessible and multi-national approach to funk and dance music.
"Get Lucky" by Daft Punk (2013)
Now for a track that a younger audience will remember. Daft Punk's "Get Lucky" featured both Rodgers and Pharrell Williams as collaborators. Daft Punk were heavily inspired by Chic, with them quietly dedicating the 2001 album Discovery to Bernard Edwards. Of course, they were massively inspired by Rodgers too, hence why they asked him to collaborate on the single.
When Rodgers first heard the track, it was just at its foundations, barebone with nothing fleshing it out. He instinctively began to "chuck" over the beat, and this resulted in the inception of the main hook. Mimicking the guitar line, the lead vocals sing "I'm up all night to get lucky" alongside the guitar riff, matching it tonally and rhythmically, with the descending three-quaver rhythm falling from C# to A.
It's the simplistic pattern within Nile Rodgers' playing which is truly captivating. He embeds these straight-to-the-point riffs into complicated and rhythmically interesting chord patterns, adding another level of intrigue to these motifs. His intricate playing blissfully elevates this.
"Get Lucky" was a huge success, reaching no. 1 in a multitude of different countries, including Daft Punk's home country, France, and the UK. And while it didn't reach no. 1 in the US, it was the duo's only top 40 charting single, peaking at no. 2 on the Billboard Hot 100. Of course, for Rodgers, this wasn't the case as he had already achieved a no. 1 with Chic.
Continuously influential
Since his rise to success, it's clear to see that Nile Rodgers' influence stretches across multiple genres and an impressive number of decades. Producing music with artists such as the Picasso of rock, David Bowie, and superstars in the form of Diana Ross, he has a repertoire that is truly unrivalled.
Plus, his music has played a pivotal role in the inception of rap, helping launch it into mainstream music.
With fifty years of music under his belt, what is the legend up to these days?
Well, he is still touring, making music, and producing tracks. He is about to embark on a tour of the United Kingdom, so there's a chance you may already be off to see him! This level of longevity within music is something that one can only dream of, and it's a reality for very few.
There's only one word to describe Nile Rodgers' career: legendary.