A Northern god of indie rock, and a man that has covered tough topics through his music – we all know the legend that is Sam Fender. But how does one obtain such an iconic sound?
Delivering a blend of darker alternative rock and chiming tonal goodness, Sam Fender's sound is certainly something to be sought after. Having independently released his first single "Play God" followed by his debut album Hypersonic Missiles – he's taken the music industry by storm.
It wasn't long before he was featured on BBC Music Introducing, and eventually performing across the nation. But what goes into creating such a distinctive sound?
Well, Sam is heavily influenced by both Bruce Springsteen and Jeff Buckley, which gives his music a beautifully haunting yet uplifting vibe. So, to achieve his sound, we've looked into everything you'll need to unleash your inner Sam Fender – whatever your budget.
---
Guitar
Whether it's fate or just pure coincidence – Fender Guitars seems to be Sam's choice of brand. It was just clearly meant to be. From his live shows to music videos, you'll always see a Jazzmaster in his hands.
A legendary instrument, Jazzmasters are renowned for their versatility, crisp definition, and distinctive sonic flair. The Jazzmaster also gives Sam all the brightness he desires, but with the tonal oomph and warmth he's always longed for, too.
It's multi-purpose, which is imperative for finding new sounds. From beginner to pro, we have an electric that's certain to satisfy your Sam Fender cravings…
---
Beginner
Sam Fender style and tone, without breaking the bank. So, as with any Fender instrument, the best place to start your journey is with Squier. And this Squier Affinity Jazzmaster is no exception.

It gives you all the single-coil sonic flair you need to achieve that dynamic sound, with rich lows and shimmering trebles that Sam is known for. Its versatile sound means you'll find it easy to swoop from genre to genre, making the Squier Affinity Jazzmaster perfect for playing Indie, Rock, Blues, and much more.
The Affinity Jazzmaster – it's an instrument that's perfect for achieving the basics of Sam's sound, while sporting that instantly recognisable body shape too. The spotlight is calling.
Shop now | Squier Affinity Jazzmaster
---
Intermediate
You've seen the beloved Squier – and it's a cherished instrument. But for those of you who are ready for the next step to Sam Fender greatness, we've picked out this Fender Vintera 60s Jazzmaster which is certain to tick many, if not all of your boxes.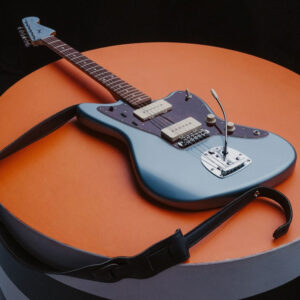 Expect sparkling vintage tone with a wealth of sonic possibilities – it simply bursts with flavour. Pair iconic design with 60s sonic goodness and your riffs are certain to be brimming with bright energy, whilst oozing a smooth tonal warmth you've always dreamt of. Rich, creamy, distinctive ; this is an instrument that can make your music really come to life.
But that's not all, the Vintera Jazzmaster also features a silky-smooth feel and playability worthy of Sam himself. Topped off with that classic Fender style we all know and love – this is the look and sound of coveted style.
Shop now | Fender Vintera 60s Jazzmaster
---
Pro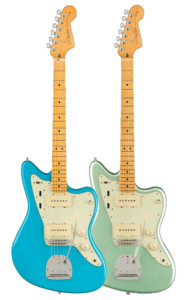 Fender by name, Fender by nature. For all you pros and players saving for the electric of your dreams, this might just be everything you've been searching for. Especially if you're a Sam Fender fan. Of course, the only choice is a Fender American Pro II Jazzmaster.
Described by the man himself as his 'sonic weapon' for song writing and the 'multi-purpose machinegun' of Fender Guitars, the Jazzmaster can certainly attack a variety of genres and really deliver.
It comes loaded with a powerful duo of V-MOD II single-coil pickups for that vintage Fender feel. So you can expect a tone of bright, distinctive character with definition like no other. You best prepare your ears, as these pickups have a huge impact on your sound. And they're perfect for achieving that indie-rock, sonic goodness Sam is known for.
If that's not enough to tantalise your tonal tastebuds, the American Pro Jazzmaster gives you a plethora of musical opportunity with its vast variety of controls. Thus, making it easy to create your own alternative sound while delivering an iconic blend of delayed, distorted, chiming sonic beauty that Sam is known for.
Shop now | Fender American Pro II Jazzmaster
---
Amplifier
It isn't just the beauty of a Jazzmaster that makes Sam's sound come alive. That unmistakable chime and distorted, more alternative sound – it comes oozing out of a Fender Amplifier. Staying true to the brand he loves; Sam of course chose Fender amplifiers, too.
---
Beginner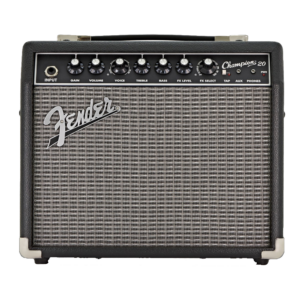 Perfect for players on more of a budget, the Fender Champion 20 Combo is an exceptional-quality amplifier. It offers enough power, versatility, and control to thrive in any genre. And it shines with trademark (Sam) Fender character, perfect for achieving the basics of Sam's sound.
It's easy to decorate your guitar's voice to your personal taste, and explore delicious delay, reverb, and much more. This way, you can harness some of Sam's most used effects without needing an expansive, complicated pedalboard!
This is an amp designed to get your creative juices flowing, and one that's perfect for laying down the foundation of Sam Fender's distinctive sound.
Shop now | Fender Champion 20 Combo
---
Intermediate
The next level. Of course, it had to be Fender. Top-notch tone doesn't always have to come at a pro-league price, which is why this Fender Hot Rod Deluxe 112 is a superb choice for anyone looking to spend under four figures and take the next step to tonal greatness.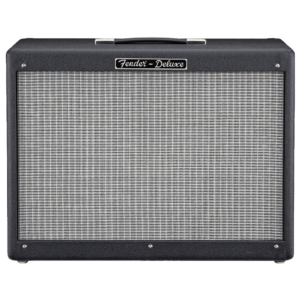 It hosts all that world renowned Fender quality you require, while offering heaps of flavour that's certain to capture the beauty of your electric's tonal nature. But that's not all, the Hot Rod Deluxe is one we'd certainly recommend for test-driving blues, rock, indie, and more – it simply screams Sam Fender style.
Sam's sound is massively inspired by artists from the 60s, 70s, 80s, and 90s – and he requires a powerful, yet versatile, amp to sculpt such a unique, charming tone. Which is where this Fender Hot Rod Deluxe steps in.
Known for producing pristine cleans to aggressive overdrive, this is one versatile amp with a snarling sonic attitude that's perfect for recreating the next level of Sam Fender sound.
Shop now | Fender Hot Rod Deluxe 112
---
Pro
Finally, this really is that sound. For a pro-ready setup like Sam's, once again, the only choice is Fender (sensing a pattern?).
He has regularly been seen using a Fender '68 Custom Deluxe Reverb, which delivers true powerhouse tone with plenty of tricks up its sleeve to offer. Of course, that's exactly what we chose for you. It's an iconic amp with an unmatched performance, and that's why it's Sam's go-to piece of equipment.
Expect a fat sound with an extraordinary bass and mid-range response; it's gorgeous. From alternative indie rock and blues, right on through to true vintage tone with that unmistakable glassy, sonic charm of days gone by. This is an amp that's perfect for recreating the tonal beauty that is Sam Fender.
And it's filled with all the tonal magic designed to make the hairs on the back of your neck stand to attention. From the feel-good vibes and goose-bump-inducing melody of ''Seventeen Going Under'' and the delicate tones of ''Spit of You'' to the tonal intensity of ''Play God'' – this Deluxe Reverb gives you every nuance of Sam's sonic personality.
Shop now | Fender '68 Custom Deluxe Reverb
---
Pedals
More tonal oomph, more control, more personality. We all love playing around with the different sounds available on the market – so does Sam. Over his career, he's used a vast variety of pedals to create his unique sonic flair, which is why we've done our research to dig out some of his favourite little tonal companions.
From reverb and chorus, to overdrive and compression pedals – the man certainly knows how to sculpt his sound. He's clearly spent a multitudinous number of hours refining what we know as the pure art that is Sam Fender. So, beginner to pro, we've got your needs covered – it's time to unleash all that pent up creativity.
---
Beginner
Superb quality, without breaking the bank. Whether you're a beginner, hobbyist, or on your way to discovering your true persona, sometimes an expensive rig just isn't always in reach. The Mooer MDD1 Reecho Digital Delay Pedal certainly offers fantastic value with plenty of Sam Fender personality. And if there's anything we know about Sam's sound, it's delay, delay, delay.
While other effects are used in his rig, a delay pedal is certainly one you want to consider adding to your pedalboard. It'll give you that dreamy, smooth tonal warmth heard throughout much of Sam's music while creating such a stunning atmosphere too.
Choose between Analog mode, a natural real echo mode, or even play around with a tape echo mode to create those sweet, spacey sounds. Housed in a compact unit with a robust attitude, this pedal is ready for a multitude of sonic scenarios.
Shop now | Mooer MDD1 Reecho Digital Delay Pedal
---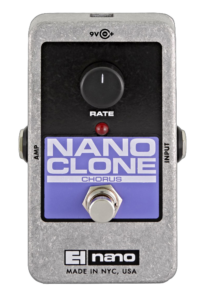 Let that sound ripple. We know Sam likes to use a variety of pedals, but a chorus pedal is simply a must-have for playing Sam Fender-style. Which is why we've chosen the Electro Harmonix Nano Clone Analog Chorus as an affordable – yet quality – option for achieving just that.
It delivers a rivetingly rich chorus that's designed to thicken your sound with shimmering sonic beauty, while analog circuitry adds even more depth and richness; it's simply gorgeous. Perfect for creating your own version of Sam's tonal magic, this an iconic effect that's been used throughout decades of music.
Shop now | Electro Harmonix Nano Clone
---
Intermediate
Yes, you've seen it before. But the Electro Harmonix Nano Clone Analog Chorus is a strong contender for achieving Sam Fender tone. It's a top-quality pedal with a design and sound to match. So, beginner or intermediate player, this Nano Clone Chorus is certain to have all your tonal needs covered at this level.
Plus, this cool pedal comes houses in a compact, high-end metal chassis, making it perfect for life on the road, while being incredibly easy to use thanks to its one-knob control layout. No intimidation, just pure sonic pleasure.
Shop now | Electro Harmonix Nano Clone
---
Make it tasty. For the next level of Sam's sound, we'd recommend a distortion effect, specifically the MXR M104 Distortion Plus.
With world renowned status among musicians and engineers within the industry, it's a perfect choice for adding some sonic oomph to your performance. Enjoy an incredibly thick, fuzzy tone with plenty of crunch, warmth, and as much sonic grit as you desire.
You've also got plenty of control over your sound, so you can really refine it to personal preference. The two-knob layout makes dialling in a range of distorted tones quick and easy, while the distortion control sets the level of gain and the intensity of clipping.
The general frequency response, and the mid hump at 1.5kHz was specifically designed so once engaged, you'll instantly rise above any mix making yourself clearly heard, even with the distortion control cranked into fuzzy heaven – elevate your playing.
Shop now | MXR M104 Distortion Plus
---
Pro
For those of you that are willing to go all out with your setup, we've selected a range of pedals to give you the closest we can offer to Sam Fender's true sound. And the Way Huge WM41 Swollen Pickle Jumbo Fuzz is the place to start.
Bringing you mouth-watering tone, there's no need to work your way around the interface trying to find that elusive sweet spot. Because every single setting on the WM41 gives you that sweet Swollen Pickle sound, and all with simplified controls that make exploration even easier.
Shop now | Way Huge WM41 Swollen Pickle Jumbo Fuzz
---
Seen using many chorus effects over his career, one in particular we've noticed Sam has taken a shining to is the Electro Harmonix Small Clone Analog Chorus. It's a must-have chorus pedal for any fan of Fender's music.
Create thick, luxurious, instantly recognisable chorus with plenty of richness and warm warbles. All this magic and rippling, doubled-up tonal goodness can even be intensified thanks to a simple depth control too.
Whatever your preference, it's easy to inject just the perfect amount of Sam Fender-like chorus with the Small Clone.
Shop now | Electro Harmonix Small Clone
---
Distinctive delay. It's heard throughout a vast amount of Sam's music. And the Boss DD-3T Digital Delay is a superb choice for recreating that magic you know and love.
Fuelled by world renowned Boss quality and an impeccable design, the DD-3T is road-ready with plenty of sonic flavour to give. It's also known for its warm, wonderfully well-rounded tone while player-friendly controls make refining your sound superbly efficient in the studio and on stage.
This is a pedal that makes finding the perfect delay sound effortless. And it's essential for any player seeking true Sam Fender sonic personality.
Shop now | Boss DD-3T Digital Delay
---
There's a lot that goes into creating Sam's sound; the man really does know how to craft a heavenly tone. So, to really round off your Sam Fender sound, the next effect you need on your pedalboard comes in the form of a Laney Black Country Customs Secret Path Enhanced Reverb.
If you're looking to create a new sense of depth and space with all that riveting reverb you could dream of, then stop right here. As the Laney Black Country Customs Secret Path gives you everything from subtle shimmer to dark ambient tonal beauty, and more.
Shop now | Laney Black Country Customs Secret Path Enhanced Reverb
---
The Full Rig
Here's our full 'pro' setup for Sam Fender's sound.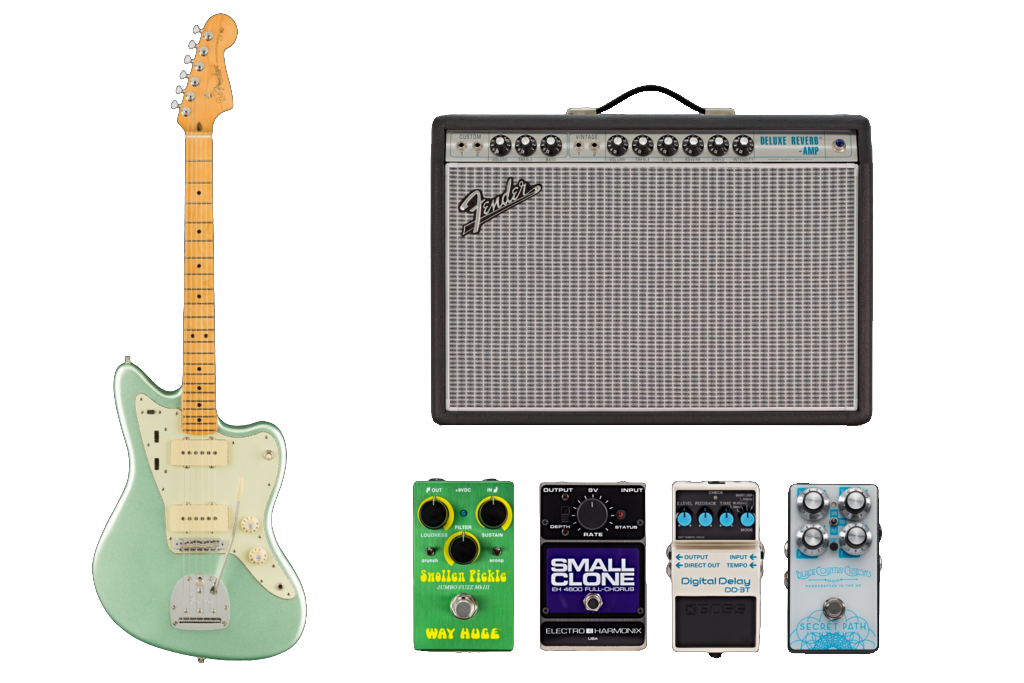 Guitar: Fender American Pro II Jazzmaster
Amp: Fender '68 Custom Deluxe Reverb
Pedals:
---
Find out more
Now you're all clued up on how to achieve Sam Fender's unique sound, why not explore our full range of guitar gear?
Shop now | Electric Guitars
Shop now | Guitar Amplifiers
Shop now | Guitar Pedals