Having just signed to Ed Sheeran's record label, Maisie Peters is rocketing into music stardom. But what's the secret behind the sound to this YouTube sensation?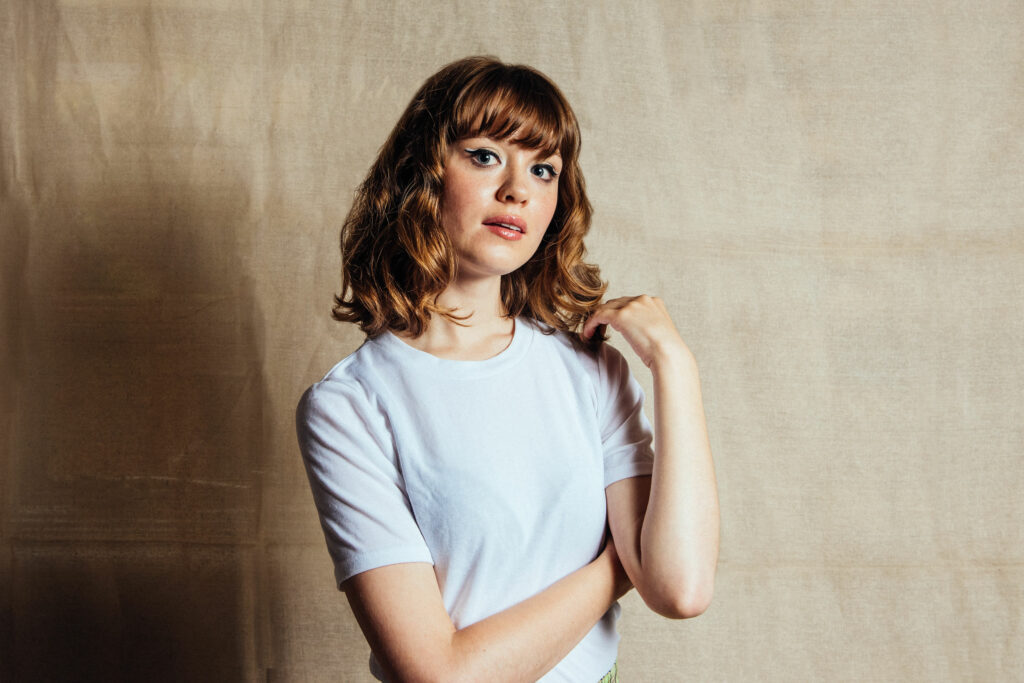 She's burst onto the music scene with raw talent and vocals ready for you to melt into. Maisie Peters is redefining female pop with stunning acoustic performances that prove, sometimes, less is more.
Endorsed by the likes of Taylor Swift and now a signed artist on Ed Sheeran's Gingerbread Records label, there's simply no stopping this 21-year-old singer-songwriter. So, we've put together a list of acoustic guitars for every budget that are perfect for replicating her catchy, yet soulful, tones.
---
Guitars
To achieve such an in-depth tone, materials and body shape are crucial when choosing the right acoustic guitar. That's why all the instruments in this list are an auditorium shape and feature a mahogany body – the same as the guitar Maisie plays.
Under £200
When it comes to creating a guitar that lasts, Hartwood knows what they're doing. Accompanying the mahogany body on this Villanelle is a solid Englemann spruce top that not only produces a rich mid-range and low-end tone, but also adds to the guitar's sustainability.
With a natural finish, walnut fretboard and black pickguard, this acoustic looks very similar to Maisie's. It's also fitted with Fishman electronics that will help you shape your tone to be as close to her style as possible.
These electronics, along with the D'Addario EXP16 strings that come equipped, mean that you can perform live or in the studio with a really great sound.
Shop now | Hartwood Villanelle Grand Auditorium
---
Under £800
This is the closest you'll get to Maisie's actual guitar without paying more than £1000. And for the price, it's quite similar. The Cort Gold-OC6 holds a lot of the same features, including scalloped X bracing, an ebony fretboard, and a dovetail neck joint. These all offer high-quality sound and construction.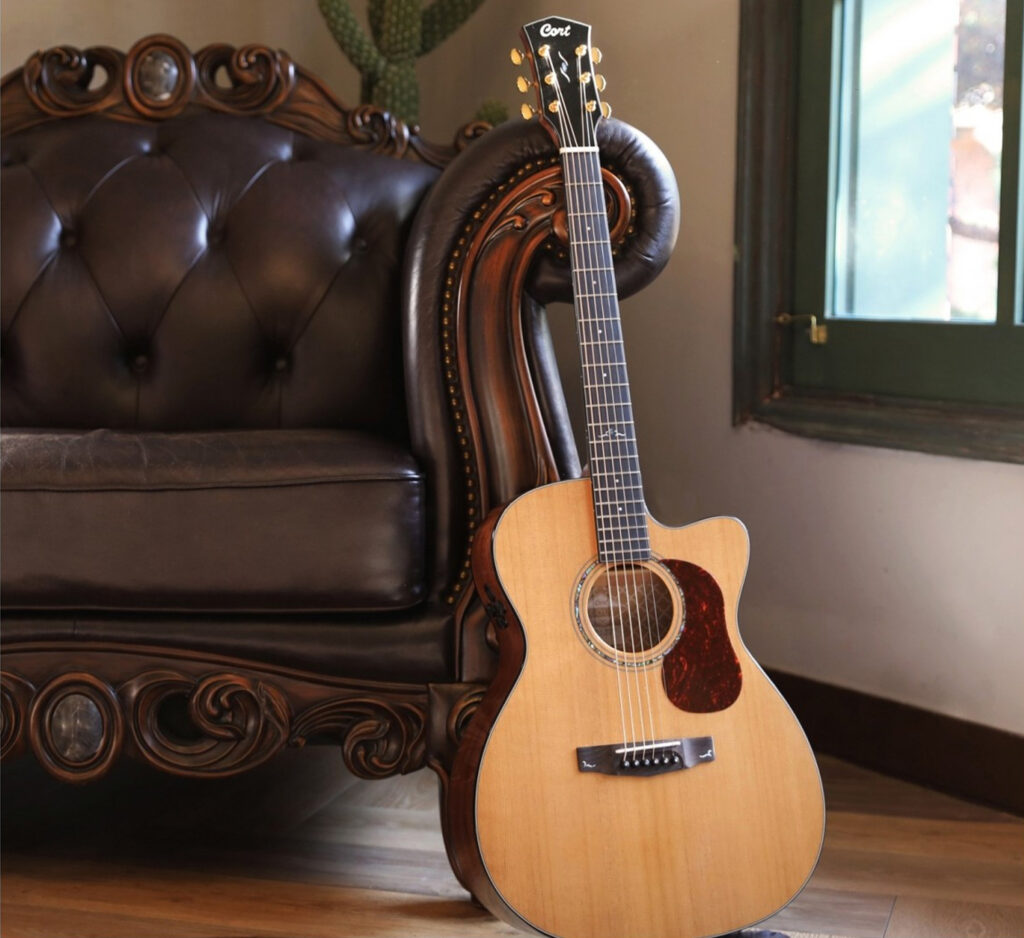 Along with these premium elements, this model also boasts the same mahogany body, Sitka spruce top and auditorium body shape previously mentioned. If you're thinking "but it looks a bit different", that's because of the cutaway.
Don't worry though – this doesn't affect the sound. It simply gives more access to the higher frets, perfect for playing catchy hooks just like Maisie. Again, you'll be able to make the most of Fishman electronics and D'Addario EXP16 strings with this guitar.
Shop now | Cort Gold-OC6 Electro Acoustic
---
Over £1000
Now for the main event. The exact model that Maisie has been seen playing in most of her acoustic performances. The Martin 000-18 is a superior acoustic guitar that aids song writing, performance, and vocals.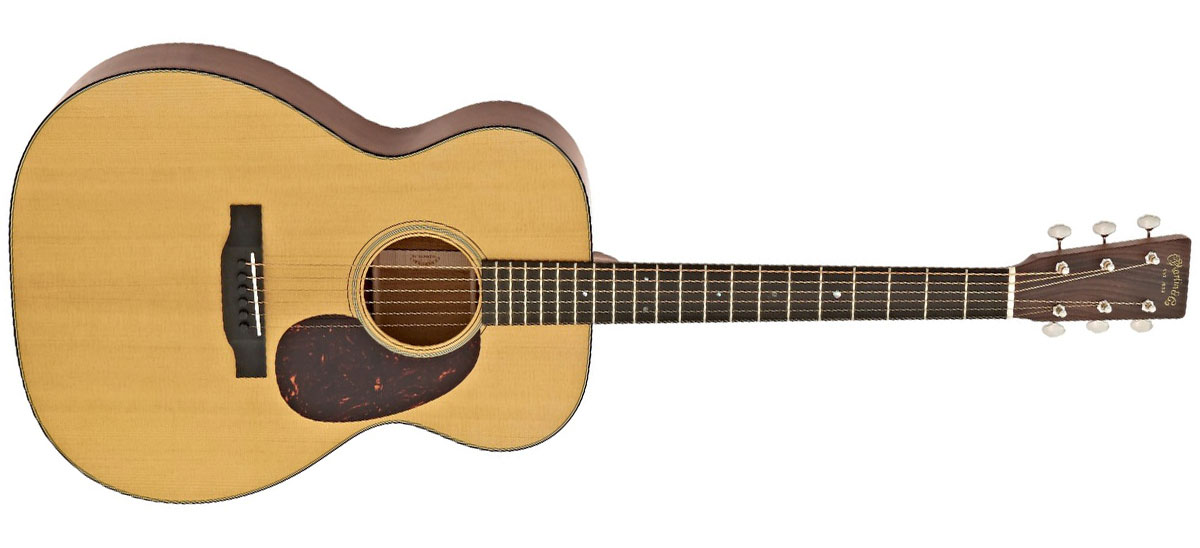 Every element of this guitar has been designed to support artists in being the best they can be. This is all too obvious with the success that Maisie has achieved. The auditorium body shape means that you can experiment with genres, so it doesn't matter if you're playing the more upbeat Birds of Prey hit 'Smile' or slowing things down with 'Funeral'.
If you're looking to invest in your music and follow in Maisie's footsteps with your career, then this guitar is a great choice that will last a lifetime.
Shop now | Martin 000-18
---
Accessories
So, you've chosen your guitar, what's next? If you're really going for the full Maisie Peters style, then you'll need some accessories to go with your new acoustic.
Strap
The first thing to think about is a strap. Maisie tends to inject some colour into her aesthetic with her straps, often choosing bright blue with a detailed pattern like this Ortega one. However, if blue isn't your colour, it also comes in yellow and white.

Shop now | Ortega OCS-550 Creative Series, Classic Blue
Shop now | Ortega OCS-550 Creative Series, Classic Yellow 
Shop now | Ortega OCS-550 Creative Series, Classic White
---
Capo
You should also consider buying a capo. This device changes the key of your guitar and will make it infinitely easier to play songs with more difficult chords. We're talking the likes of 'Favourite Ex' and 'Worst Of You'. Check out our full collection to find one that suits you.
Show now | Acoustic Guitar Capos
---
Picks
Finally, you might find that you need some picks. Maisie tends to mix it up between playing with and without a pick, depending on the song and performance setting. Either way, you'll be better off with thin, softer picks to achieve the character of her sound. Something like a pack of 0.50mm Dunlop picks or, if you'd rather experiment with a few, then an assorted pack.
Shop now | Dunlop 0.50mm Tortex Standard Pick, Pack of 12
Shop now | Guitar Picks, Gear4music, Pack of 24 Assorted
---
Find out more
Now you're all clued up on how to achieve Maisie Peter's sound, why not explore our full range of acoustic gear?
Shop now | Martin Acoustic Guitars
Shop now | Acoustic Guitar Accessory Packs