Hailed as a musical prodigy since the release of her debut EP
'Habit',
and quickly becoming an indie-rock phenomenon at the age of 18 –
Lindsey Jordan has brought a new lease of life to the realm of alternative rock with her articulate and impressive riffs. Here, we're taking a look into what makes Lindsey's sound so unique and how you can achieve it at any budget…
Influenced heavily by artists such as, Paramore, Liz Phair, and My Bloody Valentine, her inspirations have come from a wide range of female singer-songwriters. A search for her own style has seen Lindsey Jordan's sound mature alongside the young artist herself, becoming increasingly sophisticated and comfortable alongside her growing acceptance of her position in the music scene.
This development has seen the incorporation of more pedals and new instruments, resulting in jazz-like riffs, alternative tunings, filling, chorus chords, and swirling moments of distortion. But how do you capture such an original sound?…
---
Guitar
Whilst Lindsey has used a few guitars from different manufacturers, it always comes back to one brand: Fender. Offset guitars are usually her go-to style. She has frequently been seen using Jaguars, Mustangs, and the occasional Jazzmaster – but when it comes to achieving that recognisable twangy tone, the utilization of two single-coil pickups is key.
---
Beginner

With any Fender model the best place to start is with a Squier. The Squier Classic Vibe 70s Jaguar closely resembles Lindsey's most used guitar and, while its price is pocket-friendly, you certainly aren't sacrificing on performance. Coming with the essential two single-coil pickups and a full jaguar tone control setup, you have all the tools you need to fully create the fundamentals of Snail Mail's sound.
---
Intermediate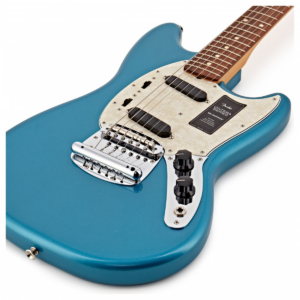 For the next level of Lindsey's sound, we thought we would mix it up a little bit for you. Here have gone for the Fender Vintera 60s Mustang, which Lindsey can be seen playing in Fender's 'Under the Influence' video.
The two vintage-style single coils here offer "Pristine" (pardon the pun) dynamics with a clear air of vintage inspiration. Again, this guitar offers an abundance of controls to finely tune its sound, with a master volume, tone control, and two slider switches for each pickup.
Its alder body perfectly suits the sound Lindsey is trying to achieve, with a well-rounded balanced response that really allows her playing nuances to shine through – slinking from glistening chord to chord with joyous, bright overtones. Aesthetically stunning and sonically superb, it's difficult to find a guitar better suited to accompany Jordan's sound.
---
Pro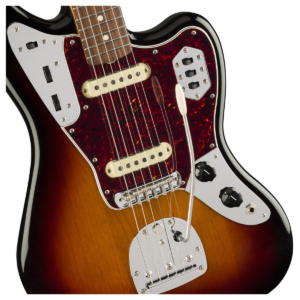 The only way to fully obtain Lindsey's sound is with a Jaguar. Whilst not as bank-breaking as other artists signatures, the Fender Vintera 60s Jaguar provides the ultimate Lindsey Jordan experience.
Beautiful dynamic sensitivity and accurate articulation is delivered through two "Lush" vintage style single-coil Jaguar pickups, positioned at the bridge and neck. While Lindsey's Jaguar is red, the three tone-sunburst variant we have here is just as equally eye-catching and is truer to tone than other models, which may have a red variant.
Constructed with an alder body, you know it's natural tone is easily shaped. Thanks to the Jaguar electronic setup, you will have "Full Control" over every aspect of your sound. It's rare to see the singer-songwriter photographed without her Jag in hand, so it was the only right that this model is the option for her professional sound.
---
Amplifier
Anyone searching for that Snail Mail sound needs to have an amp that can handle the versatility in Lindsey's playing, proving itself efficient in emitting her power chords through "Pristine" and capturing the full frequency of notes on "Heat Wave". The amp must embody the twang produced by the single-coil pickups and infuse it with an abundance of reverb.
---
Beginner
Lindsey Jordan often used Marshall amps, especially in the early days of Snail Mail. Most prominently, a Marshall MG100 2×12 combo. Here we've opted for a more beginner-friendly variant with the MG30GFX Gold 30W Guitar Combo.
Make no mistake, you're still getting an incredibly versatile amp. Coming packed with an abundance of features such as four FX and an additional inbuilt reverb, the amp frees you to hit those luscious levels of depths achieved in "Golden Dream".
Perfect for practising, this amp packs a lot of power with a 10" speaker at 30 watts. And, of course, we can't forget its stunning golden aesthetic, all of this making it a brilliant option for gigs, too.
---
Intermediate
Who said premium tone comes at a premium price? The Vox AC30S1 is an incredible option not only for recreating Lindsey Jordan's tone, but overall, it's just a very simple but delightful amplifier to use.
Inspired by the iconic AC30 (which Jordan has been seen using at a multitude of performances) the AC30S1 delivers that instantly recognisable tone with only one input channel.
An all-tube design with two 12AX7 pre-amp tubes and four EL84 power amp tubes produces a fantastic, full-bodied sound and a well-rounded response; both of which are essential for the intricacies of Lindsey's playing.
This sound is easily shaped. A simplified setup consisting of just a volume knob to control the output level, a treble and bass dial to accurately sculpt both frequencies, a gain to control your crunch, and finally (and most importantly in our case) a reverb dial which lets you obtain the complex textures of that idyllic twang.
---
Pro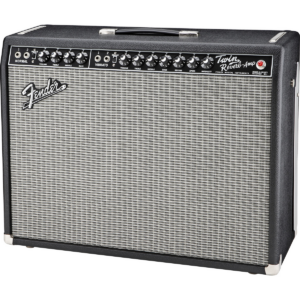 'Who's top of your world?'. Of course, it's Fender. Who better to capture the beautiful bliss of the Jaguar than Fender themselves? It just makes sense 'Doesn't it? Doesn't it?'.
Lindsey's go-to for amplification is the Fender 65 Twin Reverb – one of the most iconic amps in the world of rock. There's no surprise that it's featured in the genre's new revolution at the hands of Snail Mail.
As hinted in its name, one of the primary reasons behind the use of this amp is its stunning spring reverb, which effortlessly achieves delicate shimmers or cavernous spaces at the turn of a dial.
Its dynamic response is astounding, expertly articulating and annunciating every single infliction of Lindsey's (and now your own) playing.
A 3-band EQ allows you to really elevate those flushing – but still impeccably defined – chord patterns, allowing you to give the guitar even more presence in the mix with full depth. Its speaker cabinet option makes it the perfect amplifier for the growing musician, so if you eventually do fill out venues across the world as Lindsey has herself, you will be more than prepared.
---
Pedals
Lindsey Jordan uses a wide range of pedals to achieve her unique indie-rock sound. Describing pedals as "Super Necessary" but persisting that it shouldn't take away from the songwriting process, not letting them "distract you from the song itself". She views pedals as a way of fine-tuning her performance, rather than a songwriting mechanism.
Snail Mail's sound is so distinctive and delicate that it has become sought-after by a multitude of indie guitarists. We will show you how to achieve this at every price point.
---
Beginner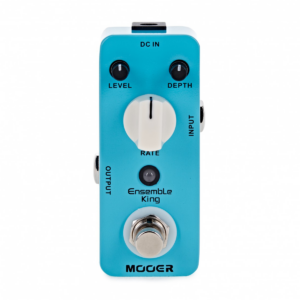 Chorus, chorus, and more chorus. There's rarely a time when Lindsey plays without any chorus on, making it an essential part of her tone.
Whilst there is a multitude of options here, we have opted for the Mooer MCH1 Ensemble King.
With adjustable level, depth, and rate controls, the pedal can be tuned to perfection, and authentically achieve that Snail Mail level of depth.
---
A boost pedal is also essential for Snail Mail's sound, elevating cleans to new sonic heights. The boost is usually working to draw out every frequency in Snail Mail's fingerpicking strokes, or give those distorted lead lines that extra lease of life. To achieve this tone at a pocket-friendly price we've opted for the TC Electronic Spark Booster.

Chosen for its versatility, the pedal allows you to flick between, fat, clean, and mid boosts, making it perfect for sculpting every aspect of your sound. This handy pedal does so much for your tone, but in our case, we mainly need it to act as a clean boost or a soft overdrive: two things it excels at.
What about reverb? Well, that's already taken care of. Throughout most of her performances, Lindsey has mainly stuck to amp reverbs. Which is why all of the amplifiers we have highlighted excel at producing thick layers of sonic depth, so for now this will be enough for all our reverb needs… though we may look at reinforcing this in the 'pro' category.
---
Intermediate
Not accurate enough? At the 'intermediate' level we can begin to look at the exact pedals Lindsey uses in her setup. You might also spot a theme here with the pedals; the vast majority are built by EarthQuaker Devices.
For those authentic boosts, there's only one option, and that's the EarthQuaker Devices Arrows V2.

Elevating your sound, the Arrows pedal brightens up your tone, removing any muddiness from the guitars low-end and increasing the importance of the mid-range. When working in combination with a distortion pedal, it just gives the sound more identity. Lindsey mainly uses it for her lead lines to give them a higher level of definition amongst the chorus and reverb.
---
Moving away from EarthQuaker for just a moment, the MXR M234 Analog Chorus is a mainstay on this pedalboard.

Always on, Lindsey plays her full set with this delicate depth to make her iconic sound "more inviting". It really adds an ethereal feel to every chord progression, making "Golden Dream" feel even dreamier.
---
The next thing we need to obtain in our search for the perfect Lindsey Jordan setup is a compressor. Not just any compressor though, we require one that offers balanced dynamics, rich sustain, and an adjustable attack. For this, we have opted for the Wampler EGO Compressor Pedal.

The Wampler EGO delivers stunningly smooth dynamic compression allowing each note to play with the same level of intensity, making fingerpicking sound consistent much like the opening of "Let's Find An Out". Dynamically accurate, the pedal simultaneously emits sparkling high frequencies resulting in a beautiful sonic scape.
---
Finally, in this category, we do need to address the absence of an overdrive pedal. For this, we've gone for the iconic TS808 Tube Screamer Overdrive Pro.

Offering that warm crunch heard over the lead lines of "Heat Wave", you can't go wrong with this renowned pedal.
---
Pro
This is where we get niche with the pedals. While the big hitters of Snail Mail's board are relatively conservative in pricing, these next few are for those willing to spend big and achieve those final nuanced inflictions in Lindsey's tone.
The first pedal up for the full setup is the EarthQuaker Devices Data Corrupter. The data corruptor is incredibly versatile ranging from subtle distortion, to square synth-like destruction. Very rarely will Lindsey utilise it to its full extremes, but it definitely adds a fresh flavour into the sound.
We can't stress the flexibility of this pedal enough; you are even able to pitch bend for stunning portamento or vibrato sounds thanks to the frequency modulator. If you haven't noticed yet, it can do a lot.
---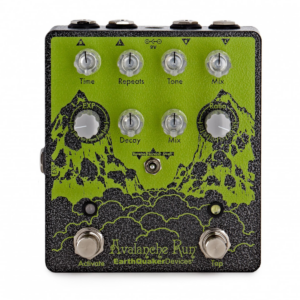 Only now are we revisiting the reverb. As mentioned before, you can very easily get away with just using the inbuilt reverb on any of the amplifiers listed above… but if you wanted to take it to the next level, the EarthQuaker Devices Avalanche Run is here.
A combined stereo reverb and delay pedal – it excels in creating dreamy textures, which is more than likely why it has been incorporated into Lindsey's setup. Cavernous with its plate-style reverb, you can give your chords unrivalled depth for some cool, crazy textures.
---
The Full Rig
Here's our full 'Pro' rig for Lindsey's sound.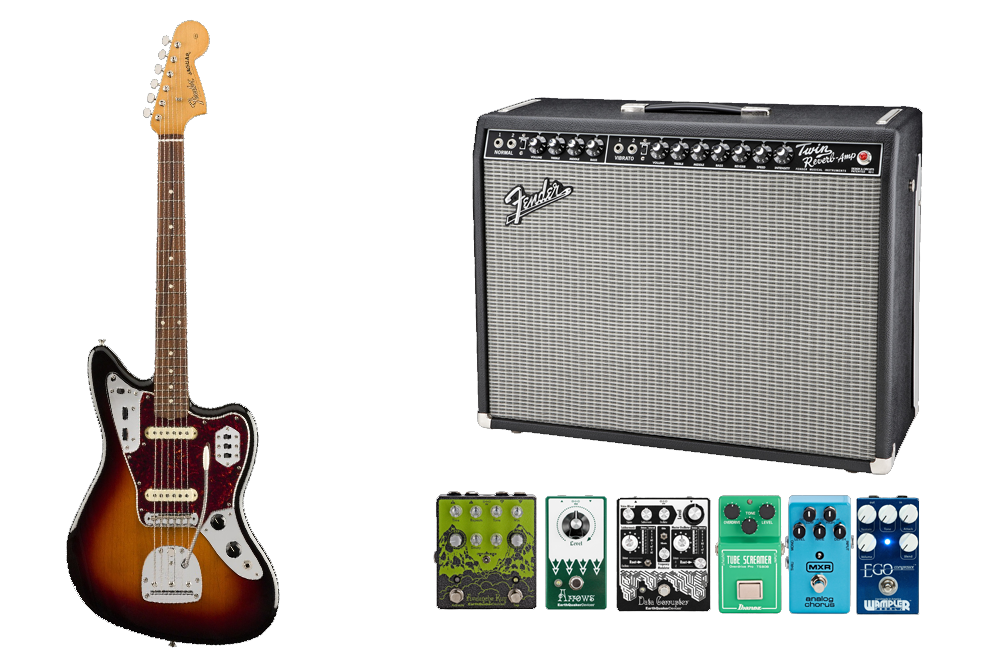 Guitar: Fender Vintera 60s Jaguar
Pedals:
---
Find out more
Now you're all clued up on how to achieve Snail Mail's sound, why not explore our full range of guitar gear?
Shop now | Electric Guitars
Shop now | Guitar Amplifiers
Shop now | Guitar Pedals