These days, you can learn practically any skill online. From cooking, to yoga, to wilderness survival – the internet can provide you with the know-how to tackle just about anything, including learning the piano. Looking to unleash your inner maestro? Here are a few apps which we think could give you a helping hand.
---
Why use an app?
The best way to learn the piano is with a good teacher. The old ways are still the best – but they aren't always the most convenient. Piano tuition can be very expensive, and that's only once you've found a decent tutor near you, whose schedule lines up with yours.
In comparison, piano learning apps are incredibly convenient. Only have time for a 10-minute lesson? No worries! Fancy a class at 3am? Why not?! Using technology to learn lets you do so at your own pace, no matter when you're free.
You can be in charge of your targets, and only work towards what you're really interested in. Pick the content that's important to you, and spend as much time as you like mastering specific techniques.
Many learning apps are interactive, using either audio or MIDI data to give you feedback on your playing. This is great for getting kids enthusiastic about practising – it feels more like a game than a lesson.
Learning with an app can also be a great way to supplement your in-person piano lessons – you don't have to only learn one way. And, with many apps either offering a free trial period or coming free of charge when you buy a piano or keyboard, there's no reason not to try one out!
---
What apps are available?
flowkey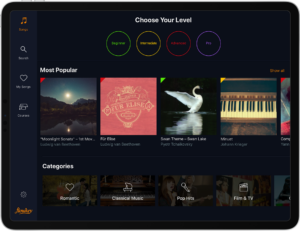 Created in collaboration with Yamaha, flowkey is a learning app that is compatible with digital or acoustic pianos and keyboards. It can be used with both Apple and Android phones and tablets.
The app has lessons and courses for total beginners, covering things like posture and hand position so that you're starting from a solid foundation.
The meat of the app is in the pieces you can learn – over 1,500 of them! Ranging from classical to modern, and with plenty of range in ability, this library will keep you busy for a long time to come.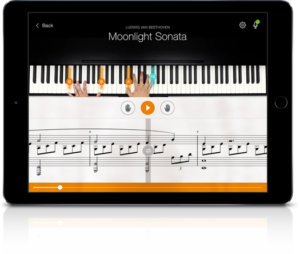 When you load up a piece in the flowkey player, you'll see the musical score and a video of somebody's hands playing the music. This split-screen is great for observing correct technique and fingerings, as well as applying what you hear and play to written sheet music so you can begin learning to read it.
After watching the piece be played, you can then separate it out by practising one hand at a time and looping specific passages. Taking it bit by bit like this will help you to truly master the music. You can slow down the playback speed as well, perfect for cracking the minutia of intricate passages before you bring it up to tempo.
There's also "Wait Mode" which uses your MIDI or microphone input to only progress the score once you've played the correct note. This is a great feature for testing your sight-reading.
If you want to try flowkey, they offer a free trial period of one month. Alternatively, most Yamaha pianos and keyboards come with three months of free flowkey. Find out more on their site here.
---
Casio Music Space
This is Casio's bespoke piano app, used for controlling the settings of their digital pianos and also featuring lessons and play-along features. It's completely free to use, but only compatible with certain Casio products.
Available for both Android and Apple devices, Casio Music Space allows you to connect to your digital piano via USB connection or wirelessly with Bluetooth.
The app features a MIDI piano-roll player – which visually displays music as notes descending onto an on-screen keyboard. There are hundreds of built-in songs, including timeless classics and a huge range of classical exercises – including Burgmüller's 25 Progressive Pieces for the Piano and Bach's Inventions.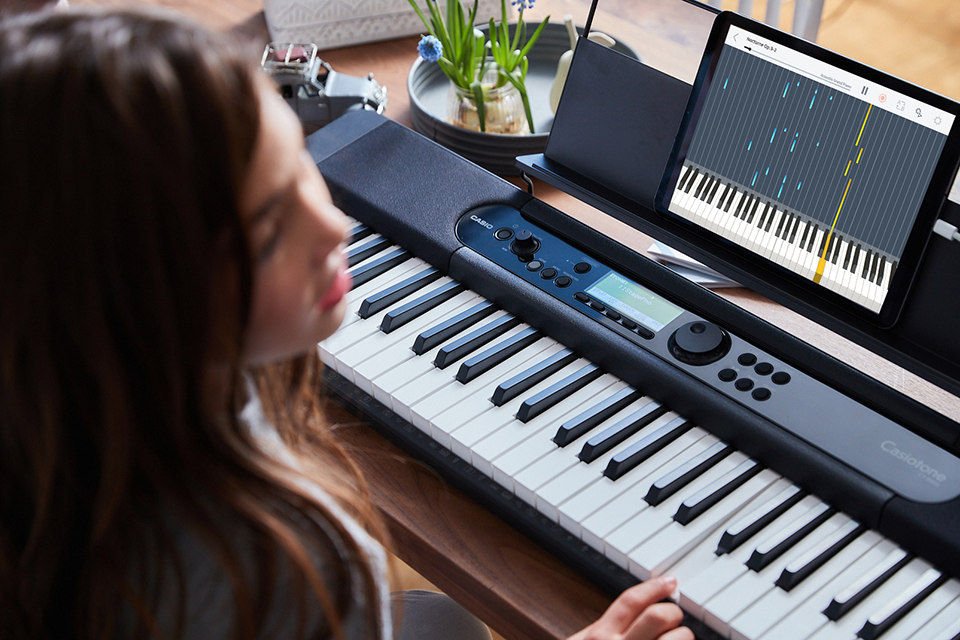 Play along to these pieces and adjust the tempo, select either hand or both at once, and loop sections that you want to concentrate on. The app can keep score of how well you're doing when you play along, letting you easily track your progress.
Casio Music Space also has a PDF score-viewer with many songs and pieces pre-loaded in the library. You can turn the pages using your piano's pedals for a hands-free experience, letting you focus completely on the music.
A great feature in Casio Music Space's favour is the ability to import user MIDI files and PDFs for use in-app – so there's enormous scope for use beyond the default pieces.
This app is completely free to use, so it's definitely worth a look if you own a compatible Casio piano. It's a really solid app, so if you're in the market for a digital piano, Casio Music Space is a definite tick in favour of Casio's models. Learn more about Casio Music Space on their website.
---
Skoove
Skoove can be used with any keyboard or piano (even an acoustic!), with options to connect via Bluetooth, MIDI cable, or via your device microphone. The app is available on Android and Apple products, as well as in-browser on a computer.
It's a more lesson-centric piece of software and has much more of a focus on teaching you how to read sheet music and learn the basics of music theory.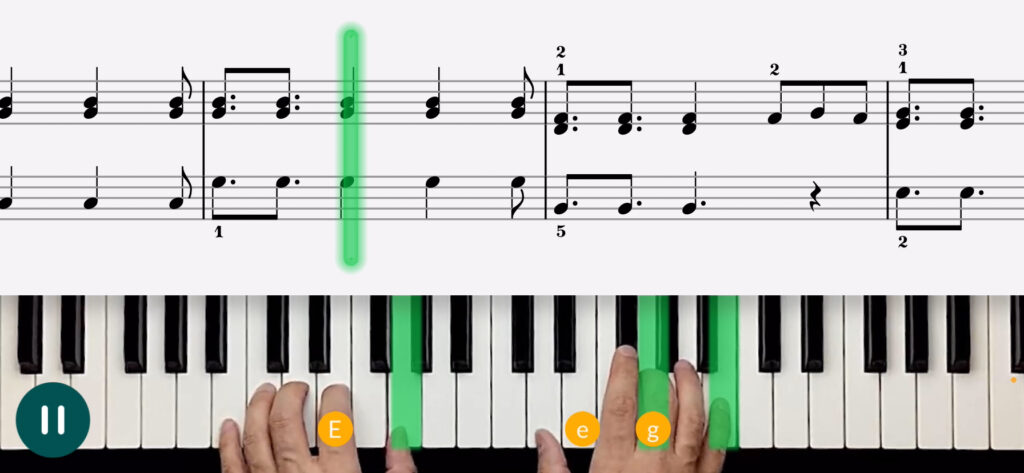 There are over 400 lessons currently available in the Premium version of the app. And with monthly updates to the songs and lessons, there's no shortage of content for you to look at.
The lessons use lots of well-known pieces of music in order to teach musical concepts, and the app features videos of somebody playing the exercises – so you can see the correct technique and how you should be moving your hands.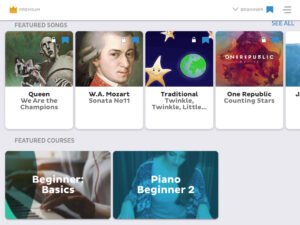 There are also lessons to teach chart hits, famous classical pieces, and even how to improvise. The app gives you feedback based on how you're playing, so you can expect to see yourself improving quickly!
Many Roland and Korg pianos come with a free code for three months of Premium Skoove.
The free version of Skoove has 25 lessons, letting you get a feel for whether you fancy paying for Premium. Alternatively, within the first 14 days of a Premium subscription, you qualify for a full refund, so you can see if it's right for you in that time. Find out more on the Skoove website.
---
Which App is right for you?
All three of the apps we've looked at have their own strengths and weaknesses. Which one is best for you depends on exactly what you're looking to gain from using a learning app.
Skoove probably has the best focus on teaching you to read sheet music, especially if you're starting as a novice. The progressing lessons do a fantastic job of explaining musical theory whilst teaching you to play plenty of music. If reading music is a goal of yours, then Skoove is a great choice.
flowkey's biggest asset is its expansive musical library. It's an excellent app if you want to learn to play a lot of different music. There are some courses on theory, as well as tips for posture and technique – but this is less of a focus compared to Skoove. flowkey is a really good choice for total beginners as well as those with some experience on the piano.
Casio Music Space won't teach you to read music, so shouldn't be used as your sole resource if you're interested in theory. However, using the piano roll function with the classical exercises is brilliant for training your dexterity and technique and makes for a really engaging and fun way to practise. The sheet music viewer is also an exceptional resource for those who can already read music. If you've already got some experience on the piano, this is an extremely useful app.
---
Other ways to learn
We haven't even come close to talking about all of the piano learning apps which are worth trying. This is just a handful of ones that cover a good range of features.
You should definitely feel free to try any other apps which are available, but we recommend you do some research and check their reviews to ensure they're reputable. Bad habits stick fast when you're learning an instrument, and they can be really difficult to unlearn! That's why you want to make sure that you're learning from a trustworthy resource.
Sites like YouTube are popular for online learning and there is a wealth of information available on them for picking up the piano. However, in these environments, you can't always guarantee that you're using a reliable resource – so it pays to use caution. Learning apps like Skoove and flowkey have had their lesson content curated by educators, so they are much more likely to be giving you the correct information.
One thing that none of these resources can do is give you feedback on things like your posture and technique. For this reason, we fully recommend one or two sessions with a piano tutor, especially at the beginning of your journey.
We think that the best way to use piano learning apps and other online resources is as part of a wider syllabus – incorporating in-person tuition with self-prescribed exercises and practice. This way, you can get the best of both worlds and enjoy taking control of your learning.
---
Find out more
If you're on the fence about piano learning apps then you may as well try one out! There are plenty of free trials available, and many digital pianos and keyboards come with an access code included.
To explore our full range of digital pianos and their included learning apps, follow the links below!
Shop Now | Digital Upright Pianos 
Shop Now | Hybrid Pianos 
See More | Digital Pianos