Industry leaders and true pioneers of acoustic guitars, Taylor have been a flagship of guitar innovation in recent decades, and their 500 series is no exception. But the exemplary service they provide to their customers – and the planet itself – runs deeper than just luxury guitars.
For a long time, mahogany, spruce, and rosewood have made up the bulk of acoustic guitar tonewoods – until now, perhaps. So, let's discuss what the new Taylor 512e and 514e of the 500 series have to offer…
The 500 series' new models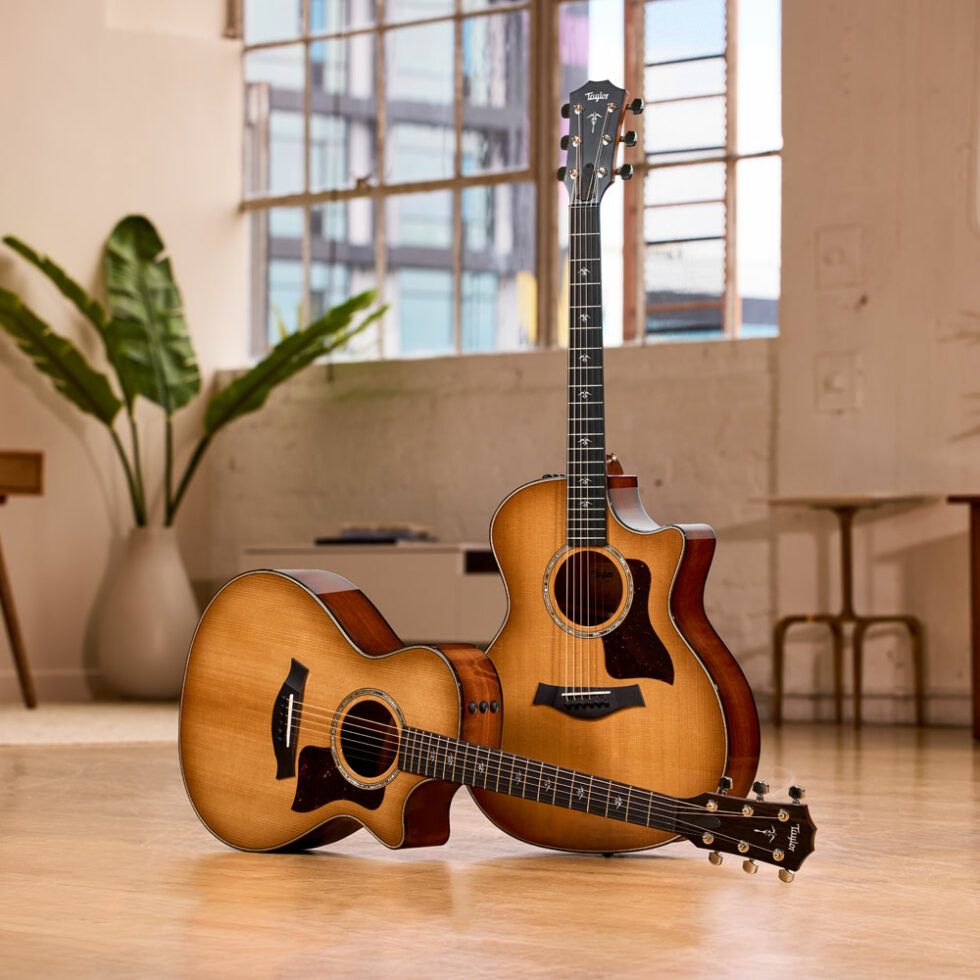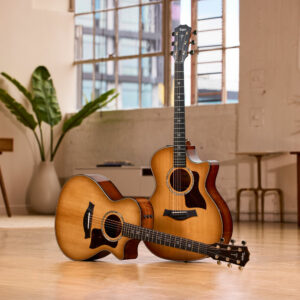 The revitalised Taylor 500 series features the Taylor 512e and 514e, full to the brim with features never seen before. And, by the sound of things, it's been quite the journey.
In order to revitalise the development process, Taylor's leading guitar designers ventured into the forests of Ontario to do some 'taste-testing', sampling a range of different timber for rigorous testing in order to see which (if any) were suitable to be used as tonewoods.
Despite making up (almost) the entirety of a guitar, the selection and manufacturing process behind tonewoods is something that can be often overlooked – especially with how much emphasis there is on pickups in the electric world.
Alongside possessing a great tone – a tree must be able to withstand all the drying, sawing, sanding, glueing, and finishing that's involved in the production of an instrument. It's a pretty big ask, and so the fact that Taylor have managed to discover a completely new, never-before-used tonewood is all the more impressive.
The wood? Red ironbark.
Red ironbark – a new urban wood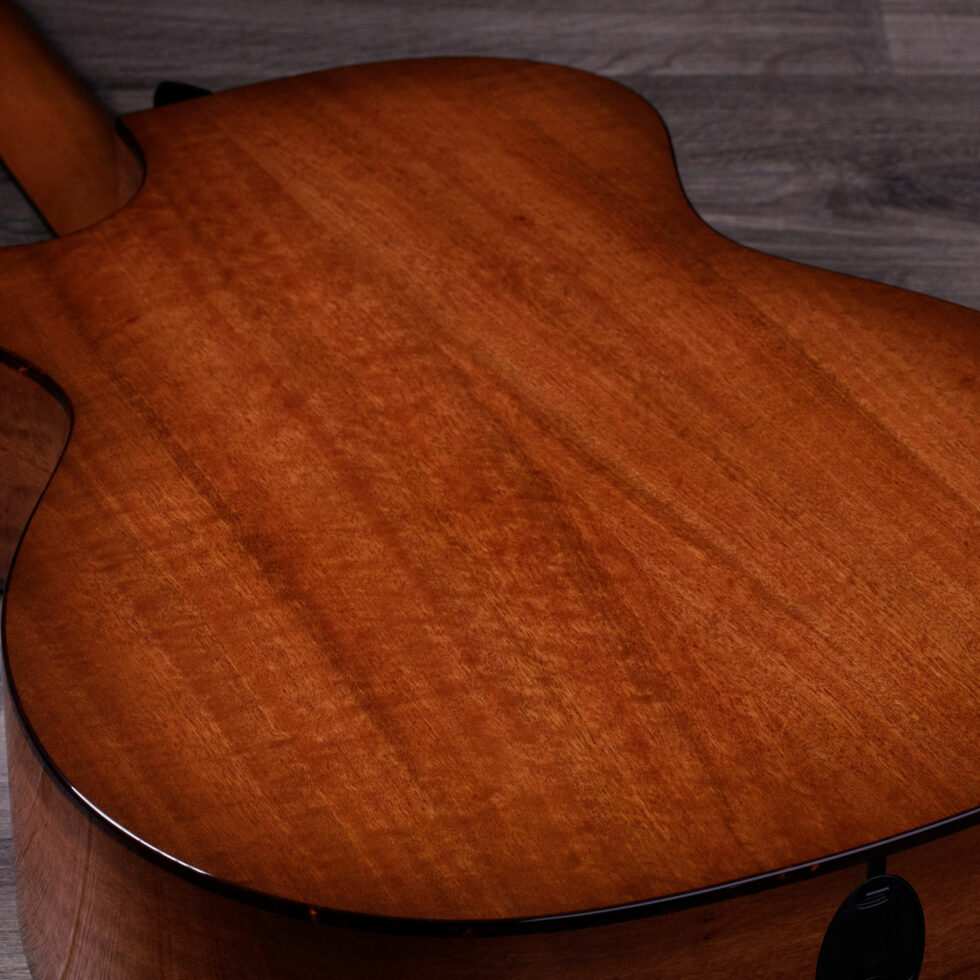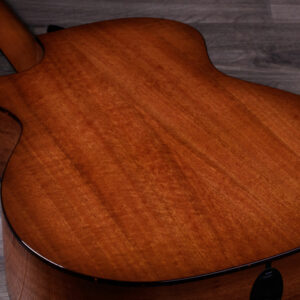 This exotic, unique tonewood is to be used for the first time exclusively on the updated Taylor 512ce and Taylor 514ce models. It's smooth yet highly dense and has passed all the structural and tonal tests required. After initially being considered for use as a fretboard, it's featured as a back and side wood on these new models.
Now, you might be wondering why Taylor decided to go on the search for a completely new type of tonewood.
Well, over the last 15 years the brand has launched several sustainability initiatives in the regions from which they source their timber, such as Cameroon, Hawaii, and California.
In fact, Taylor's commitment to sustainable and responsible business practices earned them the Award for Corporate Excellence (ACE) in 2014. This came after they were recognised for their sustainable practice of obtaining ebony.
On top of this, the search for different types of tonewoods helps the company evolve with the planet. And this means that when you invest in a Taylor product, you know that it comes – in every sense of the phrase – from a good place.
More exciting features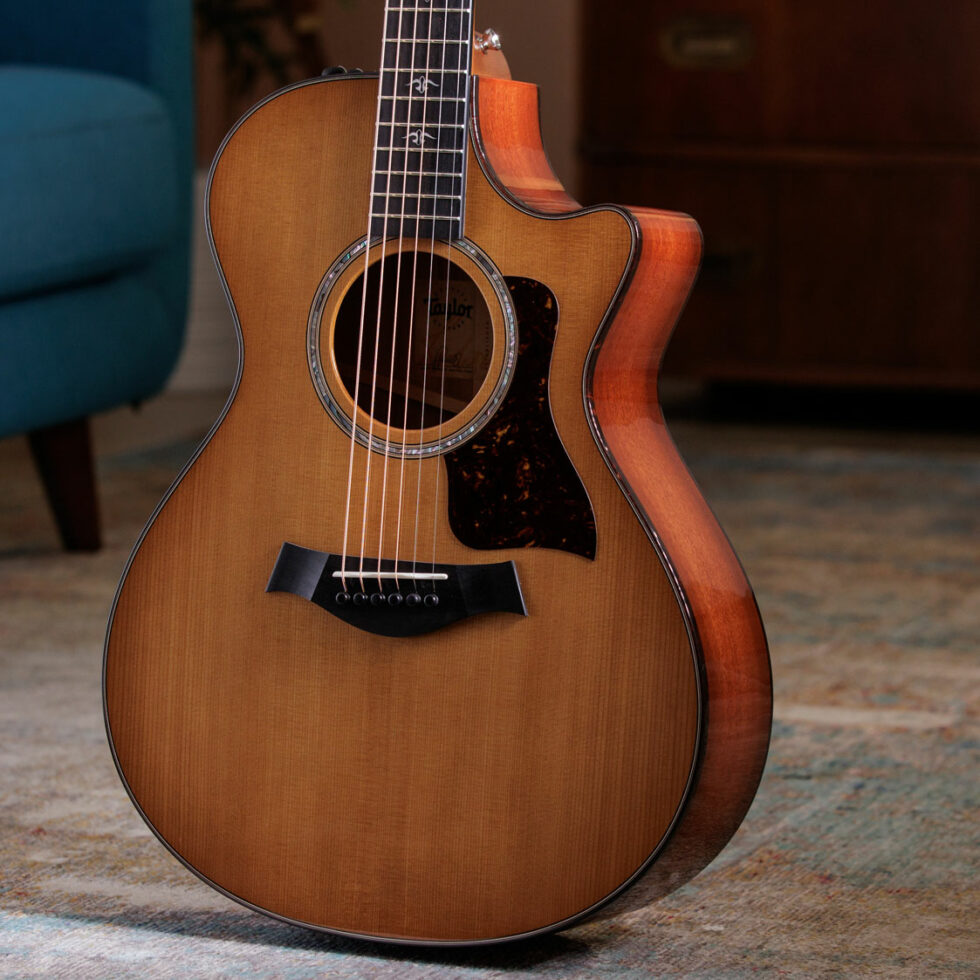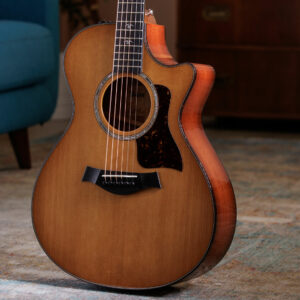 As well as red ironbark back and sides, the new guitars of the Taylor 500 series come complete with a roasted Sitka spruce top, ebony fretboard, and mahogany neck.
Combined, these tonewoods deliver a gorgeous natural sound, with the ironbark yielding a richness that is smooth and sweet. Thanks to the warmth of spruce and the resonance of mahogany, you're in for a one-of-a-kind sonic experience, the likes of which have never been heard before.
Underneath the top lies V-class bracing which helps push a powerful output for clear, tight lows, a beautifully focused mid-range, and bright highs.
What's more, the red hue of the ironbark pairs perfectly with the roasted spruce for a dark, moody yet all-natural aesthetic that is Taylor to its very core. You can just see it leaning against a fireplace in a stately manor.
Cutting-edge craftsmanship for an elite experience – Taylor care not only about the guitar, but also where it comes from, and that passion drives the process from start to finish.
The Taylor 500 series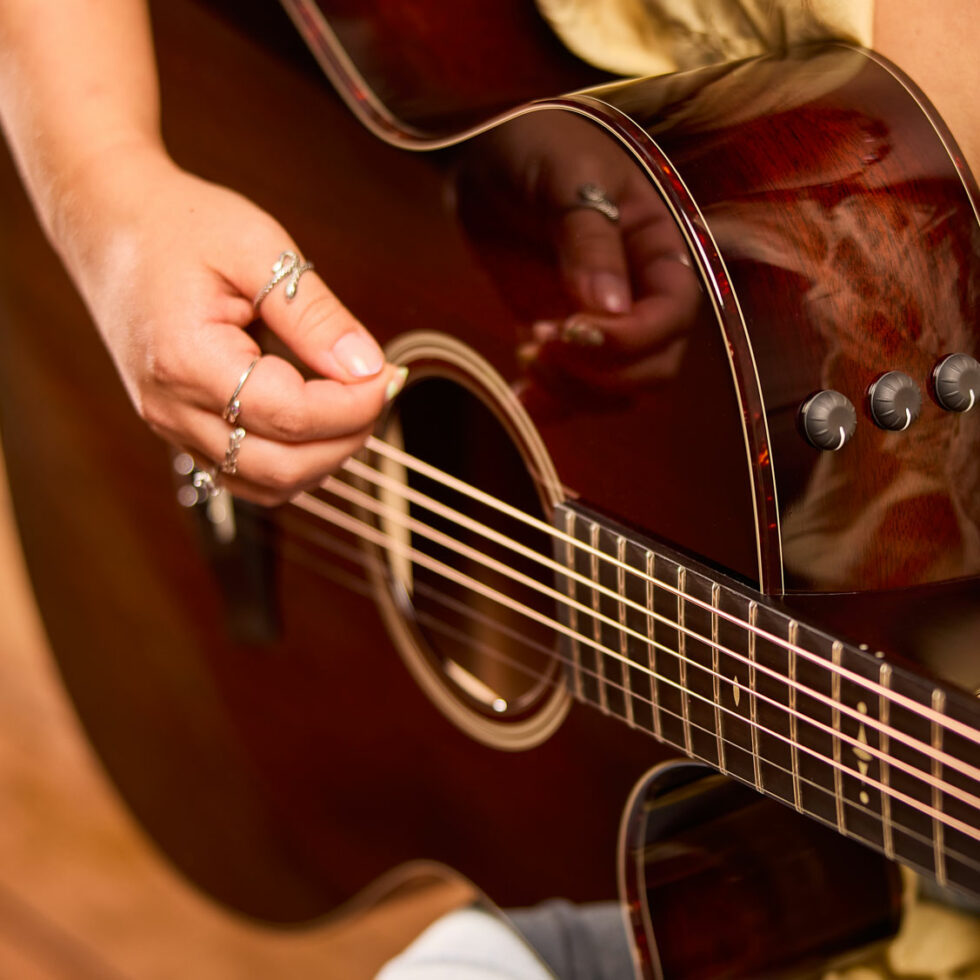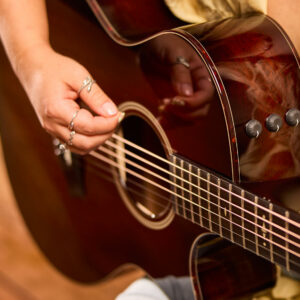 So, what about the range's existing models?
The Expression System (which we will come to later) was initially included in Taylor's 500 series, one of the leading lines in their acoustic arsenal. Two premium examples include the Taylor 524ce and the Taylor 522e.
The 524ce is equipped with a grand auditorium body that's crafted entirely from mahogany, offering glorious resonance and warmth that's hard to beat. Its rich, natural voice is amplified through the ES2 System.
Also featuring a tropical mahogany neck, the 524ce is highly durable and yields comfortable playability, an effect that is compounded by the ebony fretboard. Ebony holds a naturally high concentration of oil, which will have you gliding between the frets with ease – and its bright tone complements the mahogany beautifully.
The 522e comes complete with a slightly smaller grand concert body shape. However, all of the additional features are the same as its fellow 500 Series counterpart.
Taylor Guitars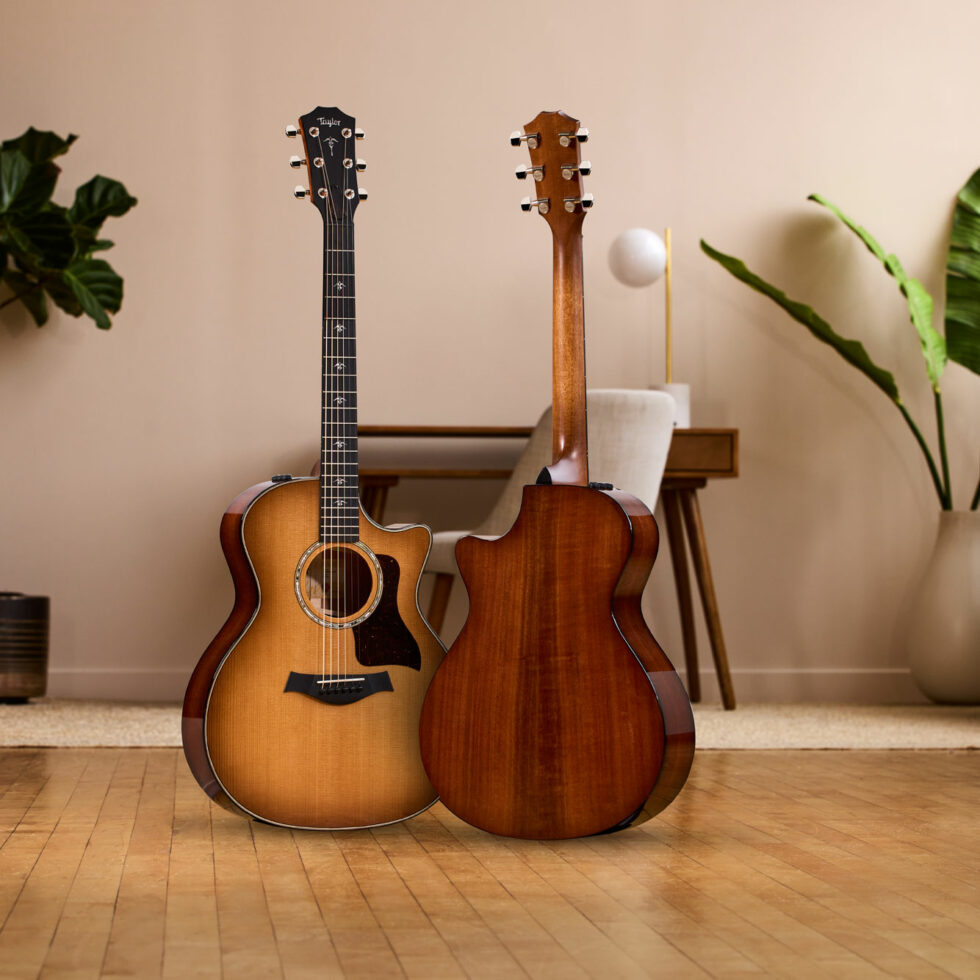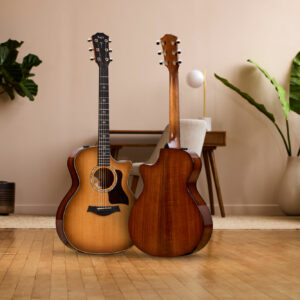 When you think of the finest guitar makers in the world – what names come to mind? Fender, Gibson, Martin and, of course, Taylor. It may surprise you, then, to know that Taylor haven't yet celebrated their 50th birthday as an incorporated company.
It's been 48 years since 20-year-old Bob Taylor purchased and renamed the guitar shop he worked for in 1974 – alongside fellow employees Kurt Listug and Steve Schemmer. They now stand strong at the pinnacle of the industry with factories and distributors worldwide.
Particularly through the 1990s and early 2000s, Taylor were highly influential in the development of modern acoustic technologies. With the introduction of more exotic tonewoods, such as oak wood on the Pallet Guitar, Bob Taylor updated the old-school luthier guitar-making techniques with a fresh approach.
The introduction of their Expression System (ES) in 2004 was Taylor's first acoustic pickup system and, true to their innovative form, it was a design unlike any other.
This pickup was designed to emulate the sound that you get from placing a microphone in front of an acoustic guitar, retaining 100% of the instrument's natural tone – rather than the tone of the pickup.
Combing a discrete preamp with a Dynamic Body Sensor that's placed – rather unusually – beneath the fingerboard, Taylor were able to stumble on a sound that is pure, clear, and faithful to the gorgeous, natural voice of their guitars.
Find out more
Further demonstration of Taylor's premium craftsmanship, the 512e and 514e boast some unique, premium features – most notably their exotic red ironbark tonewood. But the only way for you to get a true feel of the Taylor 500 series is to check these instruments out for yourself…