Your computer is the most powerful instrument in your music studio, but what software should you be considering, and what training is available?
You've come to the right place: this article will explain what your software options are, and importantly, how to use them.
How to learn music production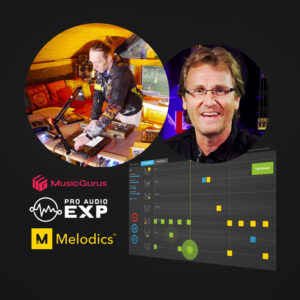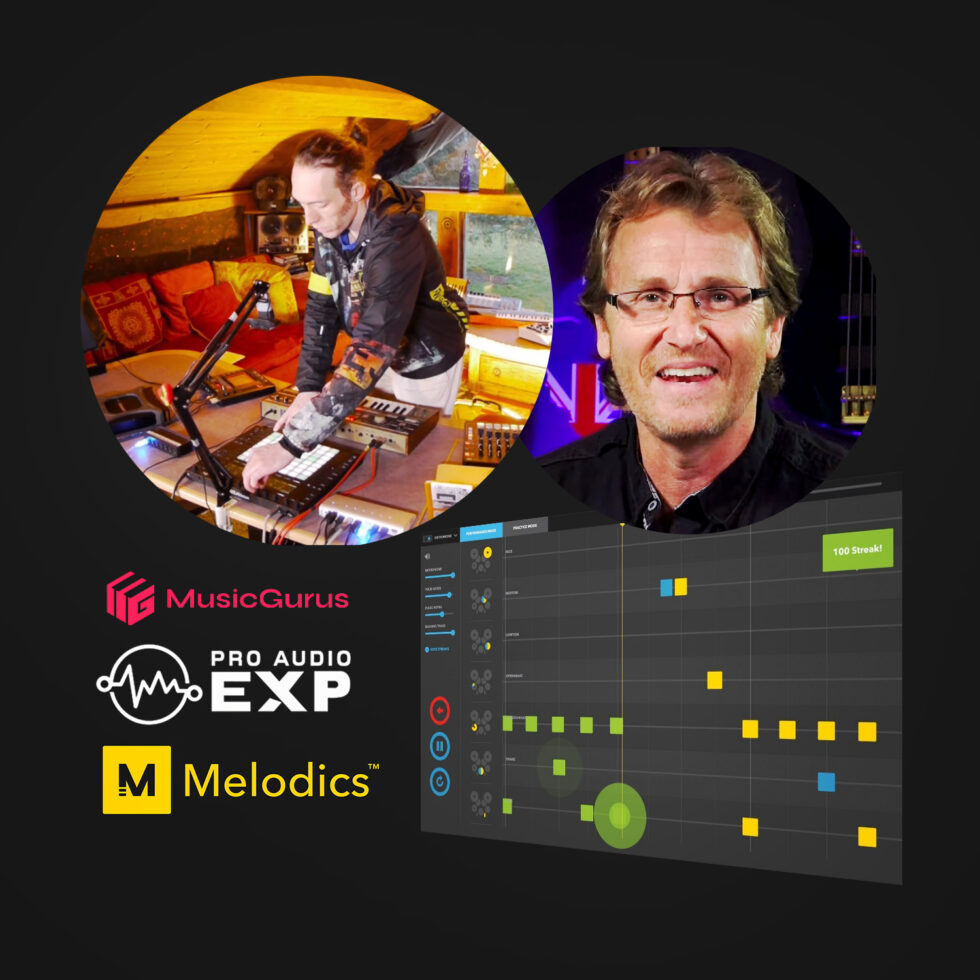 YouTube is, of course, an incredible resource for learning music production. If you can think of it, there's probably a video out there explaining it!
Gear4music's Synth & Tech YouTube channel is a growing free resource of demonstrations and explanations of DAWs, plugins, and hardware. Our In The Box series is a great place to learn how products work and hear them in action. So make sure you subscribe!
Of course, a professionally structured and taught course is another fantastic way to fast-track your knowledge.
You may be surprised to learn that there's a large library of online video training courses available which, once bought, you can take (and re-take!) at your own pace. And they're very affordable. Taught by professionals, they can help you learn essential skills more quickly.
Here are three online video training courses we offer:
---
ProAudioEXP
There are three "ultimate" Pro Audio EXP courses, these very comprehensive masterclasses explain the start-to-finish process for home recording (including mastering and distribution), mixing live sound, and achieving great guitar tone.
If you'd like to focus on a particular production skill, there are four individual masterclasses covering the topics of mixing, recording Killer Vocals, how to EQ, and compression.
Shop now | ProAudioEXP
---
MusicGurus
MusicGurus have a broad range of courses available that cover production skills for two popular DAWs, Ableton Live and Logic.
They're taught by professional producers and many are centred around traditional music skills, including singing, songwriting, piano, and guitar. Some teachers are even household names, such as KT Tunstall and Alfie Boe.
Shop now | MusicGurus 
---
Melodics
Lastly, Melodics is a bit different but still worth a mention.
Rather than being a video-based course, it's an interactive training tool which makes the process of learning keyboard, drum pad, or electronic drum kit skills like a game.
By playing along to the 'piano roll', you can practise a song on your actual instrument, playing along with modern, contemporary music. At the end, you get your high score!
The principle of Melodics is that if practice is fun, you're far more likely to stick with it. And despite the fun 'Guitar Hero' nature of Melodics, you're learning real-world muscle memory and skills on your actual instrument.
Shop now | Melodics
What is a DAW?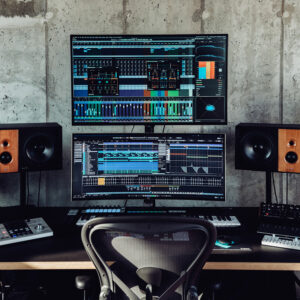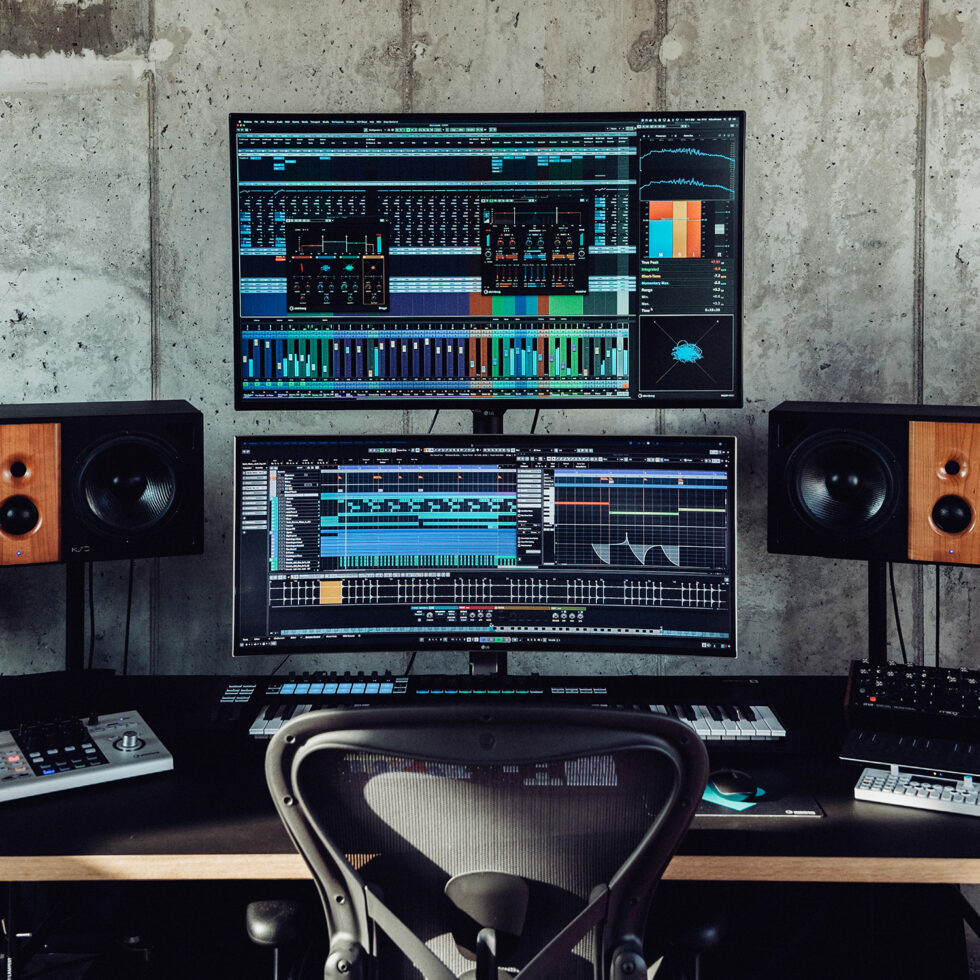 A digital audio workstation (DAW) is the heart of computer-based recording. It's the main piece of software used to record, edit, mix, and master music.
DAWs come in many shapes and sizes to suit different skill levels and musical goals. Some DAWs are more suited to traditional band recording, while some are more suited to experimental music making and electronic music in which the DAW is treated like a musical instrument by itself.
Popular DAWs include AVID Pro Tools, Steinberg Cubase, PreSonus Studio One, Ableton Live, Bitwig Studio, Reason, and Image Line FL Studio.
As well as allowing you to edit and mix audio, many DAWs also have the ability to host VST plugin instruments and plugin effects. These plugins allow users to create their dream virtual studio entirely inside the computer.
When you visit our DAW page, look for the Great For tag which will help you find a DAW to suit your musical goals and background. You can also read our complete DAW buyer's guide here.
Shop now | DAWs
What are VST plugins?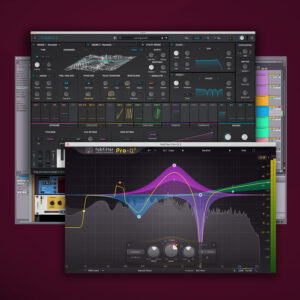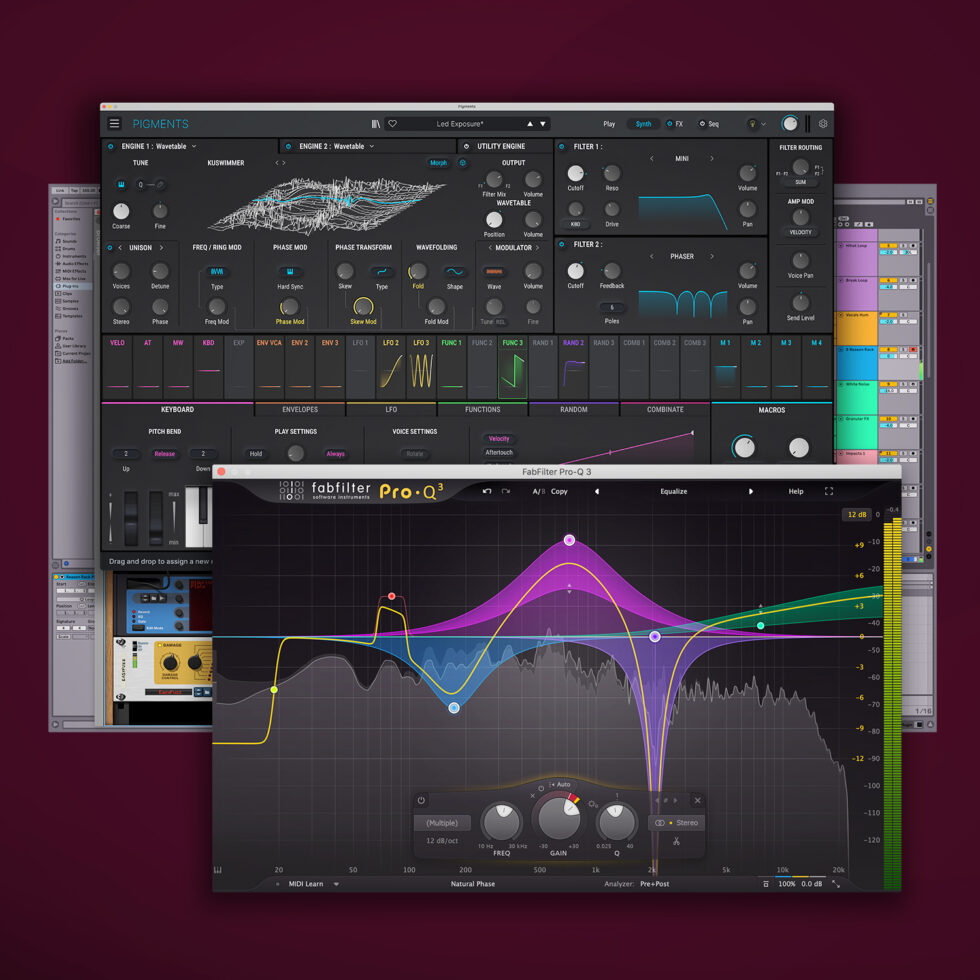 VST plugins are pieces of software that run within software. They come in the form of virtual instruments or virtual effects.
VST stands for Virtual Studio Technology, a format originally created by Steinberg which is now an industry-standard feature of many DAWs.
Virtual instruments and effects allow you to add your own choice of sounds and processors to your DAW, complementing or even improving on the built-in effects and instruments that came with it.
You can program these virtual sounds with a mouse or add a MIDI/USB keyboard to play the sounds in real-time.
While many DAWs support the VST instrument standard, there are some exceptions.
Pro Tools uses the AAX plugin standard (Avid Audio Expansion), while Apple Logic and GarageBand use the AU plugin standard (Audio Units). These are both unique but widely supported by plugin manufacturers.
Shop now | VST plugins
---
What are VST instruments?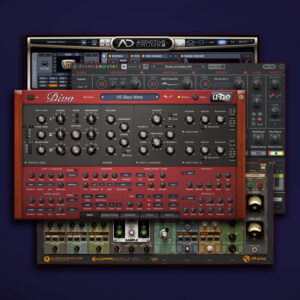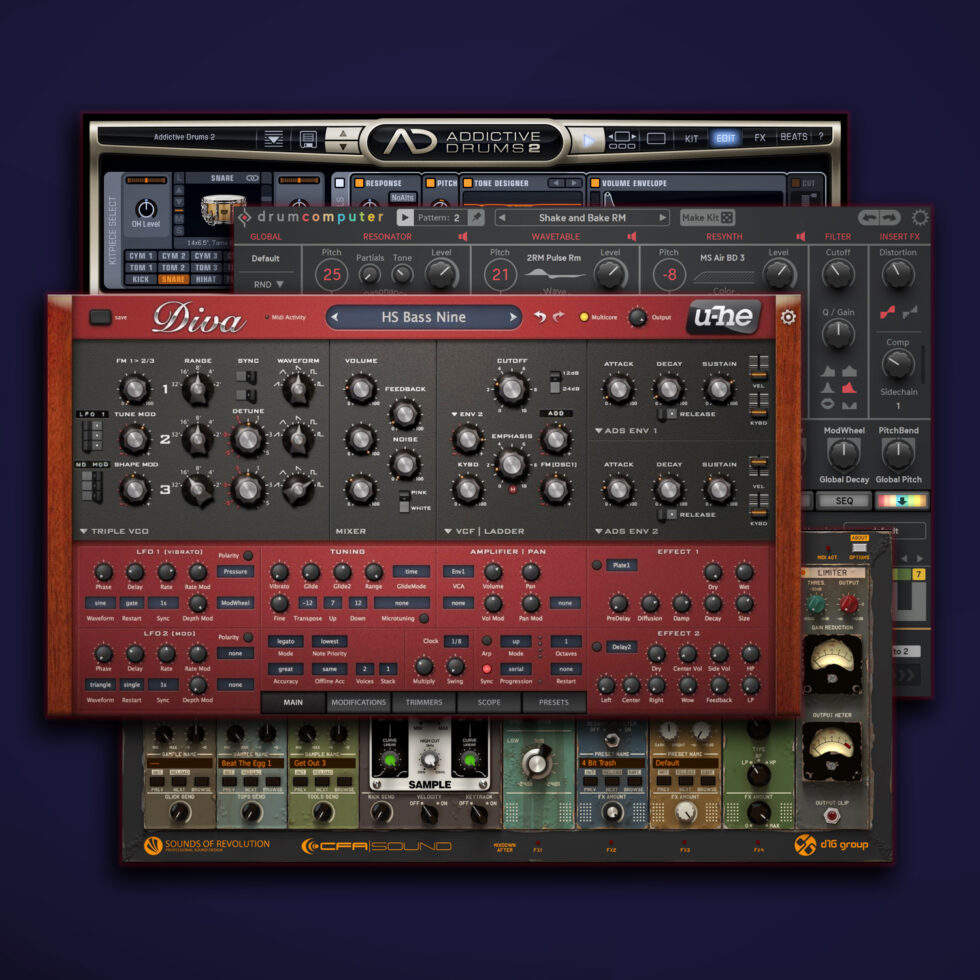 In the days before affordable computing, the only way to get more sounds in your productions was by recording either real acoustic instruments or physical keyboards and synthesizers that cost many thousands of pounds (sometimes tens of thousands!).
VST plugin instruments are virtual pieces of equipment that can run inside your DAW and be controlled via MIDI. These plugins can then recreate specific 'real-world' instruments such as pianos, organs, keyboards, synthesizers, guitars, bass, drums, entire sounds of the orchestra, and beyond.
They allow you to access instruments that may be hard to find, expensive, or difficult to record. What's more, each virtual instrument is always perfectly tuned and played, no matter what time of day or night.
Popular VST instrument brands such as Native Instruments and Arturia have created bundled collections of their instruments, providing huge savings over individual software costs and a one-stop shop for musicians who want to add a massive range of sounds to their DAW in one go.
Native Instruments Komplete and Arturia's V-Collection are stand-out collections you might wish to explore.
With so many VST instruments to choose from, we've created Great For and Character categories to help you filter based on your interests and goals.
At Gear4music, you can choose plugins based on application. For example, whether you're looking for plugins that are simple or deep; vintage or modern; realistic or quirky; modular; or instruments that feature lots of presets, there's something for you.
Shop now | VST instruments
---
What are VST effects?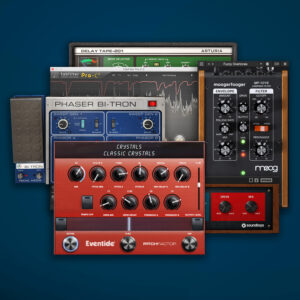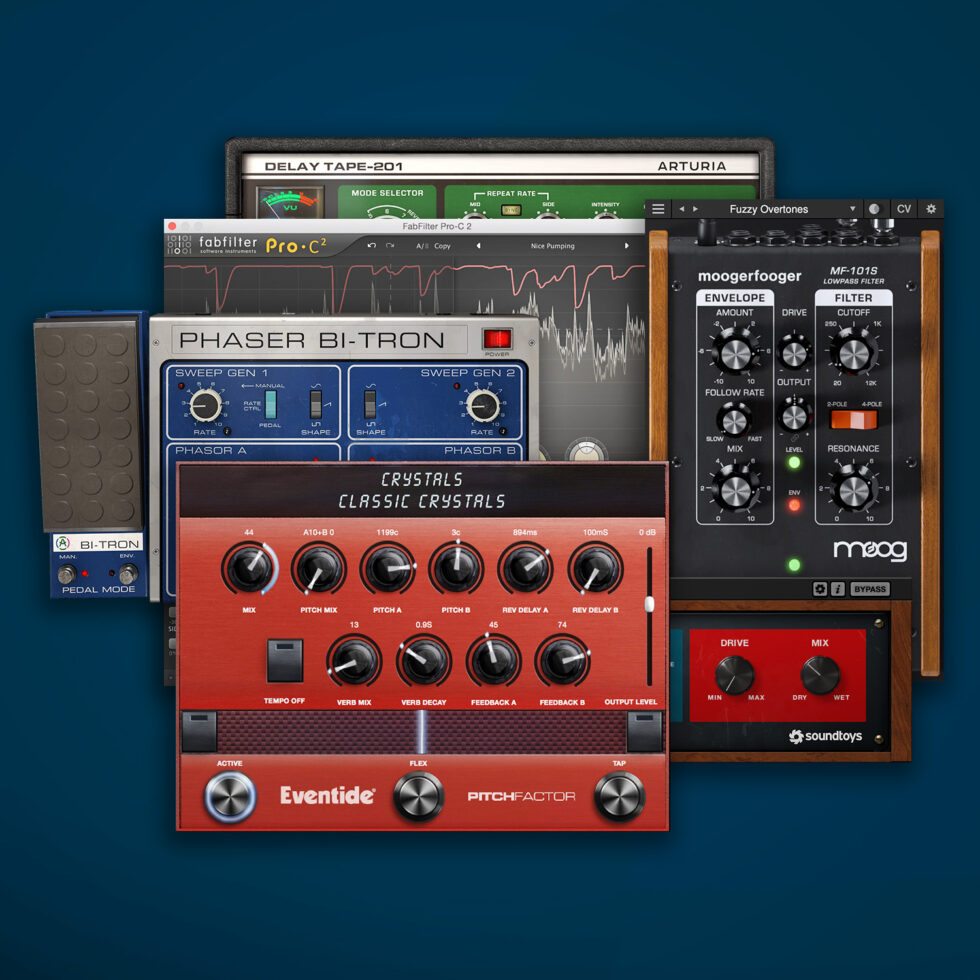 Once you've recorded your instruments, vocals, or sequenced VST instruments, you'll want to mix them together and produce your final recording.  An integral part of the mix process is effects.
There are two different families of effects. Some take the form of special effects such as reverbs, choruses, saturators, and delays. These can be used to warm up, enhance, spread, or totally transform your sounds.
Other effects, such as EQs, compressors, gates, and limiters, are more 'corrective' in their use. They're designed to fix problems and help knit your musical elements together, creating a smooth, unified, and enjoyable mix to listen to.
There are many, many different types of effects available, and if you're new to production, you may not be familiar with what the various effect types actually do. So, how do you know what you need?
The Great For list will let you browse the plugin effects based on the actual results they are 'great for' achieving! For example, you can filter and reveal the effects that are ideal for 'adding warmth', 'reducing harshness', 'adding sparkle', 'space', or 'movement'.
Just as with VST instruments, VST effects are also available in great-value bundle packages too, should you wish to add a whole range of effects to your toolbox and grab a saving for doing so.
Popular effects bundles include Fabfilter's Essential Bundle which combines their essential Pro-Q3, versatile Pro-C2 compressor, and lush Pro-R reverb in one.
New on the scene, Baby Audio's 'All Plugins' bundle gives you six inspiring effects, full of vintage personality and character. They add warming VHS video-style effects, lush reverbs, and the fantastic Smooth Operator which automatically dips harsh frequencies to smooth out problem sounds in a matter of moments.
Shop now | VST effects
---
What are VST expansions?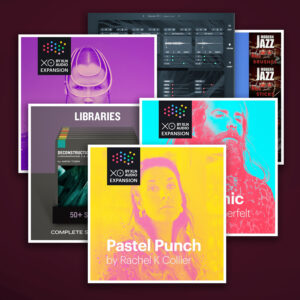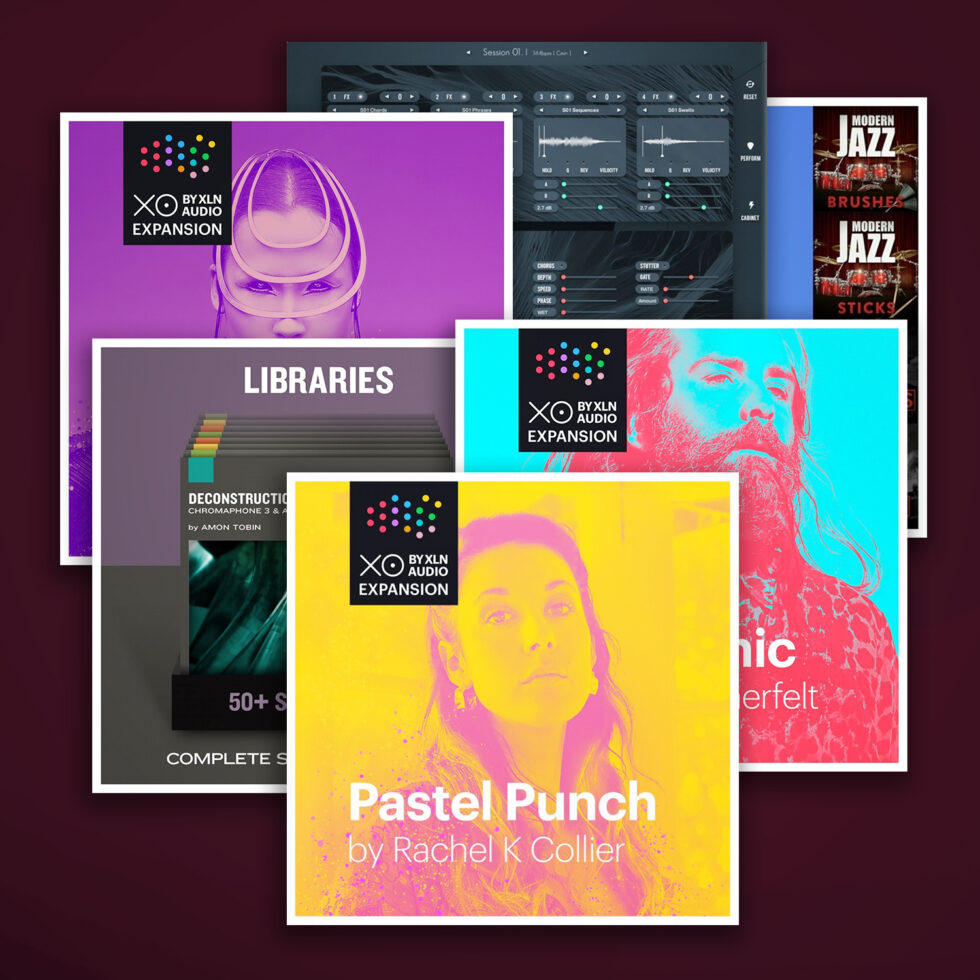 Expansions are add-ons for your instrument plugins, giving you collections of new presets, sounds, and capabilities that will quite literally expand your sound palette.
They represent fantastic value as you don't have to buy an entirely new plugin to get new sounds to play with.
Synth presets can also allow you to reverse-engineer the way in which professional sound designers programmed that particular plugin.
So, there are lessons to learn if you look carefully – or just load up the sounds and get on with finishing songs.
Expansions are usually just compatible with one particular plugin, so check carefully to ensure compatibility, or make sure you pick up the main instrument as well if a particular expansion takes your fancy.
Shop now | VST expansions
What are audio editors?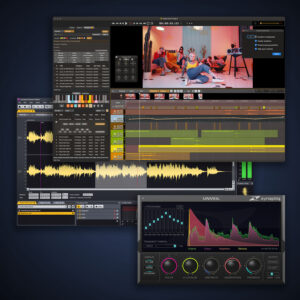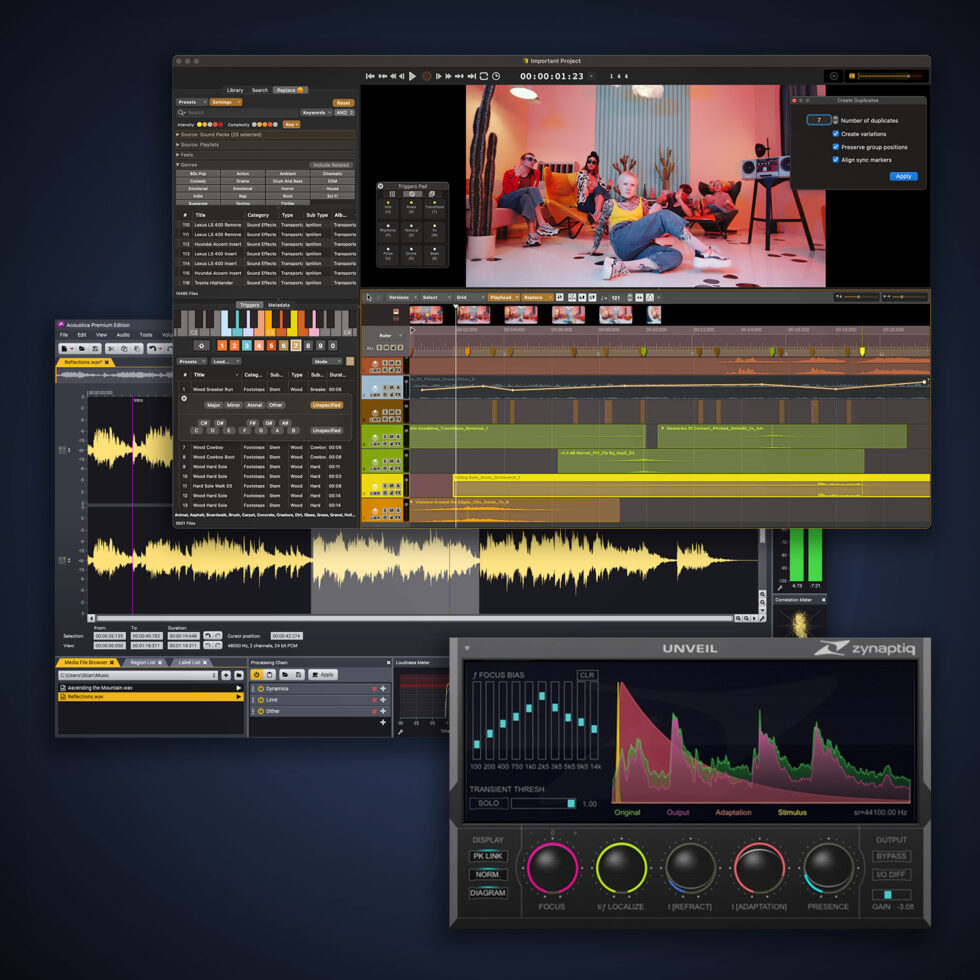 Audio editors are pieces of software that are geared towards forensic editing and treatment of sound. While they're similar to DAWs in some regards, audio editors are not commonly designed around multi-track layering. Some audio editors are not capable of loading more than one sound at once.
The upside is their detailed focus on one particular sound, ideal for either mastering (polishing audio to make it ready for release) or audio clean-up (fixing issues that would otherwise spoil recordings).
Your cleaned-up sounds may well find their way into a DAW afterwards but an audio editor is a useful sidekick to have because, despite our best efforts, sometimes we don't capture perfect recordings on the day.
One key feature in audio editors is the ability to make destructive edits; that is committing to an effect and 'baking it in' so that you can save an altered version of the audio ready for use elsewhere.
Another key feature in several audio editors is the capability for spectral editing. This is where you can see the sound spectrum on the screen. You can highlight and remove parts of the audio while leaving the rest completely untouched.
This would allow you to remove the sound of a chair squeaking from a seated interview, for example, while leaving the speech exactly as it is – something that's very difficult to do with 'traditional' tools such as EQs.
Lastly, a prized feature of audio editors is denoising – the ability to remove background sound, tape hiss, air conditioners, vinyl crackle, and other constant audio from a recording. By training an audio editor on a moment of audio containing only the unwanted noise, you can then subtract that sound from the bits you want, cleaning up the sound and potentially saving a recording.
For an incredible-value package of all-around forensic audio clean-up tools, check out Acon Acoustica. It features spectral editing as well as great denoising, declipping, de-reverb, and other useful tools. This is an essential option for recovering those inevitable noisy recordings!
Shop now | Audio editors
What is DJ software?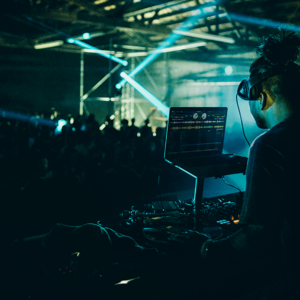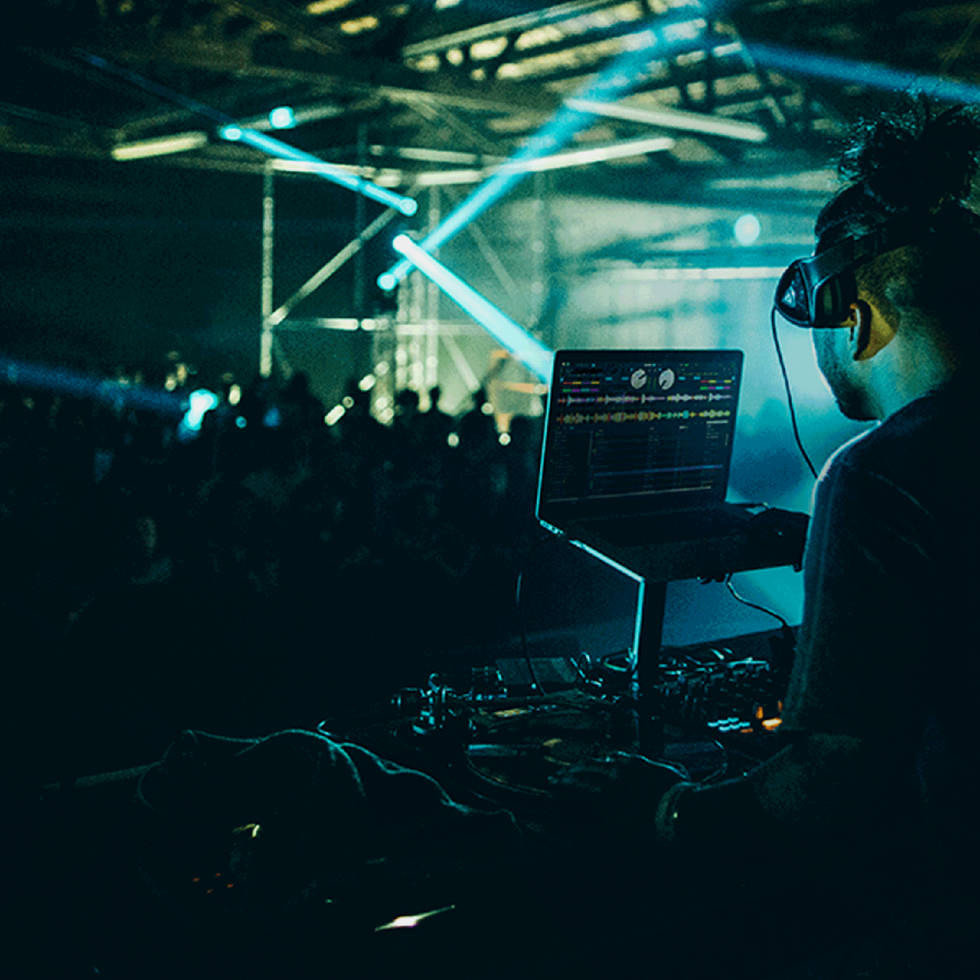 Decades ago, DJs worked exclusively with vinyl records. But with the arrival of powerful laptops, DJing is now possible with just a computer and DJ controller.
Specialist DJ software adds special capabilities, such as handy beat sync that helps align records automatically, and additional decks and effects that push the boundaries of what DJs can do.
DJ software, of course, can be combined with physical MIDI controllers for a more hands-on approach or digital vinyl systems such as those from Serato. This lets you pull from an almost limitless digital 'record bag' whilst retaining all the physicality of vinyl DJing – or any combination thereof.
You may note with curiosity that two DAWs are listed in our DJ categories. This isn't an error, rather, it's due to the fact that Ableton Live and Bitwig specifically have the ability to act as DJ software, allowing you to blend many, many tracks in perfect sync.
These also allow for elements of music production to hybridise with DJing, for example, augmenting tracks with drum loops and effects. They also let otherwise 'undanceable' records become part of a club set.
If you love to play music, DJ software can really help your creativity run wild.
Shop now | DJ software
What are sample packs?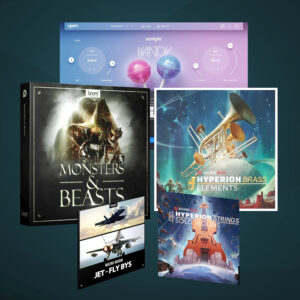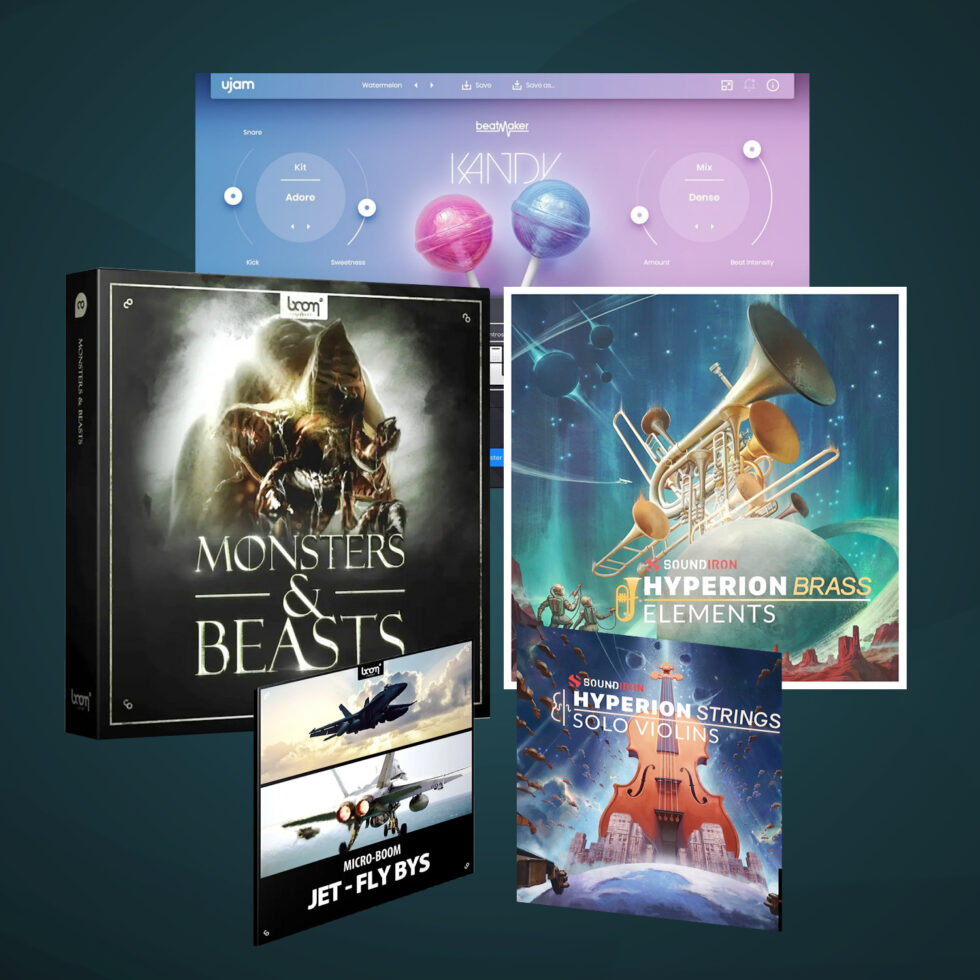 Sample packs are collections of short recordings which can be dropped into any software or device that accommodates them. They're freely used as part of the music-making or filmmaking process, without fear of violating copyright or having to record the subject for yourself.
Musical sample packs may be grouped into kits based on a musical genre that the sounds might suit. They may also be based on classic drum machines, keyboard instruments, or just interesting sound effects and elements, which can form part of the 'tapestry' of your music.
Since sounds can be layered, stretched, reversed, and further affected in a DAW, sample packs can be a powerful asset for writing music or enriching your arrangement, such as by layering samples to fatten up drum tracks, and so forth.
Sample packs like those in the Boom Library can also be designed for filmmaking. They contain recordings of real-world objects, people, or animals for the soundtracks to both realistic and fantastical productions.
These sounds are generally available in high-quality WAV format (44kHz/16-bit and higher), which is an uncompromised sound format that's universally compatible with software and many hardware devices.
Sometimes you'll discover the same sample packs include pre-prepared kits for certain popular sampler instruments, such as Native Instruments Kontakt or Battery, making them ready to use 'out of the box' if you use those plugins.
We also have tools, such as those from UJAM, in which samples are wrapped in a dedicated plugin that also performs and articulates the samples, giving you mix-ready results with just the press of a key.
Either way, they're a powerful asset for making music and can be a great source of inspiration for taking your music in unexpected new directions.
Shop now | Sample packs
Final thoughts
Hopefully this crash course has given you a better understanding of music production software. We offer a vast range of DAWs, plugins, sample packs, and more to help you reach your music production goals! Check them out in the link below.