NAMM is always a fun time for product launches, so when we heard about Kawai's new releases, we couldn't help but get excited. Their new digital pianos are upgrades to previous models, which are also extremely popular. Read on to get the lowdown on what's new.
ES120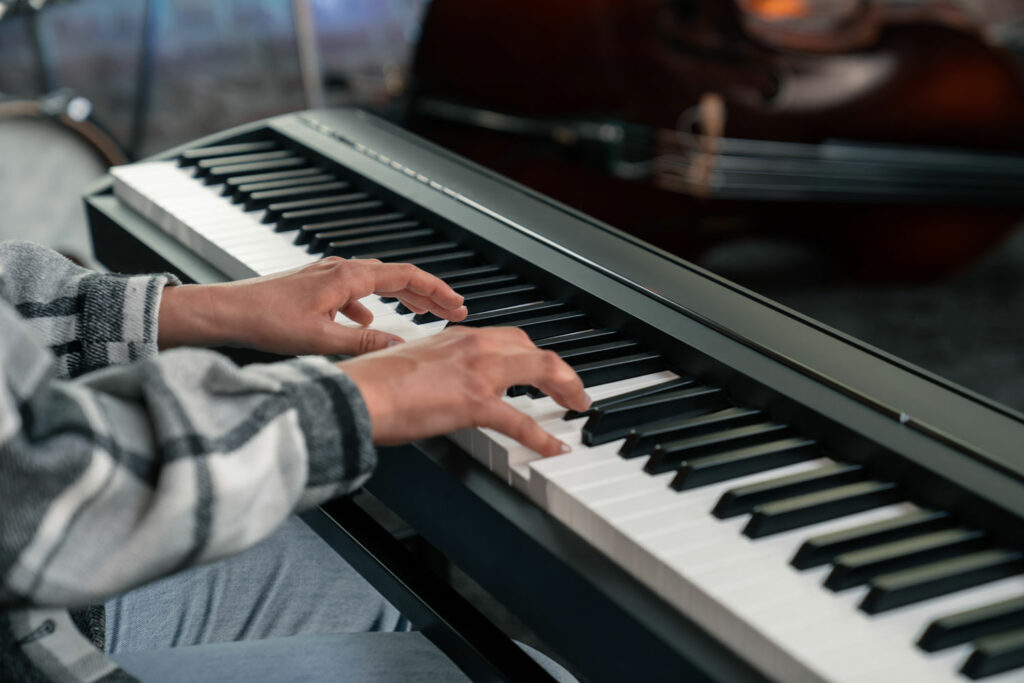 The ES120 replaces the ES110 and makes the ES range much more orderly: ES120, ES520, and ES920. Kawai's ES110 has been a popular stage piano for users of all ages, and so the ES120 aims to continue this progression and provide great action and excellent sound without an exorbitant price.
We all know that space is important. The small footprint of the ES120 is compact enough to fit in your home and portable enough for gigging musicians. Plus, you'll always have comfortable piano action, wherever you are.
A number of features have been upgraded from the ES110, including the piano action, speaker output, piano sounds, connectivity, design, and operation.
So, let's take a look at each aspect.
The Responsive Hammer Compact action provides an authentic weighted feel. Compared to the previous model, the key/hammer cushion material has been greatly improved, resulting in a quieter action that is less noticeable when you are playing.
Sound-wise, the SK-EX grand is now available with this piano, giving you a flagship sound at an affordable price. The SK-EX is an impressive full concert grand piano, famed for its warm, tonal character that carries different qualities than the bold flavour of the EX concert grand. Additionally, the ES120 boasts the sound of the K-60 upright piano which will transport you back in time.
Not only are these pianos impressive in themselves, but you can also digitally manipulate their sounds! There are a number of parameters – such as various resonances and richness levels – that are controllable at your fingertips.
The reverb environments have been expanded too, quite literally. Rather than having just three different settings, as demonstrated on the ES110, you can have six with the ES120. These include a cathedral, lounge, and live hall.
Playing at low volumes can sometimes compromise sound quality. And so, Kawai have introduced a Low Volume Balance feature which intelligently adjusts the pianos characteristics to help you play at lower volumes with smoother and more expressive sound quality. This can be adjusted through the five different settings and can even be disabled if preferred.
Piano sounds are important but it's also great to have a play with some different voicings. As the ES520 is already out there on the market, a number of different samples have been borrowed, including a vibraphone, string ensemble, wood bass, ride cymbal, and a Reed EP.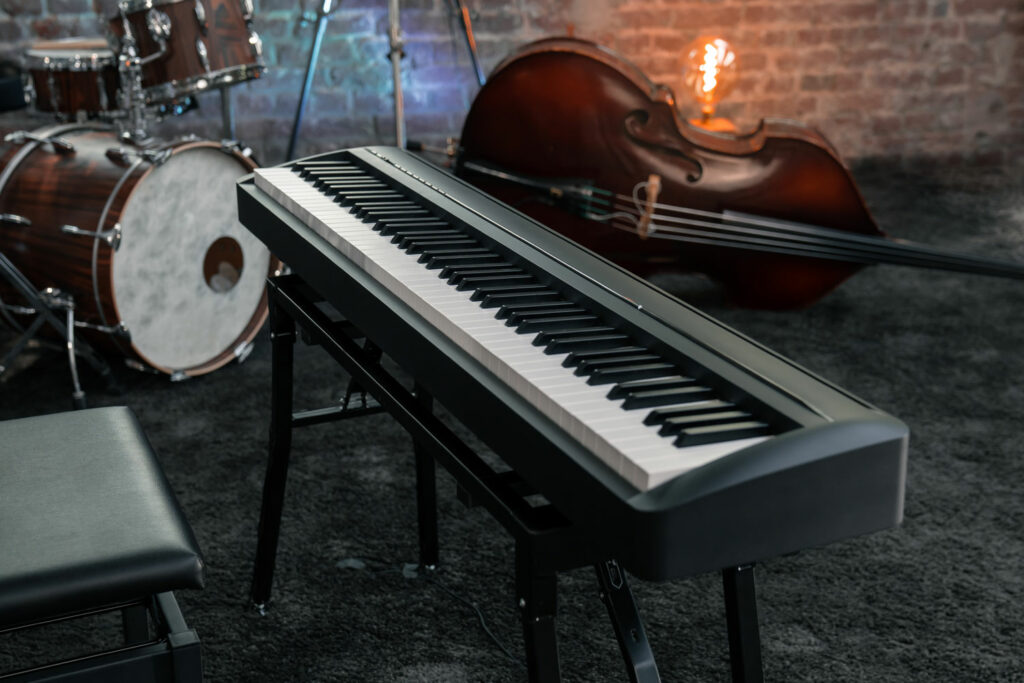 The speakers also need to be able to live up to the quality of the sound, and the ones installed on the ES120 are 42% more powerful than its predecessor's, presenting you with 2x10W speakers as opposed to 2x7W speakers. These are ideal for smaller settings and times when an amp isn't needed.
But you don't always want to play out loud – sometimes headphones can come in handy. The Spatial Headphone Sound technology produces a more open and natural sound, so you won't feel as fatigued when playing.
It recreates the experience of sitting at the piano rather than feeling as though your head is in the piano. Not only that, the headphone connectivity is also optimised for different headphone types, so whether you use in-ears, open, semi-open, closed, or canal headphones, the sound output is tailored!
In today's modern age, Bluetooth technology is important with most things. The ES120 now features Bluetooth Audio so you can link your device up to the piano and jam along to your favourite song or watch lesson videos, all without cables.
MIDI connectivity has also been improved. You now have USB MIDI as opposed to DIN MIDI, making the piano more suited to a computer or tablet. Additionally, a range of different pedals are now supported, such as the included F-1SP latch pedal or the optional single pedal (F-10H), triple pedal (GFP-3), or triple pedal board (F-351) which is used with the wood frame stand.
Apps have become increasingly common with pianos, and this opens up a more intuitive way to change the settings. With the PianoRemote app, which is available for iOS and Android, you can select sounds and adjust any of the Virtual Technician settings.
The appearance of the piano has also changed a little. It features an indented volume slider which is extremely comfortable to use, whilst the smooth, rectangular buttons are integrated into the polished bar and are easier to press. The dedicated Bluetooth button then makes the pairing process much simpler. The edges of the instrument itself are more rounded and much softer.
If you choose to buy the wood frame, essentially giving you a cabinet piano, the new HML-2 stand is much stronger and sturdier than the previous model.
Shop now | Kawai ES120 Digital Stage Piano
CN201 and CN301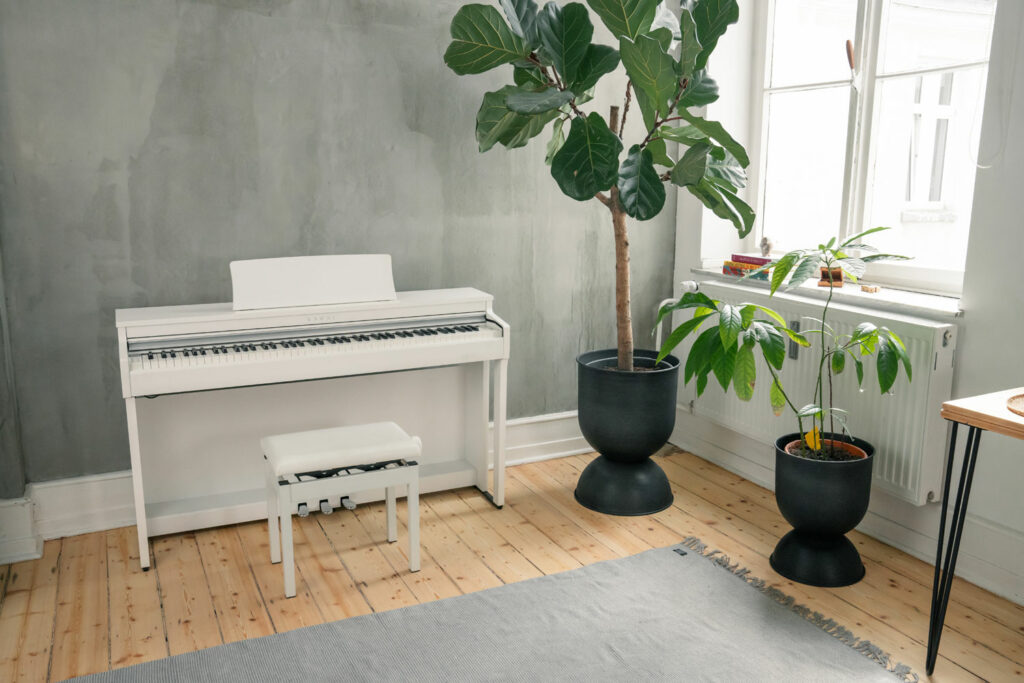 The first piano of the CN range to get a refresh is the CN201. Previously the CN29, this is an ideal cabinet piano for all ages, particularly beginners. It comes with a greater specification list than the entry-level KDP120, providing you with additional features and technology.
The CN301 is the refreshed version of the CN39 and it completes the CN range. It boasts more functionality than the CN201, making it more of an intermediate model.
Many different features have been improved, including an upgraded action, new power supply, re-developed control panel, updated appearance, and the boost in connectivity that you would expect.
Despite the action sounding the same on paper, being that it's still the Responsive Hammer III Action, its design has been improved for 2022. The keys feature an ivory touch surface, so they are more tactile and feel just like a traditional, acoustic piano.
The counterweights remain a feature of this action, alongside an improved triple sensor to further enhance the realism. There are new cushions for the hammer, support, mid-rail, and keys, which all help decrease the mechanical sounds by around 10% and reduce the bounce of the key.
As with the ES120, these two CN pianos feature sounds of the SK-EX and EX concert grand pianos and the K-60 upright. But the CN301 also benefits from the SK-5 piano, a mid-sized grand piano which is more delicate, and more intimate.
Not only do you have the sounds from these top pianos, but you also have faithful, clear projection. The speakers have new diffusers, which are mounted above the speaker, and enhanced technology that has been inherited from the more advanced CA79 and CA99.
But what does this mean? Well, it means you get a more natural, immersive sound which has great tonal projection, so it accurately recreates the detailed sampling of these pianos.
The power supply is something that people often overlook, but the engineers at Kawai certainly haven't. With a redesigned power supply, the pianos promise a clean, low-noise power delivery. It reduces noise by approximately 50% and gives a smoother, clearer piano sound to enhance your playing further.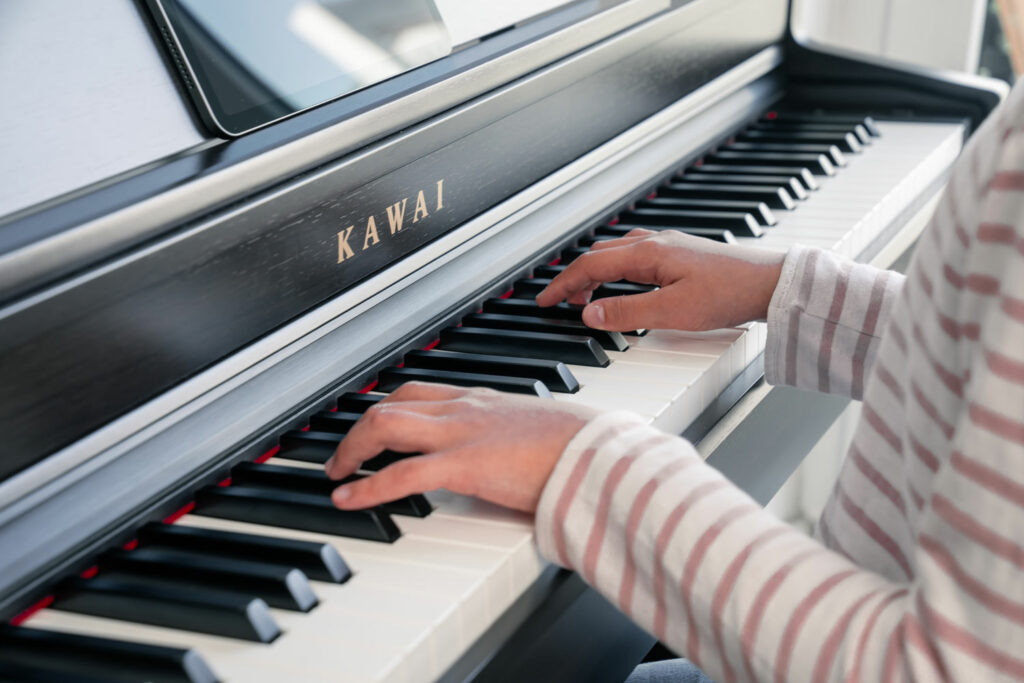 More of the ES120's features also trickle into these pianos. The Low Volume Balance feature (for better sound quality at lower volumes); the Virtual Technician parameters (to tweak the minute details of the sound); Bluetooth Audio (for streaming sound through your speakers); and the PianoRemote app are all available.
The appearance has been updated, too. Starting off with the control panels, they are more modern, boast more tactile buttons and, again, feature a button for easier Bluetooth pairing. The buttons are now printed on, meaning they look similar to the touch screens of more premium models.
Even the cabinet has had some slight tweaks, such as a flatter curve on the arms and a deeper pedal distance to improve your playing experience. In addition, the CN301 has had the outer panel removed and a top speaker net installed for the sound to escape.
Shop now | Kawai CN201 Digital Piano
Shop now | Kawai CN201 Digital Piano Package
Shop now | Kawai CN301 Digital Piano 
Shop now | Kawai CN301 Digital Piano Package
Find out more
What Kawai has done with these lower mid-level pianos is impressive, with technologies and features found in more expensive models now being filtered into these. It's always exciting hearing what Kawai are doing and we can't wait to see these in the flesh!