Learning a new skill can be challenging, especially when it comes to finding reliable sources to help you become a pro at home. It's easy to spend hours scrolling through websites which contain incorrect information and lead you the wrong way. As a beginner, this can be very stressful and can feel quite discouraging.
Therefore, in this guide, we have grouped together our most useful sources in order to make this process as enjoyable and efficient as possible.
---
The foundation of your skill

The first step to learning how to play the guitar is, you guessed it, having a guitar.
Knowing which model, brand, and style to get can be confusing, especially if this is your first time ever purchasing one. They come in a wide variety of shapes and sizes. There's electric, acoustic, and electro-acoustic – each of them with a range of styles and brands.
To get you started, we have a wide variety of sources to aid you in shortlisting your options and, eventually, making the right decision for you.
Here on our news page, you can find a multitude of blog posts to guide you in your search for a guitar. For example, our site features blogs directed towards guitar types, such as electric and acoustic, alongside ones targeted towards specific models, such as the Fender Jazzmaster.
It's not just our blogs that can provide you with guidance. Our YouTube channel features a number of product demos and reviews that allow you to listen to the tone of your guitar before buying online.
These demonstrations stretch over a wide variety of brands, ranging from our own to outside brands, such as Fender and Ibanez. With these, you can analyse which product best suits your preferred style and sound.
Shop Now | Guitars
---
Starting with the basics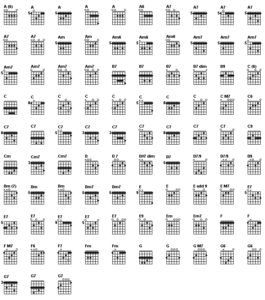 At the start of your journey, once you've picked your ideal guitar, you need to start looking into the basics of performing chords. For this, you may choose to look up songs that you enjoy and then search for how to play the individual chords.
Google Images is a good place to find easy-to-read charts that display where each finger should be placed. On there, you can also find alternative charts and finger placements that produce the same chord in a simpler or more complex style.
However, a lot of these chords aren't always right, and just Google Images alone isn't always guaranteed to provide you with the correct information. Therefore, a more reliable source may be required.
This is where tuition books come in. These books are much more reliable than Google Images, as they are proofread and published by the experts.
---
Play along with your favourites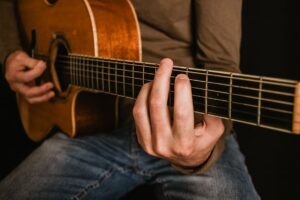 There's a wealth of websites out there that provide you with the chords for all of your favourite songs. You can find lyrics which have chords displayed above of them, allowing you to follow along and change chords as they come.
From first-hand experience, I can say that this is a very good way to get to grips with changing chords. It's also a great way of learning how to play when you don't know how to read music.
A lot of these sites also feature chord diagrams, which are shown when you tap on the chord letter. The diagram pops up, usually alongside alternatives, which tend to be barre chords. However, barre chords can be tough, especially at a beginner level.
A downside of these diagrams is that they may not show you the exact chord the guitarist is playing. For example, the chord could be a G, so as a beginner you would play the standard G. But the artist could be playing a variation of this chord on a higher fret. This means your performance won't always sound exactly like the original, but it still offers a close recreation.
Another con of these chord charts is that, most of the time, anybody with an account can upload one onto the website. Therefore, they're not always guaranteed to provide you with the correct information. It is a good way, though, to train your ear into checking whether the chords actually match the song.
Some specific sites, such as Ultimate Guitar, have the option of a paid membership, and this guarantees correct chords and timings. There are also many other features that come with the membership, ensuring that the cost is worth it.
Once you've mastered basic chords and structures, you might want to move onto something called 'tab'. This is numerical notation that signals what note to play: the numbers represent the frets and the stave represents the strings. Notation software, such as Arobas Music Guitar Pro, is sure to help you get to grips with reading and writing notation.
---
Infinite information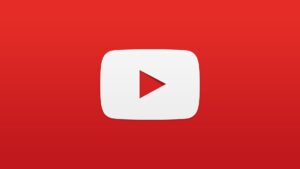 You can find absolutely anything on YouTube. Comedy, factual videos, reactions, game shows. The list is endless. Something else that can be found on there is a wide selection of tutorials – and the list for these is endless too.
You can find a 'how to' on anything, with one of the most common tutorials being guitar videos. These stretch from chord work to intricate fingerpicking, to how to develop your own style and sound.
The copious amounts of video options make YouTube a great choice for learning a new skill. Alongside its large catalogue, it also offers a personal teaching style.
Every detail is carefully talked through, which makes the learning process easier as both your hands are free to experiment with the new chords, styles, and information given. There's nothing worse than almost having a chord and then having to scroll on your device, losing your progress.
---
Doing it the old-fashioned way
A lot of people may avoid tuition books due to the vast amount of knowledge that can be found online in a matter of seconds. However, books ensure you always have a physical copy that you can keep on hand, unlike websites that may crash or get deleted or updated.
You can always rely on a book to be there with the correct information. On our site, we sell a variety of books for a range of instruments. For guitar, we feature three books that are well suited to beginner guitar players, two of which come with an extra DVD/CD for added practice.
In these books, you can find tips and tricks to help you with grasping chords, alongside exercises and techniques to improve the chords after you've learnt them.
Once you've mastered the correct finger placement, you can play along to the songs that are featured in the book. These not only further your progress, but also allow you to run through songs from start to finish, giving you a taste of that natural performance feel.
Shop Now | Guitar DVDs & Tuition
---
Learn from the pros
As a company, we don't just sell products, we also offer services. One that we feature on our website is an online course known as Music Gurus. When purchased, you receive a selection of high-quality videos that are led by professionals.
These are perfect for beginners, as you are able to watch them at your own pace. It also means you can re-watch them if you need to go over a lesson again.
You don't just receive the tutorial though. Alongside the videos, you are also provided with sheet music, transcriptions, and backing tracks that allow you to keep working on your skills after the video has ended.
You can guarantee that everything within this course is correct and sure to help you improve, as they are taught by professionals. This is something that you can't guarantee when looking at free, online information. Sources online can be posted by anyone, which means they're unlikely to be fact checked. With this pack, you know you're getting information from the experts.
Find out more | Music Gurus
---
The best-of-the-best tuition
In order to gain a deeper understanding of the tone of your guitar, you can purchase the ProAudioEXP. This course is delivered by the iconic David Wills, who is guaranteed to offer you the best-of-the-best knowledge, stemming from his vast touring experience with the likes of Michael Jackson and Phil Collins. Once you know the basics, he will help you to shape your tone and achieve the perfect sound for your rig.
Over the duration of the course, you will cover guitar types, tone overviews, effects, amps, mic placement, and everything in between. And once you've completed it, you'll be able to combine your newly learnt songs with your unique tonal shaping for an iconic performance every time.
Find our more | ProAudioEXP
---
Don't stop there
As you progress with your guitar playing, you can begin to look into other sources that Gear4music have available. Why not take a look at our Steal the Sound series on our news page? It will teach you how to recreate the sound of some of your favourite artists and what effects to pair with your guitar, as well as guiding you on new product launches/deals.
Additional information can also be found on our YouTube channel. Discover a vast range of product demonstrations, reviews, and tutorials, such as how to restring your guitar. Explore our channel to learn more and transform yourself from a beginner to a pro.
Shop now | Electric guitar starter packs
Shop now | Beginners' acoustic guitars
Shop now | Guitar tuition books and DVDs