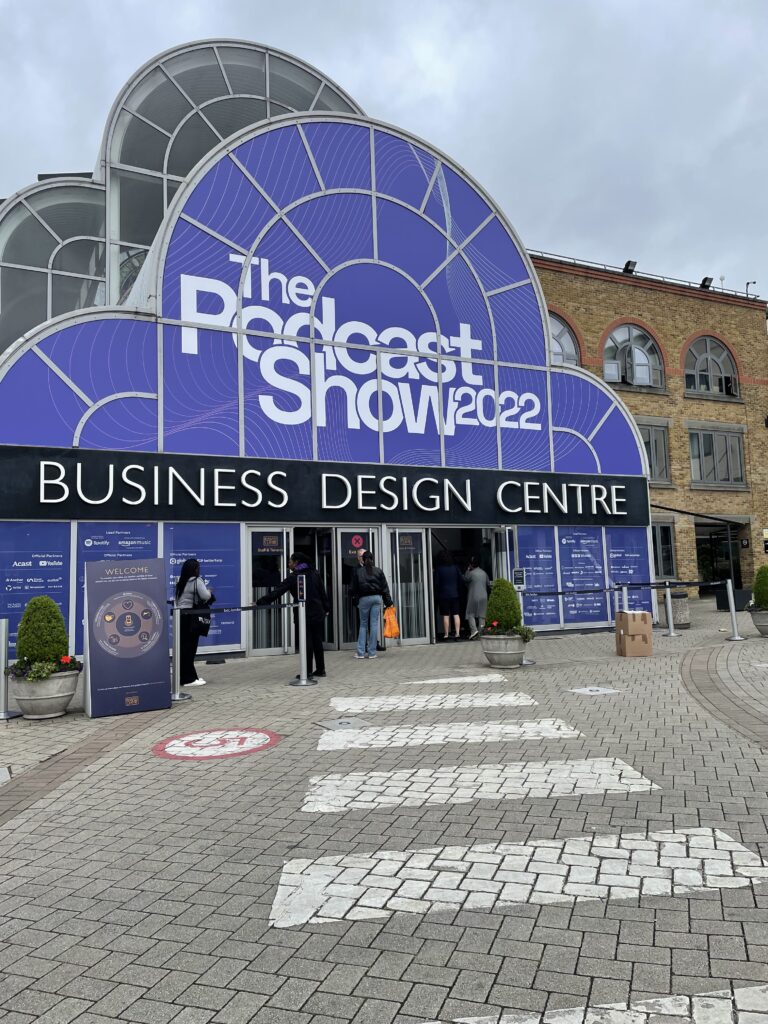 You probably know someone who has a podcast or an idea for a podcast, or maybe you want to give it a go yourself. Well, now is the perfect time to.
In 2020 there was a "podcast boom". Everyone was locked in their homes and turning to new things to listen to – and podcasts entered the scene. It seems like, even today, that boom hasn't slowed, and podcasts are more popular than ever.
So how do you start a podcast in 2022?
Luckily, we've just spent the day at the first-ever International Podcast Show gathering loads of information from podcast pros.
The Podcast Show is a festival that is designed for everyone and anyone who is into podcasting; it brings the whole podcasting community together from all over the world. There are countless opportunities to learn more about podcasting and network with industry professionals, publishers, and brands.
We learnt a lot about podcasting while we were there, so we will be sure to pass on as much information as we can in this blog post to help you with your podcast.  
---
The correct equipment
While the content of your podcast is the most important thing to focus on, without good audio quality, audiences are likely to turn off within the first couple of minutes. Your audience does not want to be distracted by a buzzing in the background or poor audio quality that makes your voice sound thin, distant, or too quiet.
Even though most mobile phones are equipped with pretty decent microphones, they will pick up everything and anything. Distinguishing a voice in a noisy environment will be impossible, and it's not the kind of sound you want for premium, professional content.
The microphone is the main tool for any podcaster. Having a good quality mic will make all the difference in ensuring your podcast sounds professional and high in quality. There are 2 types of microphones we would recommend:
As well as the connections, it's important to know if the microphone is a "condenser" or a "dynamic" microphone.
A dynamic mic isn't as sensitive as a condenser and it's usually much better at blocking out any unwanted noise. They also tend to be cheaper and do not need phantom power to work.
A condenser, on the other hand, is a high sensitivity microphone that can capture sound in finer detail, and it's best used in treated spaces such as studios to ensure there is no unwanted background noise. It needs phantom power to work and it's not as robust as a dynamic microphone.
One of the main brands that we spoke to at the Podcast Show was Shure Microphones. They really put into perspective how important audio quality is for your podcast – it's the difference between keeping your listeners engaged or them ending the podcast early.
Shure focused on 2 of their main podcast microphones, the MV7, which is a dynamic USB and XLR microphone, and the SM7B, which is a legendary dynamic XLR microphone.
---
USB Microphones
USB microphones are perfect for someone who doesn't want an overly complicated set-up. All you need is a USB mic and a computer to plug it into, and you're good to start recording.
Some USB microphones can even be plugged into your phone, making it super easy to make content when you're away from home.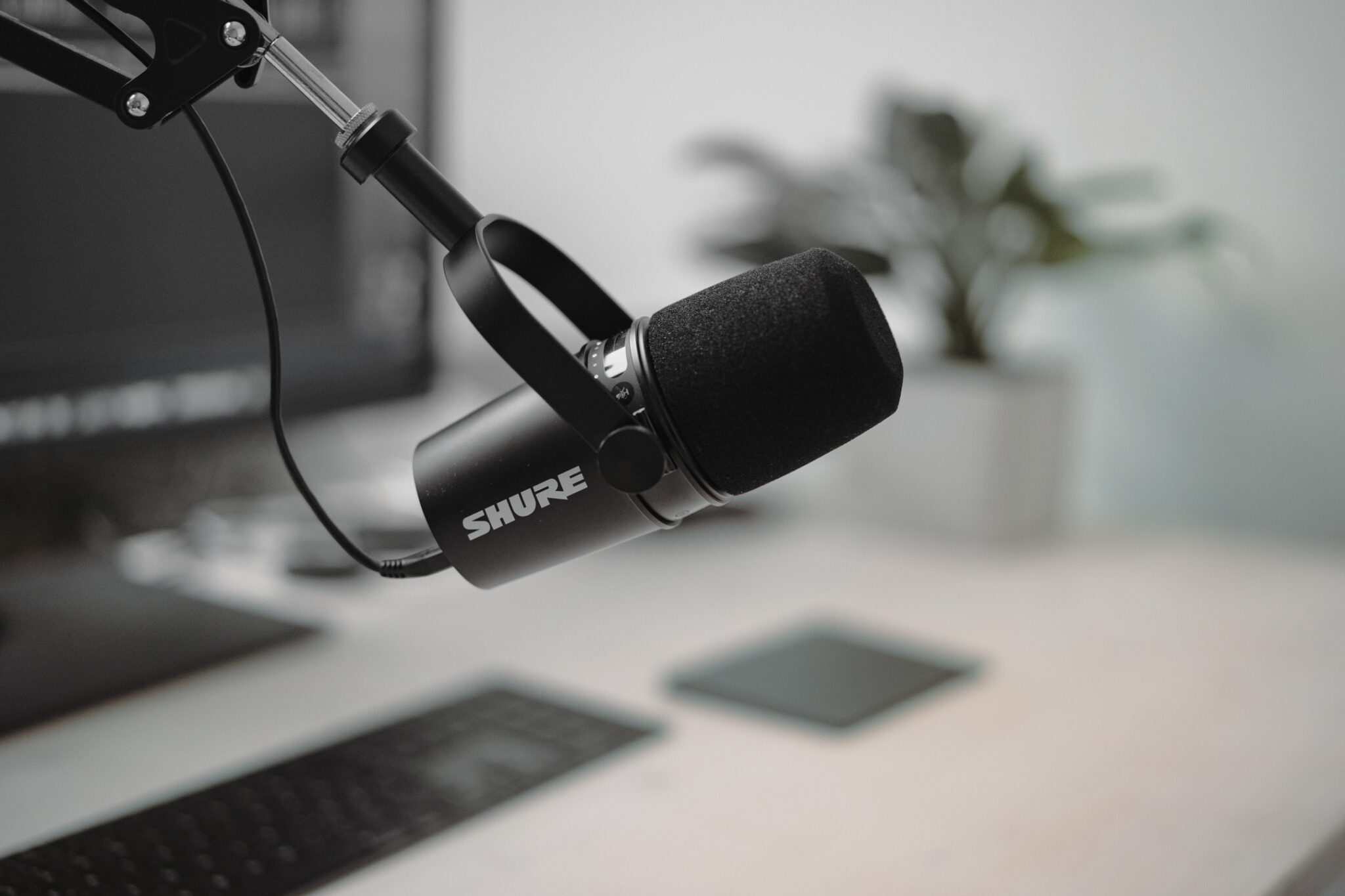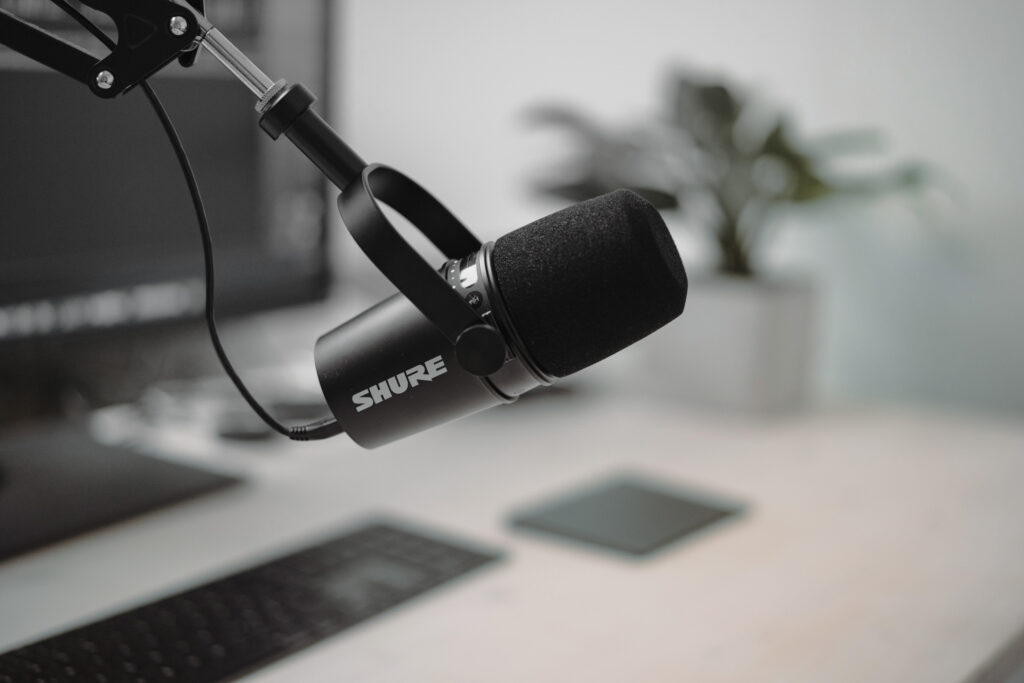 At the Podcast Show, the Shure MV7 was front and centre throughout the day. It's likely you've already seen this microphone before – it's designed specifically for voice and podcasting.
The Shure MV7 makes it effortless to achieve amazing, broadcast-style sound. Plug directly into your computer or phone using the USB and you're ready to record. You can then use the onboard controls to adjust the microphone gain and the headphone mix.
To help you get the most out of the Shure MV7, the Shure Motiv app gives you the option to set the microphone to "auto-mode" which provides consistent reliable sound. "Manual-mode" then lets you adjust the microphone's EQ, limiter, and compression, promising full control over your sound.
Unlike other USB microphones, the MV7 has both a USB output and XLR. It also uses something that Shure call voice isolation technology, which allows the microphone to focus on your voice and block out any unwanted background noise.
This really is the perfect mic when it comes to podcasting, it has everything you could ever need to make your podcasts sound great.
Shop now | Shure MV7 USB/XLR Podcast Microphone 
---
XLR Microphones
An XLR microphone is a mic that has a 3-pin "XLR" connector.
This makes your podcast set-up a little more difficult as you can't just plug it directly into your computer, you'll need an audio interface. However, the sound and build quality of the microphone is likely to be much better. 
Another microphone that was at the Podcast Show, and arguably the most popular microphone there, was the Shure SM7B.
This microphone is widely sought-after and has been used on countless podcasts and streams.
For podcasting, the SM7B is the go-to. It will always make your voice sound great no matter where you are, offering premium broadcast quality every single time.
Shop now | Shure SM7B Dynamic Studio Microphone 
---
Equipment checklist:
1 – Microphone (Shure SM7B)
2 – Audio interface (Focusrite Scarlett)
3 – Headphones (Shure SRH840A)
4 – Recording software. (Logic, Garageband, Pro Tools, or Ableton)
5 – Cables
If you're unsure about where to start, you can check out our full podcasting gear guide.
---
Think about your content
It's all well and good having amazing quality audio, however, the main thing to think about is your content.
The best place to start when planning your content is, of course, the topic you want to talk about.
Find a topic you're interested in and have ample knowledge of. You need to be able to form your own opinions and talk about the subject in great detail. For example, if you wanted to start a podcast about music, it would be a good idea to narrow down the topic. Each episode could take the listener on deep dive into your favourite albums or artists and how their music has evolved over time.  
Keep in mind that there are thousands of podcasts out there that cover similar topics. Creating a podcast about a topic that you are passionate about is the key thing here – it's important to make sure your enthusiasm can be felt by the listener, ensuring they're engaged throughout. You will also need this passion to keep you motivated.
---
Choose a format
Deciding on what you want your content to be about is one thing, but thinking of a format is just as important.
A podcast format is basically the "style" of your podcast. Is it an interview, scripted fictional story, or educational podcast? Will you be talking on your own or will you have a co-host/guest? 
Your podcast format will also help you narrow down who your audience is.
---
Who is your audience?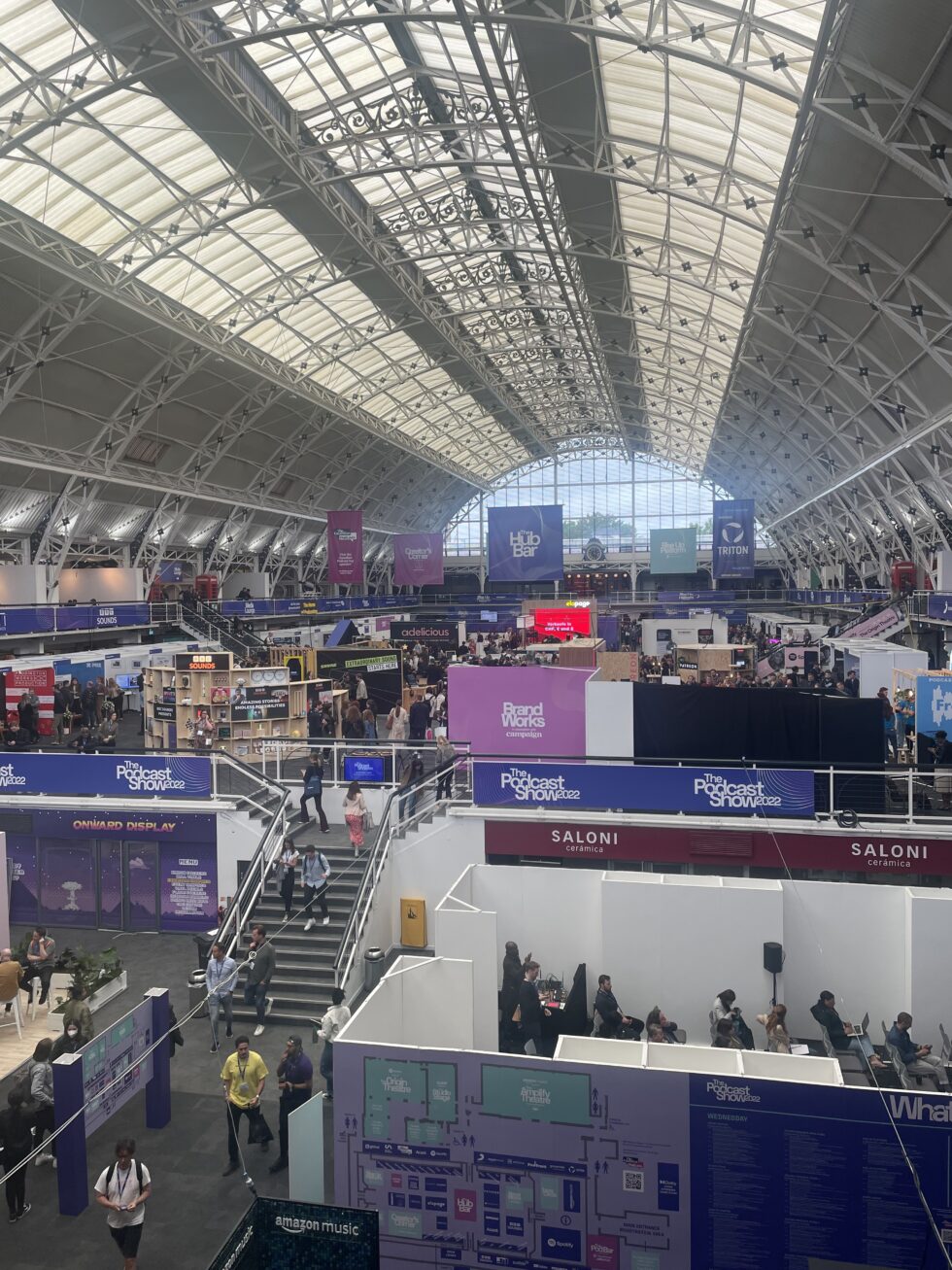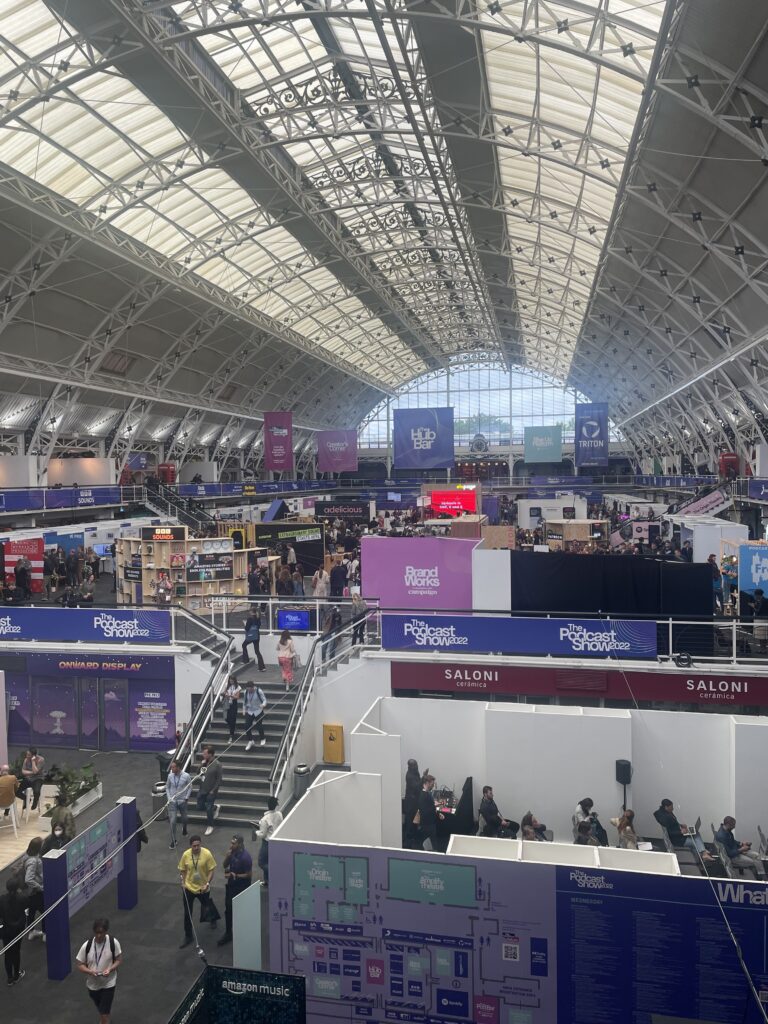 So, you've got your equipment, and you've got your topic, but are you targeting the right audience?
Capturing your audience was discussed in great detail at the Podcast Show. The main takeaway was that your content needs to be specific, suiting the audience you want to target. If the topic is too broad, there is a chance it will lack the detail that someone is looking for.
Let's take the podcast example we made earlier (deep diving into your favourite albums). Think of a way to make it even more specific. You might want to talk about a certain genre, artist, or how the overall "sound" of an album has evolved from the previous album.
Your audience will most likely be like-minded people, probably around a similar age and into similar hobbies. Building a relationship with your audience is one of the most important ways to make sure they keep coming back every week to listen to your podcast.
---
Stand out amongst the noise
There are currently 3.2 million podcast episodes listed on Spotify alone, so making sure your podcast stands out from the rest is super important.
If you have some graphic design experience or have used photoshop in the past, this will be easy for you. Creating artwork for the podcast and paying attention to how it will look when it's on streaming services is important – visuals matter!
It's the same as album artwork or a thumbnail for a YouTube video, you want to make sure your podcast artwork stands out to new listeners, making them want to click on your podcast.
Think about your podcast's image and its "brand" so that it is easily recognisable across social media.
At the Podcast Show, Spotify had some really helpful tips for making your artwork:
DO
Use high-resolution photos

Use simple, high contrast imagery

Pick complementary colours that work well together

Ensure the text on your art is clearly legible on mobile phones
DON'T
Stretch photos that are too small – the best size is usually 1080 x 1080 px

Use too much text or too many colours and fonts

Pick random colours – have it make sense to your overall "brand"

Use small text or any other text that isn't the title of the podcast.
---
Get your podcast out there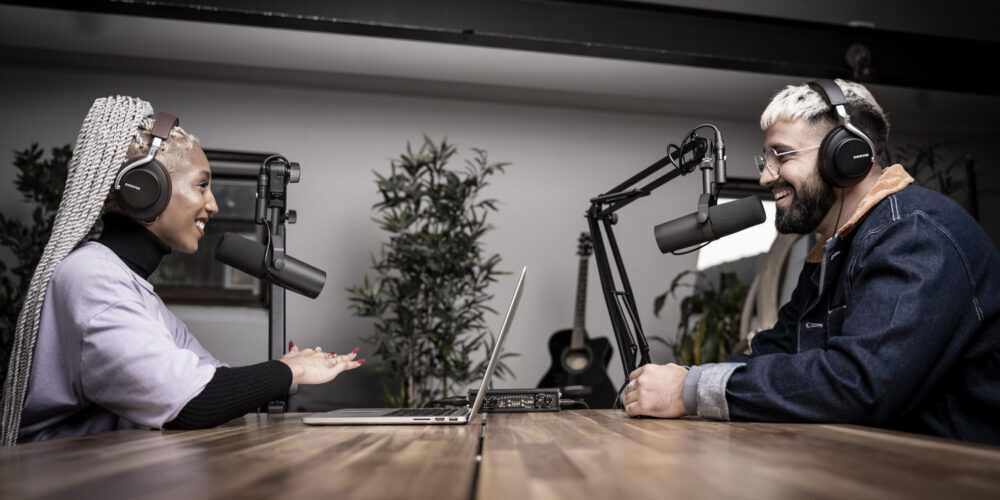 If you've reached this point, you should have recorded your podcast, created your artwork, and know exactly who your audience is. You'll need a way to get your podcast on streaming sites like Spotify and Apple Podcasts.
There are a lot of excellent distribution platforms out there. One that really stood out at the Podcast Show was Anchor. This is a platform that is free to use and lets you distribute your podcast to all major listening apps. It gives you data on where people are listening and who is listening, whilst helping you monetize your podcast with adverts. You can even use it to create your cover art for your podcast.
Putting it out on the correct platforms is one thing, but if no one knows about it, they won't be able to find it. Building a strong connection with your listeners is another vital part of podcasting.
Make sure you have extra video and photo content that you can put out on social media so people can get a feel for your personality and what your podcast is about. They need to feel like they can relate to you and that this podcast is going to give them something they want.
Filming your podcast at the same time is a good way to have extra content for social media as you can take clips and shorten them down to 60 seconds, making them suitable for Instagram or Tik Tok.
---
Podcasting in 2022
Even though we are still within the podcast boom, it seems that podcasting is only going to get more and more popular.
Don't feel discouraged by the many thousands of podcasts out there in the world, if you have something you feel is worth talking about and you think there is an audience for it, get out there and do it!
Hopefully, this blog will help you move forward with your podcast.