Are you a beginner looking for your first guitar or a parent wanting an entry-level acoustic to inspire your child? The wide range of choices available can make finding the perfect model feel impossible.
However, when picking a first guitar your most important considerations should be:
Is this guitar fun?
Is it easy to play?
If both of these boxes are ticked then it's inevitable that the guitar will propel any fledgling player on their journey from beginner to intermediate.
Designed with students in mind, the Hartwood Prime range was built upon such considerations. The exceptional choice of tonewoods, shapes, preamp, hardware, and strings all come together to provide a unique model at this price point, offering a premium platform for any guitarist that's serious about mastering the instrument.
Superb tonewoods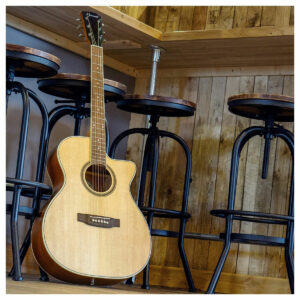 Tonewoods can make or break an acoustic guitar. The term "tonewood" is commonly used when discussing musical instruments. It refers to specific wood varieties which possess tonal qualities, making them ideal for stringed instruments.
The Hartwood Prime features a fine selection of tonewoods.
At the heart of each model is an okoume body. Tonally similar to mahogany, okoume is a popular choice among some of the world's leading guitar luthiers and manufacturers.
A spruce top then provides the perfect contrast to the softness and warmth of okoume, emitting a clear, balanced tone with an abundance of sustain.
Together, this combination will make any arpeggiated chord pattern or fingerpicked line sing out. The okoume neck is also topped with a sustainable poplar laminate fingerboard, ensuring a smooth and stable surface that's great for all playing styles.
Choice of shapes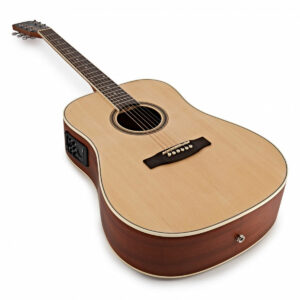 The Hartwood Prime range includes two shapes: a single cutaway and a dreadnought.
Tonally speaking, both models have their own unique sounds which can make it difficult for beginner players to choose between.
So, what are these differences?
Single cutaway – This style gives you immediate access to upper frets, which can make practising scales and performing solos feel easier. What's more, the reduced surface area ensures a naturally brighter tone. The increase in attack and presence gained then means the guitar equally excels with delicate fingerpicking patterns and fast-paced chord progressions.
Dreadnought – Big and bold, dreadnought guitars are renowned for their larger-than-life sound and versatility, proving useful for a broad range of playing styles. This classic guitar shape offers great low-end presence that instantly adds weight to your chords. It also provides fantastic projection, sustain, and resonance.
Although the dreadnought is the perfect size for most adults and teenagers, the single cutaway may be more accessible to smaller players.
Easy to play
Players of all ages and abilities will instantly feel an affinity with the Hartwood Prime series thanks to each guitar's C-shaped neck.
This is the most common neck shape for guitars, meaning if you already have experience playing another brand then you'll easily be able to transfer your skillset to these acoustics.
For beginners, this style of neck can be extremely useful as it offers the most comfort, encouraging budding guitarists to practise and play for extended periods.
Plugged or unplugged?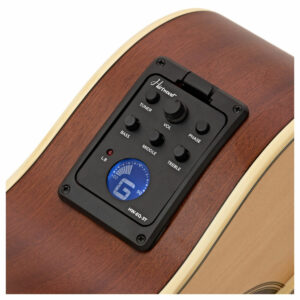 Traditional acoustic guitars are great for players who don't tend to perform live. However, electro-acoustics offer more possibilities.
Both types of guitar are available in the Hartwood Prime Range.
The main difference between the two types is that the electro-acoustic is arguably more versatile as it has a bespoke EQ-3T preamp fitted in the body.
This means the sound of the guitar can be easily amplified by running it through pedals or connecting it to an acoustic amplifier, PA system, or mixer.
Another benefit of the Hartwood Prime electro-acoustics is the tuner and three-band EQ in the preamp.
This allows you to check your guitar's tuning on demand, whilst the three-band equaliser lets you effortlessly adjust the guitar's tonal quality when connected to a source of amplification.
D'addario strings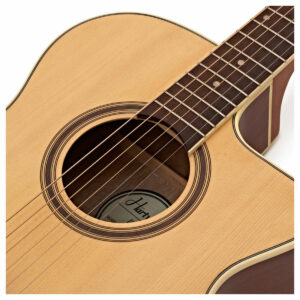 Designed, engineered, and produced in the USA to the most stringent quality controls, D'addario are the world's largest manufacturer of instrument strings.
A token of quality, all Hartwood Prime guitars ship with factory-fresh D'addario EXP 16 acoustic guitar strings.
These provide a crisp, clear tone that perfectly complements the Prime's selection of tonewoods.
They're also durable enough to withstand the rigours of continued use, ensuring your sound remains as punchy and powerful as the day it left the box.
Bundles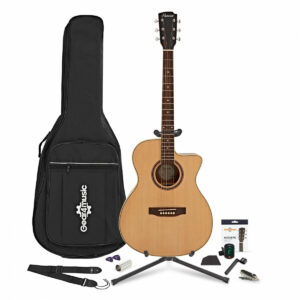 Giving you all the accessories you need to get started, bundles are extremely useful for players new to the world of guitar.
Both the Hartwood Prime acoustic and electro-acoustic models are available separately and as part of dedicated packs.
Complete Player Packs consist of:
Padded acoustic guitar bag
Traditional guitar stand
Spare acoustic guitar strings, light
2″ black guitar strap
Capo
Slide
Plectrums
Tuner
String winder
Instrument polishing cloth
Shop now l Hartwood Cutaway Acoustic Guitar Complete Player Pack
Shop now l Hartwood Dreadnought Acoustic Guitar Complete Player Pack
Shop now l Hartwood Cutaway Electro Acoustic Guitar Complete Player Pack
Shop now l Hartwood Dreadnought Electro Acoustic Guitar Complete Player Pack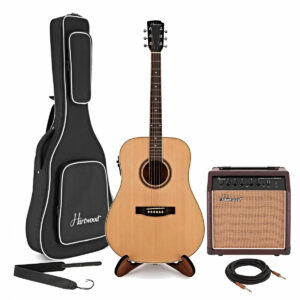 Electro-Acoustic Amp Packs consist of:
15W acoustic amplifier
Cable
Padded acoustic guitar bag
Stand
Shop now I Hartwood Dreadnought Electro Acoustic Guitar Amp Pack
Shop now l Hartwood Cutaway Electro Acoustic Guitar Amp Pack
Find out more
If you have any questions about the Hartwood Prime range or any other guitars from this brand, comment below!