BOOM! ROAR! RUMBLE! It's time to get in the mood for some amplifier action! Because without a boombox to voice your electric guitar's soulful cry, your six-string is like a rudderless boat adrift at sea.
But where to start? There are hundreds of amplifiers out there and it can be almost impossible to decipher which one is right for you without, you know, trying them. So, in order to remedy this audio quandary, we've put together a small guide. You'll soon know what to look for in your first amplifier.
And to top it all off, we've got a list of great beginner-friendly suggestions for you to feast your eyes (and ears) upon, so you'll be screaming out solos like a rock god before you know it.
Where to begin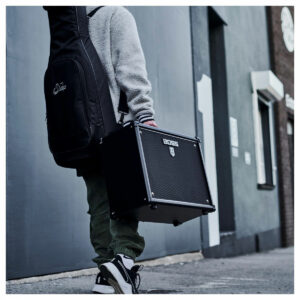 Arguably as important as the guitar itself, a good amplifier is crucial to getting the right tone. But there are some practical concerns involved too.
For instance, size, weight, and portability are massive factors to consider when deciding on a unit. Not everyone has the luxury of a dedicated home studio, so space-saving amps can be vital!
On that note, amps can be loud. And while you might need to crank the dials during rehearsal, your neighbours may not appreciate the pounding rock riffs if you've got thin walls.
Luckily, there are amps for that too! A lot of models offer headphone outputs and/or power attenuation. This basically gives you a full dose of tone at lower volumes, letting you enjoy some unrestrained jamming without being tied to headphones.
And the sound?
What are you in the mood for? Metal? Motown? A light dusting of blues? Amps are often tailored towards certain kinds of genres or sounds, so choosing the right one for you can lead to the most rewarding experiences. Don't worry though, many beginner models adopt a versatile approach, lending themselves to a variety of styles to let you find your voice.
Indeed, a few of the amps we'll show here have "modelling" features. This means they can digitally replicate, or recreate, the sounds and tones of some world-famous amps. Therefore, this lets you dive into the established timbres and textures of some of the best rigs ever put together, all on your very own practice amp!
At the very least, every amp we'll list has clean and distortion channels, so you can slide between the airy, crisp chimes of clean and the full bore smoke show of distortion.
Let's get some terms cleared up
Before we go any further, it'll probably be handy to break down the terms we'll be using in this article. This will help you plan what features will benefit you the most!
Combo amp
Quite simply an amplifier and speaker combined. "Amplifier" has a pretty catch-all meaning amongst casual players, but it actually refers to the specific part that 'amplifies' your guitar's signal. Because combo amps come with a speaker, there's no need for any extra gear – which is why they're great for beginners!
EQ or equaliser
These sets of controls allow you to balance, or "equalise", your tone. Adjust each dial to shape your sound until you find a setting that complements your playing. Commonly, these come in a "three-band" EQ, meaning there are dials for bass, mid-range, and treble. Sometimes, more basic models only have two, and advanced models have four (or more!) for finer output control.
Inputs/outputs
Not to insult your intelligence, but this means anything you plug in or send out of the amp. Sounds simple, but it covers a wide range of uses. Auxiliary inputs allow you to connect audio devices to play along to a backing track, and some amps have multiple outputs like recording outs, or outputs that let you hook up an additional speaker for even more sound!
Speaker size
Usually represented in inches, this simply refers to the width of the speaker. The bigger the speaker, the more oomph it will have. It certainly isn't the case that bigger = better, but larger drivers (basically another word for speaker) move more air and are more capable of producing a wider range of frequencies.
In simple terms, bigger speakers can get louder, and they can be better at voicing certain sounds, but when you're just starting out it's not really anything to worry about.
Bring the noise!
Now that we're all caught up with terms and features, we have a selection of riff-slinging amps to whet your appetite.
These amps cover a range of styles, and we'll suggest what features would benefit you the most. Not only that, but we cover a wide range of prices here too, so any budget can be accommodated!
10W Electric Guitar Amp by Gear4music
The humble 10 Watter is something of a rite of passage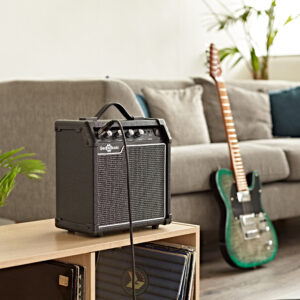 for the electric guitarist. And there's no better version than our very own Gear4Music Guitar Amp.
Granted, this isn't going to fill out a venue or deliver those stadium sounds, but it's not meant to! What it does excellently, however, is give you a range of tones to try out in a bedroom-friendly format.
A simple, intuitive control layout means you'll be able to get straight to jamming, and treble/bass EQ options let you shape your sound as you see fit.
On top of that, the aux-in and headphone-out give you options for practising. Get a backing track running through the aux while you riff over the top and use the headphone options when the rock takes you late into the night!
And what about distortion? Crank up the Gain dial to revel in the gritty rumbles voiced by the punchy 5", 10 Watt speaker.
Is it for you?
It's a great place to begin your electric journey, and even better, its small size makes it so easy to transport. Taking it to and from lessons or jam sessions with your friends is a breeze with something so light.
At an exceptional price, you can't go wrong with this, and even experienced players would love this as a travel amp.
Shop now | 10W Electric Guitar Amp by Gear4Music
---
SubZero SA-15 Guitar Amp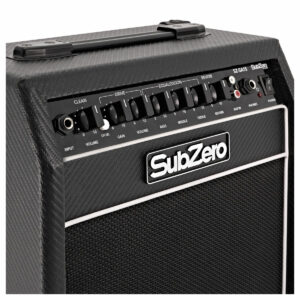 Stepping up a gear. With 15 Watts of power and dual channels at your disposal, you can generate some rowdy tones with the SubZero SA-15. Despite only being 5 Watts more powerful than the previous entry, it's quite a step up and gives you a few more tonal options to explore.
With dual channels, three-band EQ, and a built-in reverb effect, you've got total flexibility at your fingertips. Firstly, the dual-channel means you can instantly switch between clean and distorted tones to quickly change up the dynamic while playing. The three-band EQ then allows you to create a wider array of sounds and carve out a bespoke tone that fits your genre.
The cherry on top is a built-in reverb that applies to both channels. It infuses your playing with an ethereal springiness, enhancing the sustain of your notes. Honestly, it sounds great with everything, so you'll probably have it on all the time!
This is all fired through an 8" speaker that has a wider cavity to operate in, allowing a richer and more impactful performance.
Is it for you?
All in all, the SubZero SA-15 is another excellent starting point if you're seeking your first amp. It's ideal if you're after a little more sophistication and power without breaking the bank. Plus, it's compact and easily transportable, making it easy to get to and from lessons and rehearsals. And for practising, you've also got the aux input and headphone output.
Shop Now | SubZero SA-15 Guitar Amp
---
SubZero Portable Modelling Guitar Amp with Bluetooth
We're serving up another SubZero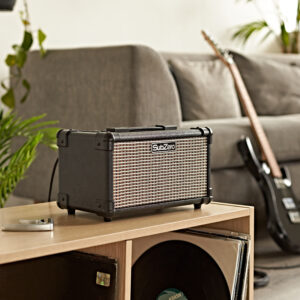 for our next pick, but this one offers a whole new take on the beginner amp. OK, so it isn't strictly aimed at beginners, but that doesn't mean you can't start here!
So, what's different about this? Well, as the name suggests, it's designed to be portable! It houses an internal battery that'll let you play whenever and wherever you like.
Add to that Bluetooth connectivity which lets you stream backing tracks wirelessly – or just plain old music when you fancy a bit of a bop – and you've got multiple uses crammed into one model.
But we haven't even got to the best part yet! There's a stunning array of sounds you can create, shape, and taste on the powerful modelling engine and effects suite. That's the "modelling" part of the name.
What this means is that you've got eight pre-set tones which recreate some iconic guitar amp sounds. All you have to do is flick between them to instantly transform your guitar's voice. From a bright and light chime to filthy, dirty metal madness, there's a setting for every song. Combine that with two simultaneously applicable effects (each with its own level control) and the sonic options are almost endless.
Is it for you?
Interested in exploring effects, rather than just simple cleans and distortion? This is the perfect launching point. And if you've already got your teeth into playing the guitar and want to try your hand at busking, you'll love the convenience of having an amp that lets you practise and perform all in one!
Musicians on the move will also appreciate how easy it is to play this anywhere, particularly if you're a student travelling to and from home and living in smaller accommodations. While it isn't the cheapest on our list, the advanced features and portability make the Modelling Guitar Amp one of exceptional value.
Shop Now | SubZero Portable Modelling Guitar Amp with Bluetooth
---
Blackstar Fly 3 Mini Amp
Small in size, but massive in tone. The Blackstar Fly 3 Mini Amp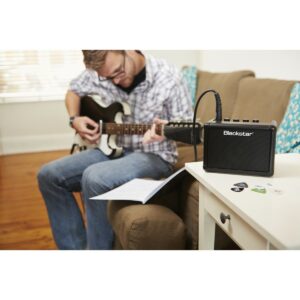 takes the travel amp to the next level by giving you a micro monster that's still capable of generating all the sounds you love. Not only that, but it's also equipped with all the amp essentials, and it's small enough to fit in a backpack!
But how good is it for new players? Well – it depends. Make no mistake, it's got a great vocality and is very capable of blasting out cleans and crunches. But the main focus is on portability. If you want to rock out regardless of your surroundings, the battery-powered Fly 3 Mini will be a great companion.
A single 3" speaker projects the sound, and for its size, it possesses sparkling clarity and a surprising amount of bark. And there's plenty of gain on tap available through its own channel. Add the single EQ (tone) control and a delay effect that can be rolled into your preferred level, and you've got a tasty recipe for sonics.
Is it for you?
The pros for beginners are the relatively lower cost, punchy tones, and compact form. Although, if you want an amp that will mainly stay in one place then some of our other picks may give you a gutsier sound.
Shop Now | Blackstar Fly 3 Mini Amp
---
Fender Champion 20 Combo w/ Effects
Titans of the guitar world, Fender are perhaps one of the most recognisable brands in music. Because of that, you'd expect them to know what they're doing when it comes to amplifiers… and you'd be right!
The Champion 20 Combo is a great place to start for any new musician. It boasts an intuitive control scheme and all the standard features you need to get going. These are all backed up by its precision-engineered Fender voicing.
Wrapped up in that sophisticated Fender aesthetic, it looks as good as it sounds.
And it sounds brilliant! A weighty 20 Watts of power fuels an 8" custom-designed Fender speaker, giving you plenty of growl. But the real attractions are the built-in voices and effects that allow you to emulate some of Fender's historic amps.
Add a tap tempo button that enables you to set the pace of tremolo and delay, and you have a veritable banquet of sonic options.
It couldn't be easier to use, too. A gain control and two-band EQ let you shape the sound, while the voice and FX dials let you set the base for your tone.
Is it for you?
Again – any level of beginner would love this. But in particular, if you're interested in Fender's classic tone and the gravitas that comes with using their products, it's an ideal (and low cost!) place to begin. Its lack of a dual channel means that you can't switch between a clean and crunch tone instantly, but its wide palette of voicings more than makes up for it.
Shop Now | Fender Champion 20 Combo w/ Effects
---
Orange Crush 20RT Combo
As one of the most beloved British amp makers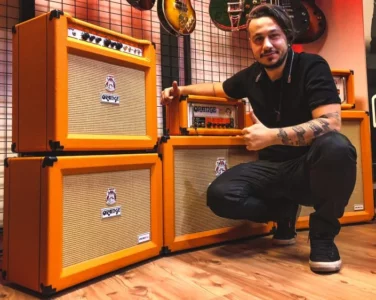 , Orange know a thing or two about building killer combos. And that's clearly evident in the Crush 20RT Combo. Packing their legendary tone into a compact, practice-friendly amp, this is a superb place to start.
So, what's it got going for it? Well – for one thing, an awesome, crunch-rich voice. It's got a high-gain preamp design, meaning you can rock out to a variety of devastating distortions.
It's built with high-quality, low-noise components that ensure you get exceptional clarity, so the sound doesn't become muddy. On top of that, dual channels mean you can delve into pristine cleans when you need a break from the overdrive!
Exceptional sound isn't all the Crush 20RT has going for it. Every amp we've mentioned has a headphone output, and so does the 20RT… but with a little twist. That saucy secret is Orange's amazing CabSim feature which emulates the sound of a mic'd up 4×12 cabinet (really big speaker).
Whether you connect it to headphones or another speaker, you'll get a massive, thick, and meaty sound. It's a transformative experience as you still get the full thrill of a cranked amp even when playing silently.
We're still not finished with the features! On top of its gnarly, rumbling tones, you've got a built-in digital reverb effect and a chromatic tuner. The tuner is a lifesaver for beginners as it will keep your sound on point without the need for fiddly extras. Even for advanced players, having a chromatic tuner readily available is a major convenience.
Is it for you?
We comfortably recommend the Crush 20RT to any type of player, beginner or not. But if we had to specify, players after a vintage British rock tone will absolutely love it. That high-gain preamp stage means you can enjoy loads of grit and grime in your tone, and coupled with the CabSim feature, you can even bellow out the boom during silent jam sessions.
While it has built-in reverb, it lacks a little in effects compared to some of our other picks. So, if you're excited about sampling different sounds and mixing up your classic electric guitar sound, you may be better served by a model that has more built-in. But as an all-round practice amp, the Crush 20RT is truly a superb, value-packed starter.
Shop Now | Orange Crush 20RT Combo
---
Marshall MG50GFX Gold 50W Guitar Combo
Last, but not least, we have the Marshall. It's a brand that just breathes rock 'n' roll.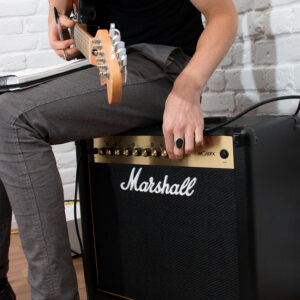 Marshall have flown the flag of sizzling crunch tones for sixty years, and so they have serious pedigree when it comes to generating gut-punching tones.
All this vast knowledge and experience is present in our final pick, the MG50GFX combo. An amp that pushes the envelope for beginners.
Now, it's quite a bit more expensive than all our other picks, but you're getting a 12" speaker with 50 Watts of power! That equates to a whole heap of volume. This thing can easily compete at band rehearsals and gigs and it's also small enough to be unobtrusive in your home.
The impressive speaker powers a set of developed crunch tones and onboard effects, so you've got endless amounts of versatility on command. Even better, it comes with a footswitch! This allows you to switch between its mighty four (!) channels for a seamless transition during your playing.
Those onboard effects comprise seven digital modulations. All the classics like chorus, phaser, and flanger are there, but you've also got independent delays and reverbs to play around with too! It's a lot of fun to sprinkle some effects on top of that classic, beefy Marshall tone.
And if the built-in effects just aren't enough to fill your appetite, there's even room for an effects loop! This means you can attach your own FX pedals to alter your sound further.
Is it for you?
Let's get the obvious out of the way – it's quite a step up in cost compared to our other picks. So, while it might stretch the budget, it does give you an amp that's not just limited to personal practice. Thanks to its large speaker and 50 Watts of power, you can roar above the mix in rehearsal, or even use it at small gigs or open mic nights.
Tone-wise, it's perfect for rock. Marshall have been the voice of so many rock 'n' roll artists over the years and that identity is ingrained into each of their amps. So, you really can't go wrong if you're striving for that biting overdriven sound.
Overall, if you want to start with an amp that lasts you well into your playing career, this is a good choice. The FX loop is great for building your sonic identity as you progress, while the included footswitch will get you used to switching between tone profiles as you're playing.
Shop Now | Marshall MG50GFX Combo
The roundup
There you have it, a tasty selection of beginner-friendly amps. Hopefully you've seen something to entice you into the exciting (and loud) world of amplification.
We've included a variety of styles to try and cover various use cases, but if you're still not sure then feel free to leave us a comment! We're more than happy to help with advice.