Have you ever wanted to make a guitar your own? Not just by changing the strings or adjusting the pickup height, but by assembling the whole thing? Well, you're in luck, because with DIY guitar kits, it's never been easier to build your very own six-string from scratch.
We often think of master luthiers and precision pickup engineers when looking at modern guitars. But with DIY assembly kits, you can now build a guitar from the ground up without prior experience. To get a sense of where it all began, we'll look at guitar building and an overview of its history, some famous examples of bespoke axes, and how you can start building your very own.
---
What are DIY Kits?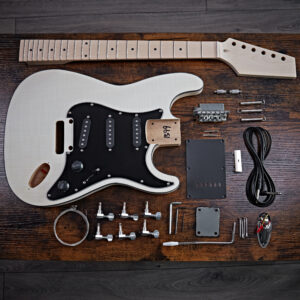 As the name implies, they're kits that include all the necessary parts you'll need to build a guitar – so it's a great entry point for anyone interested in getting their own custom six-string.
Everything comes in one package that's provided with clear instructions to make it an easy task. Once you've finished, you'll have a fully playable, bona fide guitar in your hands.
These kits come in various shapes and sizes, often emulating the designs of existing, famous guitars. So, it's up to you what kind of style you want, and what kind of aesthetic you want too! As they're all unpainted, it's your chance to have a bespoke finish that shows off your flair. Solid colours, multi colours, or even an eye-catching design like Jimmy Page's "Dragon" Telecaster – it's all down to you.
But where did it all begin? How did we get to DIY guitar kits? While the history of guitars spans a long period, it's worth providing a bit of context – so we'll try and keep it short!
---
Why Build Your Own Guitar?
There's nothing quite like piecing together a guitar yourself. Tweaking and refining the build until you've got an instrument that truly represents your personal style and sound. It's not for everyone. Indeed, there are plenty of established, trusted brands that can sell you excellent, ready-made guitars. However, constructing your own is going to help deepen your understanding of what parts affect your tone, and it will certainly develop your style.
You'll learn how to adjust parts to evoke a desired sound or customise other aspects to improve your playing. For example, if you want to master fast shredding techniques, maybe swap the neck for one with a thinner profile, and sand it down to an ultra-smooth finish. Going through the process of crafting a guitar will help you pick up these tricks.
If you're searching for inspiration, why not follow in the footsteps of two legendary artists? These musicians have paved the way by building their own instruments, precisely for the unique, bespoke sound they could achieve:
---
Eddie Van Halen and the Frankenstrat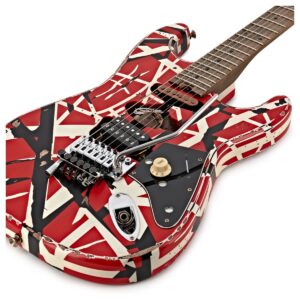 This Dutch-turned-American superstar made a guitar so inspiring that it spawned countless copies and signature versions. Wanting to mix the classic PAF punch with the silky verve of the single-coil, Van Halen purchased a stock body, stuck in his unique combo of pickups, and tinkered with the electronics.
Later, he added a Floyd Rose tremolo system for the hair-raising pitch bends we love about his playing. All these modifications helped influence Van Halen's masterful playing, allowing him to unleash the ripping PAF tones and potent riffs on a body and neck customised to his preferred feel.
---
Brian May and the Red Special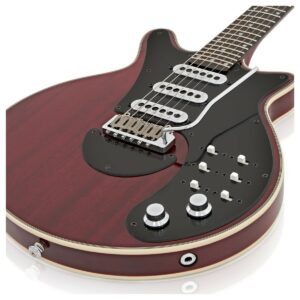 Next up, it's Queen icon Brian May who – like Van Halen – is famous for using home-brewed equipment. Perhaps one of the most well-known electric guitars in the world, the Red Special was built by May and his dad in the '60s, and it might be one of the best examples of building a guitar from the ground up.
Creating his own unique guitar meant May could customise its shape, look, and feel. And this, ultimately, launched a career that spanned decades. Sticking in Burns Tri-Sonic pickups and creating a tremolo system from an old, hardened steel knife-edge and motorcycle valve springs just added to the DIY feel.
---
Let's Get Started
These two iconic players built their style, brand, and tonal identity around their custom guitars, and they serve as fantastic examples of how building your own instrument can forge a unique tonal identity (and successful career!).
Like Van Halen, these kits let you piece together a guitar from existing components. You'll have to paint it yourself, but otherwise, it's just a matter of assembling the pieces together. So, what are those pieces? Well, they include:
A body pre-installed with pickups, electronics, and scratchplate
A neck with headstock and nut pre-installed
Bridge piece with associated hardware (this varies depending on bridge style)
Tuning machines and strings
Associated fixings, bolts, and bolt plate for the neck, jack plug cover etc
As you can see, the hard work of creating the components and matching them together has been done already, so you can start building with confidence. Gaining this knowledge is vital for modifying your builds further down the line. It'll make it easier for you to identify what components can boost your sound and how to fit them into your instrument.
But before we get to that, what do these parts do? Let's have a look at the major parts and how they influence your tone and feel.
---
The Body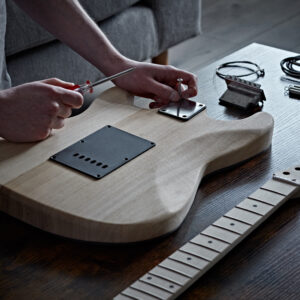 The lynchpin of the guitar – it's where you'll find most of the hardware. Made from many different tonewoods and carved into a variety of shapes, this decides the aesthetic and feel of your guitar.
Form and function go hand-in-hand when deciding on a body shape. For example, metal-focused shredder guitars are angular with an aggressive stance to reflect their heavy genre, and often have deep cutaways at the neck so players can reach all the high frets.
At the other end of the scale, hollowbody electrics tend to feature large, rounded shapes to maximise their resonance for a rich, jazzy sound. Their elegant design matches well with the jazz, blues, and country genres they're known for.
---
The Neck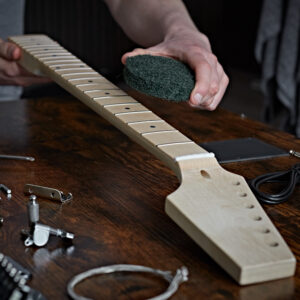 Where the magic happens. It's where you paint the riffs that thrill and chords that get heads nodding along. Just like the body, these come in a huge array of shapes and sizes. Typically, modern necks use a "C" or "D" shape which is a natural, comfortable fit. However, there's a wide variety of profiles to suit different styles.
There are tonnes of different woods used for necks. It's up for debate as to how they affect the tone of an electric guitar, but what's certain is how they influence durability. Over time necks can potentially warp or bend from humidity changes, or just from extensive playing!
Multiple layered necks provide great resistance to bowing or warping and provide great strength, while others may feature more premium milling techniques (such as quartersawn wood) for enhanced robustness.
---
Neck Joints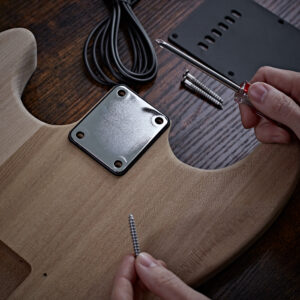 We're still not finished on necks, there's also the neck construction to bear in mind! There are bolt-on, set necks, set-through, and neck-through-body designs. The most common are bolt-on and set necks, all the DIY kits are bolt-on as these are by far the easiest to install or change.
Set and set-through necks are glued to the body, whereas neck-through is usually one long piece of wood stretching from the headstock down to the base of the body.
Regarding their influence on sound and playability, set-through and neck-through incorporate more of the neck into the body to extract as much resonance and vibration from the strings as possible, leading to fuller, longer sustain.
---
The Fretboard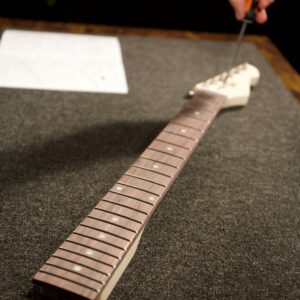 Just like the neck, fingerboards are ever so slightly curved – known as the fingerboard radius. Usually represented in inches (e.g. a radius of 9.5″), the higher this number is, the flatter the board will be.
It can be preferential, but flatter boards are more open to string bends and expansive solos, whereas a shorter radius and more curved surface make playing complex chords easier.
You can even get high spec boards that are a compound radius – meaning they're more curved near the headstock for easy chords but gradually flatten out higher up, so you can unleash wild string bends. The best of both worlds!
The choice of wood for a fretboard can influence the sound, feel, and fluidity of a guitar. There's a huge variety of woods used for fretboards, the most common being maple, rosewood, and ebony.
Materials like maple suit a brighter, snappier response, in contrast to ebony which has a darker, bass-rich character. Typically, higher quality woods will have a smoother, swifter feel.
---
The Nut and Headstock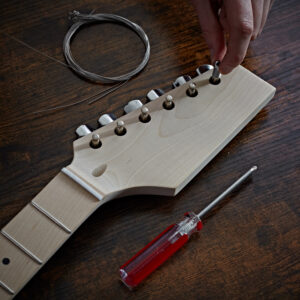 The home of the tuning machines. Shaped mainly for aesthetic reasons, on DIY kits you'll notice headstocks are a boxy "paddle" shape. That's precisely so you can carve it into whatever form you desire and add a personal touch to your axe.
Going beyond aesthetic purposes, the nut and tuning machines do affect your performance. The nut is the small strip just before the headstock and has grooves that your strings slot into. Made from plastic, synthetic materials, or animal bone – they're vital to keeping your strings anchored firmly in place.
Poor quality nuts can yield buzzing strings, which nobody wants! There are also locking nuts out there, but these are usually only used with advanced tremolo bridges.
Tuning machines come in non-locking and locking varieties. As the name implies, locking tuners will grip strings tightly to prevent any slipping in tuning, so you'll be able to play with boundless energy and no problems.
---
The Pickups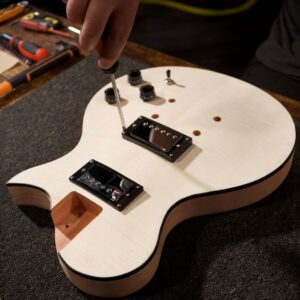 These are the bread and butter of any electric guitar. They're what "pick up" the vibration energy and convert it into an electrical signal using magnets. That's then fired through your amp for those glorious electric guitar tones. Pickups play a massive part in the resulting sound of any electric guitar and they're the key to determining your tone.
While there are many weird and wonderful combinations of pickups out there, we'll keep it simple for now. Usually, in most guitars, you'll find single-coils, humbuckers, or P90s. Single-coils produce a sparkling, twangy sound that's fuelled country, low gain rock, and blues for decades.
However, some of the earlier single-coils suffered from an irritating hum, so humbuckers were invented to try and eliminate unwanted noise. Sticking two single coils together, they deliver a much warmer, more muscular sound.
It thrives when used for heavy-hitting genres like rock and metal, which is why those genre-focused guitars almost exclusively use humbuckers.
Finally, larger single coils, or "P90" style pickups, sit somewhere in between single coils and humbuckers. They possess more growl than singles but don't quite match up to a humbucker's high-gain voice, making them ideal for classic rock 'n' roll or a more restrained output.
On our DIY kits, the humbuckers are pre-installed. But it helps to know the different types and how their layout affects tone. Some guitars have two, three, or even just one pickup. They'll be mounted at the bridge, middle, and neck positions. Nearer the bridge, the frequency of the strings is higher, so you'll get crisper, cutting treble sounds that are great for lead parts.
Towards the neck, the strings have more movement, resulting in a lower frequency and a fuller, bassier sound. This increased depth makes neck pickups a favourite for chord and rhythm work but can also lend texture to bluesy solos.
---
What Kit to Choose?
Our assortment covers a few body types and is split between "Pro" and normal ranges. We'll look at three of them here to give an overview of what they offer.
Duo Cutaway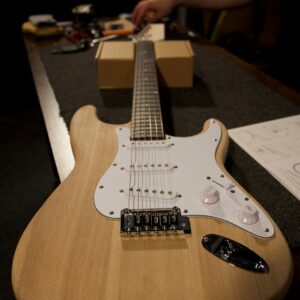 Donning an all-time classic shape, the Duo Cutaway presents you with a nimble, waist-cut body and a trio of sparkling single coils. As we mentioned in the parts description, these make it well-suited to bright, snappy tones.
There's also a tremolo bridge, so you can have fun with whammy bar vibratos. This particular model comes with the pickups and electronics pre-installed, so it may be a good choice if you're wanting a simpler first-time build.
Shop now | Duo Cutaway
---
Single Cutaway Pro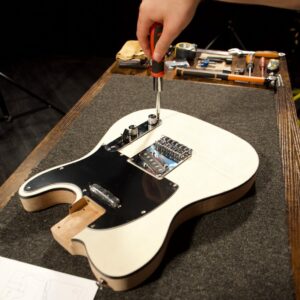 Another iconic form, the Solo-Cutaway Pro offers a slightly larger body and pickguard with dual single coils. Aside from its vintage, old-school appearance, you'll also get great glassy tones from its pickups. It pairs very well for country, indie, and rock 'n' roll styles.
The headstock is pre-shaped so you don't have to worry about doing it yourself if you lack the tools, and its three saddle bridge will give you fine control over intonation.
Shop now | Solo-Cutaway Pro
---
Guitarworks DIY Electric Guitar Kit, Pro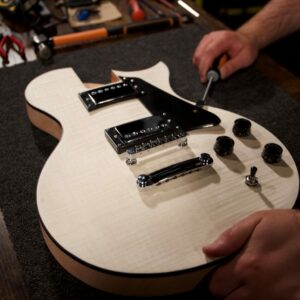 Embodying rock and roll, this is one of the shapes that's burned into guitarists' memories. The Electric Guitar Kit Pro has two formidable humbuckers to release some raw tonal energy.
Sublime for things like hard rock and crunchy blues, it's got a powerful voice to make you heard. Like the others, it has a cutaway that makes reaching those high frets a breeze during your crowd-pleasing solos.
Shop now |  Electric Guitar Kit Pro
---
What's Next?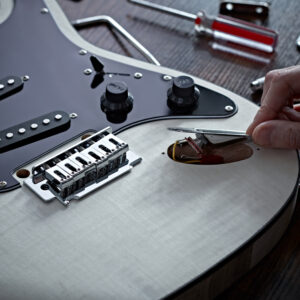 Once you've built a guitar through these kits, where do you go from there? Why not upgrade it further?
We've only touched on the multitude of components here and how they affect your sound, but the process of piecing together a working instrument should give you the confidence to alter parts in the future.
With this knowledge in hand, you'll find it easier to develop your sound. You'll be able to identify what parts to chop and change, as you'll possess a deeper understanding of how they each influence your tone and signature style.
---
Find Out More
If this has got you hungry for DIY kits then why not have a look at our full assortment? There are a few shapes we didn't cover here, and a full range of parts and components to explore!