Good news RE-201 fans! Boss has launched not one, but two new Space Echo guitar pedals: the RE-2 and RE-202.
For those who don't know, the Roland RE-201 Space Echo is a legendary effect first released in 1974. It has captivated musicians since then, with famous devotees including Jack White and Johnny Greenwood.
Boss first put this effect in guitar pedal format 25 years ago with the Boss RE-20 Twin Pedal. These new pedals build off this while maintaining the warmth and character of the classic RE-201 unit.
The RE-2 Space Echo is a compact version, designed to fit on pedal-boards. And the RE-202 Space Echo is a larger pedal for more comprehensive control.
So what's the deal with both of them?
---
RE-2 Space Echo: at home on pedalboards
You might have dreamed for Boss to release a pedalboard-friendly Space Echo. If so, the RE-2 is here to make your dreams come true.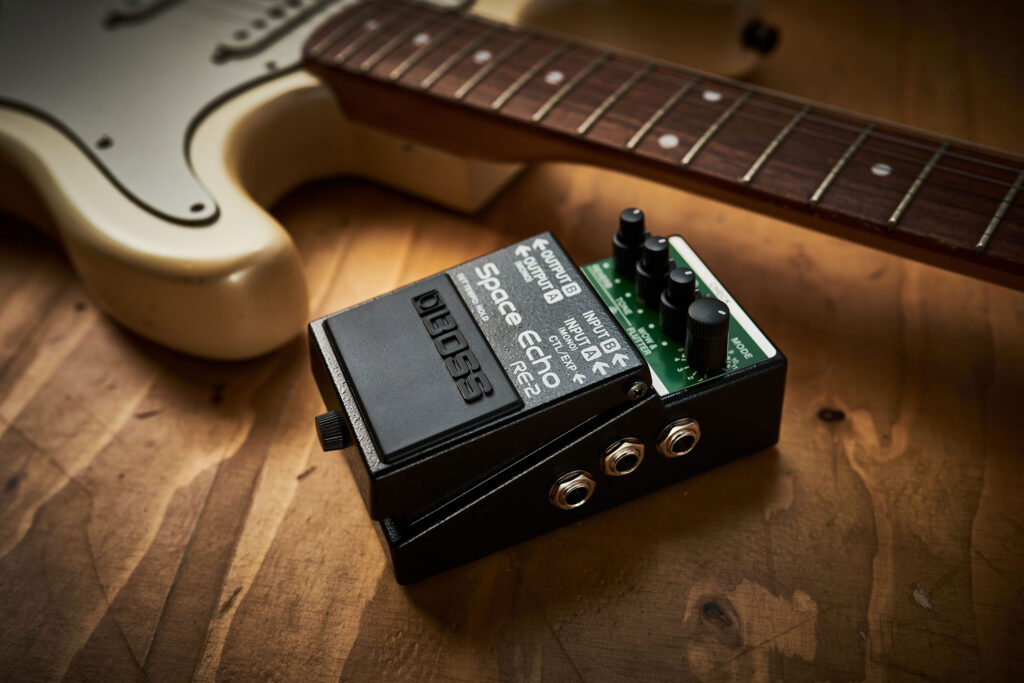 ---
Detailed sound-shaping in a small size
Despite its compact size, it offers comprehensive sound-shaping controls. It can offer this because of dual-concentric knobs, meaning seven controls in the space of four.
The left-most knob is used for controlling both echo and reverb amount. Next to this is the tone and intensity knob – the latter introduces more feedback to your sound.
Its third knob controls repeat and wow & flutter – a new addition to Space Echo. Dialling this up will help you emulate the unpredictable nature of analog tape.
For changing tape-head mode you use the last knob. Combining all these controls together, you get a surprising amount of depth for such a small pedal.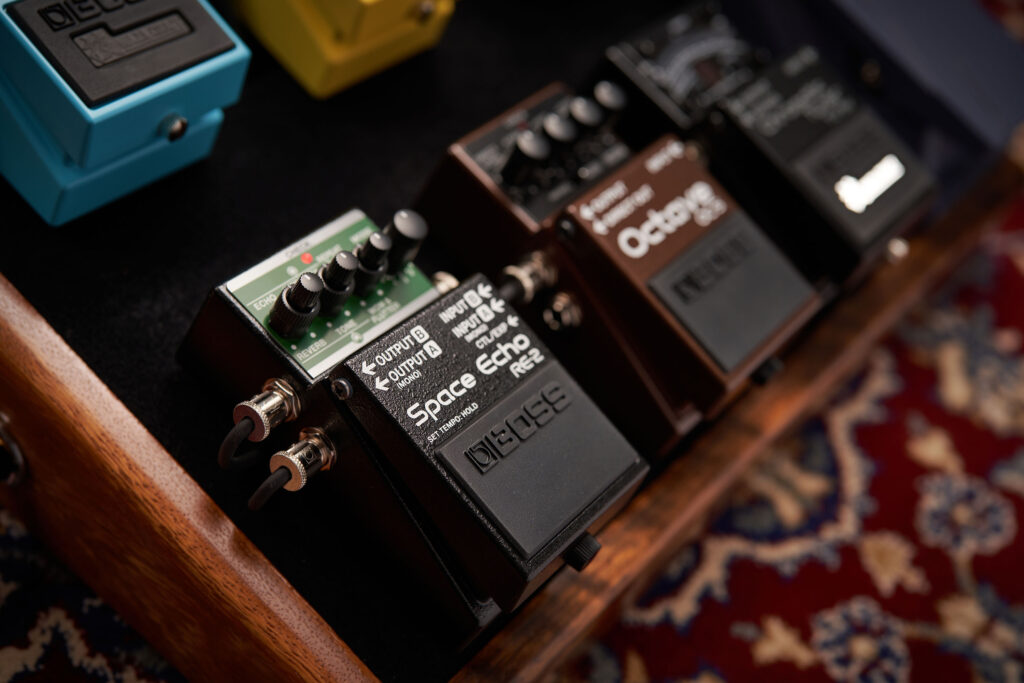 ---
Extra settings
To engage and disengage the pedal, you hold it down, while tapping it will set the tempo. There's also a carryover switch on the back. So when this is on, the effect gradually fades out when you disengage it, and when off, will instantly stop the effect when disengaged.
It might be small, but the RE-2 gives you everything you need for a vintage tape delay effect. This is a must-have for any pedalboard.
---
RE-202 Space Echo: comprehensive control
But what if you want something bigger and more comprehensive? Enter the Boss RE-202.
This is a large format Space Echo pedal, with all the bells and whistles to give your guitar that vintage delay sound. Its enclosure is even based off an old Boss pedal, the CE-1 Chorus Effect, so it has a retro look, too.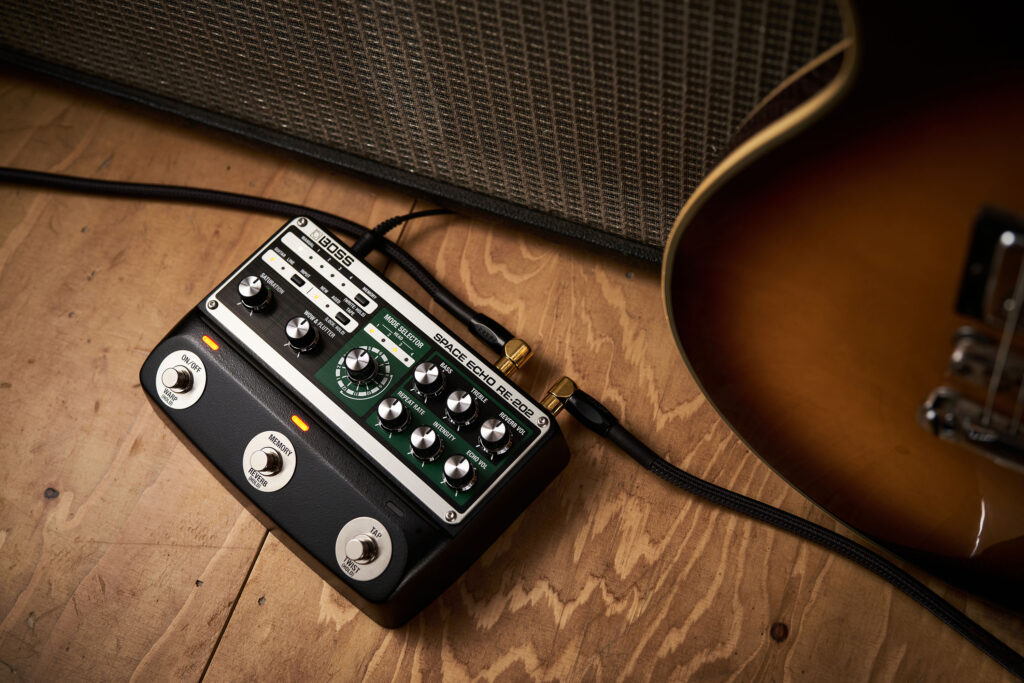 ---
Basic controls
You'll get expanded control options with the RE-202. So you'll be able to fine-tune its sound to meet your exact requirements.
Starting from the top-right, there's the usual echo and reverb control. An extra for this pedal is the 2-band EQ, allowing you to shape its tone to your specific tastes.
Next up is mode select, with four tape-head emulations to choose from. And with a LED indicator, this is super easy to use.
For getting that classic tape sound you'll find a wow & flutter knob. Connected to this is a saturation knob, which if you dial-up will give you all the analog warmth you desire.
---
Designed for anyone
This pedal is not just designed for guitars. It's ideal for synth players, singers, and more. That's to say: if you want Space Echo, you can have it.
You'll find a control to switch between guitar and line input – you could even have multiple instruments ready to go through it at the same time.
It's great for producers, too. If you want to get your tracks sounding a little more 70s sci-fi, then run them through the RE-202.
As for other inputs and outputs, there are plenty. Stereo in and out ensures an expansive sound, while MIDI in/out gives you more control options.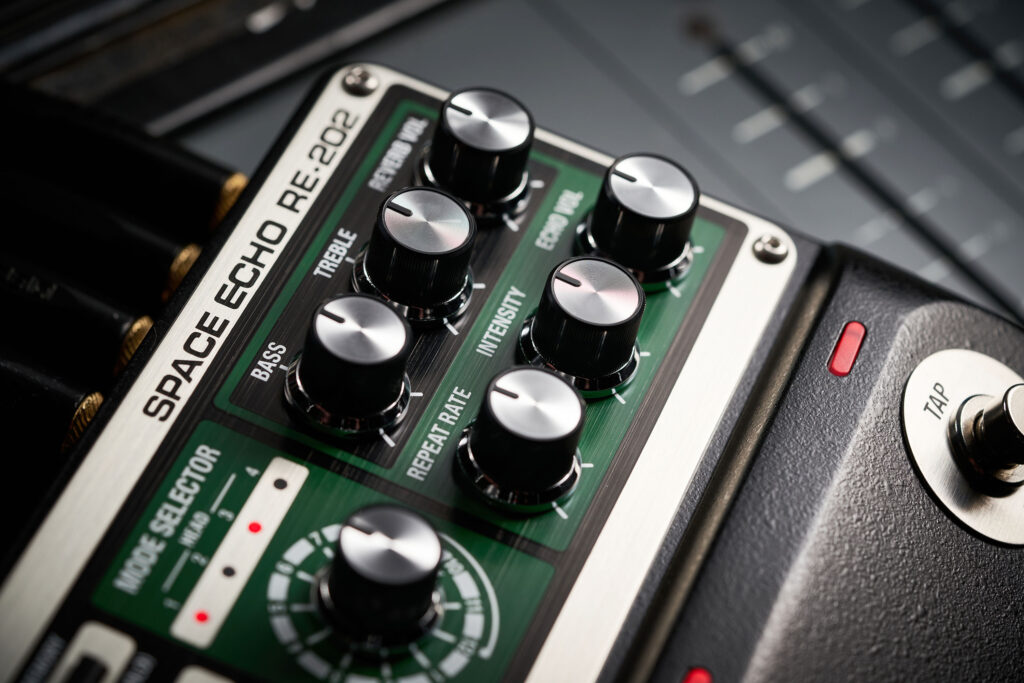 ---
Operate with confidence
Find a cool setting you like? Use the preset save button and bring it back later! Saved presets can also be switched between using the middle button.
To the left is the bypass control, and to the right is tap tempo. All of these buttons have a second purpose too, which can be activated by holding them down.
When you hold down the middle, it switches to an independent spring reverb section. This recreates a classic circuit that is great for a vintage guitar wash.
The left held down produces a 'warp' effect, while the right does a 'twist' – a cool oscillating tape emulation that makes for exciting ends of phrases.
And, with no screen, you get that analog feel to match the analog sound – despite it being a digital pedal. In this way, Boss are encouraging you to get stuck in and experiment with your Space Echo sound.
---
Back to the future
Both these pedals, the RE-2 and the RE-202, have an astonishing range of possibilities. They have more than could be covered in this article.
You'll find that both will give you a classic and authentic tone. And this is in a modern package with modern capabilities.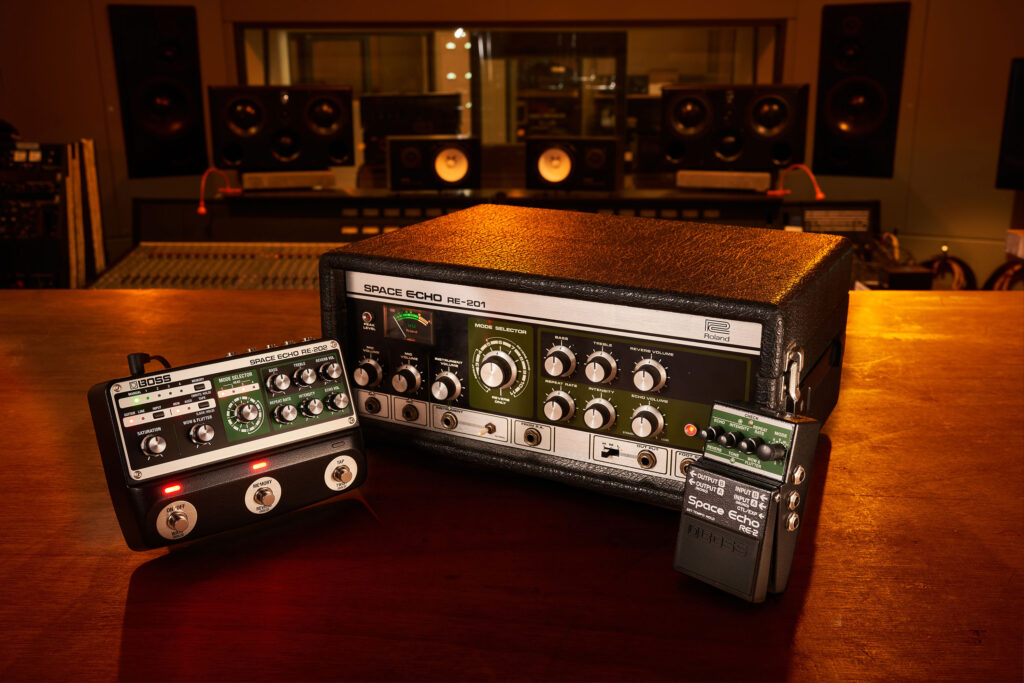 If you're looking for a compact, yet faithful recreation of the classic RE-101 Space Echo, try the RE-2 Space Echo for size. Whereas for increased control, depth and sonic capabilities – the RE-202 will fit your every need.
Interested in more Boss gear? Check out our article on the GX-100 multi-effects pedal and browse our range of Boss gear.
For more info on these pedals and sound demos, check out our accompanying video below: