Every performer and entertainer wants sound that sparkles. Singer-songwriters, DJ's, pub quiz comperes all need a reliable, portable way to make themselves heard. But where do you start? We've broken down the popular Bose speaker range to help you decide which equipment is right for you.
With their radical designs and cutting-edge features, the Bose S1 Pro, L1 Compact, and L1 Pro systems offer unrivalled quality, coverage, and convenience for a variety of live sound scenarios – and budgets. Check out what's on offer, and see which model is right for you.
---
S1 Pro
The Bose S1 Pro is portability, perfected. Its lightweight, innovative design makes it easier than ever to brighten up your party, picnic, or pub with high fidelity audio.
Featuring a unique, angled enclosure, the S1 Pro detects which of its three possible setup positions it is in, and automatically adjusts its EQ curve to ensure you get premium sound whether you've got it on the floor, on a stand, or on the bar.
The onboard, three-channel mixer's handy Tonematch technology provides instant, switchable presets for top-notch acoustic guitar or vocals, with additional reverb, bass, and treble controls too. The third channel allows stress-free bluetooth connectivity, ideal for setting the ambience with a few tunes, or cracking out the karaoke.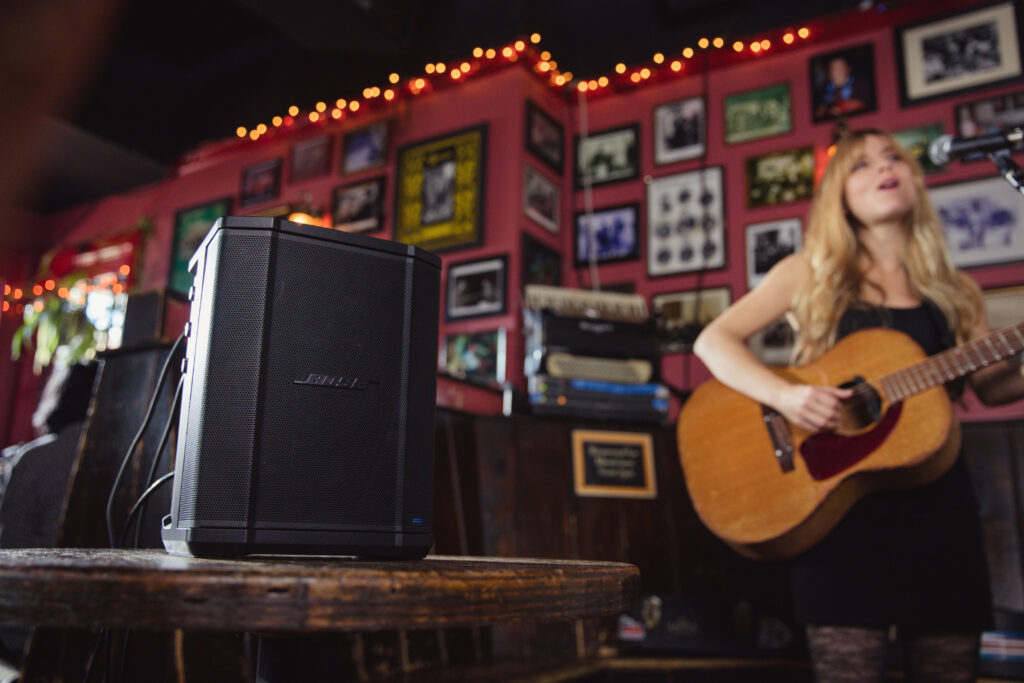 The S1 Pro's design is a cut above on a technical level, too. Despite its tiny size and weight, its full-range, full-force output comes courtesy of an ingenious, articulated array setup, backed by a 6″, high-excursion woofer for deep bass.
Thanks to a lower crossover point, the woofer only handles the very lowest lows, creating a clear, consistent sound for vocals, guitars and more. Meanwhile the painstakingly measured angles of the array's speakers bathe every audience member in full-bodied sound – even to the extreme sides.
With such an impressive array of features, performers will find the S1 Pro useful for home rehearsal, as well as live performance. It's small enough to fit easily into your car, or be carried on public transport, and with an optional battery pack, this miniature miracle can provide brilliant, Bose sound literally anywhere.
Shop now | Bose S1 Pro
Shop now | Bose S1 Pro Bundles
---
L1 Compact
Musicians. Public Speakers. DJ's. Tired of lugging around heavy sound systems that take hours to set up? Enter the Bose L1 Compact. Now you can carry an entire PA system from your car to the stage in one trip and set it up in less than a minute. I said what I said.
Weighing in at a ridiculously tiny 13 Kg, the L1 Compact is a collapsible, modular PA system that you can carry in one hand. It consists of an integrated amplifier, mixer, and subwoofer base unit, a truly pioneering treble array module (which connects by simply slotting into the front of the sub), and two additional extensions to get your top speaker in prime position.
That tiny, modular main speaker boasts Bose's proprietary Spatial Dispersion technology, utilising a unique, C-shaped array of meticulously angled speakers to throw sound over almost 180 degrees of lateral space, ensuring every audience member hears every note, every word, and every beat.
The L1 Compact's incredible, cableless design simply slots together in seconds, with the connectors all hidden away inside the sturdy plastic housing. The same Tonematch technology found in the S1 Pro produces perfectly EQ'd acoustic and vocal performances, instantly.
When packed down, the extensions fit into a handy shoulder-bag, and the sub unit has an ergonomic handle. The system can even be used in a fully collapsed configuration – with the main top speaker placed directly into the sub – creating a truly compact, table-top PA system that lives up to its name.
Shop now | Bose L1 Compact
---
L1 Pro
Ok, so you're getting the idea now. Lightweight, mini-line array systems with classic Bose sound quality to boot. But what if you need that little bit extra?
The L1 Pro range takes the L1 Compact's modular concept and adds pro-level, creative connectivity, as well as upgraded speakers, and a whole spectrum of size options to suit anything from a cafe to a concert hall.
The most obvious upgrades are in the integrated sub, mixer, and amp unit. The Pro series offers two sub size options, both utilising Bose's inventive, high-excursion, Racetrack-shaped speakers (7″ x 13″ or 10″ x 18″). Their elongated shape shifts their centre of gravity closer to your leg as you carry them, reducing strain on your back, while still offering deep bass at gig-worthy volumes.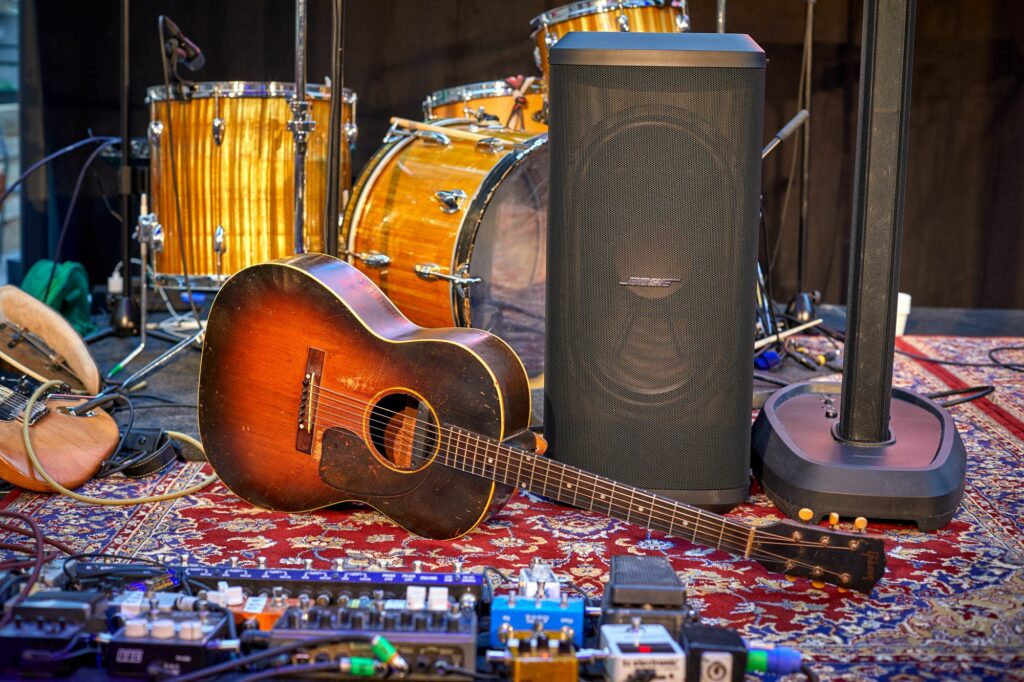 To the rear, each sub offers massively expanded controls, including a pair of fully adjustable instrument/vocal inputs – complete with switchable Tonematch technology – and selectable system EQ voicings for live music, playback, and speech. All of this, and more, can be controlled from the intuitive L1 Mix app, turning your phone or tablet into a high-end mixing console.
The L1 Pro family incorporates three separate configurations. Like the Compact model, the L1 Pro 8 has a C-shaped treble array, while the L1 Pro 16's J-shaped setup allows greater downward dispersion from tall stages, or to seated audiences. The largest setup is the L1 Pro 32, with a full floor-to-ceiling array, and your choice of sub to match.
To keep cabling to a minimum, Bose even invented a brand-new connection system for the L1 Pro 32. Submatch allows you to connect your Sub1 or Sub2 to the Pro 32's base, with one cable carrying both power and audio.
Likewise, for larger bands, add more channels by simply attaching a Bose T4 or T8S Tonematch mixer – again, with one single Tonematch cable. The L1 Pro series provides maximum, professional tone with the same portability and flexibility the range is famous for.
Shop now | Bose L1 Pro8
Shop now | Bose L1 Pro16
Shop now | Bose L1 Pro32 w/ Sub1
Shop now | Bose L1 Pro32 w/ Sub2
---
Find out more
Whichever Bose portable PA you opt for, you can be sure of one thing. Every element of your event – from load in, to set-up, to soundcheck, to the journey home – will be simpler, quicker, less heavy, and all with exquisite Bose sound quality on top. Check out our full range of Bose PA Systems below:
Shop now | Bose PA Systems
Shop now | Bose