Got an in-ear monitoring system and looking to improve its performance? The best place to start is with the earbuds themselves. In this guide to in-ear monitors, we'll be making some suggestions to help take your monitoring to the next level.
---
Why should I upgrade?
In-ear monitors are a great solution to help you hear yourself on-stage without having to compete with the other musicians in your band. Allowing you to create a custom mix that suits what you want to hear, any in-ear monitoring setup provides precision that floor monitors simply can't match.
But often, the sound of the earbuds that come with your system won't keep up with what you need. Whatever your setup – whether you have a personal mixer or a full wireless system – investing in a set of new IEMs can give you expanded features, and vastly improved sound.
---
What should I look out for?
In-ear monitors offer a broad range of features and functionality that will help you get the sound you want. So, to help narrow the field, let's look at some of the different styles.
---
Straight or over-ear?
Straight in-ear monitors are configured a lot like standard consumer earbuds. The benefit of this design is that they're extremely comfortable for just about anyone. However, the trade-off is that it's easier for straight designs to fall out, especially if you like to move around on-stage.
Over-ear monitors are the opposite, providing a more secure fit for high-energy shows. This design features a hook that can loop around your ear to secure itself in place. Sometimes, this might take getting used to, however the more reliable fit is worthwhile for many performers.
---
Which eartips are best for me?
Most IEMs will provide a range of eartip sizes to comfortably fit your ears. These will come as either foam or silicon inserts.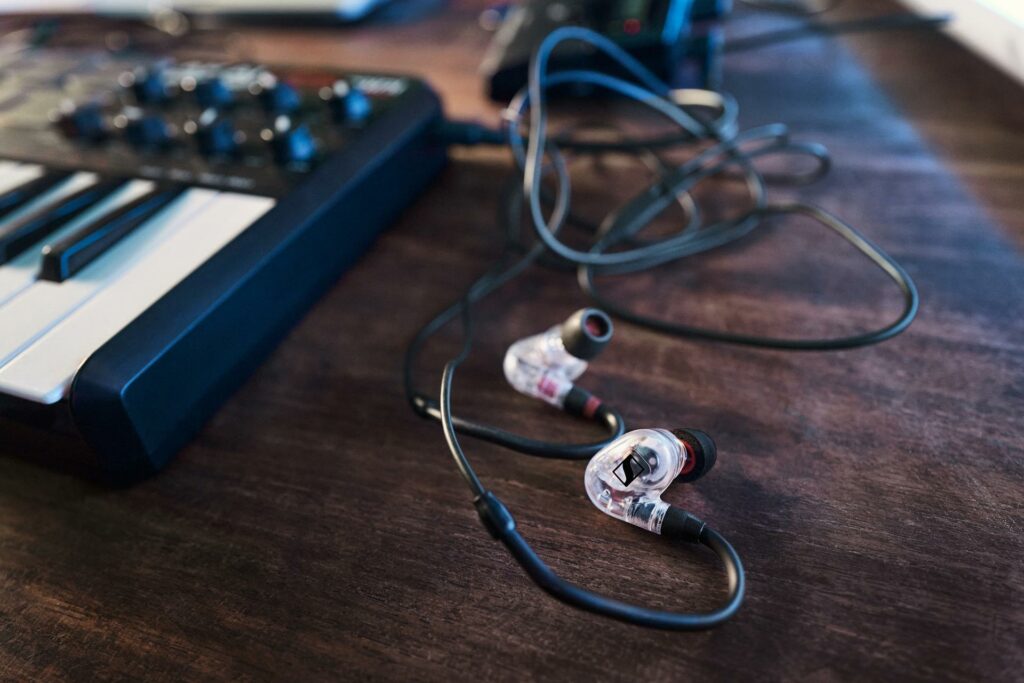 Silicon provides less noise cancelling, but sticks to the inside of your ears better. This is great for vocalists who like to jump around the stage a lot, energetic guitarists, and intense drummers. Foam eartips are denser, providing better isolation, but can be less comfortable for people with smaller ear canals.
Most IEMs will provide a combination of both eartip styles, so you can experiment with the provided sizes and materials to decide what makes the most comfortable fit for you.
---
What drivers should I look for?
This topic is fiercely debated among live performers and audiophiles. But truthfully, the only answer is to find what sounds right for you. In order to help you do that, however, it's worth covering the main types of drivers you'll find.
Dynamic Drivers: Pros and Cons
Dynamic drivers are the most common form of monitor earphones. They provide a coherent sound signature, as the frequency spectrum doesn't have to be split up between multiple drivers. Typically, in-ear monitors with dynamic drivers won't have more than one driver in each earbud.
Dynamic drivers also tend to sound bassier, and are a lot more rugged than the other types. This makes them better at handling higher sound pressures, and holding up during intense performances.
The trade-off of these properties is that some detail is sacrificed, but good earbud design and tuning can still make these drivers sound amazing. For drummers, guitarists, and bassists – the dynamic design might be exactly what you're looking for.
Balanced Armature Drivers: Pros and Cons
Balanced armature drivers are more sensitive and detailed than dynamic designs. Compact and power efficient, you'll tend to need several of these in one set of earphones to recreate the whole frequency spectrum.
These drivers are better at reproducing treble, and are a little pricier to use in products, so we'll tend to see these higher up the price scale. While not as rugged as dynamic drivers, balanced armature drivers are excellent for anyone who needs a more detailed sound. Live engineers, vocalists, and orchestral performers will all appreciate the extra detail offered by this design.
---
Our top picks for in-ear monitoring
Shure SE112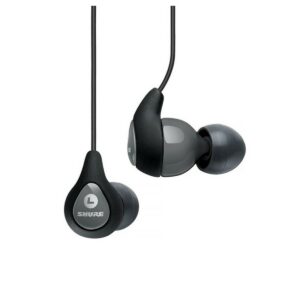 The Shure SE112 are an affordable pair of in-ear monitors with silicone tips. Housing one single high-quality driver in each earbud, the SE112s provide broad frequency response and a bassy sound.
While many in-ear monitors rely on multiple drivers to deliver their detailed sound, the SE112 rely on an efficient design to create their reference-quality sound for live performances.
Widely praised for their sound isolation and high value, the SE112s are a budget-friendly option that still deliver the clarity and focus you need on-stage.
While they don't have the plastic hooks that more high-end monitors have, they're designed for you to wrap the cable around the back of your ear for that same secure fit. If you're looking for an instant monitoring upgrade that won't break the bank, the SE112s are a great place to start.
Shop Now | Shure SE112 In Ear Headphones
---
Sennheiser IE 100 Pro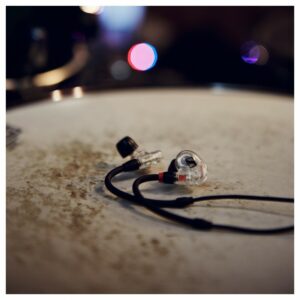 For a slight step up in price, the Sennheiser IE 100 Pro deliver consistency and clarity, as well as a removable cable. Removable cables help protect the drivers, but with the use of another connector, allow you to convert them to wireless monitors.
The diaphragm of the IE 100 Pros ensure that the frequency range isn't split between multiple drivers, resulting in a smoother, more unified sound. If you're looking for another step up, the Sennheiser IE 100 Pros are an excellent alternative to the SE112 with a little more durability and adaptability.
Shop Now | Sennheiser IE 100 Pro In-Ear Monitors
---
Shure SE215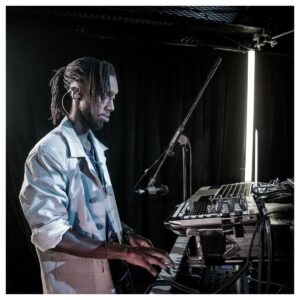 The Shure SE215s present a big upgrade from their previous budget option. Carrying a lot more of the features seen in standard in-ear monitors, the SE215s are more representative of what you'll expect to see across the rest of this range of monitors.
They deliver a slightly more bass-heavy sound, without compromising on intelligibility and top-end clarity. It's this focus on high-quality audio from Shure that has made the SE215s an industry standard for professional musicians.
A rotating earbud design and Kevlar-reinforced cable help this set stand out from the pack for a highly durable and comfortable set of monitors for gigging.
Shop Now | Shure SE215 Sound Isolation Earphones
---
Mackie MP-240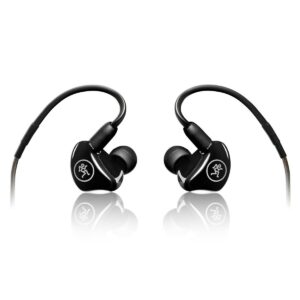 The first appearance of the balanced armature driver design on this list, the Mackie MP-240s are an innovative hybrid design.
As mentioned when looking at common driver types, balanced armature drivers can lose bass response at a certain point. So, for the MP-240, Mackie have blended this detailed sound with the punch and low-end of a dynamic driver. Giving you the best of both worlds, detailed, intricate treble, and deep, rumbling bass, you won't miss a thing.
Including silicone, foam, and double flange eartips in three sizes each, it's easy to find a fit and sound signature that suits you. Plus, as to be expected with Mackie, these monitors are built to survive just about anything.
Shop Now | Mackie MP-240 In Ear Monitors
---
Sennheiser IE 500 Pro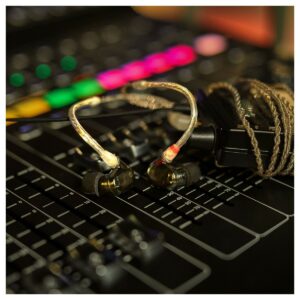 The Sennheiser IE 500 Pro go back to the punchy sound of dynamic drivers again, with a few new twists and innovations. Ideal for heavier live acts, the IE 500 Pros are designed to be even more distortion-resistant than usual IEM designs.
An in-built triple-duct ventilation system provides a more open sound and reduces pressure build-up on the drivers. This helps to maintain the IE 500's sound fidelity during even the loudest gigs, without distorting.
Sennheiser's TrueResponse technology provides an extended frequency response not usually seen in dynamic drivers. From the incredible lows of 6 Hz all the way up to 20 kHz – everything sounds full and clear. If you're looking for durability and detail that you can really push to the limit, the IE 500 Pros are unrivalled.
Shop Now | Sennheiser IE 500 Pro In Ear Monitors
---
Shure SE846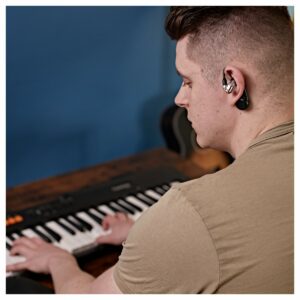 The Shure SE846s are a uniquely clear and detailed pair of in-ear monitors. It features four, high-definition balanced armature drivers in each earbud, with two drivers managing the low-end to compensate for their generally lessened bass response.
The result is clear, rich sound that doesn't hold back on any part of the frequency spectrum. If you're looking for the highest sound fidelity on the market, the SE846s deliver in spades. Offering an option that comes with a true wireless adapter, it's easy to switch between wired or wireless.
Three different colour-coded inserts allow you to choose the sound profile you like. Between the accuracy of a balanced signature, a bass-lifting warm signature, or enhanced treble from the bright option. However you need to listen, the SE846 facilitates it all with the best sound quality available on the market today.
Shop Now | Shure SE846 Professional Sound Isolating Earphones
---
Find out more
If you're looking to upgrade your in-ear monitors, there's a huge range of options available to choose from. It's worth considering for the step up in sound quality and volume, to help take your performances to the next level. If any of the suggestions made here haven't caught your eye – or ears – why not browse our full range? Need accessories to go with your new IEMs? We've got you covered.
Shop Now | Monitor Earphones
Shop Now | In-Ear Monitor System Components