Picture this – it's Christmas day, snow's falling, and you've just woken up and popped the kettle on. You shuffle into the living room and next to the Christmas tree, there it is, the Pearl Export Am. Fusion Drum Kit. I know exactly what you're thinking because I'm thinking it too; "this is the best Christmas ever!"
The Pearl Export 22" Am. Fusion Drum Kit is the ultimate Christmas gift for drum nerds like myself. Targeted towards beginner and intermediate drummers, it's perfect for kickstarting your drumming career or taking it up a notch. And it comes with a stool and sticks to make life that little bit easier! 
What separates this kit from others out there?
Pearl are a leading name in the drumming community. They've been manufacturing drum kits to a high calibre for 76 years, so there's no doubt that they're a brand you can truly rely on.
But what makes the Export 22'' Fusion Drum Kit stand out? Well, it reaches a wide audience, from beginners all the way to pros, and caters to the high demands of touring thanks to durable finishes and hardware.
The shell design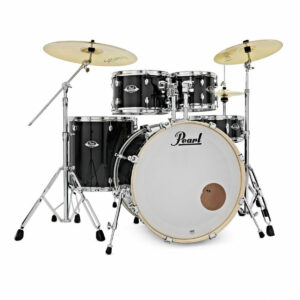 Pearl Export shells are made from the perfect blend of 6-ply 7.5mm poplar and Asian mahogany.
This combination of wood produces beautifully crisp, warm tones that complement a wide range of musical styles, making it one of the most versatile shell designs ever manufactured.
The shell also features a 45-degree bearing edge which maximises head-shell contact for precise, controlled resonance and clear, dynamic projection.
It creates a gorgeous, full-bodied tone – you just have to hear the sound of these shells!
Hardware
The hardware of the Export series has been crafted to enhance overtones, increase volume, and keep your kit in place. Plus, it's chrome-plated to stand out and shine on stage.
The thing I like best about Pearl's hardware, however, is that every wingnut, adjuster, and tension rod is solid with each turn. This is great as it keeps your tuning and height preferences stable.
Triple-flanged, 1.6mm-thick hoops allow vibrations to escape from the tom with plenty of resonance and sustain. Fitted with Remo heads as standard, the sound thrives with all styles and genres.
Finish
The finish – where do we start? For me, I'd go for the Jet Black finish – with its immense amount of gloss, it's seriously piercing to look at. On stage, it's difficult to tell if the chrome hardware or shell finish is shining more.
Pearl have added a metallic sheen to the black finish to make it shimmer and show the audience what it's truly made of. Just taking one look at the finish will make you want to start rocking immediately!
Package contents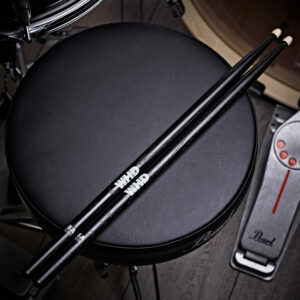 The Pearl Export 22" Am. Fusion Drum Kit w/Stool and Sticks package has everything needed to begin and hone your drumming sound.
With a Pearl D-50 Drum throne, WHD 5A Hickory drumsticks, and even a Sabian SBR cymbal performance set all thrown in, you're well-equipped to get thrashing right away.
The Pearl D-50 Drum throne features double-braced legs with rubber feet that keep you firmly planted on the floor, and with a vinyl-covered cushion, it's supremely comfortable for prolonged playing. Easily foldable, the Pearl D-50 is great for taking to gigs, band practice, or the studio.
WHD 5A Hickory drumsticks are the goldilocks of sticks as they sit perfectly in the middle of the drumstick pendulum. These have the qualities of a heavier stick and wide butt end teamed with the benefit of lightweight hickory wood. For beginners to pros, they're just right.
As for the Sabian SBR cymbal performance pack, this is exclusive to the Pearl Export series. Don't be fooled, this cymbal pack isn't just your "run-of-the-mill" set. It features a 14'' hi-hat, a 16'' fast crash, and a 20'' ride – all crafted from a reliable brass construction alloy. With a bright sound and medium-heavy weight, it fits the Pearl Export Fusion kit like cheese to a pizza.
Stocking fillers
So, you have the main present, what about stocking fillers? Here are five top accessories that go perfectly with the Pearl Export 22" Am. Fusion Drum Kit.
MoonGel Damper Pads by Rtom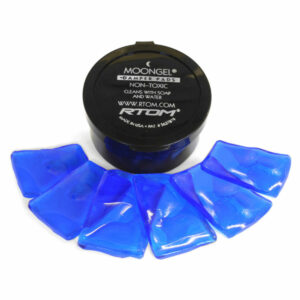 The MoonGel Damper Pads offer a great way to reduce resonance and add punch to your drumming sound.
With easy application, they simply stick directly to your drum head and peel off without leaving any residue.
They're ideal for the studio or any mic'd setting and will sharpen the sound of the Pearl Export kit, letting its true colours shine.
Shop now | MoonGel Damper Pads by Rtom, Pot of 6, Blue
---
Vic Firth SiH2 Stereo Isolation Headphones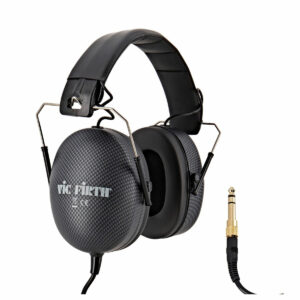 Every drummer needs to protect their ears, and the easiest way to do this is with Vic Firth SiH2 Stereo Isolation Headphones.
The beauty of these is that they protect your ears with 25db of volume reduction, whilst providing a crisp, clear sound from any device, so you can easily drum along to your favourite tracks.
Plus, they're comfortable to wear for long periods of time too, ideal for the Pearl Export kit as you will be playing for hours!
Shop now | Vic Firth SiH2 Stereo Isolation Headphones
---
Meinl Drum Rug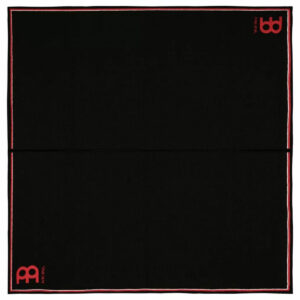 Of course, you'll need the best of the best drum rug to go with the best of the best drum kit.
The Meinl Drum Rug fits the bill perfectly.
With a large surface area, it will accommodate the full kit as well as additional cymbal stands and the drum stool.
The thick carpet keeps everything exactly where you need it to be, no matter how hard you play.
Shop now | Meinl Drum Rug, Black, Large
---
Crazy Johns Drum/Hardware Polish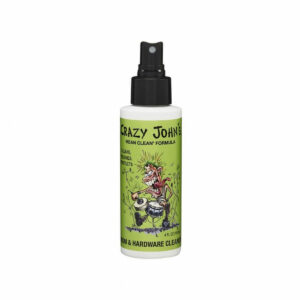 Naturally, you'll want to keep the Pearl Export Fusion kit looking its finest. Crazy Johns Drum/Hardware Polish will help you do just that.
It works brilliantly on gloss shell finishes and chrome hardware, keeping everything gleaming.
Small enough to keep in your backpack or even your pocket, Crazy Johns Drum/Hardware Polish has always got your back for a showroom-condition drum kit.
Shop now | Crazy Johns Drum/Hardware Polish
---
Vic Firth Drum Mutes for Rock Fusion Kit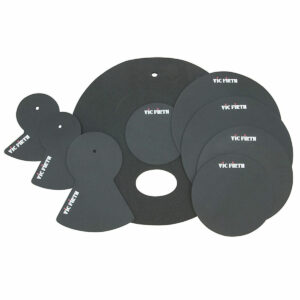 Can't tear yourself away from the Pearl Export kit after curfew hours? The Vic Firth Drum Mutes are the answer.
Applied directly to your drum heads and cymbals, they reduce the kit volume by 70%, whilst retaining the natural feel and rebound.
Made from a non-slip rubber, they stay firmly in place, no matter how heavy you're hitting.
For me, it's the ideal accessory to go with the Pearl Export kit – I can play for hours on end and not upset the neighbours.
Shop now | Vic Firth Drum Mutes for Rock Fusion Kit
All I want for Christmas summed up
The Pearl Export 22'' Am. Fusion Drum Kit w/Stool and Sticks is all I want for Christmas. It's a high-standard, quality drum kit with a jet-black finish to die for and it has everything I look for when buying a drum kit.
With the Sabian cymbal pack thrown in, you just can't go wrong. Having this drum kit in your possession will make it feel like Christmas every single day.