Akai are looking to the future with the launch of their brand new MPC Key 61. So, what is it capable of? In this brief overview, we'll be taking a look at the hardware and sound capabilities of this production synthesizer, and show you why it might just be the perfect centrepiece for your studio…

An Overview of the MPC Keys 61
While Akai are famed for their sampling, sequencing, and MIDI controllers – the MPC Key 61 is a brand-new style of product for them. A flagship digital synthesizer that combines the company's renowned sequencing and sampling capabilities with a staggering variety of instrument plugins.
Combining powerful functionality with a semi-weighted 61 keybed, the MPC Key 61 offers a smooth playing experience that feels great in the hands of any producer – beginner or experienced. With velocity and aftertouch sensitivity on the keys, as well as pitch bend and modulation wheels, the MPC Key 61 is a highly expressive instrument.
This synth's assignable Touch Strip controller and Q-LINK control knobs let you control synth patches or sample layers on the fly, write automations to evolve your sounds, or adjust effects parameters as you play.
The eight possible audio layers of this high-spec production synthesizer mean it's easy to layer and build your sounds into a full track.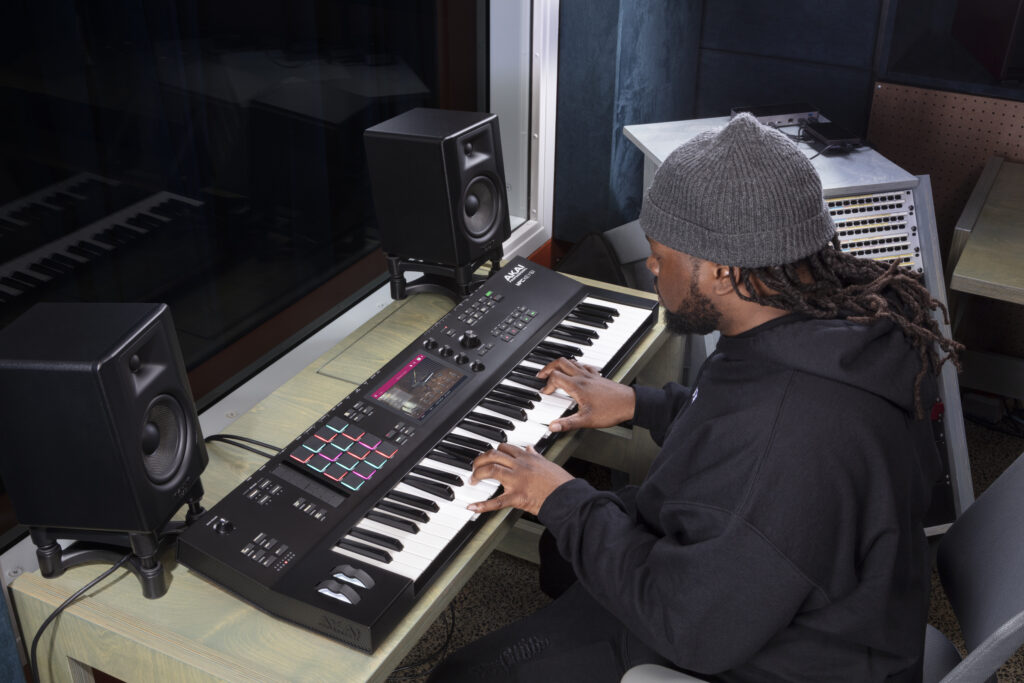 The Sounds of the MPC Key 61
So, it's clear that the MPC Key 61 is full of extremely capable high-end hardware. But what about its instrument sounds?
Synthesiser plugin instruments
The MPC Key 61 has 25 plugin instruments in total, featuring a range of acoustic-sampled instruments as well as versatile synths. Akai's Fabric XL is their new flagship plugin with a sample-based engine. Loaded with a wide range of presets, Fabric XL is the perfect toolkit for pop, hip-hop, and EDM production.
Then, OPx4 gives you a four-operator FM engine (one of the most popular systems of digital synthesis) as seen in Yamaha's legendary DX7. Filled with classic sounds that you've heard over pop songs and electronic music throughout the '80s, as well as complex digital textures perfect for modern synthpop.
Acoustic sample instruments
Loaded with sampled instrument libraries, the MPC Key 61 offers a collection of classic acoustic samples with Stage Piano, including instruments such as a Steinway grand piano and a Bechstein upright piano for a wide range of rich piano sounds. Session Strings presents organic orchestral instruments, cellos, violins, and much more directly at your fingertips.
The Stage EP plugin lets you access the warm sounds of Rhodes or Wurlitzer electric pianos, as well as an FM electric piano for an icier texture. Finally, the Organ plugin gives dynamic sounds of the classic Hammond B3 as played through an accurate simulation of Leslie's rotary speaker for extra grit.
Akai's MPC plugin suite
Also available on the MPC Key are all of the Akai instrument plugins currently available for the rest of their MPC series. Plenty of offerings, including TubeSynth, Bassline, Odyssey, Solina, Mellotron, DrumSynth, and Granulator are all loaded onto this. This opens up possibilities for the beefy sounds of classic analog hardware synths, the ability to create your own drum sounds from scratch, or the otherworldly ambient sounds of granular synthesis.
Tied together with over 100 incredible-sounding effects that you can morph and tweak to compliment any of your favourite sounds, this keyboard is an absolute powerhouse of sound design.
Classic MPC Sampling
Akai's MPC range is renowned for its powerful sampling capabilities and this synthesizer is no exception. Sixteen of the MPC range's signature RGB drum pads and classic beat sequencing functionality make the MPC Key almost like an MPC One fused with a modern arranger keyboard.
Each of the MPC Key's pads come with aftertouch and Note Repeat functionality for expressive and dynamic sample triggering, building on the legacy of the MPC range. Sequencing or layering custom samples with the synthesis functions means it's incredibly fast and easy to write and produce entire tracks with just this one keyboard.
Pair the sampling functionality with onboard transport controls and the classic swing, groove, and quantisation, and you have a classic hardware sampling workflow as part of your synth. No matter if you're making tightly sequenced pop, or the characteristically laidback beats of east-coast hip-hop that the MPC range has become most well-known for – the MPC Key has you covered.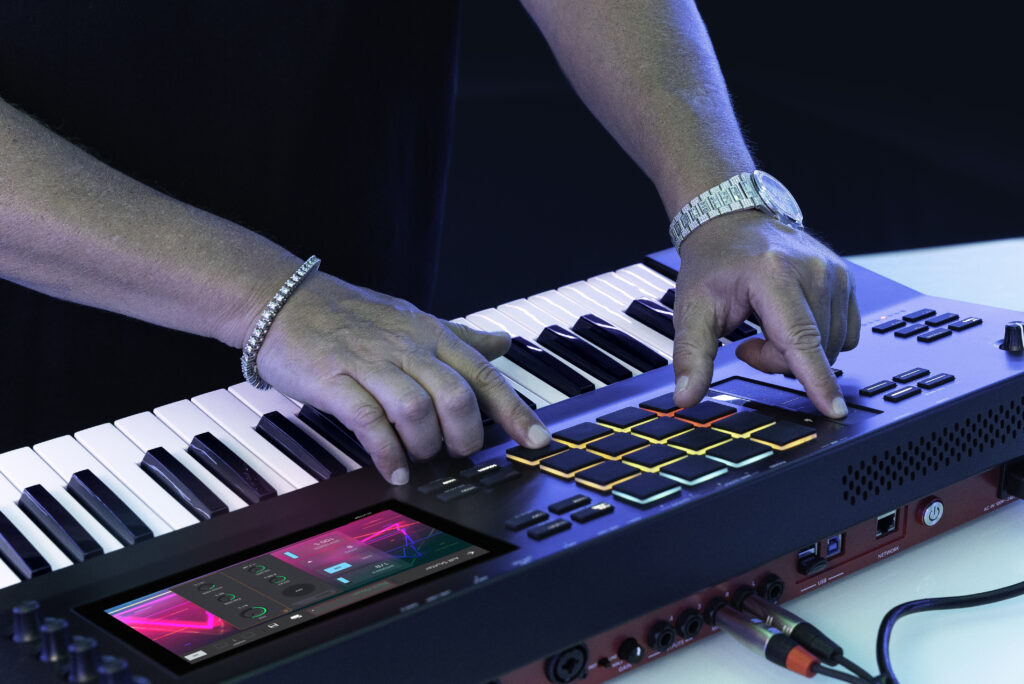 Connectivity
Since the MPC Key 61 is a production synthesizer, it's designed to be a highly connective centrepiece for any studio. So what does it offer in this way, and does it play well with the rest of the gear you might have in your studio?
On-board audio interface
The MPC Key hardware includes a two-channel audio interface. This is a feature that's started to crop up on some of the more premium workstation synths on the market. But, since the MPC Key comes in at a more inviting price point, this makes for a pretty compelling feature.
The interface's combo inputs are ideal for line, instrument or mic inputs, that also offer phantom power for condenser microphones. The only limitation is your imagination.
Record a guitar, piano, or vocals directly into the synth, then use the effects and sample chopping to manipulate what you've recorded. Pair the MPC Key with a drum machine and use the sample pads for additional textures. Connect other hardware synths in your studio to layer with your MPC Key sounds, all of these options and more are possible!
Whether you have no studio gear yet, or a plethora of instruments already – the MPC Key 61 is designed to connect to anything you might have in your space. Slot it in comfortably with your existing collection of instruments, or use it as something to grow your setup into.
CV and gate outputs
Got any modular or semi-modular synths in your studio? The MPC Key 61 is built to connect and interface with them easily. Eight CV and gate outputs will allow you to modulate your synths from this master keyboard, making it the perfect controller to save space, and let you add some desktop or eurorack modules to your setup.
Conclusion
Overall, the MPC Key 61 offers a wide range of fantastic sounds for you to use as a sound palette for productions. No matter what kind of music you're looking to make, its deep and varied library of plugin instruments, fantastic presets, fully-featured sampling, and broad connectivity make this an excellent workstation for seasoned production veterans and studio beginners alike.
If you want an instrument to sit at the very heart of your music-making process, the MPC Key 61 might just be exactly the synth you've been waiting for.
Find Out More
If you want to read more about the plugins in Akai's MPC range and what the MPC Key 61 will be capable of thanks to them, take a look at our discussion of the MPC Studio controller.
Learn More | Akai Professional MPC Studio – The New Studio Essential
Looking for the rest of Akai's legendary MPC range?